Sunshine Coast offers an environment that is laid back and relaxing and yet vibrant with a myriad of activities to choose and keep you active the whole day.  The surrounding hinterland areas have dense foliage, streams, waterfalls and old-fashioned villages that showcase local arts and crafts.  All these provide access to numerous pests that infiltrate every home and building in the whole of Sunshine Coast.  However, Sunshine Coast has always been a home to many pest control experts who are always ready and willing to help residents anytime from attacks of these harmful invaders.  Here is your list of The 6 Best Options for Pest Control Services in Sunshine Coast.
1.      Zero Termite & Pest

Best For:
Termite inspection and Treatment
Pre-purchase Pest Inspection
All commercial and Industrial Pest Control
Domestic Pest Management and Control
Services Offered:
Pest control for ants, cockroach, spider, silverfish, fleas, bedbug and wasp
Address:
10 Dawes Drive, Buderim, QLD 4556
Website:
https://zerotermitepest.com.au
Contact Info:
0412 668 845/Email:  [email protected]
Zero Termite provides professional pest control solution to Sunshine Coast, Hinterlands, and surrounding areas.  A family-owned and operated business, Zero Termite undertake every job as if they're doing it for their own home and ensure their customers that every job is implemented with utmost professionalism using safe and quality materials.  Maintaining the highest standards while exceeding clients' expectations at all level is the business ultimate satisfaction.
2.     Top Choice Pest Control

| | |
| --- | --- |
| Best For: | Best for pest management, termite management and relocate possum |
| Services Offered: | Termite treatment, termite inspection and all aspects of pest management for residential and commercial |
| Address: | Buddina, Sunshine Coast, QLD 4575 |
| Website: | https://www.topchoicepestcontrol.com.au |
| Contact Info: | 0417 712 100 (mobile) |
If you are in need of a quality-guaranteed, family and pet-friendly, highly-qualified pest control specialist using cutting edge technology in Sunshine Coast, avail of expert advice and pay zero when requesting for a quote.
Top Choice Pest Control specializes in all aspects of pest management, termite inspections and termite treatments servicing the residential and commercial fields.  They have been operating on the Sunshine Coast since 2005 and in Brisbane since 2000 and all products used by their professional technicians are up to Australian Standards and Specifications.  These products have low toxicity making your family and pet safe.  Lastly, they carry out their services with the utmost pride and professionalism offering quality workmanship and impressive customer service. Browse their website and look forward to meeting their team of experts in pest control and management.
3.      Radar Pest Control

| | |
| --- | --- |
| Best For: | Inspection and Treatments for termites and general pests Lawn/Garden Pests and care |
| Services Offered: | End of Lease Pest, general pests and termite inspection, termite treatment and control |
| Address: | 36 Hegarty Circuit, Bli Bli QLD 4560 |
| Website: | https://radarpestcontrol.com.au/ |
| Contact Info: | +61 401 166 155 |Email:  [email protected] |
Keep your home and family safe and pest-free through the keep-the-job-right-the first-time offer for pest control treatment by Radar Pest Control.  By believing that your business keeps their business going, they protect your biggest investment – your home!  With spiders, ants, termites, cockroaches and other pests thriving in Sunshine Coast, pest control becomes one of your necessities.  To protect your home and business against these pests, you need more than a licensed professional pest specialist to ensure that these pests are eliminated throughout all seasons through a safe and effective method.  Radar Pest Control can do all these for you and assure you of an easier life, a safer home and family, and a more productive business.  Call now!
4.     Rugs "N" Rats Carpet Care and Pest Control

Best For:
Treatment and control of termites and general pests
Services Offered:
Inspection and treatment for termite
Residential and commercial pest control for cockroaches,
Spiders, bedbugs, silverfish, fleas, ants, wasps,  rats, and mice
Address:
15 Magnetic Street, Parrearra QLD 4574
Website:
https://rugsnrats.com.au/
Contact Info:
1300 304 284/Email: [email protected]
Faithfully serving the Sunshine Coast, Rug "N" Rats Carpet Cleaning and Pest Control is a high-quality, affordable, and efficient carpet-cleaning and pest control specialist.  Rugs "N" Rats provides services that allow customers peace of mind.  When it comes to pests, customer satisfaction is always their highest priority.  Contact Rugs "N" Rats today for affordable pricing and discounts.
5.     Mr. Pestman Pest Management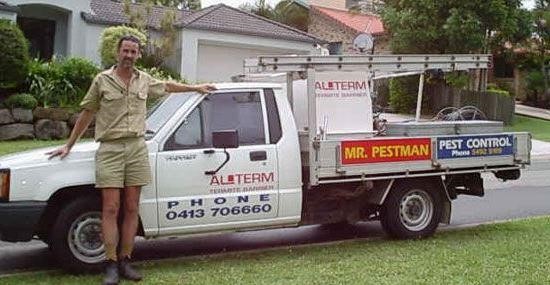 Best For:
Termite inspection with a written report
Internal and external treatment for cockroaches, silverfish and spiders
Services Offered:
Pest control for cockroach, termite, silverfish
Pest inspection and control for Domestic and commercial
Pre-purchase inspection
Reticulation
Flea pest control and termite warranty
Address:
Mooloolah 4553
Website:
https://www.mrpestman.com.au/
Contact Info:
(07) 5437 2521/ 0413 706 660 (mobile)
Email: [email protected]
Barry Fitzgerald is Mr. Pestman, a fully-licensed termite exterminator who had been servicing the Sunshine Coast for over 10 years from Caboolture to Gympie in all areas of pest control.  Hiring Mr. Pestman guarantees complete protection in all works while adopting low-odor and environmentally-friendly treatments.  Book today and secure your home from formidable pests. CALL 0413 706 660!
6.     Scientific Pest Management

Best For:
General pest control or cockroaches, silverfish, and spiders
Termite inspection and Treatment (general/pre-purchase, barriers/baiting)
Services Offered:
Ant, wasp, and flea treatment
Bug inspection and treatment
Rodent and possum control
Address:
7 Kelly Ct, Buderim QLD 4556, Australia
Website:
https://www.scientificpestmanagementsc.com.au/
Contact Info:
(07) 5443 4069/Email:  [email protected]
Scientific Pest Management is family-owned and operated business started in 1996 as a single-man operation.  Brett Johnstone has over 20 years of experience since joining the industry with his father.  Now, with a highly-trained team of efficient individuals working with him, Brett prided themselves in providing an efficient and thorough approach to eliminating pesky critters in Sunshine Coast.  The team is approachable and friendly and always ready to visit you anytime!