Renovating your kitchen can be a challenging task — but it's significantly easier if you're working with the best kitchen renovation firms in Singapore.
Our list here can help you identify the right kitchen renovation contractor to trust.  The firms we've listed below are known to produce quality designs and output in line with their clients' tastes and preferences.  Value for money is what they promise and deliver.
So, without further ado, let's take a look at them.
1. Livspace

BEST FOR
Renovations, Full Home Interiors, Landed Interior Design
SERVICES
Renovations
Design and build
Carpentry work
Demolition, hacking, masonry, plumbing, etc.
Furniture and decor sourcing
ADDRESS
Level 6, Beach Centre, 15 Beach Road, Singapore 189677
CONTACT
[email protected]
WEBSITE
https://www.livspace.com/
Livspace, as Asia's biggest interior designer, is also a platform that allows you to connect with experienced and highly renowned interior designers all around the country. There's no doubt that they're partnered with professionals, ones that have many years of experience.
Navigating their site is incredibly easy, even if you aren't used to finding interior designers online. As a plus, they even offer free consultations. Take the next step for your dream home and visit their website now!
2. Casa Interior Design Pte. Ltd.

BEST FOR
Commercial, residential, and office interior design
SERVICES
Kitchen renovation-Singapore

New construction

Consultation services

Retail interior design

Interior design and décor

Project management

Project costing

Supplies materials and installation services

Schematic designing

ADDRESS
Oxley Bizhub 1, 61 Ubi Road 1 #03-22, Singapore 408727
CONTACT
Phone: 6291-4846

Fax: 6291-4847

Email: [email protected]

WEBSITE
https://casaid.com.sg/
CASA Interior Design, an award-winning design and architecture company, has been providing Singapore with high-grade renovations and interior design services for over 19 years. That's why it's no surprise that it made our list of the best kitchen renovation firms in Singapore.
The company's staff, architects, and interior designers are all 100% committed to the client's needs. CASA provides some of the best turnaround times and workmanship in the country.
That's why they're one of the most excellent teams you can rely on for your kitchen renovation. Go ahead and look them up if you don't believe us!
3. Jaystone

BEST FOR
Renovation contractor services
SERVICES
Kitchen renovation

Bathroom and toilet renovation

Carpentry

Flooring tiling

Feature wall

Drywall partition

False ceiling

Painting

Doors

Waterproofing

Window grille

Electrician

Plumbing

ADDRESS
1090 Lower Delta Road #03-07N Singapore 169201
CONTACT
Phone: +65-6653-6215

Email: [email protected]

WEBSITE
http://www.jaystonerenovation.com/
Jaystone is one of the best kitchen renovation firms in Singapore that offer a one-stop renovation service with a wide array of renovation services, including kitchen renovation and toilet renovation. It also provides quality interior design services at reasonable costs.
Jaystone manages your renovation project from start to finish so that they can ensure the quality of workmanship and service.  Call them through the contact number listed above for a free, no-obligation quote and renovation service consultation.
4. Unimax Creative

BEST FOR
Residential and commercial interior design
SERVICES
Kitchen renovation-Singapore

Bathroom & toilet renovation and design

Condo design

HDB design

Living room, and bedroom design

Landed design and renovation

Interior design and renovation solutions

ADDRESS
288 Balestier Road #02-02, Singapore 329731
CONTACT
Phone: 6226-0110

Fax: 6220-0110

Email: [email protected]

WEBSITE
https://www.unimax.com.sg/
Established in 1997, Unimax Creative is a renovation contractor headed by Andy Tan.  They're among the best kitchen renovation firms in Singapore because of their dedication to quality and customer service.
Together with his team of managers and designers, Andy Lan creates tasteful yet affordable living spaces for all clients.  They are highly experienced in delivering chic designs with customized functionality tuned to your requirements.
5. Thomson Renovation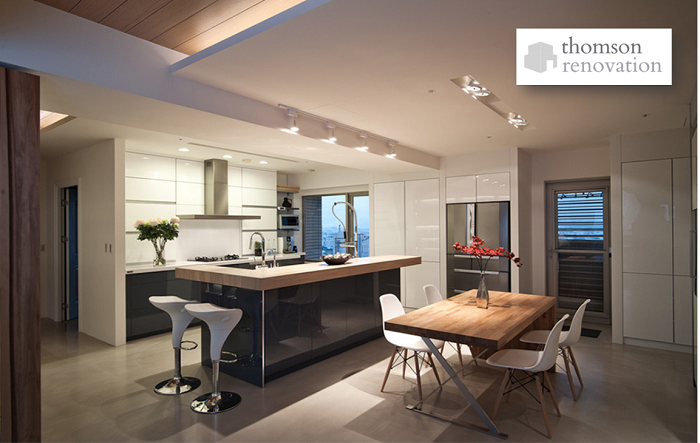 BEST FOR
Construction and renovation services
SERVICES
Kitchen renovation-Singapore

Bathroom renovation

HDB renovation

BTO renovation

Condominium and landed property renovations

Complete renovations services

Budget planning

Project management

Carpentry installations

Replacement of existing HDB windows

Hacking and flooring installations

Grille installation

ADDRESS
42 Canberra Drive Singapore (768434)
CONTACT
Phone: +6597999375

Email: [email protected]

WEBSITE
https://thomsonreno.com.sg/
Thomson Renovation has over ten years of experience in Singapore's building industry. It has completed a wide range of general building and renovation works for both the residential and commercial sectors of the country too.
The Thomson Renovation builders always aim to deliver exceptionally organized project management and polished end-results for their clients. This has led to them gaining a reputation as one of the best kitchen renovation firms in Singapore.
For anyone interested, Thomson Renovation offers non-obligatory consultation and budget planning services. Call them up for those!
6. Swiss Interior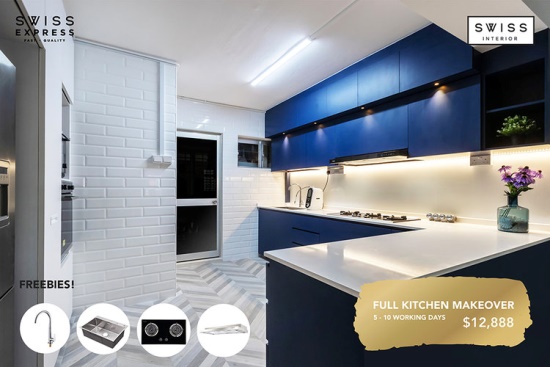 BEST FOR
Residential interior and renovation solutions
SERVICES
Kitchen renovation Singapore

Full kitchen renovation

Commercial interior design and renovation

HDB and BTO renovation

HDB resale

Kitchen cabinetry

Bathroom renovation

Space planning

Customized renovation

Home décor

ADDRESS
East Showroom: 483 Sims Ave., Singapore 387555

West Showroom: Blk 126 Bukit Merah Lane 1, #01-214 Singapore 150126

CONTACT
Phone: East Showroom – 6747-4742 | West Showroom – 6352 -0700

Email: [email protected]

WEBSITE
https://www.swissinterior.com.sg/
Are you looking for exceptional kitchen renovation services? Swiss Interior might be the right one for you, particularly if you're partial to contemporary and modern styles.
They can remodel your kitchen according to your desires in no time if you're willing to work with them. Let them inspire you through their work by checking out their site or portfolio. And if you decide that they're just your speed, you can book your appointment here!
7. SHE Interior Design Pte. Ltd.

BEST FOR
Renovation and interior design
SERVICES
Kitchen renovation-Singapore

Residential, commercial, and office interior design

3D rendering

Architecture works

A&A works

Design consultation

Space planning

Detail perspective drawings

Budget planning

Material and color scheme

Site coordination and supervision

Color matching

Furniture design

Electronic appliance recommendation

ADDRESS
21 Woodlands Close #09-43 Singapore 737854 (Primz Biz-Hub)
CONTACT
Whatsapp: +65948-41863

Message: https://m.me/346428799211106

Email: [email protected]

WEBSITE
http://www.sheinterior.com/
SHE Interior Design Ptd. Lte. is the sister company of Meticulous Creations by Ryan and Eugene She.  It provides exquisite design & build services for the residential and commercial sectors in Singapore.
If you're interested in renovating your kitchen with SHE Interior design, you can send them an email for your queries.
That's the end of our list of the best kitchen renovation firms in Singapore. These contractors have done some of the most stunning new kitchen remodels and renovations in the country, so you know they're trustworthy.
Anyway, if you have queries or comments worth sharing with other homeowners, please do leave them below! We'd love to hear what you think or be of further help to you.
8. Uniconnect Interior

Led by a dedicated team of passionate and self-driven individuals, Uniconnect Interior strives to offer their clients better quality, service, and delivery. They specialize in providing best solutions for all your interior and renovation needs with premium quality and ease of mind.
Uniconnect Interior's robust team with experience of more than 30 years are well versed in residential/commercial interior fittings, exhibition and furniture.
9. De Exclusive Interior Group Pte Ltd

BEST FOR
Top of the industry, 3D Concept
SERVICES
Design Planning, 3D Conceptualization, Project Management
ADDRESS
No.55 Serangoon North Ave 4, #01-12, S9 Building, Singapore 555859
CONTACT
+65 6570 0708 |

[email protected]

WEBSITE
https://www.deexclusive.com.sg/
Being amongst the top leading interior design firms in Singapore, De Exclusive Design Group has distinguished themselves from others with creativity, uniqueness and ever-changing ideas. Since its inception in 1996, it has rapidly emerged as an inspiring and well-respected company in the industry, supported by a professional team of designers and craftsmen specialising in bespoke interior solutions.
De Exclusive Design Group has built up a clientele of satisfied customers and established an extensive portfolio as well as strong credentials of work. They have successfully transformed dream designs into reality with known names such as Singapore's celebrity couple Alfred Sim 沈志豪 and Tay Kewei and DBS Bank Singapore's branch at Plaza Singapura.
10. Krome Reno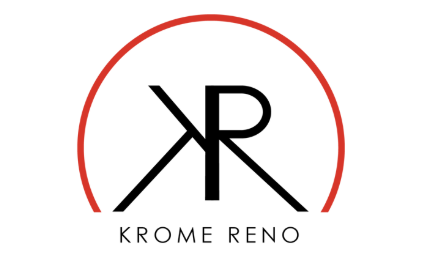 BEST FOR

Design & Renovation

SERVICES

Residential Design, Commercial Design, Industrial Design, Event Spaces, Refurbish & Restoration, Fixtures & Procurement, Painting (Interior and Exterior), Design Paint Finishing, Waterproofing, Carpentry, Natural Stone Polishing, Fixture, and Product Manufacturing

ADDRESS

316 Tanglin Road, #02-01, Singapore 247978

CONTACT

+65 9226 5678

[email protected]

WEBSITE
http://kromerenogroup.com.sg/
Krome Reno is a Design & Renovating Company that will bring the culture of design and strategies to meet their clients' needs. You will be served by their creative and friendly designers to help you with your journey. 
They will handle your renovation project with the highest attention as they carefully plan with you for the very beginning. They pride themselves with their renovation standards as their workers are well trained and experiences.
11. Thom Signature Design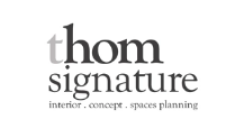 Thom Signature Design specializes in luxury and contemporary interior design that has an innovative design staff to exceed any customer's expectation.
Aside from designing new houses and spaces, they also work on revamping or restoring old houses. If quality is what you're looking for, give Thom Signature Design a try!