Good roofing means good shelter for our family and loved ones.  It shields us from the harsh elements produced by nature.
Unfortunately, no matter how great our roof can be, it will always be subjected to wear and tear.  Nothing's forever as they say.  For this reason, you should know the right partners.
If you're living in DC, roofing companies are found everywhere.  But of course, you should only rely on the best ones.  We have taken the initiative to search and list six of the most credible roofing companies in DC.
Scroll on and get to know them…
1. Lyons Contracting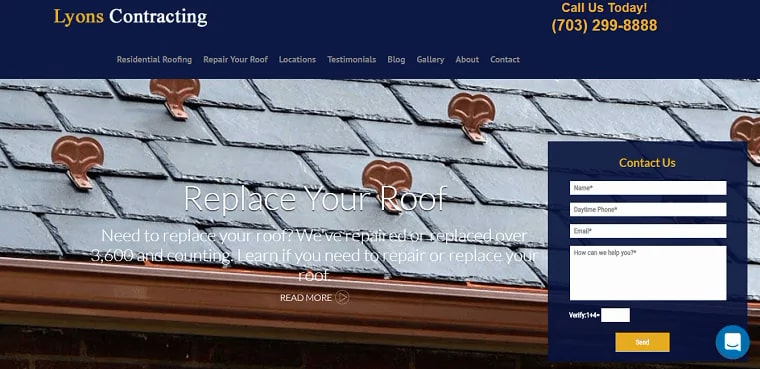 BEST FOR
Residential roofing services
SERVICES
Flat, metal, shingle, slate, and tile roofs

Emergency repairs

Storm damage repairs

General repairs

Custom metal roofing systems

Choosing the right roofing systems

Roofing replacement

ADDRESS
312 A Calvert Ave., Alexandria, VA 22301
CONTACT
Phone: (703) 299-8888
WEBSITE
https://www.lyonscontracting.com
Lyons Contracting offers top-quality roofing, roofing repair and replacement.  It has been serving DC for over 20 years.  If you need Lyons' help, fill out their online contact form to schedule your free in-home, no-obligation consultation.
2. Kelbie Home Improvement Inc.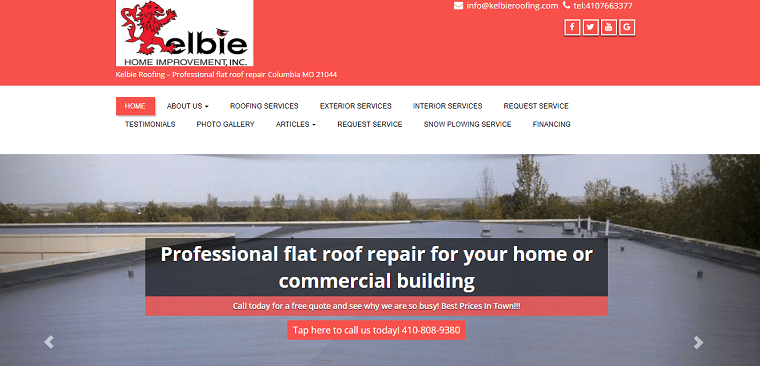 BEST FOR
Home improvement services
SERVICES
Roofing repairs and emergencies

Preventive maintenance

New construction and installation

Slate, cedar, Spanish tile, metal,  galvanized, asphalt, shingle, two-ply, and single-ply

Roofing membranes and protective roof coatings

ADDRESS
Not available
CONTACT
Phone: 4107-663377

Email: [email protected]

WEBSITE
https://kelbieroofing.com/
Five generations have made Kelbie Home Improvement Inc. what it is today—a top-tier residential contracting firm.   Kelbie performs quality roofing services and won't stop until you're completely satisfied.  Here's what they have to offer:
Service for all types of homes
Preventative maintenance for 8 to 12-year-old homes
25-year warranty for shingle roofs; 10-20 year warranty on flat roofs
Financing options
3. Ebenezer GC Innovation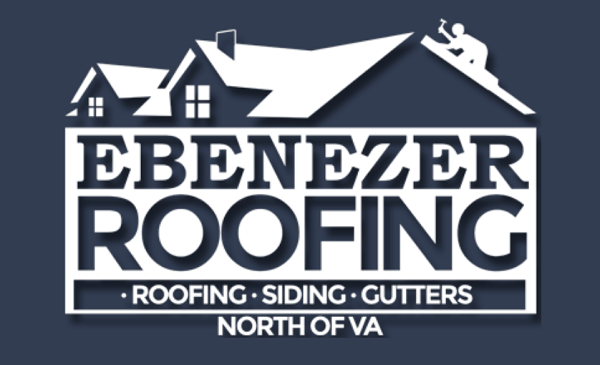 BEST FOR
Residential roofing services
SERVICES
Roof installation, repairs, and replacement

Gutters installation and repairs

Siding

Asphalt shingles

Slate and synthetic slate

Metal roofing

Cedar shake

Torch down

Polyethylene Propylene Diene Monomer Rubber

Thermoplastic Polyolefin

ADDRESS
Washington, DC 2012
CONTACT
Phone: (703) 577-9388
WEBSITE
http://ebenezergcinnovation.com/
Ebenezer GC Innovations was founded in 2009 and has been roofing DC homes and businesses since then.  The company is one of the most sought-after because it's comprehensive and affordable.   It is fully insured, licensed, and bonded to ensure that you will get the best guarantees.  It also holds BBB accreditation as well as numerous certificates including GAF.
4. Maggio Roofing

BEST FOR
Roof, gutters, and solar solutions
SERVICES
Roofing installation, replacement, and repair

Commercial Roofing

Flat roof, asphalt shingles, slate shingles, concrete tile shingles, and wood shingles

Gutter installation, repair, replacement, and guards

ADDRESS
6476 Sligo Mill Road, Takoma Park, MD 20912
CONTACT
Phone: (301) 321-7674
WEBSITE
https://www.maggioroofing.com/
Maggio Roofing is a premier roofing company in D.C founded in 1989.  It offers top-of-the-line, custom-built roofing systems for residential and commercial properties.  The company is licensed and insured in Washington D.C. and Maryland, Virginia.  Here's what Maggio has to offer:
Fully-trained and equipped team of roofing experts
Free quotes
Flexible financing options
Top-rated products
5. Complete Roofing Solutions

BEST FOR
Residential and commercial roofing services
SERVICES
Roof repairs, replacement, maintenance, and inspections

New roofs and construction

Consulting

Custom Design

Preventative Maintenance and roofing maintenance contracts

Waterproofing

Energy Savings

Environmental Solutions

Shingles, corrugated metal sheet, built-up, elastomeric, tile & slate, and thermoplastic roofing

ADDRESS
11140 Rockville Pike, Suite 420 Rockville, MD 20852
CONTACT
Phone: (202) 407-3634
WEBSITE
http://www.rooffixed.com/
Complete Roofing Solutions has been flooring D.C., Maryland, and Virginia for nearly 30 years.  The company's expertise has made it one of the go-to roofing companies in the said areas.  If you hire Complete Roofing Solutions, you are guaranteed to have:
Cost-efficient roofing process from start to finish
Professionally installed roof
Final output which exceeds your expectations.
Matching guarantee of your choice of shingle roofing
100% guaranteed satisfaction
6. Roof Solutions Inc.

BEST FOR
Residential and commercial roofing
SERVICES
Metal, flat, shingle, shake, slate, and green roofing

Gutter or downspouts

Ventilation systems

Skylights

Duradek – vinyl

Solar options

Hassle-free maintenance

ADDRESS
9325 Fraser Ave, Silver Spring, MD 20910, United States
CONTACT
Phone: (301) 565-2600

Fax: (301) 565-2760

Email: [email protected]

WEBSITE
https://roofsolution.com/
Roof Solutions has been roofing D.C., Maryland, and Virginia.  Its services come with a one-year guarantee and the company's technicians are all licensed, insured, bonded, and manufacturer-certified.  Roof Solutions also received an A+ rating from BBB (Better Business Bureau).
7. Pond Roofing Company, Inc.
BEST FOR
A premier exterior remodelling company
SERVICES
Roofing

Gutters

Skylights & sun tunnels

Siding

Windows services

Door services

Specialty projects

ADDRESS
2985 Prosperity Avenue Fairfax, Virginia
CONTACT
Call: +1 703-573-8000

Email: [email protected]

WEBSITE
https://www.pondroofing.com/
For more than 50 years, Pond Roofing Company, Inc. has been helping residents of Northern Virginia with their exterior remodelling needs. They are a family-owned and operated business that has been consistently recognised as one of the leading roofing companies in Washington, D.C. Pond Roofing Company, Inc. has won various awards for their quality of service and expertise in the industry.
The company also offers the following:
New roof installation
Roof repair
Siding
Windows and doors
Skylights
Gutter replacement
8. Karma Home Designs
Karma Home Designs is a multi-awarded boutique firm that provides general construction and roofing services. They are led by a group of highly experienced craftsmen and skilled professionals, who have different takes on pre construction with a focus on design. This way, Karma Home Designs can better involve themselves on each project and have an overall individual experience with their clients.
Their services also include:
Residential
Commercial
Government
9. Capital Roofs Plus LLC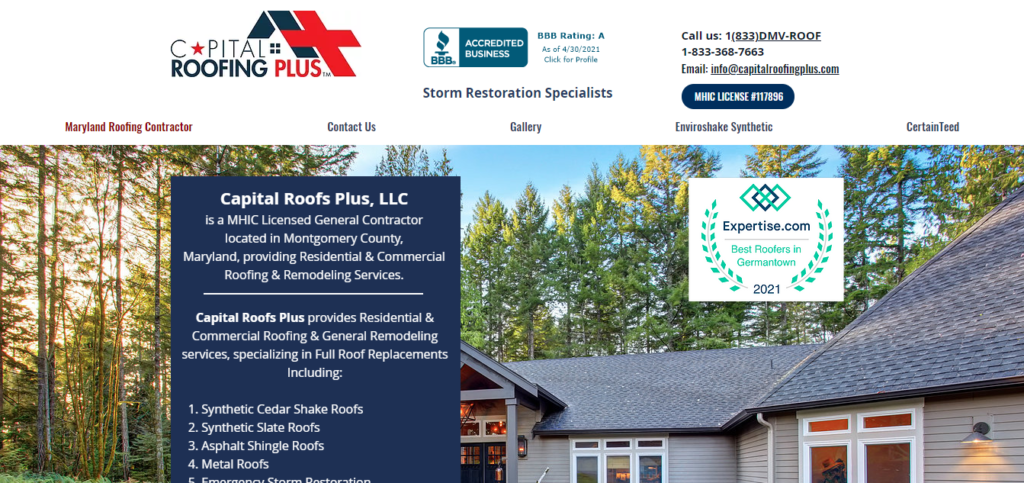 Capital Roofs Plus LLC is a BBB Accredited Business that has a rating of A. Plus they are considered to be the best roofers in Germantown this 2021.
Whether your home was damaged by a recent storm or it's simply time to update your Roof, you may contact them for a free inspection. No matter what type of roof you currently have, whether it is Synthetic Cedar Shake Roofs​, Synthetic Slate Roofs, Asphalt Shingle Roofs, or Metal Roofs they can fully replace it.
One client wrote a review saying that their experience with Capital Roofs Plus LLC was so smooth. Their team was able to complete their work within a day and the result was beyond their expectation.
They added that they chose to replace their Cedars shake with Enviroshake and the replacement cost was way cheaper than the company's competitors.
Their services also include:
Residential
Commercial
Remodeling
Siding, Gutters, Custom Trim
Drywall and Painting Repairs