The Sunshine Coast in Southern Queensland, Australia is a favorite destination of tourists and holiday fun seekers because of its pristine beaches, surf spots, and rural hinterland.  However, it is also a highly populated area and considered the 3rd most populated area in the Australian state of Queensland.  Along with the growing population, the need for electrical services is likewise increasing.  While one enjoys staying at home or in some resort to enjoy the holiday, no one can't have the pleasure to relax when there's faulty wiring, broken light switch, or dead outlets.   So before these minor electrical issues get in the way or put your home at risk, you need the help of an expert to put things right.  For your electrical service needs, we provide you a selection of South Coast's best electricians.  Here's the list of the Best Electricians in Sunshine Coast.
1.     Jim White Electrical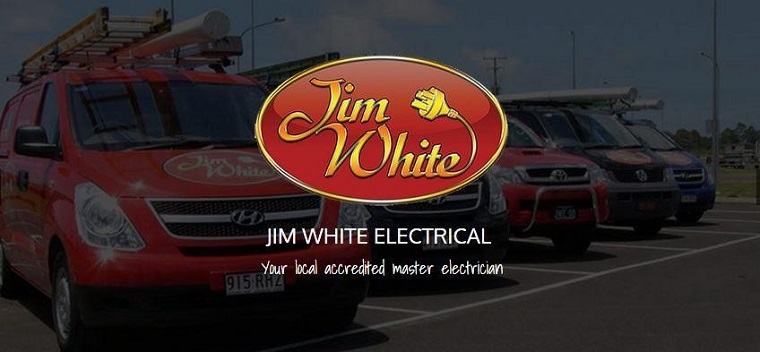 | | |
| --- | --- |
| Best For: | Electrical installations, new builds, renovations, Commercial/domestic, all appliance repairs, and LED lighting specialist. |
| Services Offered: | All power, light, data, and phone, hot water system repairs, test and tagging service, energy saving audits, real estate maintenance, safety switches, air conditioning installation, garden lighting, surge protection, and many more |
| Address: | 10/12 Norval Court (3,569.51 mi) Maroochydore, Queensland 4558 |
| Website: | http://www.jimwhiteelectrical.com.au/ |
| Contact Info: | (07) 54796122 |
Jim White Electrical is a one-stop shop that has been in electrical servicing business for over 16 years.  With Jim, you are assured to obtain a fast and efficient repair for all your appliances and fixed electrical items at a competitive price and in high-quality workmanship.  On top of this, clear upfront pricing will give you stress-free services on your electrical needs.  Jim White Electrical introduction of fixed prices on many items enables customers to budget accordingly.  Knowing exactly how much each job will cost prior to its commencement provides peace of mind.
2.    Act Right Electrical Sunshine

Best For:
General electrical (lights, power points & switches)
Air conditioning installation & replacement
Smoke alarm installation, new builds & renovations
Phone, data & TV points
Services Offered:
Electrical maintenance, new home wiring, body corporate electrical maintenance, property management electrical maintenance, small/large renovations and air conditioning installation on the Sunshine Coast
Address:
100 Banksia Ave, Coolum Beach QLD 4573
Website:
http://actrightelectrical.com.au/
Contact Info:
0431 588 808
Act Right Electrical is a local-based electrical service provider established by the partnership of Chris Goundrey and Dan Ritchie who both dwelt on the Sunny Coast for over 25 years.  With their combined knowledge, experience, and skills in the electrical industry, the business boasts of providing fuss-free, quality but affordable electrical and air conditioning services to the residents of Sunshine Coast.  Call today and discuss your electrical issue with an experienced electrician free of call back fee.
3.  DNA Queensland Electrical
Best For:
Fully licensed, Arc tick Certified and Clean Energy Council Accredited installers with the highest safety standards in the business
Services Offered:

Local Electrician Services
Solar Installations
Air Conditioning
Smoke Alarms
Safety Switch Installation

Address:
2 Kite Pl, Parrearra QLD 4575
Website:
https://www.dnaqueenslandelectrical.com.au/
Contact Info:
P (07) 5437 7433

M 0428 625 320
DNA Queensland Electrical is a local electrical contracting company that's family owned and operated. They've been operating in the electrical, lighting and cooling industry since 1995 with their staff having a combined electrical knowledge of 40 years.
4.   J&P Electrical
Best For:
Residential/Commercial
New builds, renovations, repairs, and redesign
Renovations & additional words
Lightings
Services Offered:
Create and implement an electrical plan for your dream home, assist in reaching your commercial deadlines, switchboard upgrades, re-wire in new power points, and complete office fit outs
Address:
BUDDINA, QLD 4575
Website:
https://www.jandpelectrical.com
Contact Info:
JAMES: 0417509624/PAUL: 0408388932
Considered one of the best electrical service providers on the Sunshine Coast, J&P Electrical is a team of professional electrical contractors with over 30 years of combined experience.  All contractors hold A Grade Electrical Licenses and are dedicated to quality workmanship and outstanding communication.
5.    24 Hour Emergency Electrician Sunshine Coast
Best For:
Emergency electrical services
General repair and installation
Strata services
Services Offered:
Fixing appliances, lights, automated systems, data and communications, safety systems, solar and power systems, 3 Phase water systems, and wirings
Address:
Sunshine Coast, Australia
Website:
https://24houremergencyelectriciansunshinecoast.com.au/
Contact Info:
0428 158 086
[email protected]
Electrical faults could happen anytime and always at an inconvenient time or hour.  Sunshine Coast Electricians, especially the 24 Hour Team are always on standby for your calls and queries that are electrical-related.  They guarantee their customers quality, fair pricing, and immediate response to your call as the team specializes in after-hours emergency electrical issues for residents and business on the Sunshine Coast.
6.   Sparkies PLUS
Best For:
All electrical works
Free 11-Point Electrical Safety Inspection
Clean and tidy house-trained electrician
Red carpet service
Services Offered:
 Power point installation,  lighting installation, lighting, repairs, loss of power faults, pool wiring, LED downlight installation, shed wiring, ceiling fan installation, safety switch installation, and LED downlight installation
Address:
Maroochydore QLD 4558
Website:
http://sparkiesplus.com.au
Contact Info:
(07) 5408 4044
Sparkies Plus, a local, experienced and fastidious electrical service provider is ready to help wherever you are on the Sunshine Coast.  Offering prompt and professional electric-related services, with a money-back-on-time guarantee plus no-surprises and fixed upfront quoted by the job, Sparkies Plus can help you with a wide range of electrical repairs and installation including power points, lights, and ceiling fans, to new switchboards, smoke alarms and rewiring in-between.  On top of these, Sparkies PLUS offers a lifetime warranty on quality workmanship!  For your immediate electrical solutions on Sunshine Coast, call Sparkies PLUS today at (07) 5408 4044.  You may also book online via their website:  http://sparkiesplus.com.au/
7.     Paul Matters Electrical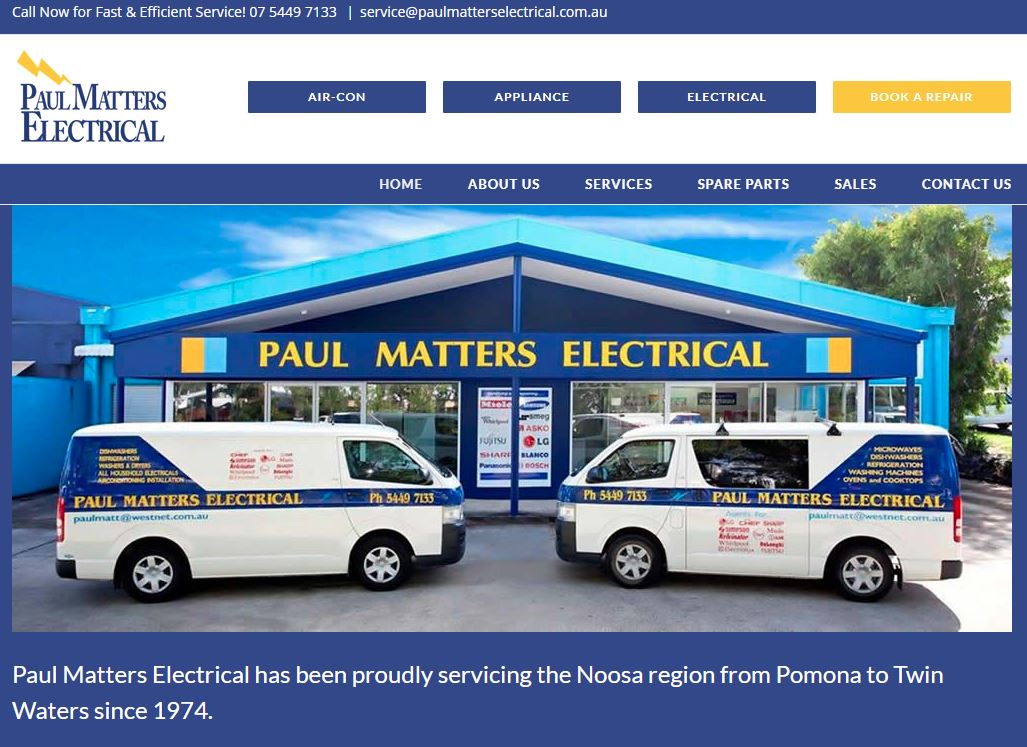 Best For:
Expert service technicians with electrical contractors and refrigerant handling licenses
Services Offered:
All electric-related services
Address:
4 Venture Drive, Noosaville,
Sunshine Coast QLD
4566, AU
Website:
https://www.paulmatterselectrical.com.au/
Contact Info:
Ph: + 61 (07) 5449 7133
Email: [email protected]
Paul Matters Electrical has been famously servicing the Noosa region from Pomona to Twin Waters since 1974. They have over 10 vans covering their service region, offering a prompt and professional service across a broad range of technical skills. Over the years, they have become a leading partner with many of the regions leading real estate property managers, resorts, and businesses, in addition to residential clients.
8.  Blanchard Electrical

Best For:
Residential and commercial electrical services
Services Offered:
Residential, commercial electrical, Tesla, and Data/TV services
Address:
PO BOX 1075, Noosa Heads, QLD, 4567
Website:
http://www.blanchardelectrical.com.au/
Contact Info:
Phone: 0414158620

Email: [email protected]
Blanchard Electrical are expert Sunshine Coast Electricians who offer the best products for your home or commercial electrical needs. They have worked hard at building a name for quality and reliability from a team that can do the job right the first time.
9.   Phil Wilshire Electrical Pty. Ltd.
Best For:
Electrical, solar, and automatic gates
Services Offered:
Domestic, Commercial & Industrial
General Electrical
Intercoms & Automatic Gates
Solar Electricity Systems
Address:
35 Springs Dr Little Mountain QLD 4551
Website:
https://www.philwilshireelectrical.com.au
Contact Info:
Email: [email protected]
07 5491 3911/0403 281 300
A family-owned and operated business which started in 1999, Phil and his team of electricians strive to provide excellent customer service for all jobs provided.  They always put the clients' needs as their first priority with the belief that a business will never achieve success without a loyal customer base, thus putting great value on honesty and dependability. The business prided itself on providing genuine, old-fashioned service.
10.     Skilled Electrical

Best For:
Residential, commercial, industrial electrical services
Services Offered:
All electric-related services
Address:
P.O. Box 9221, Pacific Paradise, Queensland, 4564, Australia
Website:
http://skilledelectrical.com.au/
Contact Info:
+61 430 311555
[email protected]
Skilled Electrical Services is a Queensland-based electrical service company established in 1996. With a huge team of certified electricians, they're known for punctual and genuine customer service.
11.     Excite Electrics
| | |
| --- | --- |
| Best For: | Residential, commercial, industrial electrical services, and led lightings. |
| Services Offered: | All electric-related services |
| Address: | 6/106 Sugar Road, Maroochydore QLD |
| Website: | https://exciteelectrics.com.au |
| Contact Info: | 1300 414 177  Email:  [email protected] |
Led by Andrew Easton, Excite Electrics embraces a positive culture with a team of electricians who are passionate about their trade and dedicated to supporting clients' needs.  Their approach is driven by their proven commitment to excellence in customer service and on their belief that clients are their business greatest assets.  Excite Electrics strive to build long-term partnership and relationship of mutual respect and collaboration efforts.
12.  Tenmen Electrical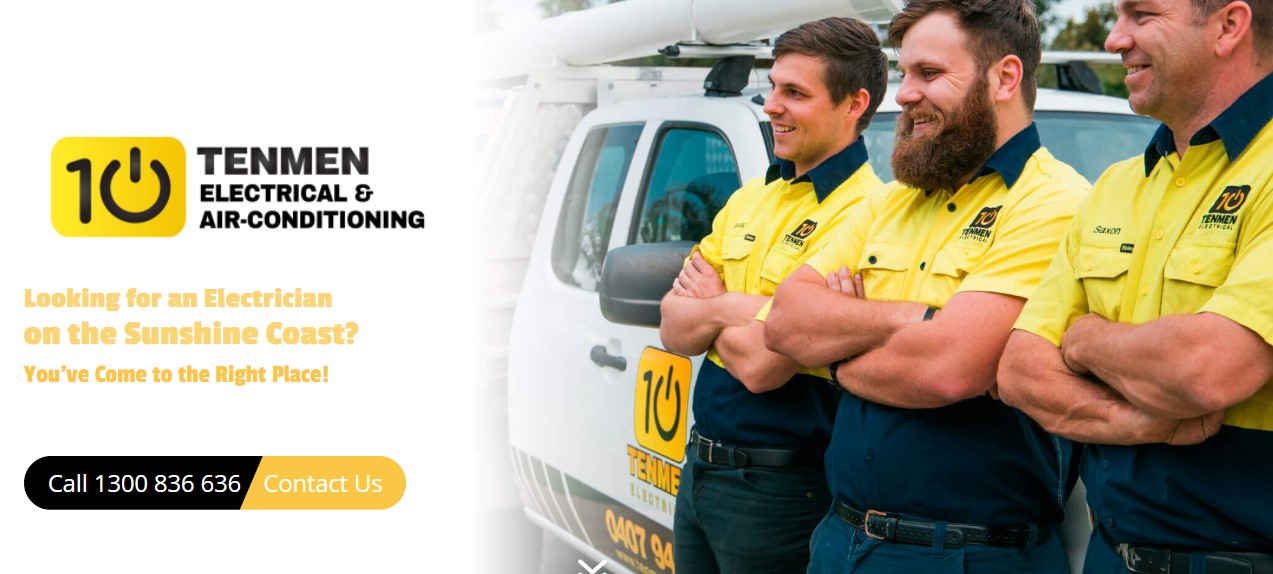 Tenmen Electrical know that their clients are looking for quality workmanship at a price that they can afford, which is why when you avail their services, you are choosing to invest in efficient, more intelligent and user-friendly electrical solutions for your home or business. They employ only qualified and courteous electricians, covering the entire Sunshine Coast area.
13.    Charge Rite Electrical
| | |
| --- | --- |
| Best For: | Residential, commercial, and industrial electrical services |
| Services Offered: | Installation and maintenance, new connections, andrenovations, power, phone and data points, testing and tagging, safety switches and smoke alarms, and lighting |
| Address: | Inquire via call or email |
| Website: | https://chargerite.com.au/ |
| Contact Info: | (07)5444 5661 Email:  [email protected] |
A locally-owned and operation electrician on the Sunshine Coast, Charge-Rite Electrical offers all types of electrical installations, renovations, repairs, and maintenance for industrial, residential, and commercial clients which includes cable location and thermal imaging inspections.  Because this local-based electrician realized the severe detriment that a power outage or an electrical issue can cause anyone, they are always on the lookout for urgent issues and respond quickly. With over 30 years of experience in the electrical industry, you can be assured that your electrical work is in safe and excellent workmanship.