No matter where you are, in a commercial or residential establishment, controlling pests is something that can't be easily done. When you're dealing with serious infestations, the 6 best pest control Durban companies on this list will always be at your service!
Your health, safety, and valuables are all in danger especially when you're dealing with pests in large sizes or amounts. Whatever the case is, a professional will always have the solution you need.
So for cost-effective pest control solutions, here are the companies that you can trust:
1.     Service Master

Best For
Complete Pest Control Services
Services Offered
Industrial, commercial, and domestic pest control

General pest control

Lawn treatments

Bat exclusions and bird control

Cleaning and hygiene services

Address
Durban, South Africa
Contact Information
086 122 2244
Website
https://www.servicemaster.co.za/service-master-durban/
Service Master has over 50 years of professional experience in delivering pest control services. You name the pest, they can get rid of it! Their wide-ranging services are applicable to industrial, commercial, and residential establishments hoping to be pest-free. Aside from providing quality treatments to common pests, they also offer cleaning and hygiene services to further ensure your property's safety and cleanliness.
2.     Sadie's Pest Control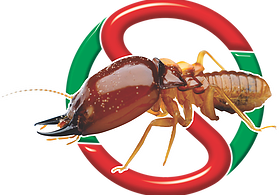 Best For
General Pest Control
Services Offered
General pest control and lawn treatments

Wood destroying insect control

Commercial and residential compliance certificates

Address
160 Lighthouse Rd, Ocean View, Durban, 4052
Contact Information
079 491 0834; 031 466 4736
Website
https://www.sadiespestcontrol.com/
Sadie's Pest Control deals with general or common pests and wood-destroying insects. Their pest control specialists are always dedicated to providing expert advice, quality workmanship, and satisfying overall service. Besides premier quality pest control service, they also offer inspections and compliance certifications for commercial and residential properties.
3.     Pest Control Specialists Durban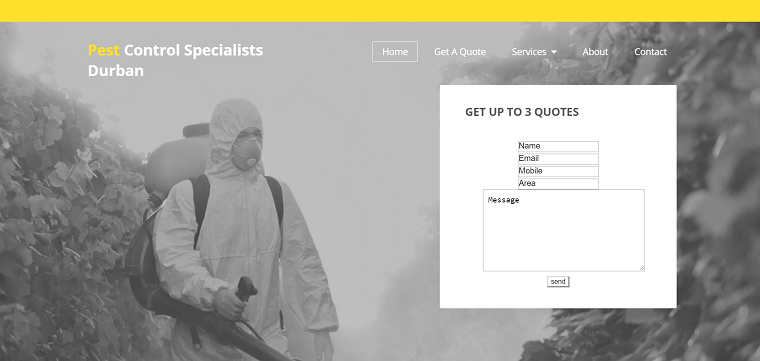 Best For
General Pest Control
Services Offered
General pest control

Fumigation services

Residential pest control

Address
Durban, South Africa
Contact Information
Use the contact form on their website to get in touch
Website
https://pestcontrolspecialistsdurban.co.za/
With their combination of personal approach and reliable service, Pest Control Specialists Durban is able to satisfy many clients in Durban. A lot of people continue to trust them because of their reasonable rates and 100% efficient pest control solutions. From pesky termites and cockroaches to stinging insects, they can keep them all away from your home. Learn more about the company by heading over to their website at https://pestcontrolspecialistsdurban.co.za/.
4.     Leap Pest Control

Best For
High-quality Pest Control Service
Services Offered
Residential and commercial services

Wood borer and termite control

Interior and exterior pest control

General preventative service

Electrical services

Address
52 Stellawood Road, Umbilo, Durban, 4001
Contact Information
071 302 2223; 031 205 9753
Website
https://www.leappestcontrol.co.za/
Leap Pest Control is a family-owned business with a goal to protect you, your home, and your family from whatever that bugs you. They understand that when pest infestations are ignored, this can lead to damaged property and serious health risks. And with that in mind, the company and its team always strive to deliver the most efficient pest control solutions. In their initial service, they will spray the exterior and interior of your home. Afterward, they will return to conduct bi-monthly or quarterly pest control service. They can also do one-time pest control treatment when the customer calls for it.
5.     Big Daws Pest Control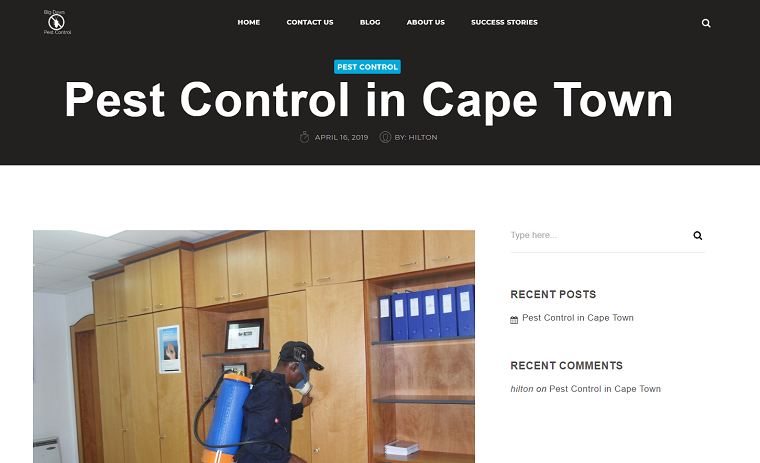 If you need low-cost yet expert pest control solutions, Big Daws Pest Control is the exact company you need. They are also known for their quick, environmentally-friendly extermination services — best for eradicating bugs, insects, and rodents infesting homes and commercial businesses. The company has a large, fully-trained team which means they can approach your situation no matter how serious or complicated it is. If you're interested in learning more about the company and how they work, go to https://www.bigdawspestcontrol.co.za/pest-control-in-cape-town/.
6.     Pest Solutions
Best For
Eco-friendly Pest Control
Services Offered
Industrial and commercial pest control services

Residential pest control

Integrated pest management

Special treatments

Address
77 Effingham Road, Durban North, Durban, Kwazulu Natal
Contact Information
031 530 7792
Website
https://pestsolutions.co.za/
Pest Solutions is a reputable pest control company known for being environmental service-oriented. Meaning, they offer a broad range of solutions to commercial and residential establishments that won't cause harm to the environment. In fact, they have an expert team that continuously work on developing pest control treatments and methods with minimum impact on nature. Alongside this, they also meet the high standards set by the industry, ensuring that you will get premier quality and safe pest control solutions at the same time.
7.    Pest Man
Best For
Safe Pest Control Solutions
Services Offered
Guaranteed domestic, commercial and industrial pest control
Wood borer and termite inspections and treatment
Entomology inspection and certificate for the transfer of property
Bird proofing
Address
Durban, South Coast, North Coast and surrounding areas
Contact Information
Tel: 031 220 2101
Cel: 061 442 3178
Email:

[email protected]

Website
https://www.pestman.co.za/
Based on their years of experience in pest control and a commitment to your safety and the environment, they offer you:
Effective, safe and guaranteed pest control solutions
A pest-free home or work environment through safe pest removal
Every pest problem addressed in an environmentally safe way
Guaranteed no-gas fumigation pest treatment option available
Minimal inconvenience to you
Preventative treatment so you never have to worry
Services compliant to SABS standards and Government legislation
Experienced advice and free quotations
Entomologist inspections and certificates for transfer of property