Do you have an ongoing electrical problem at home? Or perhaps you need someone to help you with your commercial electrical projects?  Whatever they may be, the best way to accomplish them is to enlist the help of electrical experts.  Their broad experience and expertise in the industry can ensure that the work will be accomplished.
If you're in Pretoria and are looking for the most trustworthy electricians that can do the job for you, then just simply scroll on.  Below are six of Pretoria's premier electrical service providers that can fix your electrical issues.
1.  Tim Brown Electrical

BEST FOR
Residential and commercial electrical works
SERVICES
Lighting

General electrical services

Inspection and testing

Rewiring

New office layouts

Installation, repairs, and replacement services

ADDRESS
12A WF Nkomo Street, Cnr Princess Park Avenue,

Pretoria Central, 0002 South Africa

CONTACT
Phone: : 012- 755- 0300 | 067- 009- 4343

Email: [email protected]

WEBSITE
http://www.timbrownelectrical.co.za/
Tim Brown Electrical, a local electrical company, has been serving Gauteng and surrounding provinces for more than 10 years.  It is fully-qualified in the most recent electrical regulations to better serve its clients in residential and commercial sectors.  The company specializes in electrical installation, repair, maintenance, training, and fault-finding.
Tim Brown Electrical offers cost-effective quotes, certified electrical installations, and a 100% guarantee on all its work.
2. Pretoria, Centurion & Midrand Electricians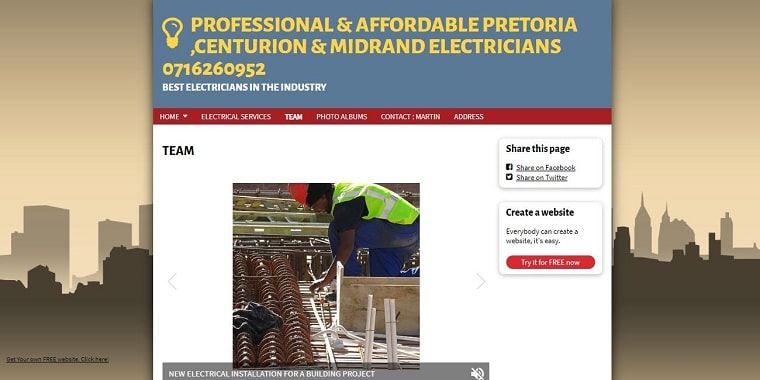 BEST FOR
Electrical emergency services
SERVICES
Landlord certificates

Electrical testing/inspections

Certificates of Electrical Compliance/Electrical safety certificates

Fault finding

Home electrical wiring and re-wiring

ADDRESS
Haymeadow Crescent, 107 Boardwalk Office Park, Faerie Glen, Pretoria, South Africa
CONTACT
Phone: 071-626-0952

Email:[email protected]

WEBSITE
http://wizardelectrical1.simplesite.com/420942894
Pretoria, Centurion & Midrand Electricians is a one-stop company that offers electrical solutions.  They provide the most professional, credible, and quality customer service and products at competitive prices.  Here's why you should consider availing their services:
24/7 emergency service
Courteous, highly-skilled, and experienced electrical engineers
Prompt response and same-day repair guaranteed
100% satisfaction guaranteed
Upfront and transparent pricing (no hidden charges)
3. Royal Electricians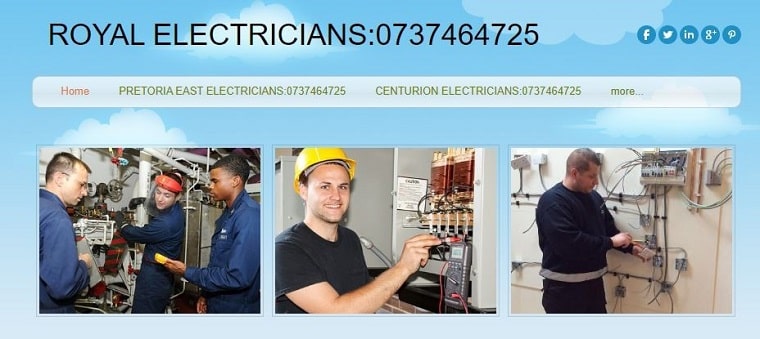 BEST FOR
Residential, commercial, and industrial electrical works
SERVICES
Electrical service and troubleshooting

Diagnose and solve electrical problems

Electrical maintenance and repair

Emergency service calls

Remodeling

EV charging

ADDRESS
124 Trouw St, Capital Park, Pretoria, 0084, South Africa
CONTACT
Phone: +27 81 360 8765
WEBSITE
https://royalelectricians.weebly.com/
Royal Electricians is a full-service electrical contractor that has been providing electrical services for more than 9 years.  It offers a wide spectrum of residential, commercial, and industrial electrical services and solutions.  No matter what your issue is, the Royal Electricians can fix it for you.  They offer a 100% guarantee on all their electrical services and technicians.
4. Dan Electrical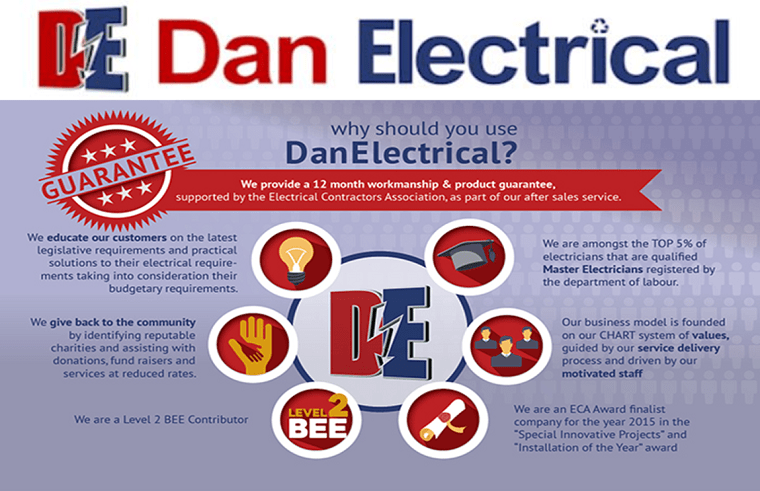 BEST FOR
Residential, commercial, and industrial electrical works
SERVICES
Residential electrical services

Commercial compliance certification

Electrical refurbishments and installations

Surge protection

ADDRESS
13 Roosmaryn Ave., Newlands, Pretoria, 0049, South Africa
CONTACT
Phone: 0861- 8SPARK

Fax:  086- 531- 1918

Email: [email protected]

WEBSITE
http://www.danelectrical.net/
Dan Electrical, a registered Master Electrician, observes policies and procedures recognized by Pretoria residents and business owners.  It is a proud member of the Electrical Contractors Association which means that they provide only the most outstanding services and most reliable information you can get.
5. Katulushi Engineering, Electricians and C.O.C Certificates of Compliance Pretoria East/Centurion/Midrand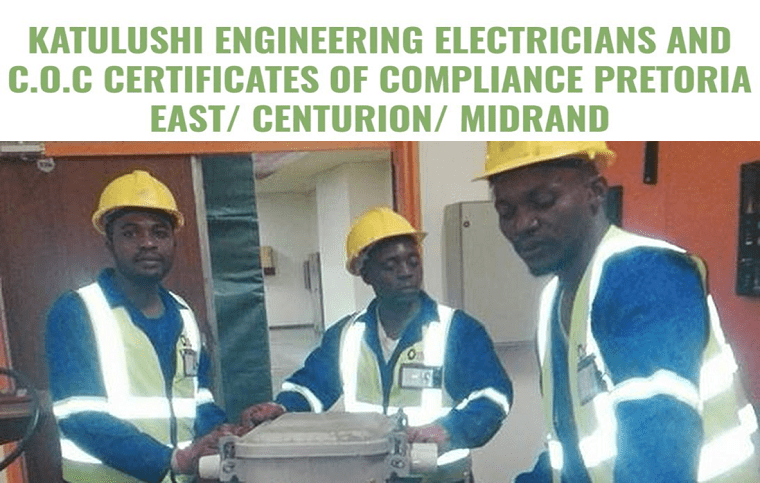 BEST FOR
Residential and commercial air conditioning systems installation

Residential, commercial, and industrial electrical works

SERVICES
Appliance repairs

Lighting

Surge protection

Electrical reticulation system design

Substation maintenance

ADDRESS
Not available
CONTACT
Phone: 078- 388- 9884 | 081- 233- 0547
WEBSITE
https://katulushiengineeringptyltd.business.site
Katulushi Engineering is an electrical contractor in Pretoria East that specializes in electrical and HVAC services.  They also offer appliance repairs including Samsung, Whirlpool, Sony, LG, Sharp, Russel Hobbs, and many other brands.
6. Waterkloof Electrical
BEST FOR
Electrical, air conditioning, electronics & TVs, DSTV & satellite, and security & CCTV services
SERVICES
Domestic and commercial electrical services

Electrical repairs

Construction

Stand-by generators

Certificate of compliance

ADDRESS
729 Rubenstein Dr, Moreletapark, Pretoria, 0044, South Africa
CONTACT
Phone: 012- 460-5151 | 012-460-9111

Email: [email protected]

WEBSITE
https://www.waterkloofelectrical.co.za/home
Waterkloof Electrical, established in 1980, is a private-owned electrical contracting business.  It has a proven track record and outstanding reputation as an electrical contractor.  The company started as a small business with only one vehicle for service but has continuously progressed since then.  Waterkloof Electrical caters to both residential and commercial sectors by offering new electrical installations, repairs & maintenance, design, consulting, and audits.