Getting ready for the construction of your new house or renovation of your old place? Whichever it is, the roofing in any property must be one of the top priorities so you must look for a reliable specialist that offers the best roofing in Jacksonville.
Lucky for you, we've already found you the most recommended companies that offer roofing services in town. They're experts in both residential and commercial works and they even provide personalised alteration and regular maintenance.
They also take charge of solving multiple roofing issues like missed tiles, leaks, and other repairs and replacements. To find out more about their specialities and offered rates, take a look at our list of places with the best roofing in Jacksonville.
1. AJ Wells Roofing and Construction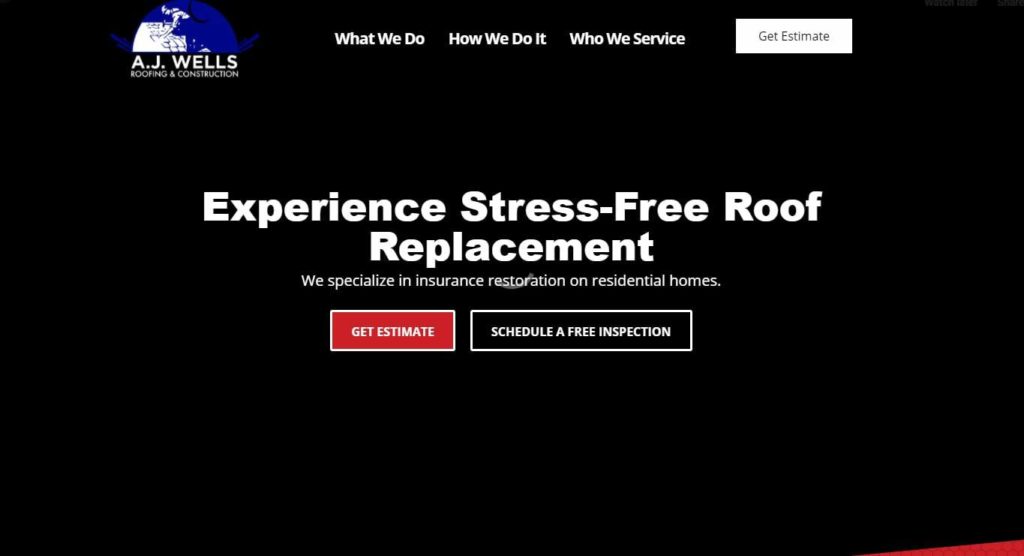 If there are too many repairs to do on the roof of your home, then it's better to do an overall makeover. AJ Wells Roofing and Construction specialises in restoration services for roofs on homes.
Their experienced craftsmen are highly knowledgeable. They offer an extensive range of services including roof replacement, inspections, installation, ventilation, flashing, waterproofing, and more.
They're also experts in repairing damages and leaks to prevent worse cases. They take pride in their top-quality products that come from established manufacturers.
Most importantly, they don't demand payment upfront. You'll pay once the work is complete and you've approved the job.
Due to the credibility gained through decades of service, they've become one of the leading roofing businesses that offer the best warranties in the marketplace.
Why Choose AJ Wells Roofing and Construction?
Skilled roofers and framing specialists
Certified general contractor
Emergency services
Free estimate
Free inspection
10-year workmanship warranty
2. Tadlock Roofing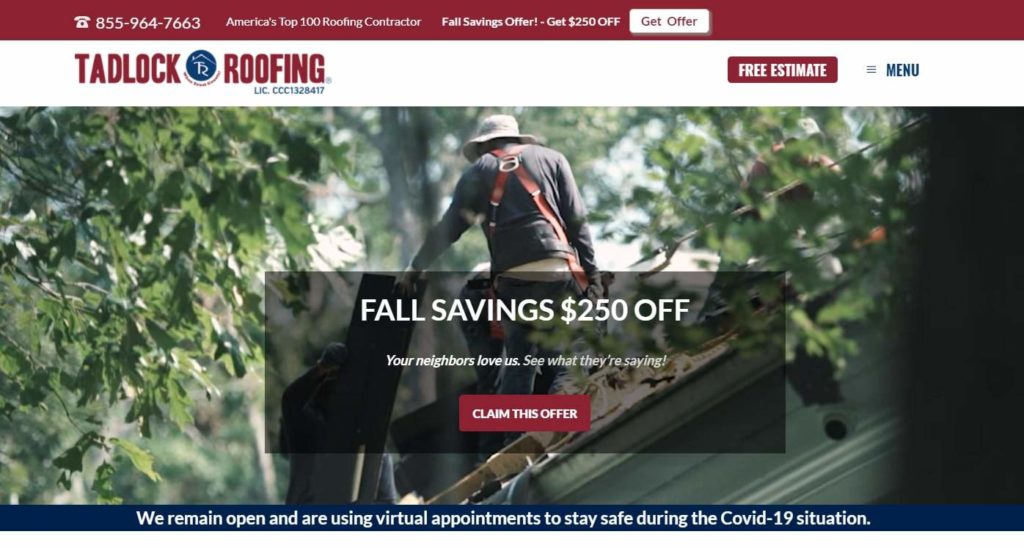 Tadlock Roofing has been serving residential and commercial roofing services for several decades. They're fully equipped with a team of consultants, installers, and customer service professionals who'll accompany you through repair, replacement, and enhancement of your roofing system.
They provide a wide range of services involving flat or steep slope roofing systems, attic insulation, asbestos remediation, roof washing, skylight and sun tunnel installation, and many more.
The products used for repairs and replacements are specially developed to withstand extreme weather conditions. So you can be sure that your roof will last for years despite the heavy impact of storms.
Unlike most service providers, they offer a variety of payment plans to fit your financial needs. These plans offer flexible term lengths and fixed rates, suitable for any budget.
Why Choose Tadlock Roofing?
Residential and commercial services
Virtual appointments
Free estimate
Flexible payment options
Special discounts
3. Jack C. Wilson Roofing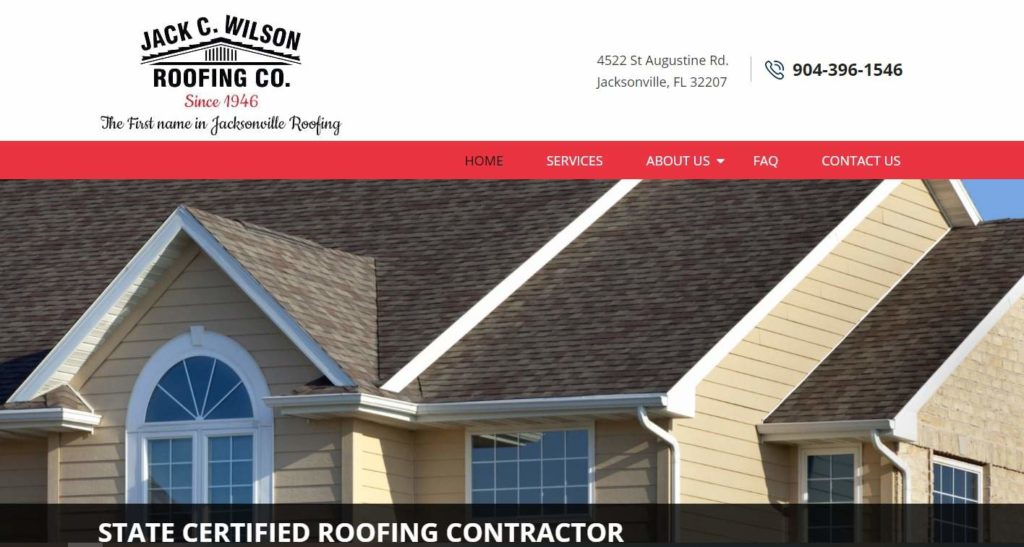 As one of the longest-running businesses in town, Jack C. Wilson Roofing offers specialties that most roofing companies don't have.
This includes chimney repairs where they may custom-build chimney caps, wind bands, and wagon covers — this is to ensure that your chimney is installed and maintained properly.
They've worked for residential and commercial projects, providing re-roofing or leak repair services. Their dedicated team members are also experienced with shingles and modified rubber roofing, tapered systems, skylights, storm damage repairs, ventilation systems, etc.
Why Choose Jack C. Wilson Roofing?
Complete roof replacements
Tapered systems
Storm damage repairs
Skylights
5-year workmanship warranty
4. Prime Roofing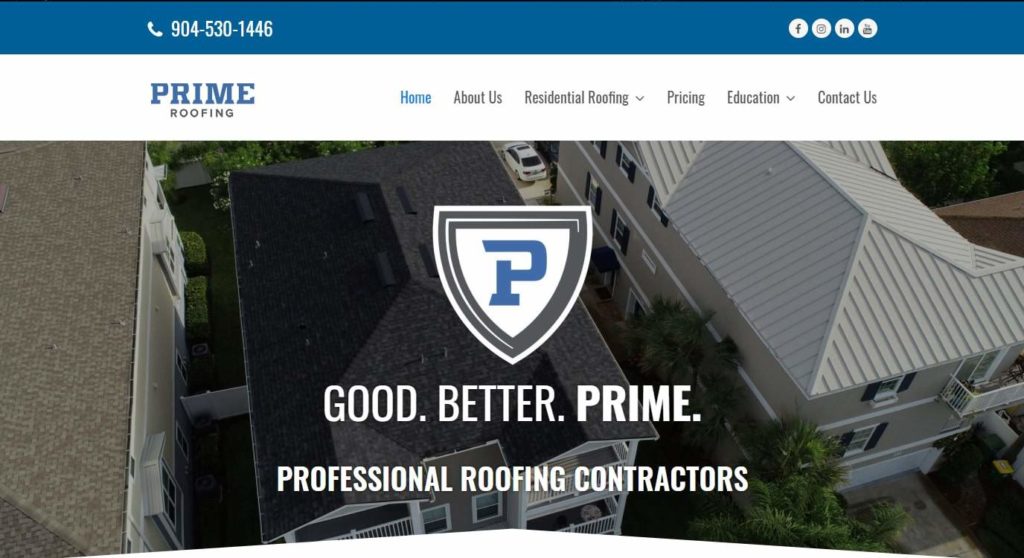 Prime Roofing specialises in roof replacements on residential homes. With a decade of experience in the roofing industry, they've successfully served thousands of homeowners, providing different shapes and sizes for everyone's homes.
Their team uses high-quality and proven materials along with their excellent craftsmanship, ensuring that you'll get a decent and durable architectural-style roof.
Unlike most companies, they don't subcontract their workers either. All of their staff are in-house, skilled and trained properly.
The roofs are installed with hand-picked materials and specialised techniques. They also offer custom-made drip edge flashings and dependable shingles.
Why Choose Prime Roofing?
Stylish and functional roofing system
Modern design
Timely completion of local roofing projects
Durable new roofs
Roofing packages
5. Reliant Roofing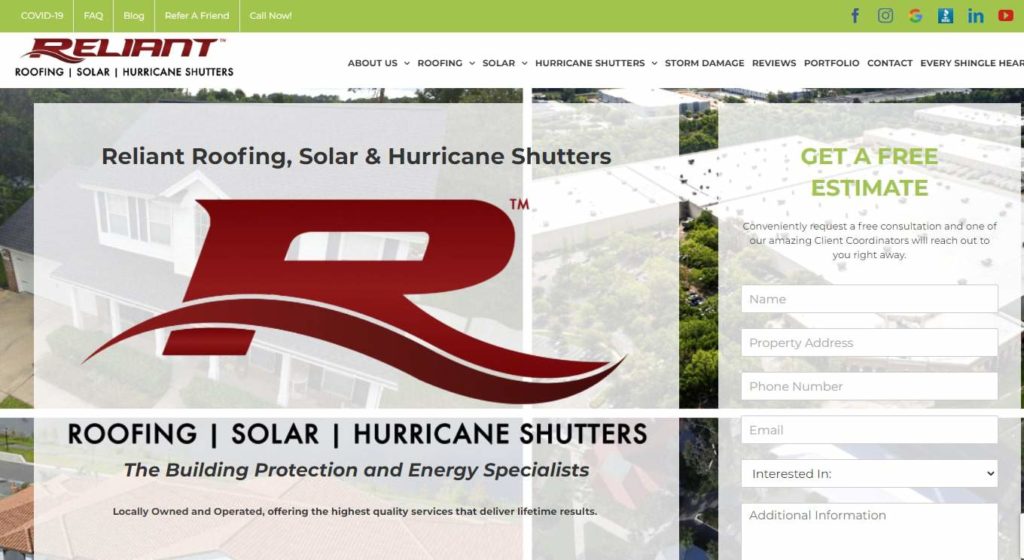 Reliant Roofing is known for being an award-winning contractor of roofing solutions like solar roofing systems and hurricane protection. The coverage of their services includes new roof installations, roofing repairs and replacements, solar panels, and hurricane shutters.
They even offer customised roof designs for that perfect fit and style that a client needs. During the process, they use dump trailers to ensure a fully cleaned driveway and sidewalk as well as portable toilets for proper job sanitation.
They've also been featured in media publications as one of the top roofing contractors, proving that they indeed have the best roofing in Jacksonville.
Why Choose Reliant Roofing?
Residential and commercial services
Storm damage repair
Free roof inspection customised proposals
Free estimate
24/7 customer service
6. Gifford Roofing LLC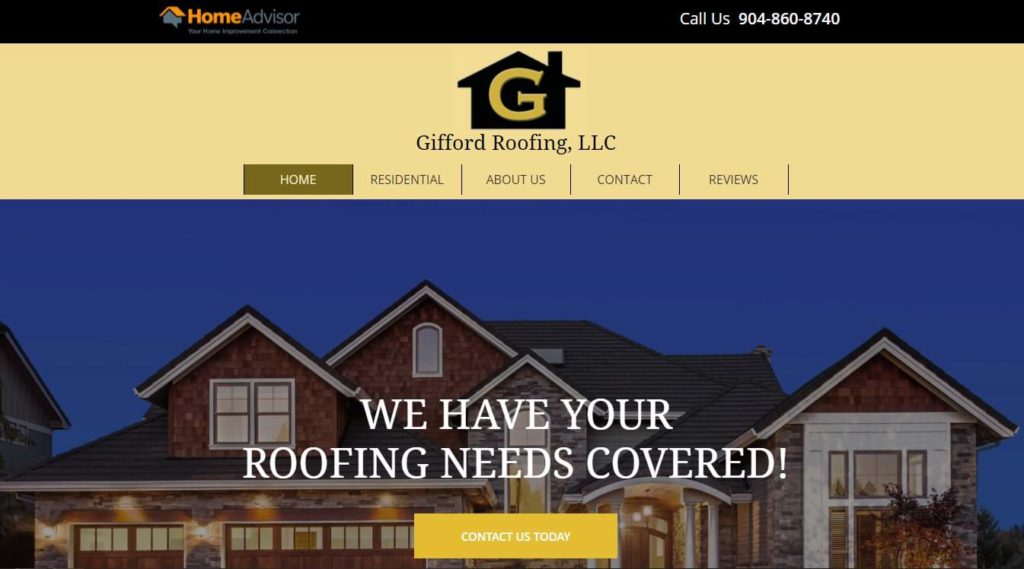 Gifford Roofing LLC focuses on providing residential roofing services such as replacing worn-out roofs, creating new architectural designs, fixing siding and gutter issues, and many more.
They have a professional team that specialises in roof replacements, hail damage repairs, roof inspection, roof leak definition, as well as insurance claim management and negotiations. Their consultant will even help you choose which insurance plan best suits your budget and needs.
With this competent range of services, rest assured that you can rely on them, no matter how big or small the issue is.
Whether you have leaking problems, loose, bending or curling shingles, loose flashing, or dark streaks and patches, they have the best roofing in Jacksonville, available at affordable rates.
Why Choose Gifford Roofing LLC?
High-quality material and superior craftsmanship
INsurance recovery specialist
Free inspection
Lifetime warranty
Free estimate
And that's our list of places with the best roofing in Jacksonville! Have you already consulted with one from our listed specialists? If so, then we'd like to hear your story!