Anytime that you have a plumbing or heating problem, you can call on the best plumbers in Red Deer to handle it.
The work should be of high quality and done to the Canadian plumbing code. Thus, we only listed those that are adept, certified, and experienced.
But, before we proceed to our list, we will go over the average cost of plumbers to help you choose the right one for your needs and budget. So if you're ready, let's start!
The Average Cost of Hiring a Plumber in Red Deer
According to HomeStars, the average cost of getting a plumber in Red Deer is between $58 and $260 per hour or $130 to $520 fixed.
The main factors that can affect the price are the type and size of the plumbing job, travel distance, parts, and special equipment.
Each plumber charges clients differently for its services. They may charge a minimum service hours cost, a flat rate wherein the price gets lower after an hour, or a completely flat service fee.
You have to be aware of the breakdown to ensure you are paying the right amount. Therefore, it's best to find a plumber that provides a written estimate rather than an informal verbal one as this can be changed.
It's also vital to know that licensed plumbers charge higher than unlicensed ones and handymen. Likewise, Master Plumbers charge higher rates than Apprentice or Journeyman Plumbers.
The reason for this is because plumbers with the highest rank of Master are more experienced, knowledgeable, and not to mention safer in completing the plumbing task or project.
Also, you will pay a higher rate if you call out a plumber on a weekend, holiday, or late at night. Either of their hourly rate and trip fee (or both) can go up with this service, depending on the plumber.
For the emergency call hourly rate, the cost can range from $91 to $520, whereas the trip or fixed fee can run from $130 to $455. These can all make your bill considerably higher.
So, it's always smart to wait a day or two if the plumbing problem is only minor, e.g. a broken showerhead or clogged laundry drain.
But, of course, for a leaky toilet or sump pump, for example, you have to get a plumber right away since ignoring this can lead to further damage and increased water consumption.
Plus, here's the table showing the costs of common plumbing services. Keep in mind that these prices serve as a guide only and may differ from your actual estimate.
| | |
| --- | --- |
| Plumbing Service | Average Cost |
| Fix a leak | $195 – $911 |
| Unclogging a drain | $162 – $390 |
| Water heater installation | $976 – $1,822 |
| Water heater repair | $260 – $1,171 |
| Tankless water heater | $1,301 – $3,644 |
| Water main installation | $780 – $3,123 |
| Water main repair | $390 – $1,627 |
| Sewer camera inspection | $390 – $650 |
| Sewer main installation | $1,822 – $5,987 |
| Sump pump repair | $390 – $911 |
| Install water purification system | $1,106 – $3,449 |
| Shower installation | $1,561 – $7,158 |
| Faucet installation | $195 – $455 |
| Bathtub installation | $1,301 – $6,638 |
| Gas line installation and repair | $325 – $976 |
The Best Plumbers in Red Deer
Now that you have an idea of their costs, here's our list of the very best plumbers in Red Deer!
1) Express Plumbing & Heating Inc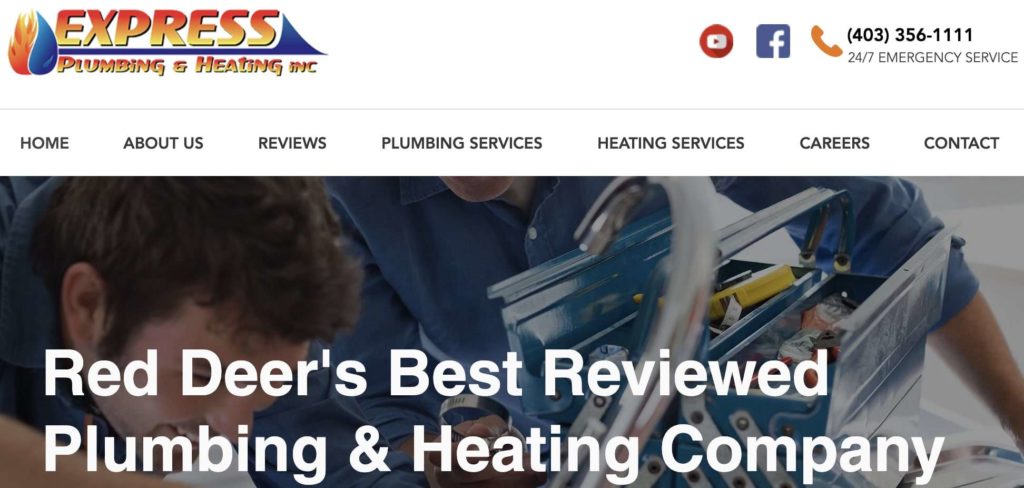 Offering both plumbing and heating services for Central Alberta houses 24/7, Express Plumbing & Heating Inc is one of the most reliable plumbers in Red Deer.
It is a family-owned business with certified and background-checked plumbers. They pride themselves on providing professional workmanship and upfront, reasonable prices.
From general repair to bathroom renovation, they can handle them. And they are experts at installing and servicing water, furnace, and floor heaters as well.
However, most of their services cater to new-home clients and contractors, but not for commercial and industrial property owners.
As clients can attest to, they are efficient to work with from the initial estimate to final inspection. They can arrive on time and solve the plumbing issue professionally and promptly.
To back this up, the company offers a satisfaction guarantee for all work undertaken, along with a 1-year warranty on material and labour for your peace of mind.
There are a few convenient ways you can contact them for a quote. This can be through FaceTime, phone, or online—whichever you prefer.
Overall, we think that this is a solid plumbing company given their licensed plumbers, convenient and 24/7 services, and lengthy warranties.
Certified and criminal-checked team
Offers a full range of plumbing and heating services
24/7 emergency service available
1-year material and labour warranty
Doesn't offer commercial services
Only have journeymen gas fitters
No coupons and special promos
Customer Reviews
The plumbing firm amassed positive reviews on Facebook. The varying problems of clients were solved thanks to the team's skill, great work ethic, and honest pricing.
On the website, Randy commented this:
"I contacted Shawn with Express to install a garage heater. Shawn came the next day – surveyed the job – wrote out an estimate for the work – took a photo of it and sent it to me by text before he left my home. The estimate was reasonable and could do the work the next week. Guys arrived the next week at 8 am sharp – dug a trench with a hoe, tied in and installed a gas line to the garage – installed the heater. All was finished and working by 3 pm. Excellent workmanship – I was very impressed. Very personable – professional team – do great work – and fast. Would recommend to anyone. My compliments to Sean and his team."
Furthermore, Stephanie wrote this:
"I hired Express Plumbing to install a hot water on demand system. The install was done really well, plumbing looks neat and tidy, they showed up on time, friendly team, cleaned up the mess, and charged me fairly/less than the other quotes. Thanks guys!"
2) The Gentlemen Pros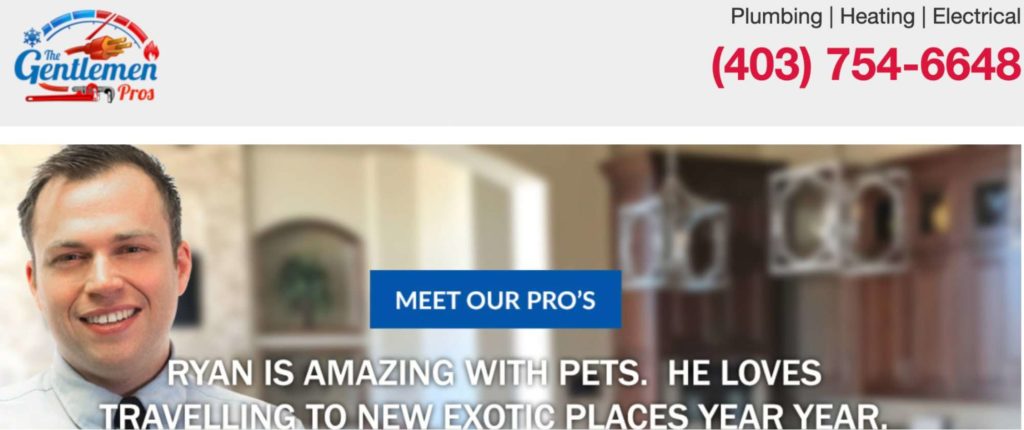 SERVICES
Plumbing

Leaky toilet repair
Garburator and dishwasher installation
Toilet installation
Water leak repair
Humidifier installation
Air conditioner installation
Unclogging drains
Unclogging toilets
Trenchless replacement and sewer lining
Septic systems

Heating

Furnace installation
Furnace replacement
Furnace maintenance
Furnace repair

Electrical

Basement wiring
Electrical renovation
Garage renovation
Adding new lights
Surge protection
Update breakers
Electrical panels
Smoke detectors
Aluminum wiring
Car charging stations
Hot tub/sauna wiring
Electrical inspections
Troubleshooting services
Rewiring
ADDRESS
7485 45 Avenue Close Bay 100, Red Deer, AB T4P 4C2, Canada
CONTACT DETAILS
(403) 754-6648


[email protected]

WEBSITE
https://www.thegentlemenpros.com/Red-Deer/
A lot of plumbers get back to their clients in more than a day, but The Gentlemen Pros can often assist you on the very same day of your call.
Fully insured and licensed, they adhere to strict Canadian codes for their plumbing, heating, and electrical works so you can rest assured of your safety and your family and home's.
Aside from that, clients can verify that they're true gentlemen as they come on time and are respectful, and amiable throughout the service.
Their services include leaky toilet repair, new AC installation, dishwasher installation, and drain unblocking. Additionally, they can perform electrical inspection, re-wiring, breaker upgrades, LED light installation, basement wiring, among others.
If you have a furnace heater, they can also clean, install, repair, or maintain it for you as they specialize in this area.
Whether plumbing issues pop up in the wee hours of the morning or after working hours, they can spring to the action being available round the clock for the whole week.
Plus, they have live chat support so you can expect to get a response within an hour or less. Even if you have a concern or inquiry, you can quickly let them know about it.
Now, the disadvantage of hiring this plumber is their expensive rates compared to other plumbers. In relation to this, there aren't any discounts or promos you can use to get a lower price.
However, the Gentlemen Plumbers can provide top-notch and guaranteed workmanship and service. They have a satisfaction guarantee to improve upon their errors and a lifetime warranty for sewer line replacement, which can save you from costly repairs if it wasn't done right.
On top of that, they hold an A+ rating from the Better Business Bureau and have successfully dealt with and resolved complaints in their two decades of service.
Furnace heater specialist
Licensed and insured crew
Open round the clock
Live chat support available
100% satisfaction guarantee
Lifetime warranty on sewer line replacement
Expensive service
Doesn't offer commercial services
No coupons and special promos
Customer Reviews
We have mentioned earlier about their lofty rates. That said, most clients said that they did a great job, arrived on time, and also clearly explained both the problem and solution.
Here's what one homeowner, Ted, said of them:
"Our hot water heater blew today and The Gentlemen Plumbers were able to send someone to have a look and replace the tank in a matter of hours. We were very pleased with Frank B. who set us at ease, explained everything well and worked with excellence. We found him to be personable and someone who inspired confidence. We wouldn't hesitate to recommend The Gentlemen Plumbers."
Check out another review from Kan:
"I have an underground water leak and I was feeling so stressed out about the whole process. Really, I didn't want my own sinkhole/pond in my yard. I randomly picked The Gentlemen Plumbers off google. I thought it sounds like a good place to call…I am so happy that I called them. I was given an appointment range and then a phone call to let me know that Jeff would be there in 30 min or so. That was the first great thing! They appreciate that my time is valuable. Jeff was great with my dog and great at explaining what the process of fixing the underground leak would be. That really helped to bring my stress levels down. After the quote, he went around and did an inspection of all my sinks and such and my furnace. I feel that I learned so much on this visit (especially the bit about the washing machine hoses having an expiry date! who knew!) Anyways, very professional, very friendly and helpful."
3) Solutions Plumbing & Gasfitting

SERVICES
Air conditioning
Emergency plumbing
Drain repair
Furnace repair
Gas fitting
Hot water tanks
Water systems
Water jetting
Video camera sewer inspection
ADDRESS
4915 54 St, 3rd Floor, Red Deer, AB T4N 2G7, Canada
CONTACT DETAILS
+1 403-896-5214


[email protected]

WEBSITE
https://solutions.plumbing/
Solutions Plumbing & Gasfitting is a certified, safety-focused, and experienced business serving Red Deer and its surrounding areas of Blackfalds, Lacombe, Innisfail, and Olds.
This time, they serve both residential and commercial clients to meet their plumbing, heating and A/C, and gas fitting needs.
Leaky toilet repair, weak water supply, heater repair and replacement, hydro-jetting, natural gas line installation, and video camera sewer inspections make up most of the jobs that they're called for.
But we would like to note that they don't carry out electrical services so you may have to engage a professional electrician for this.
This is the right company to get if you want honest pricing as they put your estimate in writing. This means that they can stick to that, should you decide to continue with the task, without any room for surprise.
About getting an estimate, you can arrange for an on-site assessment by completing their form online or simply phoning them. Doing this is non-obligatory and free of charge.
Their team aims to provide high-quality work that you can be satisfied with. Otherwise, they guarantee to come back and fix any problems, be they minor or major, that surface after the work.
And as one of the best plumbers in Red Deer, their tradesmen are on call 24/7 and can sort out your plumbing issue promptly so you can get back to your daily routine as soon as possible.
Safety-trained and certified plumbers
Offers domestic and business plumbing
Gives written estimates
24/7 emergency service available
100% guaranteed work
No coupons and special promos
Complaints about workmanship and customer service
Customer Reviews
For almost all clients, the work had been done skillfully and efficiently. They also appreciated the fast response, helpful staff, and great prices.
One homeowner named Art posted this comment:
"I called several plumbing contractors to install both a new toilet and kitchen faucet. Only Solutions Plumbing was able to send a technician to the house the next day. Marcus was polite, professional and had the jobs completed within a couple of hours. He was efficient and carried out the tasks extremely well. Will definitely be using Solutions in the future for our plumbing needs."
What's more, Nathan wrote this:
"Great plumbing company. They're very thorough and honest about their pricing and service. Give them a call for anything big or small. Highly recommend!"
4) Mr. Rooter Plumbing

SERVICES
Residential & Commercial

Sewer line repair & replacement
Clogged drains
Drain cleaning
Hydro-jetting
Sewer system backups
Plumbing video camera inspection
Plumbing diagnosis & inspection
Plumbing repair
Plumbing replacement & installation
Water line repair
Water line replacement & installation
Frozen pipes
Leaking pipes
Water heater repair & replacement
Plumbing system maintenance
Emergency service
ADDRESS
8273 Chiles Industrial Ave, Red Deer, AB T4P 2V5, Canada
CONTACT DETAILS
+1 403-341-6311


[email protected]

WEBSITE
https://www.mrrooter.ca/
Since 1970, Mr. Rooter has provided efficient and courteous plumbing installation, repair, and maintenance to home and business owners.
It's a franchise company with hundreds of locations across Canada and America. Each branch is helmed by a local owner who cares about the business and upholds the company's core values.
When you call this team, you can expect a uniformed and neat team to assist you. They are qualified and insured to take on both large and small jobs related to your plumbing and sewer systems.
They carry out drain unclogging, hydro-jetting, sewer system backup repair, leaky pipe repair, frozen pipe prevention, water heater installation and replacement, and many more besides that.
What differentiates them from the others is that they charge a flat service rate. Hence, you won't have to pay for overtime, so it's either they get the job done or they don't get paid.
Their customer service staff is on duty 24 hours and 7 days a week and can schedule a job for you and dispatch an expert plumber regardless of the time of day—even at 3:00 AM.
Furthermore, all the replacement parts they use for your plumbing fixtures come with a warranty. The same goes with the service they provide in which they guarantee your complete satisfaction.
As for the company's downsides, they don't offer gas fitting and electrical services and their lack of promotions and discounts.
Based on these reasons, it's clear that they're another of the best plumbers in Red Deer. You can contact them instantly by clicking their chat icon online and writing them a message.
Licensed and insured team
Offers 24/7 emergency service
No overtime charge
Live chat support available
Gives a satisfaction guarantee
No gas fitting and electrical services
No special discounts and promos
Customer Reviews
According to clients, they responded quickly, were professional from the first phone call, did a fantastic job, and cleaned up after themselves. On Google, they hold a score of 4.9/5 stars.
Let's see Cain's feedback of the plumber below:
"Matt is probably the best plumber in the Red Deer area. He resolved two major plumbing issues I had in a very short time. He is very professional and really knows his stuff. 5 Star Service."
Also, another happy customer wrote this:
"We have been hiring Mr. Rooter also known as Matt for the last couple years. When we were in our previous home we hired him to unplug a drain. He came at the end of a long day and got the job done very efficiently. We just moved into our new house in January and have had him in a few times to do some repairs and maintenance work for us. Every time he has arrived with a big smile, positive attitude and worked hard to figure out what needed to be done. From resealing a kitchen sink in a granite counter top to working in our mechanical room on a leak he has done a great job every time. His prices are very fair and he is flexible and very easy to contact."
5) Action Auger Plumbing

SERVICES
Leaky faucets
Clogged drains
Toilet, shower, & bathtub repair
Furnace cleaning & repair
Furnace installation
Sump pumps
Hot water tanks & heaters
Tankless water heaters
Trenchless pipe repair
Sewer camera inspection
ADDRESS
3337 50 Ave, Red Deer, AB T4N 3Y2, Canada
CONTACT DETAILS
+1 403-755-6344
WEBSITE
https://www.actionaugerreddeer.com/
Established in 2001, Action Auger Plumbing is a locally owned plumber that assists clients 24/7. This means that they can respond quickly and arrive at your home within a short time.
They can repair and replace faucets, toilets, water heaters, blocked pipes, furnaces, sump pumps, and the like. They can also hook up gas lines for your heater, range, or barbecue grill.
Their team strives to explain the situation and give an effective plumbing solution. Not only that, but many clients also say that they are friendly and reliable to deal with.
An interesting fact is that their team is composed of people from different cultures. They can speak English, Polish, Spanish, or Chinese so that might make it easier for others to use their services.
They always give honest and accurate pricing, which is why they offer to come to your house to assess the plumbing issue first. Afterward, they can list down all your options and the prices involved.
There was only one reviewer who said their prices were over the top. This was not the case for the majority, though.
Now, it's convenient to choose this plumber since they accept a wide range of payments. This includes Mastercard, American Express, Visa, Interac, and cash.
Best of all, they stand behind all their workmanship and aim for your 100% satisfaction. So if something needs to be fixed, they can soon return and make it right for you.
While they don't have a live chat support system, it's still easy to reach their team at any time of the day. Your options for this are either to fill in their contact form or give them a ring.
As you've seen, for competent and friendly plumbers and accurate, fair pricing, you can absolutely depend on Action Auger Plumbing!
Same-day plumbing service
Honest and accurate pricing
24/7 service availability
Offers several payment methods 
Gives a satisfaction guarantee
No live chat support
Doesn't offer commercial services
Doesn't accept PayPal
Complaint about price
Customer Reviews
They garnered a score of 4.8/5 stars on Google Business. Most clients found the plumbers to be organized, professional, and efficient throughout the job.
One satisfied client left this comment on the website:
"Had Dale and Wayne come fix our water heater this morning. A very friendly and efficient pair; I was especially impressed with Dale's knowledge of tankless water heaters."
Also, Jolanda said this:
"I was very satisfied with the work that Patrick did. He was very pleasant and explained all that he was doing so that I could understand the situation."
6) 24 Hour Plumbing & Heating
SERVICES
Sump pump installation, emergency plumbing, heating & air conditioning, drain cleaning, frozen pipes, water softeners and filters, septic tank repairs & fixes, all your plumbing and hvac needs
ADDRESS
4063-74 Ave S.E., Unit 5, Calgary, AB T2C 2H9
CONTACT DETAILS
(587) 316-8069 |

[email protected]

WEBSITE
https://www.24hourplumbingheating.com/
24 Hour Emergency Plumbing & Heating Calgary's name says it all. So, whenever Calgarians have any emergencies concerning their furnace or air conditioning, this contractor can help.
24 Hour Emergency Calgary is part of the larger company servicing the entirety of North America 24/7. It was founded by a journeyman gas fitter and plumber and has grown to have 80 journeyman technicians serving homeowners and business owners alike.
Their company has been serving Edmonton, Toronto, Vancouver, Calgary, Ottawa, Montreal, and Across North America. They provide all plumbing and heating services for all your home maintenance, repairs, and replacement needs.
Aside from its 24/7 availability, 24 Hour Emergency Calgary also offers flexible scheduling through its convenient and detailed online forms.
But you should know, this online form only has plumbing and drain cleaning listed as service types so you may have to explain your needed service through other platforms.
While 24 Hour Emergency Calgary offers furnace inspections and repair services, it is still more focused on just the plumbing side of HVAC. On the bright side, this also means that it can also benefit those who want all-around home maintenance services.
24/7 services
Flexible scheduling
All-around home maintenance services
More focused on the plumbing aspect of HVAC
Constricting service types in online forms
7) Planet Plumbing

Planet Plumbing provides mechanical construction and management services for the construction industry in Alberta.
We can recommend them because of how they serve their customers and treat their competitors, subcontractors, and suppliers with honesty and integrity. They even avoid conflicts of interest, both corporate and individual.
Compared to other companies, they provide their employees with the proper training and education required to enable the company to meet the stated goals of a safe workplace. This ensures that all of their staff members are on the same level of skill and knowledge.
Another benefit when working with them is that they promote sustainable building practices and environmental considerations in all their operations and in the services they provides to their clients.
Lastly, they provide materials and services in a manner consistent with the established and accepted standards of the construction industry and with the laws and regulations that govern it, including the use of standard industry documents wherever feasible.
24/7 services
Trains their own staff
Follows sustainable building practices
More focused on the plumbing aspect of HVAC
8) Flostar Plumbing Solutions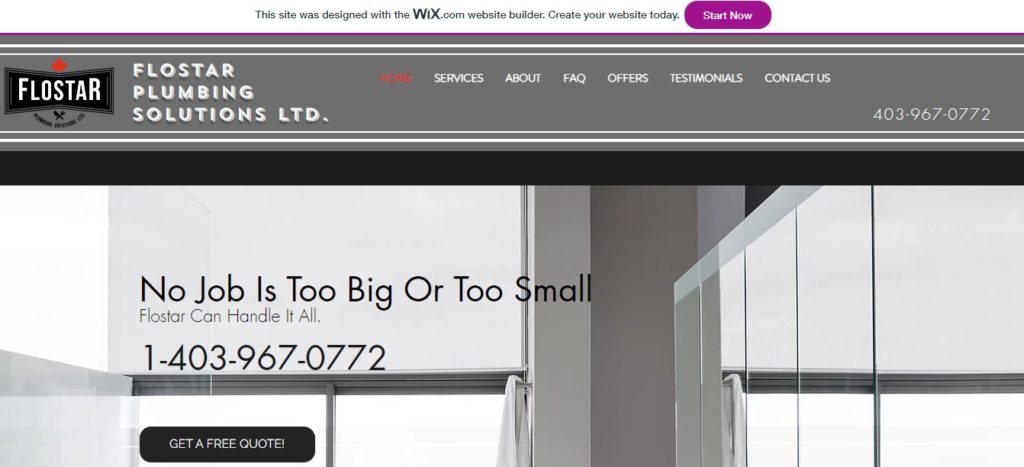 SERVICES
Plumbing
Gas and Heating
24 Hour Sewer and Drainage Cleaning
Water Heater Installation and Service
Building maintenance
ADDRESS
260 Wiley Crescent, Red Deer, AB T4N 7G6
CONTACT DETAILS
1-403-967-0772


[email protected]

WEBSITE
https://www.flostarplumbing.net/
Flostar Plumbing Solutions is proud to be a locally owned and operated business. Their highly trained expert technicians deliver excellent service to their customers and have fine attention to detail.
They offer several services including plumbing installation, remodeling, repairs, unclogging drains, drain cleaning, and various other water-related needs.
Aside from these, they also take pride in providing services and products of the highest quality, durability, reliability, at an affordable price.
What made us really recommend them is that they are very confident in what they do. In instances that they are not that familiar with your situation, they make sure to research it before providing solutions.
Thorough with their work
Returns a couple of times in order to ensure that there are no leaks
Work ethic Is incredible
Covers Red Deer, Sylvan Lake, Blackfalds, Penhold, Lacombe, and Central AB
Rates are not on their website
FAQs about the Top Plumbers in Red Deer
---
And that finishes our top options for plumbers in Red Deer. All of them have earned clients' trust for their excellent workmanship and professionalism.
Did we miss other plumbers that should have been on this list? If you think so, kindly message us and we'll check them and if they are worthy, we might add them here.
At any rate, you might also want to read about the best locksmiths in Alberta. They can repair or replace your broken locks, assist in unintentional lockouts, and more.