When it comes to flooring, one must consider several factors: Functionality, style, type, installation, maintenance, and durability.  With all these taken into consideration, together with the countless selection of flooring experts, a simple homeowner can be overwhelmed easily.  It may take time, great effort, and money to know which partner you should trust.
Vancouver hosts myriads of flooring service providers but only a few have given exceptional flooring service.  We have gathered six of the best flooring experts you can trust.  These guys guarantee complete customer satisfaction that can be attested by 5-star reviews from their clients.
1. BC BEST FLOORING COMPANY ®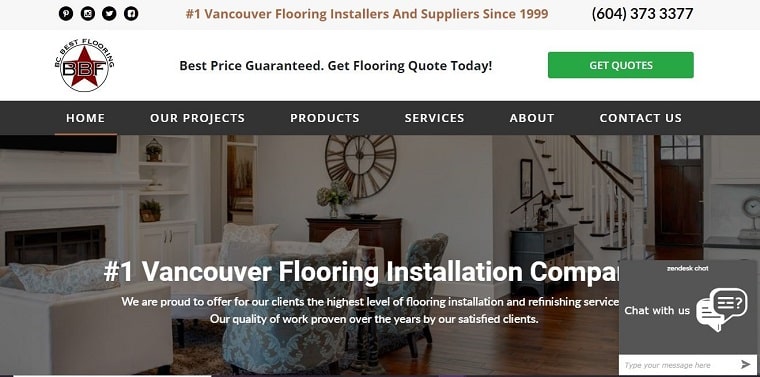 BEST FOR
Residential flooring services
SERVICES
Vinyl and laminate flooring installation

Hardwood stairs installation

Flooring installation

Hardwood floor repair

Baseboard installation

Hardwood refinishing

Sub-floor leveling and grinding

Old floor removal and disposal

ADDRESS
1641 Lonsdale Ave., Suite #1016, North Vancouver, BC, V7M2J5 (for mail only)
CONTACT
Phone: (604) 373 3377

Email: [email protected]

WEBSITE
https://bcbestflooring.ca/
BC BEST FLOORING was established in 1999 and has been providing Vancouver excellent flooring services since then.  The company's flooring technicians have extensive experience in various hardwood floor installations for rooms of various shapes and sizes.  Aside from flooring installation, it also provides different flooring services such as baseboard installation, old floor removal, hardwood floor repair, molding, etc.
BC BEST FLOORING is famous for delivering topnotch flooring services and products to suit the needs of its clients.  The company doesn't adhere to the one-size-fits-all solution.  It employs flooring experts who understand that each home is unique and requires custom hardwood flooring services in order to attain the best results.
2. AAA Flooring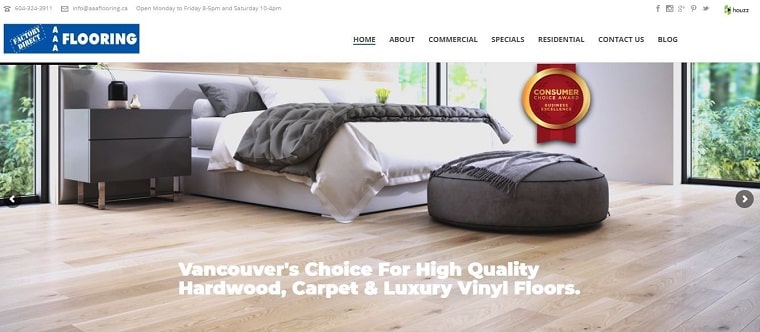 BEST FOR
Residential and commercial flooring
SERVICES
Harwood, vinyl, laminate, and carpet flooring

Commercial tile, board, vinyl, and vinyl plank

ADDRESS
116 W 2nd Ave, Vancouver, BC V5Y 1C2, Canada
CONTACT
Phone: (604) 324-3911

Email: [email protected]

WEBSITE
http://www.aaaflooring.ca/
AAA Flooring has been one of the best choices for flooring in Vancouver for more than 40 years.  The company also supplies superb flooring options such as all-custom hardwood, carpeting, laminate flooring, and vinyl flooring options.  It has satisfied customers from both residential and commercial sectors by providing great designs that will raise the value of your commercial spaces and home.
3. BC FLOORS®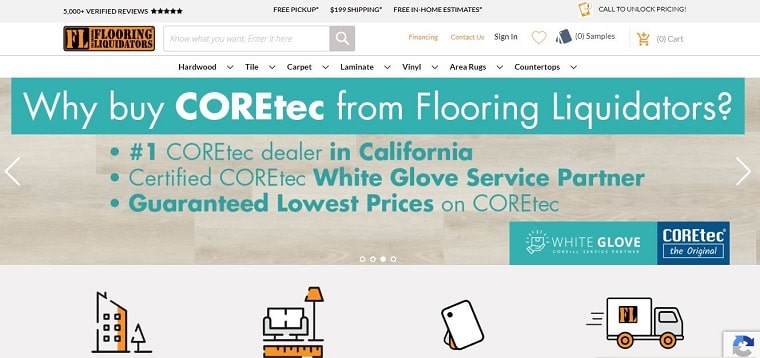 BEST FOR
Residential and commercial flooring
SERVICES
Hardwood, carpet, vinyl, laminate, and tile installation

Cork & bamboo installation

Commercial carpet & carpet tile Installation

Commercial vinyl, VCT & marmoleum installation

Hardwood, laminate & tiles installation

ADDRESS
103, 3728 N Fraser Way, Burnaby, BC V5J 5G1, Canada
CONTACT
Phone: (604) 343-4101,

E-mail: [email protected]

WEBSITE
https://bcfloors.ca/
With BC FLOORS®, customers don't have to pay for the brand name, you pay for impeccable, long-lasting results.  Even though the company is quite young in the industry, its professional flooring experts are already masters in the industry.  They are skillful craftsmen and creative artists that have years of experience in providing complete satisfaction to Vancouver residents and business owners.
4. Restoration Hardwood Floors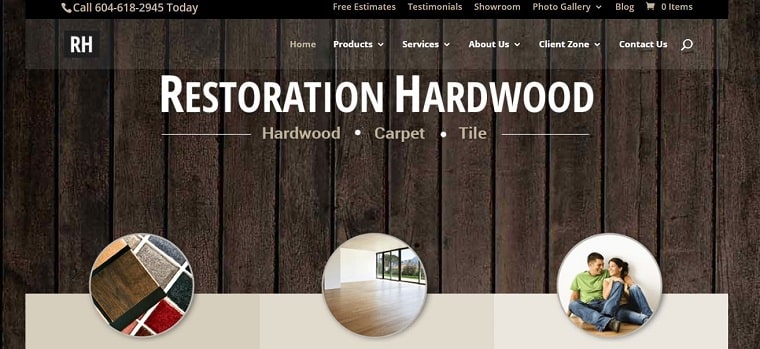 BEST FOR
All types of flooring
SERVICES
Residential and commercial flooring installation and maintenance

Dust-free refinishing

Hardwood staining

Refinishing process

Hardwood finishes

ADDRESS
1181 Grant Street, Vancouver BC, V6A 2J7
CONTACT
Phone: (604) 618-2945
WEBSITE
https://restorationhardwood.ca
Restoration Hardwood has retained a simple philosophy throughout the years of its service.  The company works with restoration companies, contractors, designers, property managers, and homeowners.  It employs skilled tradesmen who are capable of any size and type of flooring project.
5. Global Carpets & Hardwood Ltd.
BEST FOR
Carpet flooring and professional installation services
SERVICES
Resilient flooring

Flooring planning and installation

Solid and engineered hardwood installation

Carpet flooring

Laminate flooring

ADDRESS
8729 Heather Street, Vancouver V6P 3T1
CONTACT
Phone: (604) 222-1988

Fax: (604) 222-3788

Email: [email protected]

WEBSITE
http://globalcarpets.ca/
Global Carpets and Hardwood Ltd. is committed to providing Vancouver first-rate hardwood, laminate, cork, custom rugs, and area rugs combined with outstanding workmanship and A1 customer service.  The company will deliver the most value for your money with a warranty of durable quality and style.
6. Canadian Home Style

BEST FOR
Interior designs and home renovations
SERVICES
Hardwood, laminate, vinyl, tile & stone, cork & leather, and carpet installation services

Interior designs

Kitchen renovations

ADDRESS
1420 Marine Drive, North Vancouver, BC
CONTACT
Phone: (604) 980-6772

Fax: (604) 980-6774

Email: [email protected]

WEBSITE
https://canadianhomestyle.com
Canadian Home Style is a locally-owned and family-owned business that has grown to become recognized as part of Greater Vancouver's top resources for inspirational design as well as top-rate cabinetry, countertops, and flooring.  It always aims to build a relationship with clients and provide them complete satisfaction.