Problematic garage doors are both a risk and a hassle to have at home. If yours needs fixing, we put together the best options for garage door repair in Oakville, Ontario, Canada for you here!
But, before we get on to our top list, we'll be discussing the average cost of the service first. In doing so, you'll be better able to pick the right company based on your budget and needs.
The Average Cost of Garage Door Repair in Oakville
In Oakville, ON, garage door repairs vary a lot in costs depending on the problem of the garage door and how long the repair will take.
While it's difficult to give an estimate without getting your garage door inspected by a professional, repairing it typically falls within the range of $70 to $300.
The most common garage problems that clients have include damaged springs, malfunctioning openers, broken rollers, frayed cables, faulty remotes, among others.
Here's a table listing the various garage door services and their corresponding rates. Note that these are exclusive of labour and service call rates, which can range between $60 and $80 per hour.
| | |
| --- | --- |
| Garage Door Service | Cost Range |
| Spring adjustment | $70 to $120 |
| Electric opener repair | $70 to $120 |
| Program garage door accessories | $70 to $120 |
| Cable replacement | $110 to $160 |
| Door sensor replacement | $110 to $160 |
| Electric opener part replacement | $150 to $200 |
| Roller replacement | $150 to $200 |
| Torsion spring repair on a single-car garage | $170 to $240 |
| Torsion spring repair on a double-car garage | $230 to $300 |
That said, should the repair turn out to be economically impractical, you might opt to replace the entire door, which costs between $800 and $2,000, based on the door model and labour rate.
The Best Options for Garage Door Repair in Oakville
Now that you know how much garage door repair services cost, here's our roundup of the best options for garage door repair in Oakville!
1) Garage Door Repair Oakville

SERVICES
Garage door supply and installation
Garage door repair and maintenance
ADDRESS
Maple Grove Dr, Oakville, ON L6J 4V5 Canada
CONTACT DETAILS
905-592-2146
WEBSITE
https://www.garagedoorsoakvilleon.ca/
Garage Door Repair Oakville is a residential garage door company offering installation, repair, and maintenance services to clients in and around the town.
Whether your garage has a torsion spring issue, a faulty safety sensor, or a smashed panel, their professional technicians can handle them so your garage door can be up and running again.
They are chosen by the company based on their technical know-how, dedication, and attitude. Additionally, they claim to have top-quality parts to use for your garage door to give it a new lease on life.
The garage door brands they service include Amarr, Chamberlain, Clopay, Genie, Marantec, and Sears. If your door's brand isn't listed there, you can still enquire with them to see if they can fix your door.
They offer same-day repair services and can arrive within a few hours of your call. They're open every day from 7:30 AM till 9:00 PM, within which most garage door problems occur.
Indeed, it's one of the best options for garage door repair in Oakville since it's garnered excellent feedback from clients. They mentioned that they responded quickly, efficiently solved their garage door problems, and charged competitive prices.
To set an appointment with this garage service provider, you can give the team a ring or fill out their Contact Us form online.
Offers same-day garage door repair
Skilled and experienced technicians
Emergency express services available
Doesn't fix all brands of garage doors
Not open 24/7
Customer Reviews
The company received a fantastic score of 5/5 stars on Google. They lauded the team for their professional and fast service, on-time techs, clear explanation, and fair rates.
One satisfied client, Evelyn, wrote this review:
"A couple of weeks back, we observed that our garage door would close and quickly open up again. I was sure we needed professional help, so I called up a garage door repair company recommended by a friend. The job was done by a competent technician who completed it after a short while. Problem solved."
Also, Jordon commented this:
"Fast and reliable! I've used their services when the spring of my garage door needed a replacement. Their courteous technician showed up promptly and expressly did the replacement. I was also surprised because the cost fit my budget well. Thank you so much for the help!"
2) Oakville Garage Door Repair Team

SERVICES
Residential garage door repair
Garage door tracks repair
Garage door cables repair
Garage door maintenance
ADDRESS
407 Dorval Dr, Unit 8, Oakville, ON L6K 3P3 Canada
CONTACT DETAILS
905-592-2142
WEBSITE
https://www.oakville-ongarage-repair.ca/
Another garage door repair expert you can depend on is the Oakville Garage Door Repair Team. It also has an impeccable score on Google Business with all clients being satisfied so far.
Its team is highly qualified and keeps up to date with the latest garage door knowledge and products. This enables them to handle all sorts of problems with your garage door, no matter the brand.
Has your garage door opener quit on you, are the door cables frayed, does the door open too fast, or has it come off the track? These are some of the common issues that people call them to fix.
Their services include garage door repair, replacement, lubrication, safety inspection, troubleshooting, and preventative maintenance. Their tradesmen aim to not only ensure the particular issue is resolved, but that all parts are also working together smoothly.
Similar to our previous pick, their focus is only on domestic garage door repairs. Their working hours are also from Monday to Sunday but a tad earlier from 7:00 AM to 9:00 PM.
Past clients described them in the reviews as dependable, fast, and efficient. As they can attest to, the team knew what they were doing to bring their garage doors back to the way they used to work.
Aside from only handling house garage doors, their drawbacks include not offering coupon discounts and a satisfaction guarantee.
So, as you can see, they definitely belong on our list of the best garage door repairs in Oakville, ON!
Same-day garage door repair offered
Can fix all brands of garage doors
Qualified and constantly upskilled technicians
Open 7 days a week
No coupon discounts available
No satisfaction guarantee
Customer Reviews
The reviews said that the team arrived promptly, had all the required garage door parts, and resolved the problem expertly. Check out some of the client testimonials below.
Let's hear about what Kaila said of the garage door company:
"Our garage door wasn't running correctly, and I suspect there was an issue with the opener. I hired this company, and they were excellent. The technician visited on the day I requested, performed the job expertly, and resolved the issue effectively. I will now call them whenever I need garage door service. They were dependable."
What's more, another client named Jan said this:
"The technician did a top-notch job when I asked for assistance with my garage door. I told him that my unit would open quickly, and he repaired it in no time. I'm happy because my garage door is now back to its excellent working condition."
3) Gartech Garage Door Services

Garage door dilemmas can happen unexpectedly like when you come back home from work late at night. And for this, you might need Gartech Garage Door Services as it's available 24/7/365.
Being licenced and experienced, the team can repair all makes and models of residential garage doors in connection with the spring, opener, cable, remote, or smaller parts.
In the event that the repair doesn't work out, they offer a wide selection of Canadian-made garage doors particularly from Door Link, Amarr, Barmac, Wayne-Dalton, Garaga, Clopay, LiftMaster, SteelCraft, Craftsman, and more. There are classic and modern styles for you to pick.
These are limited only to residential use, however, and you might need a different garage door repairman for commercial or industrial door replacement.
Along with their fair rates, the company offers special deals to even lower the price for first-time clients, seniors, and people using a certain garage door service.
So we picked this company because of their friendly and reliable service. Also, clients said that the technicians even explained everything and shared useful tips to maintain their garage doors.
They have six branches in Ontario including Oakville, Mississauga, Brampton, Milton, Etobicoke, and Burlington.
You can contact the team through their online form but since their website isn't secure, we advise calling or emailing them in place of that.
Once again, if you need 24/7 emergency service and an adept and friendly team, you should go for Gartech Garage Door Services!
24/7 emergency services available
Same-day repair service available
Has a top-quality range of garage doors
Special deals are available
Website not SSL-secured
No satisfaction guarantee
Customer Reviews
A lot of clients appreciated their same-day service as well as helpful and experienced tradesmen. This contributed to the garage door company getting 5/5 stars on Google.
One reviewer on Google left this comment:
"Sam came out to inspect and fix a leveling issue I had with my garage door. Outstanding service, fair price and very professional. Highly recommend him."
And here's another 5-star client review:
"Sam is a knowledgeable technician & a super nice guy. He did the job & gave me advice on how to maintain my garage door to avoid future repairs! Highly recommended!!"
4) Garage Door Masters

SERVICES
Garage doors
Opener repair
Spring repair
Garage door maintenance
ADDRESS
1536 6 Line, Oakville L6H 1X8, Ontario, Canada
CONTACT DETAILS
647-493-9978
WEBSITE
https://www.oakville-gdrepair.ca/
For an efficient and guaranteed service coupled with a fast turnaround, you can count on the qualified contractors at Garage Door Masters.
Locally based and available round the clock, it's not necessary to wait for the next day for your garage to be fixed, which compromises your safety and security at night.
They offer garage door installation and servicing including opener, cable, remote, and spring repair and replacement. You may want to weatherstrip your garage with them for protection against harsh weather too.
As for their garage doors, they have wood, glass, roll-up, steel, and overhead kinds from well-known brands like Clopay, Genie, LiftMaster, Craftsman, and Amarr.
Unlike other companies we've listed here, they back up all their services with a satisfaction guarantee. Suppose the opener or a different part stops working a few days after the repair, they can remedy it quickly for free.
After the service, you can effortlessly pay your invoice online using either a Visa, Mastercard, or Discover Network credit card.
Their quote form is accessible since it is displayed on their homepage. Thus, you can supply the details quickly without having to go to another page.
Also, according to clients, their prices are reasonable, but they don't offer special deals or coupons.
If you don't want to pay higher call-out fees, you can call them out from Monday to Sunday between 7:30 AM and 8:00 PM.
24/7 availability
Provides same-day garage door services
Accepts Visa, Mastercard, and Discover Network credit cards
100% satisfaction guarantee
Special deals and promos not offered
Doesn't accept PayPal
Customer Reviews
This company received a lot of praise on Google Reviews. Most clients shared that their contractors were able to diagnose the issues and work on them without any time wasted.
Let's see what Alison said of the garage door company:
"Our garage door remote wouldn't work at all. I called the service company and requested their assistance. They sent their repairman, and he attended to our concern immediately. He had the unit running smoothly once more, and the price was affordable, too. We wouldn't mind having them over again as their repairman was a pleasure to work with."
Furthermore, another client named Federico wrote this:
"I called this company that my garage door had an issue, and they sent their expert over to take a look. He discovered why the door wouldn't open completely and finished the repair efficiently. The service was exceptional and fairly priced. I will hire them again."
5) Garage Door Repair

SERVICES
Garage door springs repair
Garage door openers repair
Garage door rollers repair
Garage door flood repair
Garage door installation
Garage door maintenance
ADDRESS
Lakeshore Rd W #12, Oakville ON L6L 1E7 Canada
CONTACT DETAILS
289-270-3760
WEBSITE
https://www.garagerepairs-oakvilleon.ca/
Garage Door Repair is a full-service garage door company. It is situated on Lakeshore Road West, just a short distance away from Lake Ontario.
It primarily offers garage door repairs from minor part replacement to a brand-new opener. Unique with this company is that they also provide garage flood restoration services.
As can be expected, they also offer installation and maintenance services so you can get the most out of your garage door and extend its life as the years go by.
You can entrust your garage problems to their trained and licenced team, that they can be resolved efficiently, and that you and your family can feel safe and secure at home.
For quality assurance, they give clients a doubt-busting satisfaction guarantee. This makes them liable to improve the garage door fault if the garage door doesn't work as expected.
One complaint we have of them is they only have roll-up garage doors. So if you want a fuller range of products, other companies might be better able to help you.
In addition, they don't have any promotions or coupon deals to give clients more value for money. Nonetheless, their service is in and of itself cost-effective, as clients can verify, which is why they're one of the best garage door repair options in Oakville.
Since their name is pretty general to look up online, you can just reach them by phone or online. They can come within a short time to assess the issue of your garage door and repair it on the spot.
We'd also like to note that the company isn't available 24/7, but they work from 7:30 AM to 8:00 PM daily.
Trained and licenced team
Same-day garage door repair available
Gives a satisfaction guarantee
Open 7 days a week
No 24/7 services
Only offers roll-up garage doors
Special deals and promos not offered
Customer Reviews
Their tradesmen managed to resolve their clients' garage door problems competently. They also mentioned their fast and prompt response and affordable prices.
One client named Maximo commented this on Google:
"When my garage door broke down, this company was ready to help me. Their technician showed up promptly and diagnosed the issue. He carried out the repair at a very good price. I was pleased with his efficient and friendly service. I highly recommend them."
And here's the review of Barron concerning his garage door's rust problem:
"The rusting that started to form on my parents' garage door was concerning. I was worried that it would deteriorate further if we did not have it checked. I asked some friends for suggestions, and they recommended one garage door service company. I heard that these guys had a lot of experience and never charged exorbitantly. I got in touch with them, and they sent a serviceman soon after. Whatever I heard was true. The technician was very competent, and he worked on the garage door efficiently. The rust problem was quickly resolved, and my parents are happy with the results."
6) The Door Master Inc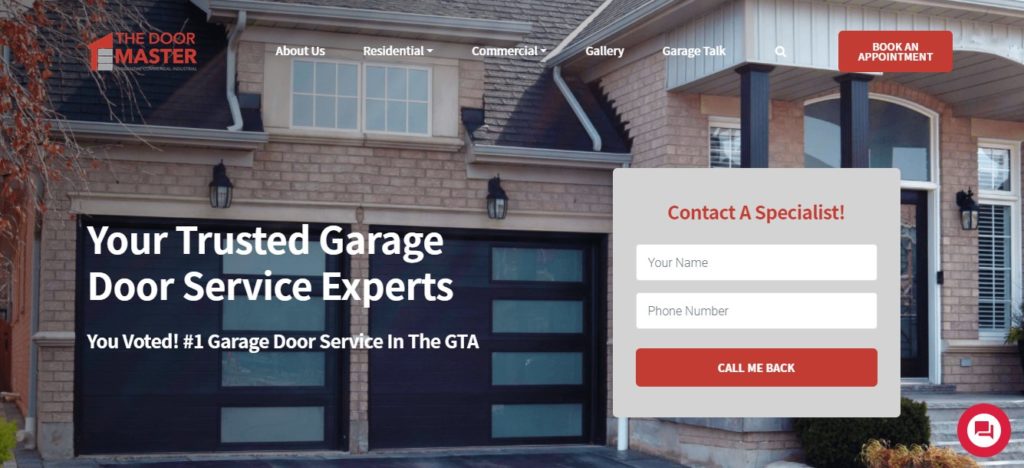 From their company name itself, they are the masters when it comes to garage door repairs. Whether it is residential or commercial, they can absolutely help you.
Aside from repairing, we love that they also offer openers, new doors, and of course maintenance programs.
They stand out from other competitors for so many reasons. They have no hidden fees, are available 24/7, respond quickly, and their technicians are fully licensed.
What made us really recommend them is how punctual their staff members are. They will arrive at your property on time and do your chosen service quickly and efficiently.
#1 Voted garage door experts in the Greater Toronto Area
Available 24/7
Prices are unavailable online
Customer Reviews
Here are what their customers saying about them and their services:
"I'm very satisfied with the customer service (phone calls, friendly staff), actual service and price. Service Technician Tim came, got replacement part and fixed my problem. Thank you The Door Master Team!"
"Our garage door broke locking us out of our garage. They arrived within 90 minutes and got everything repaired quickly."
"The service was very good. They were able to work around my schedule. Our service technician Al was very knowledgeable and helpful in helping to get the best out of the function around my garage door."
FAQs about Garage Door Repair in Oakville
---
And that's all for our top options for garage door repair in Oakville. They all have a track record of responding promptly and carrying out outstanding repair service on the same day!
Any comments or questions about our list thus far? If you have one, don't hesitate to drop us a message and we'll get back to you in a jiffy.
Also, if you have a plumbing problem in your home or office, you could read about the best plumbers in Oakville too!