Beautiful taps, well-functional pipes, excellent shower – all of these can be achieved if you have plumbing systems and fixtures that are in top condition. Plumbing maintenance, repairs, and other related tasks play a vital role to ensure that your systems are doing their work. Of course, if you don't have a solid knowledge about these tasks, you need a licensed and professional plumber to help you out.
Brampton is a place where you'll find lots of plumbers with various services on offer. Hence, it can be quite confusing to find the right one to hire. We don't want you to go through this kind of stress, so here are the 6 best plumbing experts in Brampton that you can consider working with.
1.     The Plumbing Expert

Best For
High Rise and Low Rise Residential & Commercial Plumbing Service
Services Offered
 Emergency Plumbing Service
Plumbing Fixture(s) Service/Installation
Water Purification Service/Installation
Water Heater Service/Installation
Water Softener Service/Installation
Address
2 Mitchell Cres, Orangeville, ON L9W 6W6
Contact Information
1 (800) 659-1879
Website
https://theplumbingexpert.ca/
The Plumbing Expert, provides plumbing repair, installation & contracting services across the Greater Toronto Area, including New Tecumseth, King, Mississauga, Brampton, Georgetown, North York, Vaughan and Etobicoke, Caledon, Orangeville, and surrounding areas. Their Licensed Plumbers use the latest technology to diagnose your Plumbing problem with minimal disruption to your home or business.
2.     Plumbing X-Spurts
Best For
Emergency Plumbing
Services Offered
Residential and commercial plumbing

General and emergency plumbing services

Address
18 Wexford Road

Brampton, ON, Canada L6Z 2V8

Contact Information
(647) 229-5678; (905) 497-6333
Website
https://www.plumbingx-spurts.com/
Plumbing X-Spurts offers among the most reliable plumbing services in Brampton today. There's no too small or too big of a task for their team but they specialize in providing emergency plumbing services. They have over 25 years of experience in the industry and this allows them to understand almost all plumbing problems and provide the best solutions to resolve them at once.
3.     Canadian Home Plumbing Ltd

Best For
Emergency Plumbing
Services Offered
24/7 emergency services

Leak investigation and repair

Backflow and cross-connection testing

Sewer and drain backup

Hot water tank replacement

Residential and mechanical services

Address
266 Rutherford Rd S #27, Brampton, ON L6W 3J3, Canada
Contact Information
+1 905-451-9004
Website
https://www.canadianhomeplumbing.com/
Canadian Home Plumbing Ltd is another company that excels in responding quickly to emergency plumbing situations. They are available 24/7, ready to conduct leak investigation and repair, and bring back your complete peace of mind. Their extensive range of services also cover sewer and drain backup, basement waterproofing, plumbing repairs, and backflow testing, just to name a few.
4.     4 Seasons Plumbing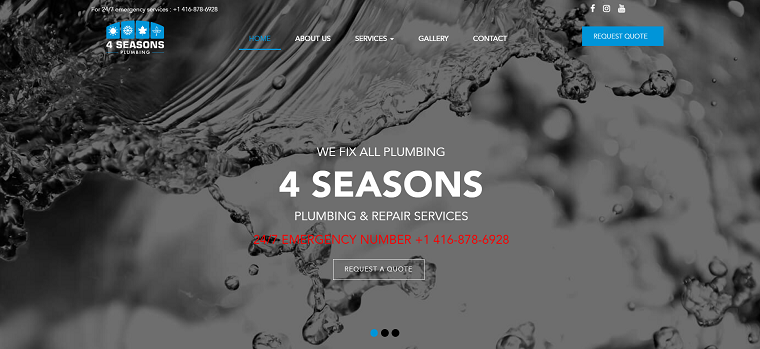 Best For
General Plumbing and Repair Work
Services Offered
Emergency services

Power flushing/high pressure cleaning

Drain camera inspections

Residential and commercial services

Water softeners

Address
11 Georgian Rd,

Brampton Ontario, L6X 0L6

Contact Information
+1 416-878-6928
Website
http://www.4splumbing.ca/
Need same-day plumbing service? Looking for professional and reliable plumbers? Nothing is too much trouble for 4 Seasons Plumbing and they can provide all of these to you in the quickest way possible. They can handle all types of plumbing repair works, providing you with helpful advice and excellent overall service as they complete the job. Other services they offer include high-pressure cleaning, drain camera inspections, and main drain cleaning. For the complete list, go to http://www.4splumbing.ca/.
5.     LPI Mechanical Inc.

Best For
Plumbing Services for the Construction Industry
Services Offered
Commercial, industrial, and institutional plumbing services

Design and build services

HVAC services

Emergency services

Address
3-13 Brewster Road, Brampton, ON L6T 5G9
Contact Information
855-794-0755
Website
https://lpigroup.ca/
LPI Mechanical Inc. has been leading the way in construction plumbing work for 18 years and counting. Because of the first-class services they offer, they have earned a long list of loyal customers. The company and its team can do anything from new construction to full service and maintenance for plumbing projects. Besides this, they can offer design/build and HVAC services whenever necessary.
6.     Price Plumbing & Heating Ltd
Best For
General Plumbing Work
Services Offered
High-pressure flushes

Complete drain services

Backflow testing

Hot water heating

Plumbing repairs and water main installs/repairs

Address
42 Regan Rd, Brampton,

ON L7A 1B4

Contact Information
(905) 840-6848
Website
http://www.priceplumbing.ca/index.html
Price Plumbing & Heating Ltd has the right plumbing services for utility companies, industrial and manufacturing buildings, restaurants, and residential complexes. And with the effective plumbing tools and techniques that their team uses, it's easy for them to conduct any plumbing work that involves hot water heater, water mains, drain machines, and the most common plumbing fixtures. If you want to know more, visit their website at http://www.priceplumbing.ca/index.html.
7.     E Archdekin Plumbing & Heating

Best For
General Plumbing Work
Services Offered
Bathroom renovation

Sewer relining

Industrial, residential, and commercial drain services

General plumbing and heating services

Address
55 Rutherford Road South

(Suite 201) Brampton, On

Contact Information
905-451-2244
Website
https://www.archdekinplumbing.ca/
E Archdekin Plumbing & Heating has been serving Brampton residents since 1943. And until now, they continue to work with great products, exceptional craftsmanship, and personal customer service. You can rely on them when it comes to proper drain servicing for industrial, commercial, and residential buildings. Other things they can do for you include bathroom renovations, water heater rentals, sewer relining, and so much more.