Water is synonymous to life for the people in Johannesburg, South Africa.  This is the reason why plumbers are considered as living heroes.
Remember, the plumbing system of your house or commercial property is subjected to wear and tear over time.  It's crucial to have a plumber you can trust to avoid severe damage and waste.
In our part, we understand how valuable your time is.  For this reason, we have taken the initiative to list the most outstanding plumbers in Johannesburg.
All you have to do now is to scroll down, read on, and choose which plumber better suits your taste.
Let's begin.
1. Watergate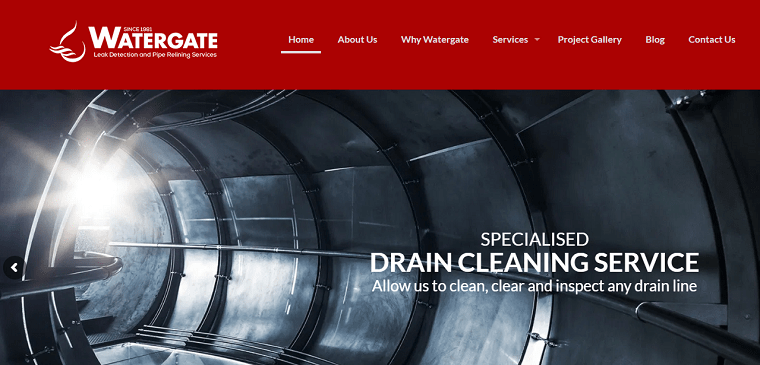 BEST FOR
Domestic and commercial plumbing, leak detection & pipe relining services
SERVICES
Leak detection

Pipe relining

Specialized drain cleaning

Plumbing maintenance

ADDRESS
3 Chestnut Hill, No 3 Birt Street, Raedene, Johannesburg
CONTACT
Phone: (011) 485-2245 | (011) 485-2246

Mobile: Justin (082) 444-9869

Email: [email protected]

WEBSITE
http://www.watergate.co.za/
Watergate has been serving Johannesburg homes and businesses since 1981.  It can perform simple plumbing solutions and cutting-edge technology in pipe relining & leak detection.  Why Watergate?
30+ years of expertise
Up-to-date equipment for accuracy
High-quality workmanship
Fully licensed and registered plumbers
2. Pronto Plumbing

BEST FOR
Residential and commercial plumbing services
SERVICES
Plumbing maintenance

Drain cleaning

Geyser installations

General plumbing

Plumbing installations, repairs, replacements, and upgrades

ADDRESS
Johannesburg, South Africa
CONTACT
Phone: (082) 326-6241

Email: [email protected]

WEBSITE
https://www.callprontoplumbing.co.za/
Pronto Plumbing is the premier plumber Johannesburg residents highly commend.  It has been serving the Johannesburg area and surrounding communities since 2006.  With almost fifteen years of experience, Proto has experienced it all—from minor leaks to large-scale issues in both commercial and residential properties.  The company's highly competitive plumbers ensure that you will surely get the help you need.  For Pronto Plumbing, you are not just a customer… you're a family!
3. Hyperion Plumbers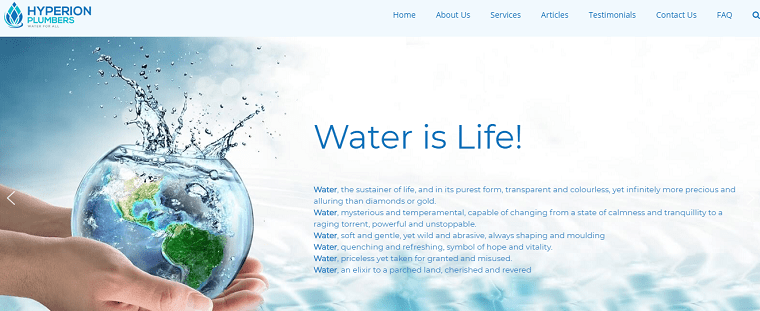 BEST FOR
Leak detection services
SERVICES
Leak detection and repair

Residential and commercial plumbing

Camera drainage inspection

Plumbing repairs and installations

Drain cleaning

Blocked drains

General plumbing maintenance

Kitchen and bathroom renovations

Moisture detection

Burst geyser replacement

Sound leak detection

ADDRESS
Johannesburg, 2192, Gauteng
CONTACT
Phone: (084) 886-8838

Email: [email protected]

WEBSITE
http://www.hyperionplumbers.co.za/
The Hyperion Plumbers has over 17 years of experience in the plumbing industry.  This fact makes them one of the most reliable plumbers in Johannesburg.  The team regards water as life itself; hence, they help conserve it by diligently addressing plumbing issues whether at home or commercial premises.  For a free quote and advice, give them a call or send your message via this link.
4. JHB North Plumbing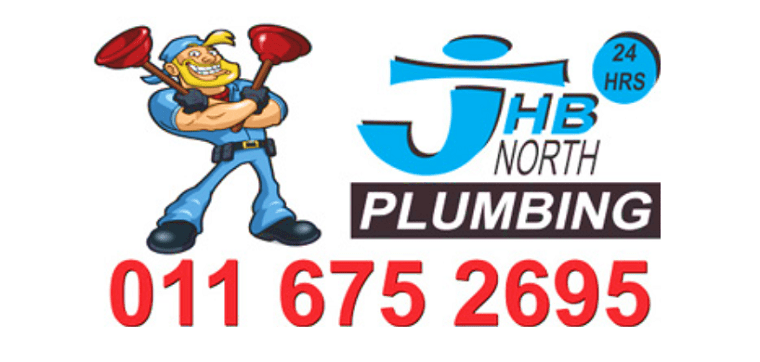 BEST FOR
Domestic, commercial, and industrial plumbing & maintenance
SERVICES
24/7 emergency services

Cleaning of blocked drains.

Burst geyser replacement

Burst and leaking pipe repairs

Leaking toilets, faucets, and sinks

Facility maintenance

Bathroom renovations and upgrades

Hydro-boil installations and maintenance.

Urinal installations and maintenance

Urinal and toilets flush master installations & services

ADDRESS
917 Florin Road, Wilgeheuwel, Johannesburg
CONTACT
Phone: (011) 675-2695

Email: [email protected]

WEBSITE
http://www.jhbnorthplumbing.co.za/
JHB North Plumbing is a reliable plumber Johannesburg homeowners and businesses trust.  It has been serving the area with quality services for almost 30 years.  JHB North Plumbing has done a lot of development projects in Johannesburg, Pretoria, Featherbrooke, Eagle Canyon, and other surrounding areas.  It also performed a large-scale project in The Palm Continental Hotel in Johannesburg.
5. Wayne Osrin Plumbing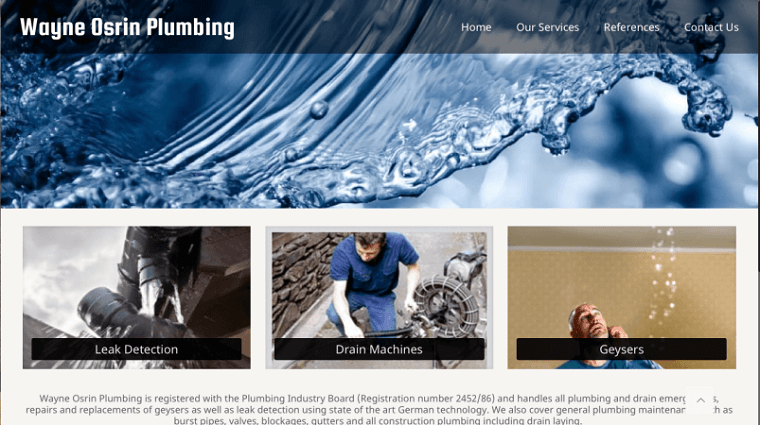 BEST FOR
Residential and commercial plumbing services
SERVICES
Full plumbing services and drain emergencies

Plumbing maintenance

Blockages, gutters, and burst pipes

New construction plumbing

Leak detection

Solar geysers installation, replacement, and services

Drain blockages

ADDRESS
16 Victoria Ave, Parktown, Johannesburg, 2193, South Africa
CONTACT
Phone: (082) 416-5333
WEBSITE
http://www.wayneosrinplumbing.co.za/
Wayne Osrin Plumbing is a registered plumber in the Plumbing Industry Board.  It utilizes state-of-the-art German technology to implement accurate and effective plumbing services.  Wayne Osrin Plumbing currently has six highly skilled and very loyal employees who have worked with the company for a decade.  They are trained to provide you with the highest standards of customer care and service.
6. Whitelaw Plumbing and Gas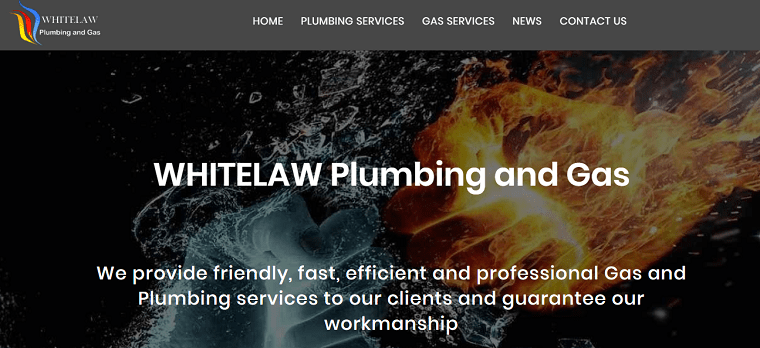 BEST FOR
Plumbing & gas repairs, maintenance, and services
SERVICES
General plumbing

Plumbing installations

Bathroom renovations and alterations

Blockages

Leaking geysers, toilets, taps, and mixers

Burst pipes

Supply and install water storage tanks, booster pumps

Supply of sanitaryware, valves, mixers, geysers etc.

Rainwater harvesting systems and solutions

Whole-house water filtration systems

Irrigation systems

ADDRESS
34 Silas Street, Cyrildene, Johannesburg
CONTACT
Phone: (011) 615- 4271 | Mobile: (084) 556- 2284

Fax: (011) 616- 7776

Email: [email protected] | [email protected] | [email protected]

WEBSITE
https://www.whitelawplumbingandgas.co.za/
Whitelaw is a family-owned and operated plumbing company that has been serving Johannesburg and surrounding communities since 1964.  The company, along with its employees, continually strives to provide friendly, fast, efficient, and professional services to all its clients.  Whitelaw guarantees all the work they have undertaken for your peace of mind.
7. BrightServe Plumbing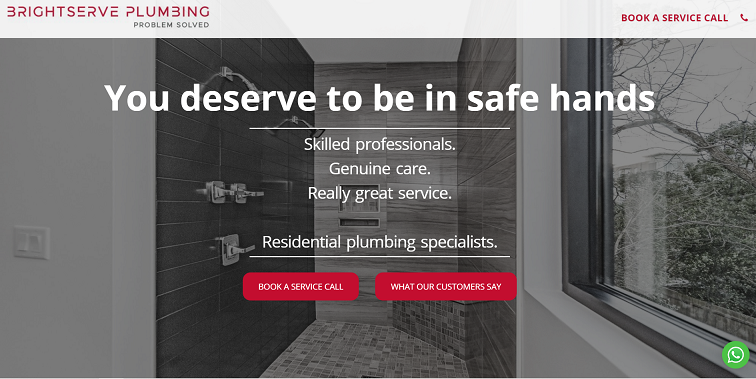 BEST FOR
Plumbing Services
SERVICES

Residential Plumbing Repairs & Maintenance

Technical Plumbing Problems

Commercial Plumbing Repairs & Maintenance

ADDRESS

Book a service call online

CONTACT

071 351 9625

WEBSITE
https://www.brightserve.co.za/
BrightServe Plumbing has been in the field for over 25 years. They are a team of experts that will get your plumbing problems solved.
They will come and get the job done quickly because they know what they are doing. If you're looking for cheap and nasty, they are not what you're looking for.
8. Blockbusters Plumbing Services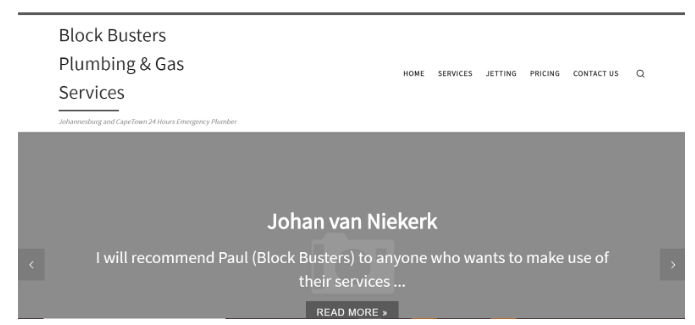 BEST FOR
Plumbing and Gas Services
SERVICES
Drains blocked cameras and septic tanks
Leak detection
Pipe realigning
Plumbing
Geyser Installation and Repair
Handyman Services
ADDRESS
5 Thora Cres Wynberg, Sandton 2090 South Africa
CONTACT
Visit their website and go to the "contact us" tab to send them a message.
WEBSITE
http://www.blockbusterplumbingservices.co.za/
Blockbusters Plumbing Services has been providing service to the citizens of Johannesburg since 1990. With their experience and specialization in drain cleaning, plumbing, gas services, and pipe realignment, they already mastered the art of providing good quality service to their clients and giving reasonable prices.
They do drain cleaning of blocked CCTV cameras, septic tanks, pipe realigning, installing appliances, urinals, toilets, geyser, etc. Blockbusters Plumbing Services uses SABS approved products to ensure the quality and service of their work and to guarantee customer satisfaction.