Electrical fixes and wirings should be mostly left to professionals because a single error can cause great damage… or injury. If you need a great electrician yourself, we're here to help you with our list of the best electricians in Singapore.These are the most dependable electrical repairmen and contractors we could find on the island. Between their rates and their safety records, your electrical project or repair should be completed with a minimum of fuss.
Note:

Due to the current pandemic outbreak, we've noted the relevant service changes for some of the shops listed below. Where applicable, we've noted the policy or service changes.
1. Electrician Singapore
| | |
| --- | --- |
| BEST FOR | Residential, Commercial, and Industrial Electrician Services |
| SERVICES/SCOPE | Light InstallationPower Socket InstallationCeiling Fan InstallationElectrical Wiring and Handyman |
| PRICING | Contact for custom pricing |
| WEBSITE | https://www.electrician-singapore.com/ |
| ADDRESS | Singapore |
| CONTACT | (65) 3129 2518 |
| PAYMENT | Contact for more details |
Electrician Singapore offers the best electrical repair services in Singapore. Their team of dedicated and experienced electricians are committed to offering their services at competitive rates.When you work with them, you can expect that your project will be finished on time and within budget.Whether it's changing a light bulb, fixing electrical damage, or configuring electrical wiring, turn to their team today! Rest assured that they have the tools and skills to complete any project, big or small.
2.  S Power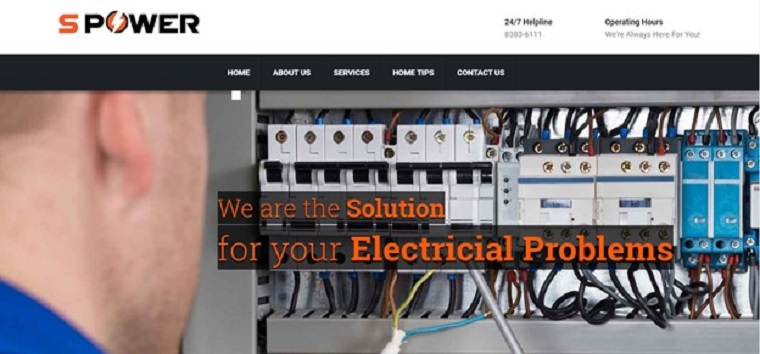 BEST FOR
180-day warranty coverage, licensed electrical contractors, follow safety protocols, high-quality equipment
SERVICES/SCOPE
Power Failure, Power Tripping, Electrical Engineering Works, Electrical Testing Blackout, New Wiring Installation, Short Circuit, Rewiring, Power Distribution Box, Electrical Extension, High-power Water Pressure Motor Pump & Control Panel
PRICING
Call or send your contact details through the contact form for a quote
WEBSITE
https://www.spower.com.sg/
ADDRESS
15 Yishun Industrial St 1, Win 5Singapore 768091
CONTACT
+65 8383-6111 |

[email protected]

PAYMENT
Cash, cheque, or bank transfer
S Power is an electrical services contractor that places a premium on the safety of their customers. That is why they only hire licensed electricians who are trained to follow safety protocols all the time.They also use high-quality equipment and supplies when carrying out your requested services. As such, they can ensure that your wiring and appliances will last for a long time and will not cause damage to your person or to your home.Once the electrical services have been carried out, S Power assures you that they will be back for further assistance in case something happens. That is because they have a 180-day warranty coverage.That sort of guarantee is why they're among the best electricians in Singapore. Don't you love a company that's so confident in its work it puts a 6-month warranty on it?
3.  TK Electricians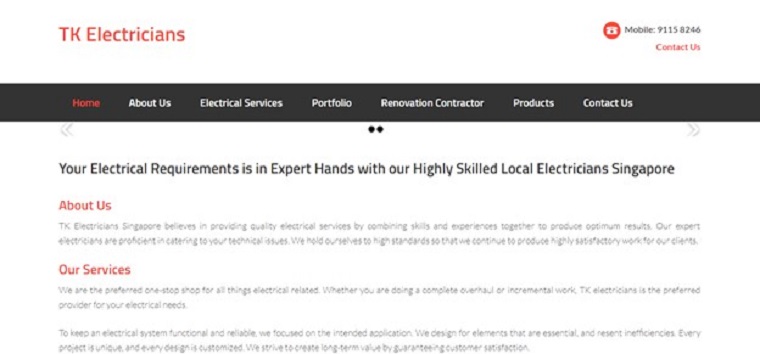 | | |
| --- | --- |
| BEST FOR | Impeccable work ethics, prioritizing of client safety, value for money |
| SERVICES/SCOPE | Residential Electrical Services, Commercial Electrical Services, Renovation Contractor |
| PRICING | Call for a consultation and an estimate |
| WEBSITE | http://www.tkelectricians.com/ |
| ADDRESS | 5068 Ang Mo Kio Industrial Park 2#01-1449Singapore 569571 |
| CONTACT | +65 9115-8246 |
| PAYMENT | Cash, cheque, or bank transfer |
TK Electricians is a company made up of trained and proficient electricians. They offer a wide range of electrical services for homes and commercial spaces and can do something as mundane as fixing the wiring of your favorite lamp.With TK Electricians, you know that your home or workplace is safe. That is because they prioritize the safety of inhabitants or workers when they work.That is why they are meticulous in carrying out their tasks, no matter how simple they are. You can also see it in their work ethics, as they always communicate with respect and they uphold integrity.The latter especially shows in their honest pricing since they guarantee you value for your money. That's to be expected from some of the best electricians in Singapore.
4.  ISOHomeCare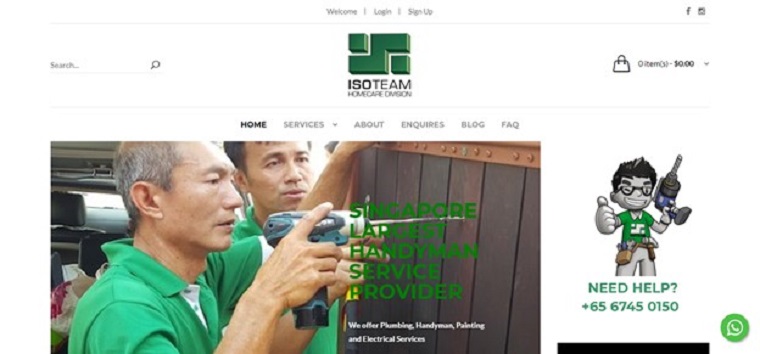 BEST FOR
Rewards program, all-around handyman services provider, warranty period, on-site quote
SERVICES/SCOPE
Chandelier Installation, Ceiling Fan Installation, Isolator Installation, Switch Socket Outlet Installation, LAN Port Installation, Air-con Point Installation, Telephone Point Installation, Lighting Point Running, Light Bulbs Replacement, Light Fittings Replacement, Light Switches Replacement, Switch Socket Outlet Replacement, Other Electrical Services
PRICING
From SGD 22.50 or request free quote
WEBSITE
https://www.isohomecare.com/
ADDRESS
8 Changi North Street 1ISOTeam BuildingSingapore 498829
CONTACT
+65 6745-0150 |

[email protected]

PAYMENT
Online payment via credit card or
ISOHomeCare is a one-stop handyman services provider. They cover everything from plumbing to waterproofing, as well as electrical services.For the latter, they have a broad range of services that you can browse in their website. And in the case the service you require is not listed, you can simply request a consultation to get a free quote.With ISOHomeCare, your satisfaction is guaranteed. They give you maximum return on your investment, plus whatever price you paid for upfront. There are no additional fees unless you underpaid for the required services.Moreover, ISOHomeCare offers installment plans via UOB credit cards at 0% interest. They have a rewards program too.This means that if you call on the company for your handyman requirements often, you can get more ISO-Points to get more rebates.
5.  Superstar Handyman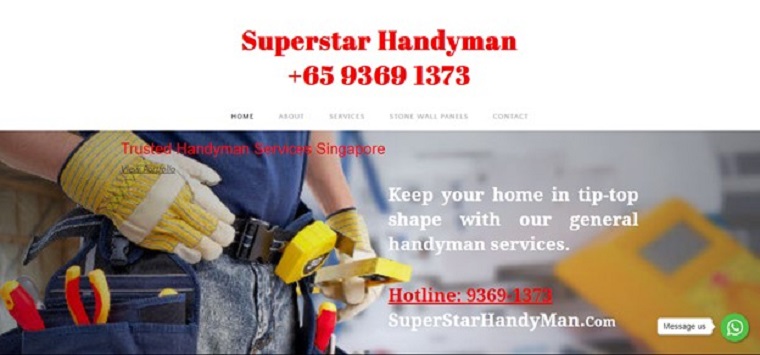 BEST FOR
Capable of dealing with unique situations, deliver custom requirements
SERVICES/SCOPE
Electrical Works
PRICING
Request a free estimate
WEBSITE
https://www.superstarhandyman.com/
ADDRESS
1002,Toa Payoh Industrial Park#06-1457​Singapore 319074
CONTACT
+65 9369-1373 |

[email protected]

PAYMENT
Cash, cheque, or bank transfer
Superstar Handyman has been servicing homes and business in Singapore for over 20 years. During that time, the company's technicians have encountered many unique situations — that experience has made them especially versatile.Additionally, Superstar Handyman can meet your needs even if you have custom requirements. In fact, they have a division dedicated to that area.With Superstar Handyman, you can get your services on time and be sure that they are done by fully trained professionals. Call them up if you want advice from some of the best electricians in Singapore.
6.  CWC Electrical Engineering Service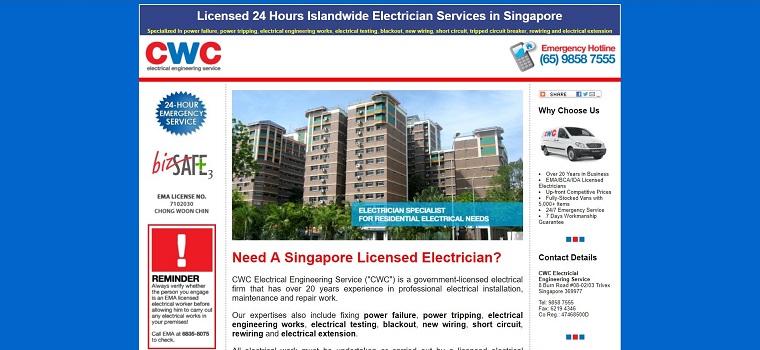 | | |
| --- | --- |
| BEST FOR | Smart home services, child-proof outlets, top-notch electrical supplies |
| SERVICES/SCOPE | Home Lighting Design, Electrical Upgrades, Exotic Outlet Installation, Wireless Lighting Controls, Landscape Lighting, Surge Protection, Smoke/CO Detectors, Hi-tech Troubleshooting, Electrical Safety Inspections, Smart Home Automation, Child-proof Outlets, Shock Prevention Devises, Energy Saving Lighting |
| PRICING | Call for an estimate |
| WEBSITE | http://www.cwc.com.sg/ |
| ADDRESS | 8 Burn Road #08-02/03 TrivexSingapore 369977 |
| CONTACT | +65 9858-7555 |
| PAYMENT | Cash, cheque, or bank transfer |
CWC Electrical Engineering Service is an EMA-licensed firm that has been helping homes and commercial spaces with their electrical needs for more than 20 years. Their electricians are also fully certified, so you can rest assured that they are well equipped to deliver electrical services for you.With CWC, you can have your electrical issues fixed at any time. That is because they are on-call 24/7 for emergency services.You can also rest assured that your problem is resolved on the spot, as their vans are fully stocked with parts and accessories that may be required.Furthermore, CWC uses only the best supplies, so you can count on your electric fixes to last for a long time.
7. Daylight Electrician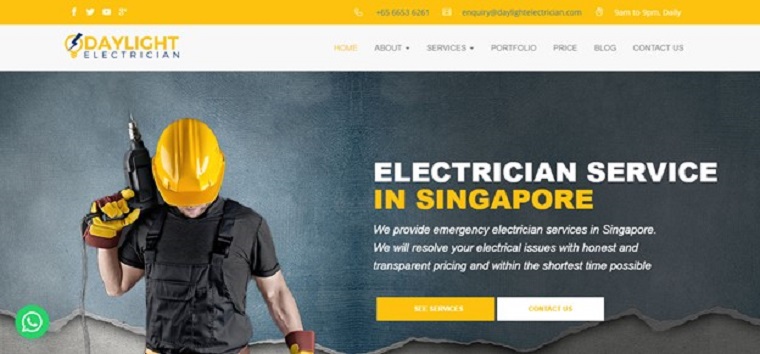 | | |
| --- | --- |
| BEST FOR | Transparent pricing, prompt service, EMA-licensed electricians, quality assurance on all services |
| SERVICES/SCOPE | Circuit Breaker, Light Switch, Electrical Repair & Replacement, Power Trip/Power Failure, Electrical Wiring, Electrical Installation, Light Installation, Ceiling Fan Installation, Power Socket, Electrical Distribution Board, Electrical Switches, Electrical Troubleshooting, Emergency Services |
| PRICING | Service prices will vary based on the job scope and individual circumstances. Whatsapp or call to request a price quote. |
| WEBSITE | https://www.daylightelectrician.com/ |
| ADDRESS | 1090 Lower Delta Road #03-07J, Singapore 169201 |
| CONTACT | Phone (+65) 6909 9921 | WhatsApp (+65) 8241 0032 | [email protected] |
| PAYMENT | Cash, cheque, or bank transfer |
Despite its name, Daylight Electrician is available for both emergency and non-emergency electrical services every day from 9 am – 9 pm. They provide transparent and upfront pricing for their electrical services and will arrive at your doorstep at the soonest possible time.Of course, the company only deploys a team of qualified and EMA-licensed electricians so you can rest assured that your electrical fixes are done meticulously. They offer solutions that are cost-effective and come with a 30-day warranty.You can also rely on Daylight Electrician for non-emergent electrical services. Whether it is fixing wires or installing new sockets, they can deliver that service.
Note:

Dear customers, we are still operating our electrical services during this Covid-19 Circuit Breaker period. All technicians will wear face mask & adhere to strict guidelines. Please enquire with us on how we can help you. Thank you.
8. 1st Electrical Services
BEST FOR
Responsive and efficient service, on-call electricians, quality electrical services, references
SERVICES/SCOPE
Power Failure & Tripping Problems, Full House or Part Rewiring, Points Installation, Ceiling Fan/Water Heater Installation, Main Circuit Breakers Replacement, Repair & Troubleshooting, Power Points & Light Switches Repair & Replacement, Extra Sockers, Electrical Fault, Electric Blackout, Fault Finding, Inspection Testing, CCTV, Fire Alarm, Move/Add/Replace Light Fixture, Data Telephone System, Antenna
PRICING
Call for an estimate
WEBSITE
http://www.electrician.com.sg/
ADDRESS
8 Lakepoint Drive #01-45Singapore 648926
CONTACT
+65 9848-0111 |

[email protected]

PAYMENT
Cash, cheque, or bank transfer
1st Electrical Services is a company whose background you can be doubly sure of because they provide a lot of references. You will find that their previous customers were wholly satisfied with their services and were eager to rate them highly and recommend them to other people.Aside from providing standard electrical services, 1st Electrical Services also does emergency electrical fixes. They are responsive in that regard since they have on-call electricians and fully stocked vans.Thus, they can provide you with efficient service any time. That makes them one of our favorite Singapore electricians.
9. REE Electrical Engineering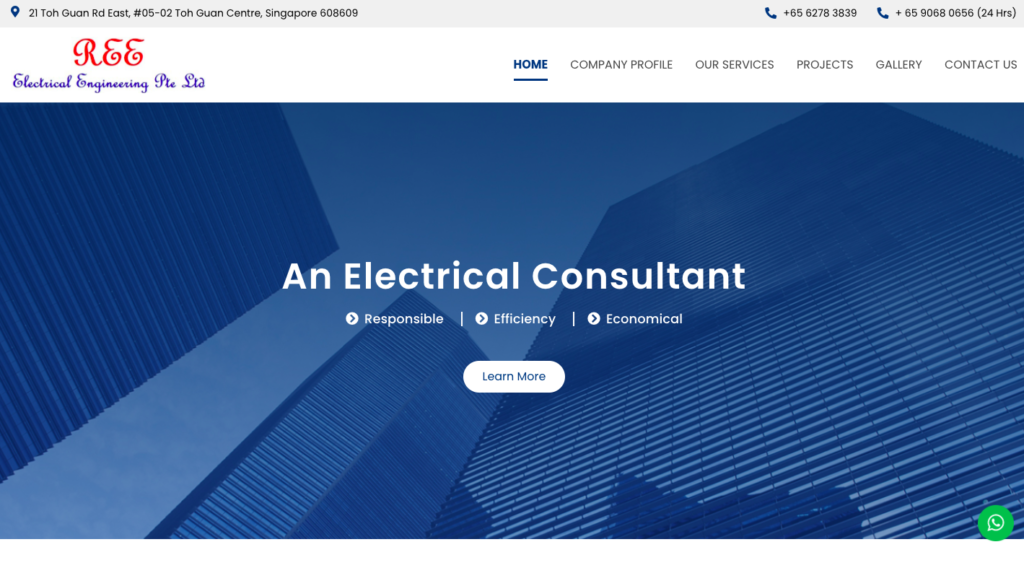 BEST FOR
Industrial Engineering Work
SERVICES/SCOPE

Maintenance of Residential & Industrial Buildings, Maintenance of Air Conditioning Works, Electrical Installation, Plumbing Works, Repair of Machineries and Compressed Air Piping Works, Lightning Protection System, Infrared Thermographic Inspection, Servicing of L.T Switchboards, Primary & Secondary Injection Test, Underground Cable Detection Works

PRICING
Call for an estimate
WEBSITE
http://www.electrician.com.sg/
ADDRESS
21 Toh Guan Rd East, #05-02 Toh Guan Centre, Singapore 608609
CONTACT

Phone:

+65 6278 3839

+65 6272 6054

+65 9068 0656

Email:

[email protected]

[email protected]
PAYMENT
Contact for details
REE Electrical Engineering was founded in 1985 and has earned a reputation for their service, professionalism and quality workmanship. With more than three decades of experience in the industry, they are one of our trusted electrician providers in Singapore. 
They specialize in general electrical work and can provide round-the-clock commercial and industrial services. They can provide professional engineers and licensed electrical workers as well as service main switchboards, conduct injector tests and provide reports.
Each electrician they'll provide is a fully employed skilled worker by the company – meaning they don't outsource or hire independent contractors to fulfill any of their obligations. So whether you need electrical maintenance in your home or need infrared thermographic inspection, REE Electrical Engineering is fully equipped and staffed to get the job done. 
10. SG Electrician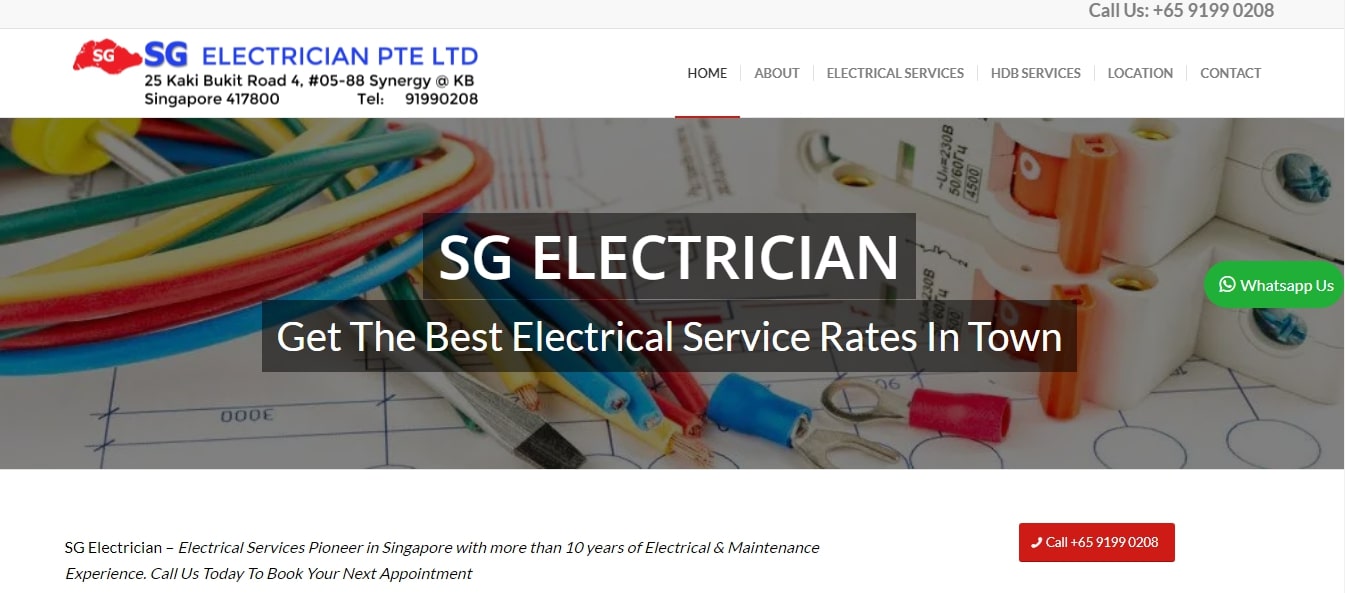 Sg Electrician is a company that provides electrician services 24 hours a day, seven days a week, and brings over 20 years of experience to every task.They can handle both residential and commercial services, from installation to repair work, and have since then pleased hundreds of consumers since its inception.We believe that their team of ema licensed electricians is highly qualified to perform a wide range of electrical services, and because they are locally registered, clients can simply contact them for after-service assistance.Another thing we like about them is that they make sure to have an exact diagnosis of a client's electrical problem by being able to accommodate a rapid quote, appointment, and on-site inspection prior to the primary services themselves.Overall, their previous clients find their quick and dependable services to be both educational and efficient in the long term for the electrical difficulties that they have corrected.
11. Repairs.sg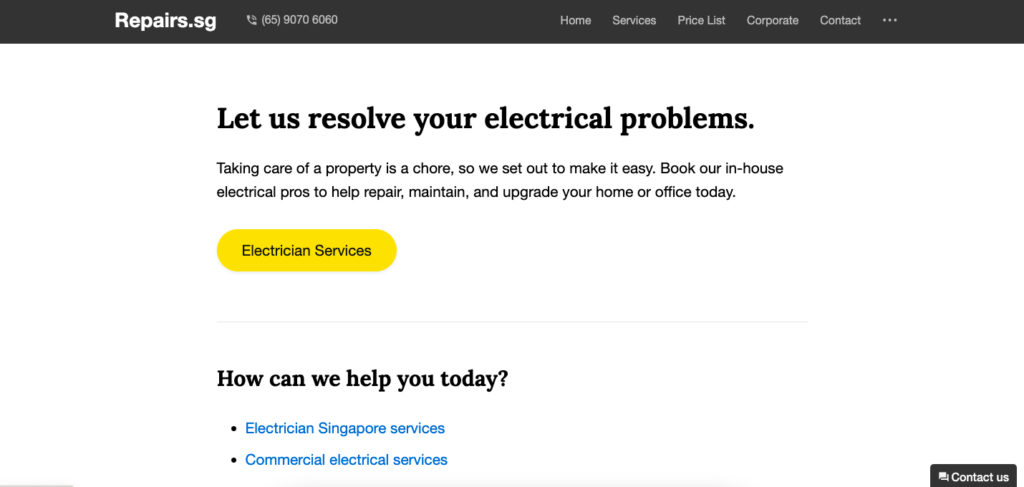 Whether you need assistance with repair, maintenance, or installation, Repairs.sg can handle it and offer it at affordable prices. 
One thing we like about them is their flexibility and ability to cater to requests of all sizes. 
Due to the unpredictability of electrical problems, we like that they have emergency electrical services for same-day (based on availability) and next-day service. Although, they currently do not have 24-hour service. 
They've included a base price list on their website, and we think this is great as it gives potential customers an idea of how much they'd have to pay. 
All in all, we think that Repairs.sg one of the electricians that can help you deal with any electrical problem.
Anyway, that concludes our roundup of the best Singapore electricians. These should be more than capable of handling any electrical project you want done.If you have questions, send them our way! We'll be more than happy to answer them ASAP.