Let us guess why you're looking for the companies that do the best bed bug control in Singapore. Do you have itchy bumps all over your skin? Or do you smell something musty and offensive on your bed, couch, or furniture?
Saying "yes" to these questions mean that you have bed bugs at home.  Luckily, it's possible to get rid of them — just call in the companies we've listed in this article!
1) Ninja Pest Control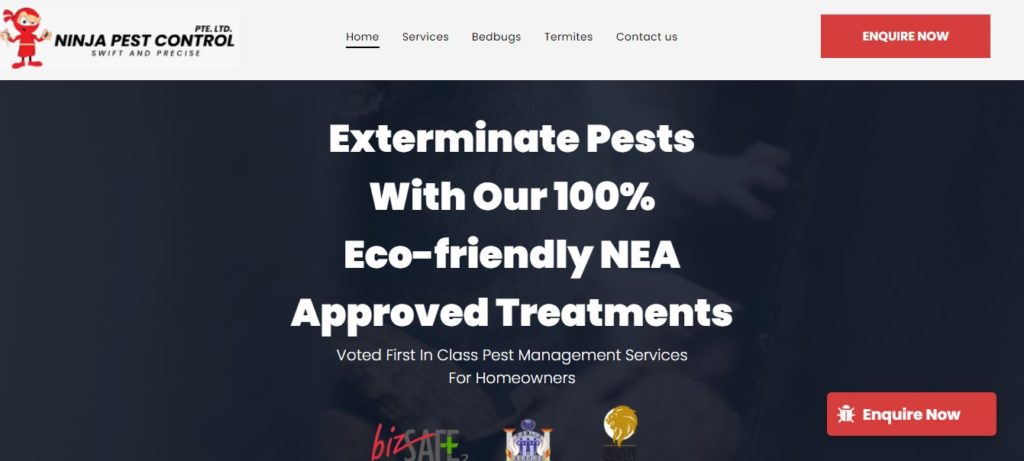 Getting rid of a pest infestation is a lot harder thank you think. If you are looking for a pest control company that can help you remove all the pests in your home, Ninja Pest Control got you.
Similar to other companies, if you have numerous termites, bed bugs, rodents, cockroaches, ants, mosquitos, or flies, they can serve you. However, if you do not know what they are, you can tell them a simple description about it and they will see how they can terminate it easily.
Having bed bugs can make you itchy and reduce your hours of sleep. Once you feel the discomfort, it would be better to contact professional help immediately.
Over others, we prefer their customized treatment plans that can remove both hidden bed bugs' nestings and their eggs. They are able to do this by using bedbugs residual spray and bedbugs heat treatment wherein the spray can kill seen bedbugs as the treatment kills the hidden ones, including their eggs.
In comparing them to huge companies, they offer almost the same, and sometimes, new and improved solutions without overcharging their customers. This way, you can save more money yet still experience the best service.
Everyone loves it when there is something free. Just with their free inspection, you will be able to receive a diagnosis, fair quotation, a breakdown of the most suitable treatment, and a 90-day warranty with terms and conditions.
We believe that with them, you will never get to see any pests again as they can eliminate both see and unseen targeted pests.
Why Ninja Pest Control?
Follow-ups are done
All In 1 Warranty Coverage Provided
No hard-selling
2)   Pest Control Compared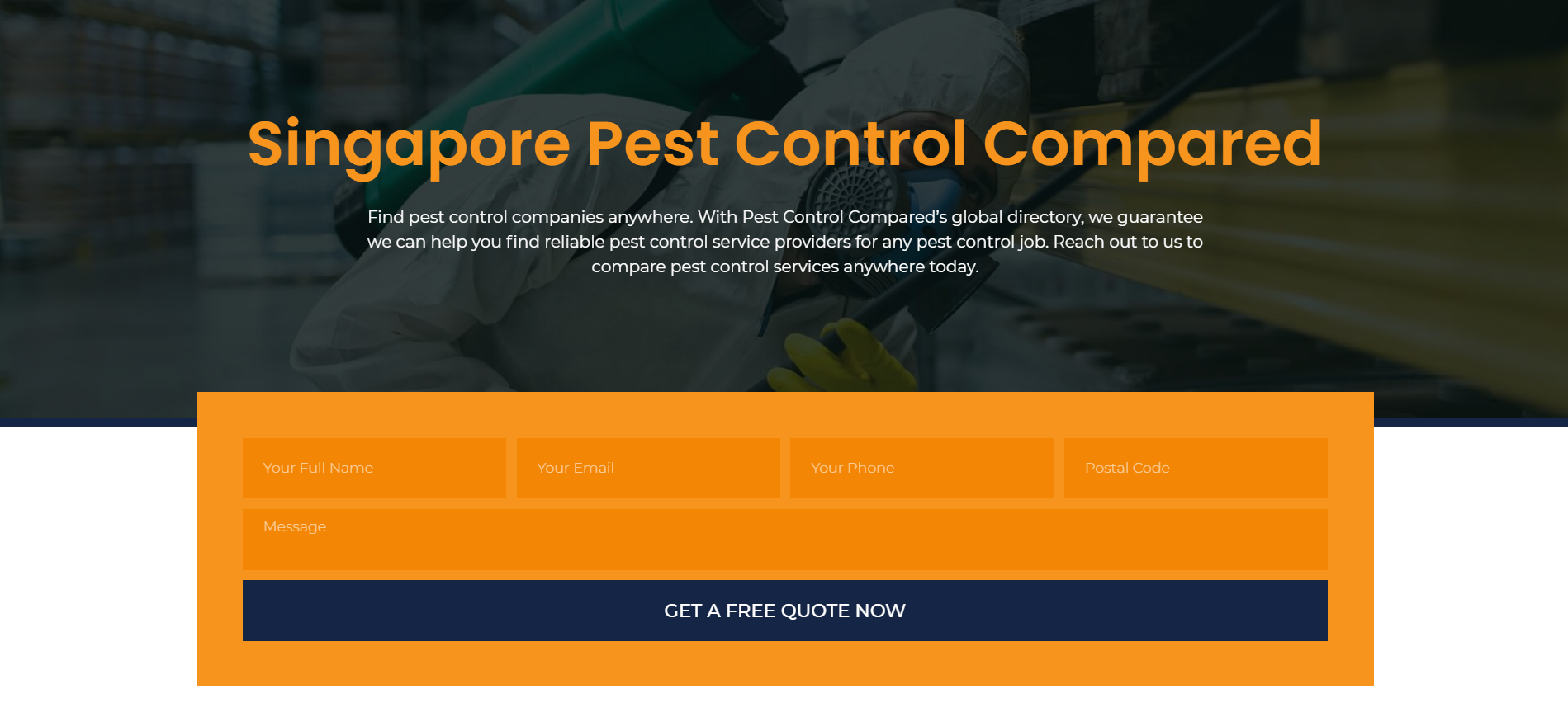 Pest Control Compared is a platform that will help you find the best pest control companies in the area. No matter where you may be, they will be able to help you compare and choose the best pest control service provider for your property.
Their comprehensive directory is composed of only the most skilled and reliable companies, so you won't need to worry about getting poor work done. With their help, no pest control problem will be left unresolved. Check out their website now!
Why choose Pest Control Compared?
Find pest control anywhere in Singapore
Compare pest control anywhere
Comprehensive directory
Skilled and honest contacts only
3)  Ironman Pest Control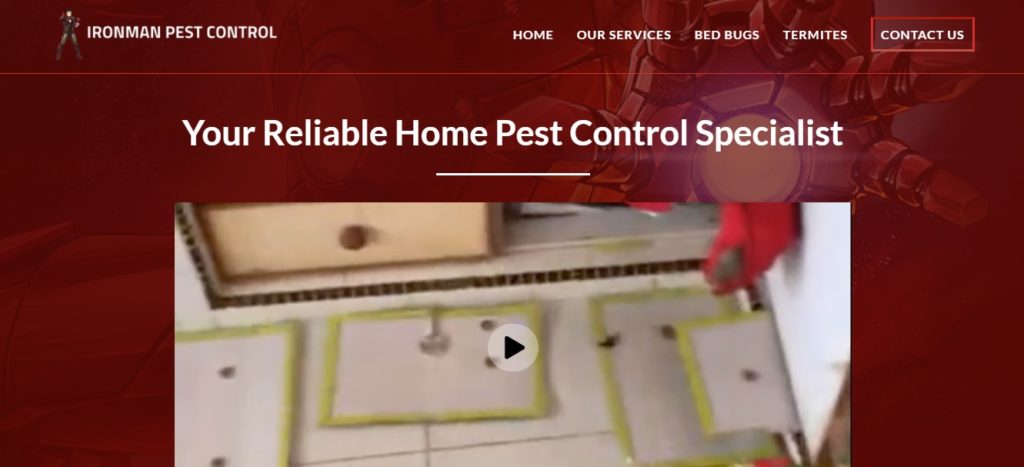 Ironman Pest Control specialists are known as superheroes as they are standby 24/7 which means you will be entertained immediately. Similar to other companies, they also offer free in-depth onsite inspections.
We prefer them to other companies because they do not do the same techniques in different situations. Their methods depend on the situation of the client and the industry they are in.
Nobody wants to sleep with bed bugs right? If bed bugs keep on coming back, it is because your previous terminators did not fully get rid of them as well as their eggs.
With their superheroes and heat treatment, they will kill all the eggs, dust mites, and other viruses at your home.
With Ironman Pest Control, getting rid of pests is as easy as 1, 2, 3! You just simply tell them about your pest problems, avail of their free on-site inspection and quotation, and then get on-the-spot treatment.
Why choose Ironman Pest Control?
Unlimited trips down to ensure bed bugs eradication during the warranty period

24/7 Customer service

Safe & lasting treatment method
4)   Termibug

BEST FOR
Bedbug and termite control
SERVICES
Residential and commercial pest control

Ants, cockroaches, rodents, ants, etc.

Termite protection program

Preventive pest control

Bedbug treatment

Residual spraying

Non-chemical treatment

ADDRESS
Woodlands Ave 2 Industrial E4 #03-01, Singapore 730030
CONTACT
Phone: 8776-3622

Email: [email protected]

WEBSITE
https://termibug.sg/
When it comes to bedbugs, Singapore residents rely on Termibug as their professional bed bug exterminator.  That's because it's known for doing the best bed bug control in Singapore.
Termibug is skilled in identifying the type of pest you have at home or your commercial property and will determine the best pest solution just for you.  For bedbugs, the Termibug exterminators usually apply a comprehensive treatment combining the spray and steam methods.
Why choose Termibug?
NFA chemicals and technicians
Responsive 24-hour support
Affordable prices and warranty on all services
Years of experience
5)  Rentokil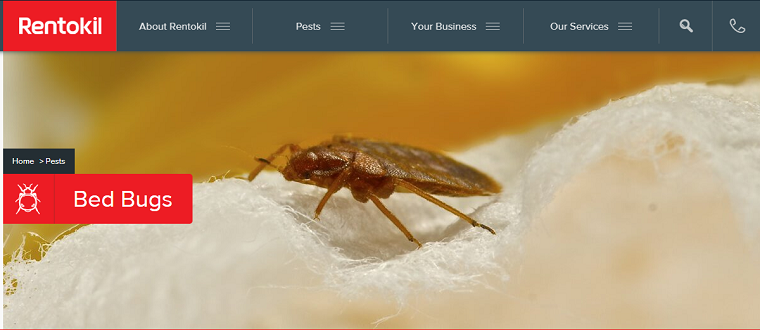 BEST FOR
Residential, commercial, and industrial pest control services
SERVICES
Bedbug control

Termite inspection and solutions

Flying insects, crawling insects, rodents, birds, spiders, snakes, and other wildlife

ADDRESS
16, 18 Jln Mesin, Singapore 368815
CONTACT
Phone:  (65) 6653 2961
WEBSITE
https://www.rentokil.com.sg/
Rentokil is a local brand with 50 years of expertise for pest control. It is also prominent in more than 60 countries worldwide.
When it comes to the dedication in providing innovative and safe solutions, you can always count on Rentokil, which has been called one of the go-to's for the best bed bug control in Singapore.  For your bedbug problems, feel free to give them a call or contact them online through this link.
Why choose Rentokil?
50+ years of experience
Recipient of prestigious awards and accolades
6)  Killem Pest Pte. Ltd.
BEST FOR
Residential and commercial pest control
SERVICES
General pest management

Pest audit

Bed bugs control

Midges removal

Termite pest control

Ant control

Mosquito control

Fleas and ticks removal

Bee extermination

Cockroach removal

Insect control

Fly control

Wasp removal

Rodent control

ADDRESS
48 Toh Guan Road East, #04-99 Enterprise Hub, Singapore 608586
CONTACT
Phone: 6896-6607

Email: [email protected]

WEBSITE
https://killem.com.sg/
If there is an infestation of bed bugs, Singapore locals trust Killem Pest. Husband-and-wife Harry and Ewa Singh founded the company in 1993 and it has since become one of the biggest names in the best bed bug control in Singapore.
It has been servicing Singapore with quality pest control solutions for over 25 years. That's how you know you can trust it.
Why choose Killem Pest?
Right resources (100 PCOs, 45 vehicles, and 500 key equipment)
Strong and respected brand
Certified and ISO-accredited
7)  Maximum Pest Management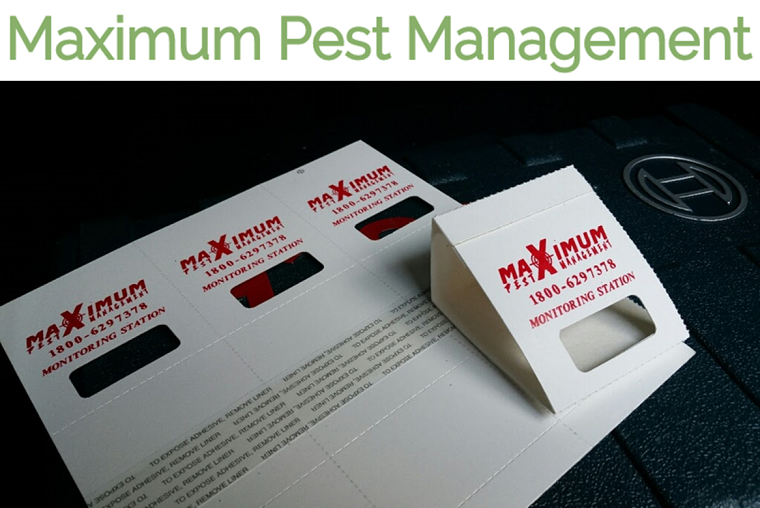 BEST FOR
Residential and commercial pest management
SERVICES
Bedbug control and treatment

Termite control

Rodent control

General pest control

ADDRESS
54 Maude Road #02-06, Singapore 208346
CONTACT
Phone: 6292-0515 | 1800- 629-7378
WEBSITE
https://maximumpest.business.site/
Maximum Pest Management has been providing Singapore with reliable pest control services for the last five years. It employs highly skilled technicians with at least 12 years of experience in the industry.
They can quickly and effectively remove infestations from your home or business. Moreover, the Maximum Pest Management technicians apply water-based and eco-friendly products to ensure your safety and that of the environment.
Why choose Maximum Pest Management?
Satisfaction guarantee
NSRS-trained technicians
Excellent service at a fair price
8)  ORIGIN Exterminators

BEST FOR
Residential and commercial pest control services
SERVICES
Ants, bedbugs, cockroaches, flies, mosquitoes, and rodents

Odorless treatments

Integrated Pest Management system

Pest audits

Non-toxic/ low-toxicity treatments

ADDRESS
39 Jalan Pemimpin, #01-01 Tailee Industrial Building Singapore 577182
CONTACT
Phone: +65-6280-5666

Fax: (65) 6286-6525

Email: [email protected]

WEBSITE
https://www.origin.com.sg/
ORIGIN understands that protecting your family and pests is one of your top priorities. The company's exterminators focus on source reduction to diminish the use of chemicals whenever possible.
They will use low toxicity or non-toxic treatment solutions as well as water-based chemicals to eliminate any chemical residues once its job has been concluded. That makes them a good company for the best bed bug control in Singapore if you're particular about exterminators' safety regulations.
Why Origin?
Customized expert solutions
30+ years of experience
Effective and environmentally-friendly solutions
9)  Execute Pest Control Pte. Ltd.

BEST FOR
Bedbug control
SERVICES
Residential and commercial pest control
Termite controlAnts, bed bugs, cockroaches, mosquitoes, rats, termites, and fliesCar fumigationRegular maintenance
ADDRESS
54 Genting Lane #06-01/E4 Ruby Land Complex, 349562
CONTACT
Mobile: 65-87527277

Email: [email protected]

WEBSITE
https://www.executepestcontrol.sg/
When looking for specialists in bedbugs, Singapore residents and businesses also trust Execute Pest Control.  It has been providing the country with the most trustworthy and reliable pest control management services for years.
The Execute Pest Control exterminators practice safety measures to protect your home and business property while doing their jobs too.
Why Execute Pest Control?
Free quote
NEA licensed
Free consultation
And with that, we have the companies to look up if you want the best bed bug control in Singapore. These are the most dependable ones, based on what their clients have to say about them.
If you have questions or comments, leave them below, though! We'll try to get back to you as soon as we can.
10) Wipeout Pest Control Services Pte Ltd
Wipeout Pest Control has been serving Singapore since 1995. Their team is filled with licensed and professionally trained workers that can handle any kinds of pests in domestic and commercial establishments.
The company proved a wide range of solutions that can surely make your pests problems go away.
Why Wipeout Pest Control?
26 years of experience in the industry
Uses the latest technology
Quality Service
11) Bed Bug Specialist Singapore
BEST FOR
Bedbug control and disinfection
SERVICES
Disinfectant Treatment, Car Fumigation
ADDRESS
61 Bukit Batok Crescent #05-04, Heng Loong Building, Singapore 658078
CONTACT
Phone: +65 8754 7524
Email:

[email protected]

WEBSITE
https://bedbugspecialist.sg/
With a team of well trained, NEA Certified specialists, you are guaranteed to have deeper sleeps and more enjoyable nights in your bug-free environment. For over 10 years, they have been providing services such as bed bug treatment, removal, disinfection, and car fumigation services in Singapore.
They have an organized 3 step strategy which aims to find the best program in removing your bed bugs based on their infestation level. May it be commercial, residential or dormitory, Bed Bug specialist will eradicate your infestation problems for you.
Why ProServ Pest?
10+ years of experience
NEA certified specialists
Customized expert solutions
Eco-friendly treatment
And with that, we have the companies to look up if you want the best bed bug control in Singapore. These are the most dependable ones, based on what their clients have to say about them.
If you have questions or comments, leave them below, though! We'll try to get back to you as soon as we can.