Do you have a leaky faucet? Or perhaps you can't use your water heater properly? Whether it's a minor or major concern, we've found you experts who specialise in all kinds of plumbing issues here!
See our list below to know where you can find the best plumbers in Durham NC, as we've looked for those offering a wide range of residential and commercial plumbing services. There are FAQs at the end too!
1. Durham Plumbing Services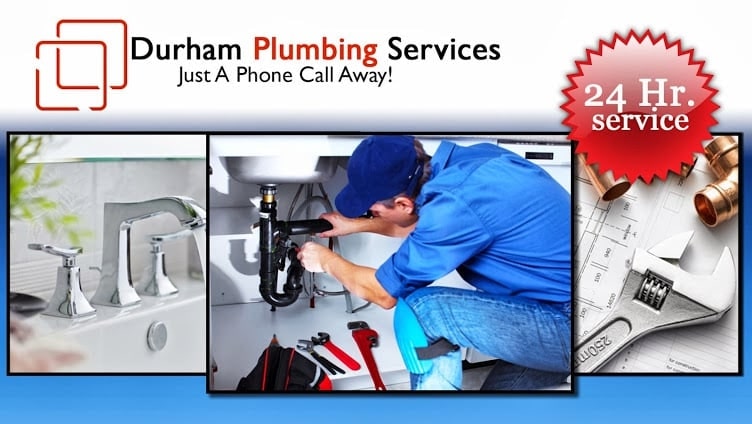 | | |
| --- | --- |
| BEST FOR | Eco-friendly Plumbing Solutions |
| WEBSITE | http://durhamplumbingservices.com/ |
| ADDRESS | 2508 East Club Boulevard, Durham, NC 27704 |
| CONTACT DETAILS | (919) 672-1723 |
| OPERATING HOURS | Open 24 Hours |
Durham Plumbing Services provides a great range of repair and replacement solutions for all types of plumbing fixtures.
This includes fixing clogged drains, water heaters, kitchen and bathroom faucets, and well pump and sump pump problems. Installation of tankless water heaters and toilets is also part of their expertise.
Aside from these, they're known for their eco-friendly plumbing services. They offer water-saving products for those who are planning to renovate their place or replace some old fixtures.
Their eco-friendly options include tankless water heaters and highly efficient toilets, faucets. and showerheads.
If you're worried that going green might affect the overall performance of your plumbing system, there's no need to be, because these products are manufactured to operate at an optimum quality despite the reduction of the flow of water.
They can also accommodate your emergency needs. They have trained plumbers who are available at any time of the day and you can be sure that they'll be at your door as soon as possible, preventing the worst scenarios.
Installs plumbing fixtures that specifically help reduce water and energy consumption
Affordable plumbing services
Provides emergency services
Lack of water piping solutions
Services are mostly limited to fixing plumbing fixtures
Customer Reviews
Customers shared that they were able to cut energy costs because of the water-efficient plumbing fixtures installed by Durham Plumbing Services. They even said that reducing consumption that way didn't lead to low water pressure and that they still experienced a high-performing plumbing system afterwards.
They also mentioned the reasonable costs, excellent recommendations, trustworthy and courteous staff, and on-time arrivals. This is why many claim that this company indeed has the best plumbing services in Durham NC.
A customer posted this review:
"These guys are amazing! We used them to install a tankless water heater. Michael is super responsive and answered every question I had (there were a lot of them, sorry) to help pick the solution that was best for our home. Within a week he was out to perform the install. The day of the install it was raining, but his team worked through the water and mud to install the unit and didn't leave until we had hot water again. I'll be using these guys again in the future."
2. JD Service Now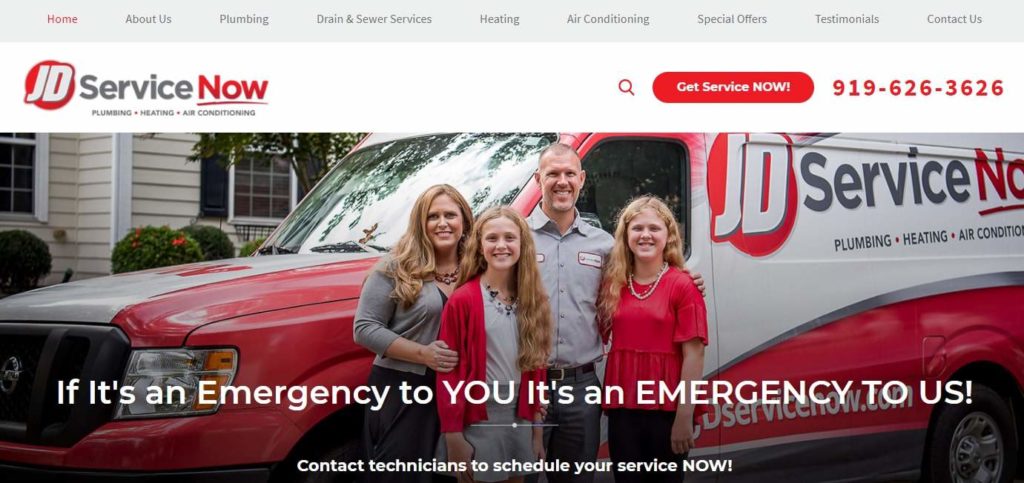 BEST FOR
Commercial and Residential Plumbing Services, Water Treatment System Installation
WEBSITE
https://www.jdservicenow.com/
ADDRESS
4416 Bennett Memorial Rd, Suite 108 Durham, NC 27705
CONTACT DETAILS
919-626-3626
OPERATING HOURS
Monday – Friday: 7:00 AM – 8:00 PM
Saturday: 8:00 AM – 5:00 PM
JD Service Now doesn't only focus on installations and repairs, but they can also help you upgrade your plumbing system to ensure optimal function.
They specialise in providing both residential and commercial plumbing services. This involves leak detection and repair and fixture installation, as well as maintenance services.
When it comes to their drain and sewer services, they offer drain line installation and drain cleaning in which they use minimal excavation to ensure less damage to your property. They even do live-feed video inspection for accurate leak detection as well as sewer line repair and replacement.
They're also knowledgeable in fixing all types of water heaters — be they gas or electric. To help you cut energy costs, they even offer installation of tankless or solar water heaters and make sure that you have the right one for your household.
Unlike the previous option, they're also capable of installing a water treatment system to keep your home water supply safe and clean.
Moreover, their certified team receives training every week to make sure that they're always updated on the latest plumbing trends and technology.
Their services are available 24/7 too. And because they use fully-stocked service trucks, they can generally get the job done as fast as possible.
For those who are planning a residential plumbing reconstruction or new home construction, they also offer flexible financing options to assist you with these big projects.
Specialises in plumbing system upgrades
Doesn't have additional charges for after-hours services including emergencies
Has regular plumbing maintenance plans
All labour and products come with a warranty
Flexible financing options are for residential projects only
Customer Reviews
JD Services Now has earned positive remarks from customers who've experienced fast and reliable services. Most of them also complimented the knowledgeable, polite, and friendly staff.
A customer posted this feedback:
"Had a sump pump, part of a drainage solution (done by someone else a few years ago), failed. JD Service Now responded promptly, and scheduled an appointment immediately. Call was made Friday, and the work was completed on Sunday. Chris was very professional, communicated his findings up front, and provided a fixed bid price. I'm very happy with the service."
3. One Call Plumbing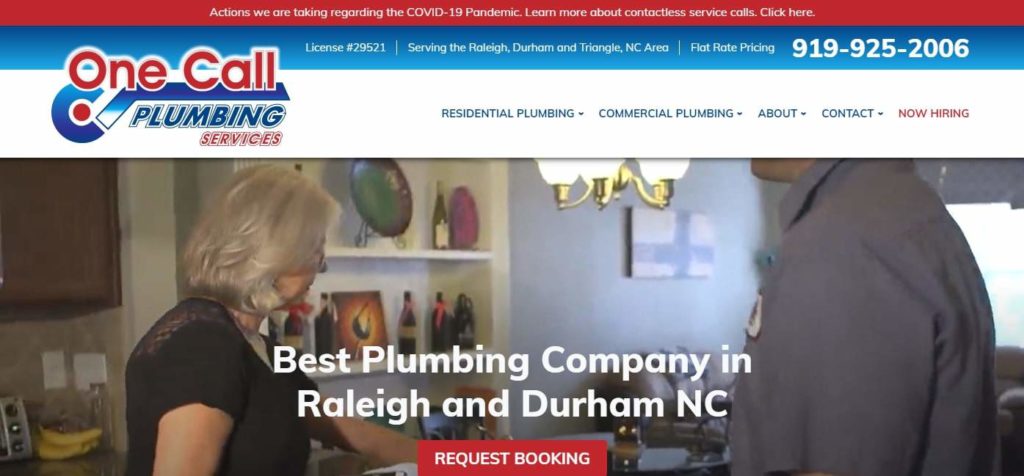 | | |
| --- | --- |
| BEST FOR | Traditional and Modern Plumbing Solutions |
| WEBSITE | https://www.onecallplumbing.com/ |
| ADDRESS | 3525 Mossdale Ave, Durham, NC 27707 |
| CONTACT DETAILS | (919) 213-9881 |
Similar to the previous option, One Call Plumbing also offers residential and commercial services. However, instead of using the latest technology, they tend to focus more on combining modern solutions with the old ones, giving their customers highly efficient plumbing services.
This award-winning company provides a full range of plumbing services, including bathroom/kitchen plumbing, leak detection, main water line installation, repiping, and slab leak repair.
Installation, repair, and maintenance of drain and sewer systems are also part of their expertise. For their water heater services, they can accommodate traditional tank units as well as tankless options.
For their commercial services, they offer grease traps installation to protect the sewer system, hydro jetting to maintain the cleanliness of the plumbing system, and other maintenance services.
They even conduct video pipe inspections and other methods to make sure that all of your plumbing appliances and systems are always in good condition.
No service charges for emergencies and dispatch
Provides membership plans
Offers special discounts on most services
Customer Reviews
Customers were satisfied with the responsive staff and skilled technicians at One Call Plumbing. Most of them also said that the team was able to fix all issues in no time.
A customer gave this feedback:
"Overall I'm very happy with my experience. They answered the phone, got me on the schedule immediately and were very communicative about getting the technician to my house, including sending a photo and name ahead of time. Harry was very nice. He took the time to explain everything and even fixed a leak he found that wasn't part of the job. Their rates might be a little high, but they were still over $100 cheaper than what Roto-Rooter wanted to charge to snake the drain. For the efficiency and quality I was happy to pay to get the job done so quickly and easily. I will definitely call them for future plumbing needs."
4. Brown Brothers Plumbing & Heating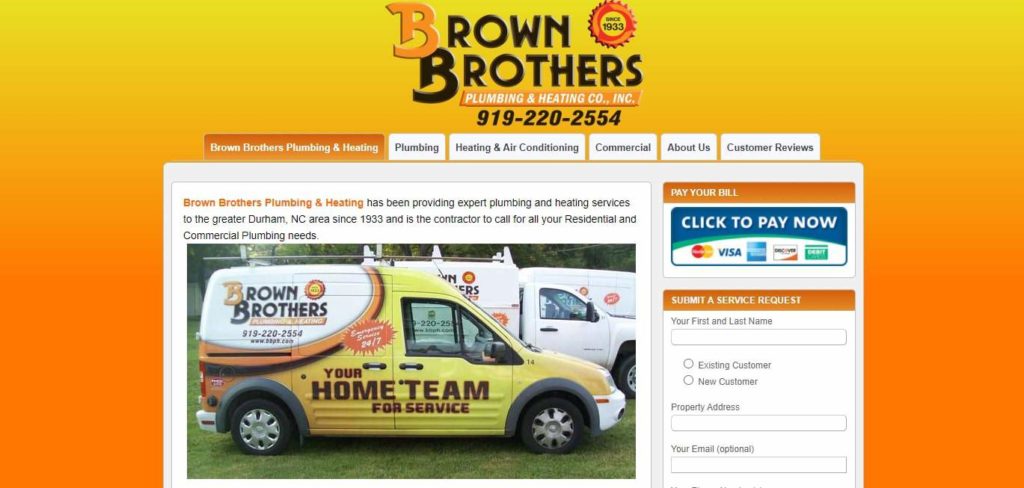 | | |
| --- | --- |
| BEST FOR | Commercial Plumbing Construction Projects |
| WEBSITE | http://bbph.com/ |
| ADDRESS | 2820 N Roxboro St, Durham, NC 27704 |
| CONTACT DETAILS | 919-220-2554 |
| OPERATING HOURS | Monday – Friday: 7:00 AM – 5:00 PM |
Brown Brothers Plumbing & Heating is one of the few companies that offers residential, commercial, and industrial plumbing services. Whether it's for repairs, new construction, or remodelling purposes, they can deliver fast and efficient solutions.
Their award-winning team is highly capable of dealing with plumbing issues involving well pumps and sewer pumps, water heaters, water softeners, chlorinators, and many more. They also take charge of installation and certification of cross-connection devices.
Faucet repairs, garbage disposal fixes, toilet replacement, drain cleaning, and gas lines are also part of their services.
Moreover, they've served many commercial clients. They've worked for restaurants, medical facilities, retirement communities, multifamily properties, and more.
Provides industrial plumbing services
Deals with certification and installation of cross-connection device
Reasonable rates
Doesn't offer emergency services
Customer Reviews
Many of their clients were impressed with the fair estimates, quick responses, and excellent solutions. They also complimented the competent technicians who were able to fix major issues like replacing a whole plumbing system.
This is why the company is well-known for having some of the best plumbers in Durham NC. A customer left these remarks:
"I would highly recommend Brown Brothers Plumbing and Heating. Brian Th. and Johnny C. from Brown Brothers came out to repair my backflow assembly for my irrigation system. They were on-time, interpersonally pleasant and professional, were clearly knowledgeable about the system and able to explain options to me in "layman's terms." They performed high-quality work in a timely manner and were overall great to work with. Five stars from me! I will definitely be using their services again…"
5. Ivey Plumbing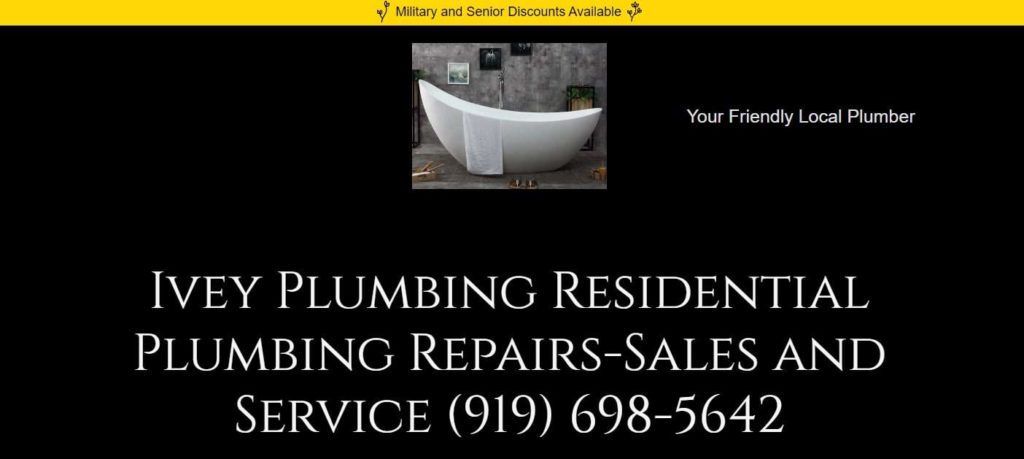 | | |
| --- | --- |
| BEST FOR | Residential Plumbing, Individual Pricing |
| WEBSITE | https://iveytheplumber.com/ |
| ADDRESS | 5114 Guess Road, Durham, North Carolina 27712 |
| CONTACT DETAILS | (919)698-5642 |
| OPERATING HOURS | Open 24 hours |
Ivey Plumbing provides residential plumbing services such as toilet repairs, water heater replacements, and many more. If you're looking for someone who can assist you with plumbing issues at home, they can deliver excellent service without unnecessary costs.
Since they offer individual pricing, you can be sure that you'll get an accurate estimate and a more customer-oriented approach.
Despite having much more affordable options compared to most service companies, they don't compromise on the quality of their services.
With their quality spare parts and equipment, they can also ensure that your plumbing system will get long-lasting solutions.
Wide range of residential services
Has maintenance services
Offers individual pricing
Offers military and senior discounts
Limited residential services
Commercial services are available for selective clients only
Customer Reviews
Customers shared that Ivey Plumbing was able to provide solutions that perfectly fit within their budget. A customer wrote this feedback:
"Tony is an efficient, patient and kind man. I'm relieved and happy to have access to him for future needs. He answered questions and took time to share suggestions. I never felt like he was trying to sell me on anything other than what was needed and what I asked for. Also, he was reasonably priced. I hope he works on into his 90's, not that he'd like that."
FAQs About The Best Plumbers in Durham NC
____________________________________________________________________________
That's it for our list of the best plumbers in Durham NC! If you'd like to recommend more options, you may also share them with us!