If you're not knowledgeable, experienced or skilled when it comes to plumbing, there's one thing that you should never do: attempt doing a plumbing task alone. Turning such a task into your own little DIY project might not be the best thing to do especially when you don't have the right equipment. Also, consider the possibility of the plumbing project not going as planned. This can cause stress, delays, or even damage if we're talking about fixing complicated plumbing systems.
So now, what should you do? Simple, just leave the task to the experts. At this moment, it's ideal to find a good plumbing company to ensure that your project will go as smoothly as possible. If you don't know where to search, fret not because here's a list of the 6 best options for plumbers in Boise.
1.     McDaniel Plumbing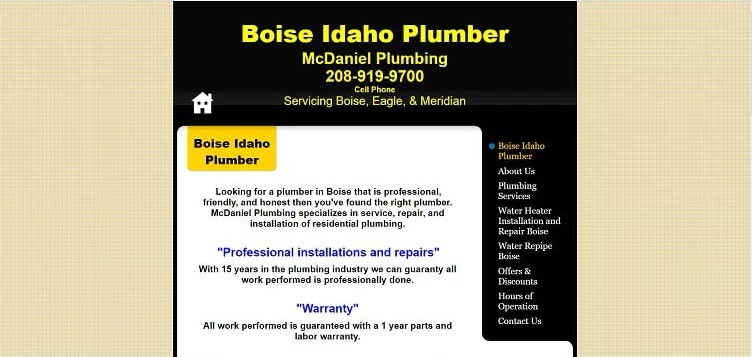 Best For
Residential Plumbing
Services Offered
Plumbing service, repair, and installations

Water heater installation and repair

Water repipe

Address
13601 W. McMillan Rd

Suite# 102-138, Boise ID 83713

Contact Information
208-919-9700
Website
http://www.mcdanielplumbing.biz/
McDaniel Plumbing is well-known for being a friendly, professional, and honest plumber in Boise today. Backed by 15 years of experience in the plumbing industry, this expert can guarantee that all installation and repair work is done right without leaving any mess behind. All of their services are reasonably priced, and they also offer discounts to seniors, veterans, and military personnel. For more information, go to http://www.mcdanielplumbing.biz/.
2.     Perfect Plumbing Heating & Air
Best For
General Plumbing and HVAC Work
Services Offered
Drain cleaning

Water heater services

Sewer line repair and replacement

Water main replacement

Maintenance work

General plumbing services

Cooling and heating services

Address
119 East 42nd Street Garden City, ID 83714
Contact Information
(208) 629-5192
Website
https://perfectplumbingheatingair.com/
For precise plumbing work and pricing, there's no better choice than Perfect Plumbing Heating & Air. They have been providing first-class plumbing services in Boise and its surrounding areas since 1984. Specializing in drain clearing, water heater installation, whole-home repiping, and general plumbing work, the company makes sure that there won't be any plumbing issue of yours will be left unchecked. To get in touch with them, you may call (208) 629-5192.
3.     Express Plumbing Company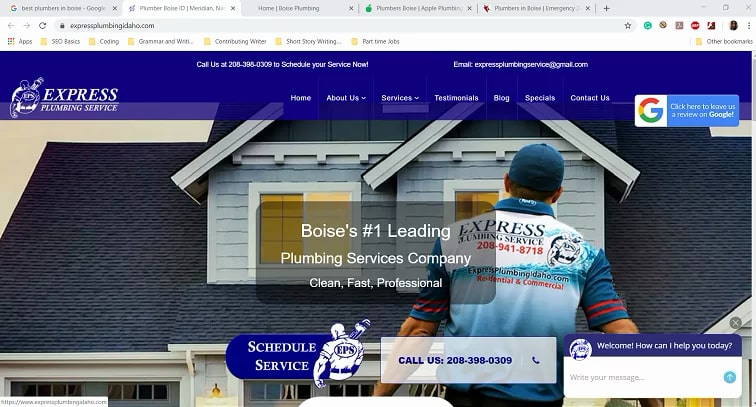 Best For
General Plumbing Work
Services Offered
Drain cleaning

Plumbing repairs

Plumbing installations and replacement

Excavation and pumping services

Residential and commercial plumbing

Address
7863 W Mossy Cup St Suite C, Boise, ID 83709
Contact Information
208-398-0309
Website
https://www.expressplumbingidaho.com/
Professional, fast, and clean are the best words for the team at Express Plumbing Company. From plumbing repairs, installations, to drain cleaning, all of these can be done promptly and to your standards. Through their excellent communication skills paired with a commitment to quality work and customer service, you are sure to receive exceptional plumbing services from them.
4.     Boise Plumbing

Best For
General Plumbing Work
Services Offered
Water heater servicing, installation, and repairs

Sewer and water line repairs

24/7 emergency services

Kitchen and bathroom plumbing

Address
1765 W Victory Rd, Boise, ID 83705, USA
Contact Information
(208) 327-1003
Website
https://www.boiseplumbing208.com/
Boise Plumbing has been proudly offering dependable plumbing services in and around Boise. For sixty years, many residents have trusted this company and continue to do so because of their professional approach in every task and their customer service that's second to none. No matter how big or small the job is, Boise Plumbing stays committed to delivering quality work and great results.
5.     Apple Plumbing

Best For
Residential and Commercial Plumbing
Services Offered
Tub and shower replacement

Water heater and water line services

Water treatment

Plumbing repairs and replacement

Drain cleaning

Address
6017 W. Franklin Road

Boise, ID 83709

Contact Information
208-391-4005
Website
https://www.appleidaho.com/
Apple Plumbing is your go-to company if you need assistance with residential or commercial plumbing projects. Doing plumbing repairs and replacements, unclogging drains, and detecting leaks will never be a hassle to their team because they truly care about your problems and needs. And apart from doing their job right, another goal they have is to leave your premises in better condition than when they arrived. This means no mess after work to pay respect to you and your property.
6.     Five Star Service Pros, LLC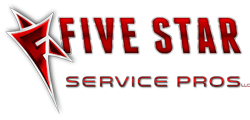 Best For
Plumbing, Sewer and Drain Cleaning
Services Offered
Residential and commercial plumbing

Drain cleaning

Flood repair

Sewer and water main replacement

Excavation services

Complete sewer and drain cleaning

Water treatment systems

Address
5354 E Softwood Ct, Boise, ID 83716, USA
Contact Information
208-260-1765
Website
https://fivestarservicepros.com/
If you're looking for an affordable choice for plumbing, sewer, and drain cleaning services, Five Star Service Pros, LLC is the company you need. They claim to have seen all plumbing issues and situations by serving Boise residents for over 30 years, so now you can expect that they have the solutions for any kind of plumbing problem you're facing. They can work with both commercial and residential clients, and they also offer emergency services if you require quick and reliable repair of clogged drains or leaks.