Pests can inflict serious damage not only to your property but also to your health. Protect yourself and your loved ones from these creepy crawlers with your choice of reliable partners in the pest control industry before it's too late. And since we don't like you to waste any more of your valuable time doing the research, we already did the homework just for you.
When it comes to unwanted home invaders in Chicago, we have listed the best options for pest control you can count on. Read on and get to know these guys:
1. Rose Pest Solutions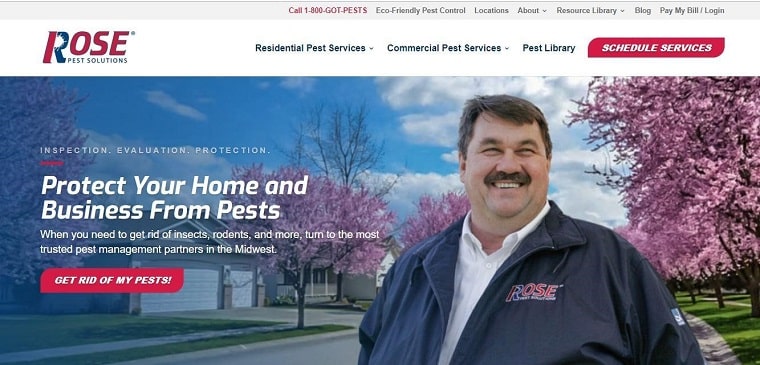 BEST FOR
Residential and commercial pest management
SERVICES
Home maintenance program

Fly, mosquito, and wasp solutions

Ant, termite, bedbug, mouse, and rat control

Commercial services

ADDRESS
1809 W North Ave, Chicago, IL 60622
CONTACT
Phone: 1-800-GOT-PESTS
WEBSITE
https://www.rosepestcontrol.com/
Rose Pest Solutions has been serving Chicago and the Midwest since 1860. Although its methods and solutions have evolved greatly, the company has retained its core values:
To provide careful, conscientious, and professional pest management solutions
To conduct business observing the highest standards of integrity and ethics
To place customer satisfaction as the top priority
To generate cleaner and healthier homes and workplaces
To be part of communities through volunteerism, outreach, and education
Rose Pest Solutions implements the environmental-friendly methodology and cutting-edge technology to eliminate your pesky pest issues.
2. Pest Control Chicago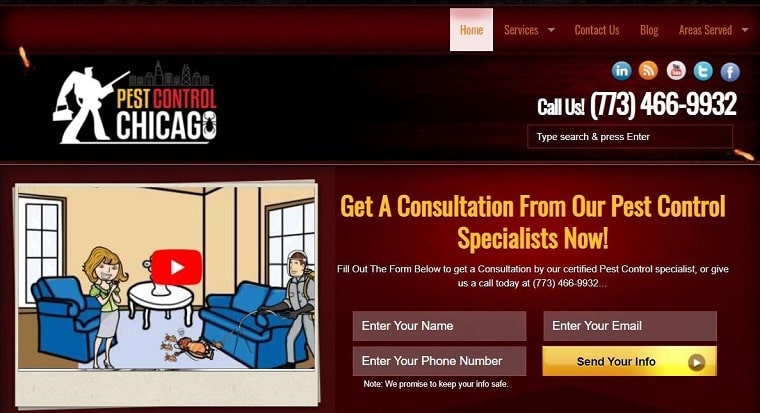 BEST FOR
Residential and commercial pest management
SERVICES
Ant, mouse, termite, bedbug, flea, mosquito, and spider control

Rodent extermination

ADDRESS
1926 W Harrison Street, Chicago, IL 60612
CONTACT
Phone: (773) 466-9932
WEBSITE
https://getridofthosebugs.com/
Pest Control Chicago continually aims to provide effective pest solutions as well as maintenance services for homes and commercial properties in Chicago. The company prides itself as the best bug extermination company in the area. Pest Control Chicago offers:
Professional and highly-trained pest control technicians
Environmental-friendly and people-safe products
Competitive rates
100% satisfaction guarantee
3. Bed Bug Exterminator Chicago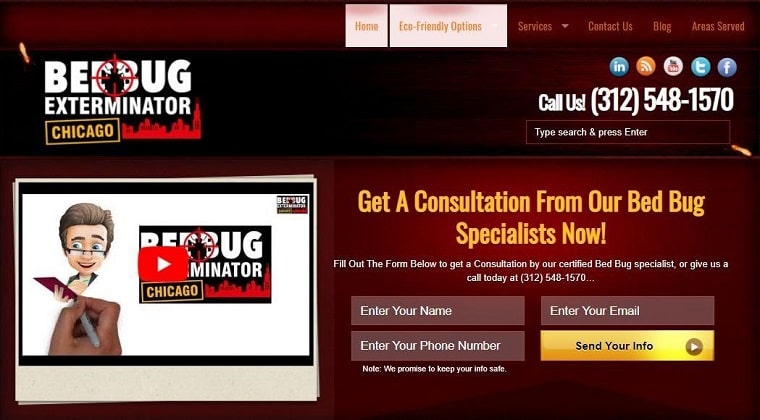 BEST FOR
Bedbug control

Eco-friendly pest control

SERVICES
Residential and commercial pest control

Bedbug extermination

Wildlife and bee removal

Mouse and rat removal

Ant extermination

Termite control

Stinging insects extermination

ADDRESS
Not available
CONTACT
Phone: (312) 548-1570
WEBSITE
https://toppestkillers.com/
Bed Bug Exterminator Chicago is one of the leading pest control companies in Chicago. It offers emergency services (to get the problem solved at any time of the day or night), free quotes, and satisfaction guarantee.
Here are the perks of choosing Bed Bug Exterminator Chicago:
Affordable rates
Upfront and transparent pricing
A highly-trained team of pest control technicians
Licensed and insured
Discreet service
4. Windy City Bed Bug Specialists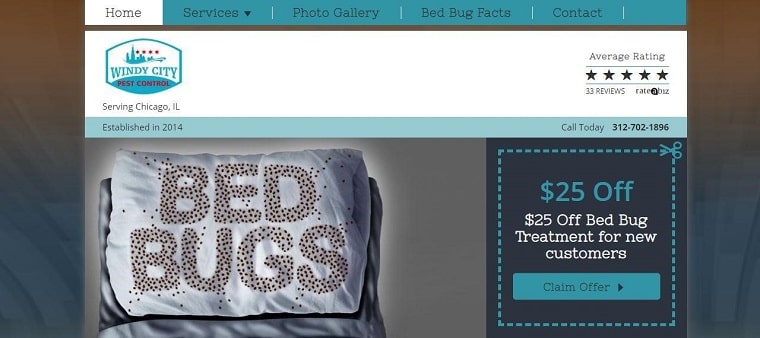 Windy City Bed Bug Specialists, a family-owned and operated business, offers services to prevent and eliminate bedbugs from your home and workplace. Windy City Bed Bug Specialists has the following qualifications:
A+ Rating With the BBB (Better Business Bureau)
National Pest Management Association
National Pest Control Association
5. Fox Pest Control
BEST FOR
Emergency Service Available, Same Day Service, No Extra Charge
SERVICES
Control for:
Ants
Bed Bugs
Bees & Wasps
Cockroaches
Mice & Rats
Other Pests
ADDRESS
920 North Ridge Ave., A-4, Lombard, IL 60148
CONTACT
Phone: (331) 642-8744
Fax: (859) 903-5814
Email: [email protected]
WEBSITE
https://foxpest-illinois.com/
When a Fox Pest Control technician arrives at your home, it will be in a marked vehicle, dressed in uniform, and wearing a Fox Pest Control ID badge. If you call them before 2 p.m. & they'll be to your home within 4 hours for a free, zero-obligation inspection and estimate or to provide Chicagoland Area pest control & extermination service.
Fox Pest Control has over 9 years' experience and has helped over 20,000 Chicagoland Area homes and businesses exterminate and control their pest problems.
6. Promax Pest Management Inc.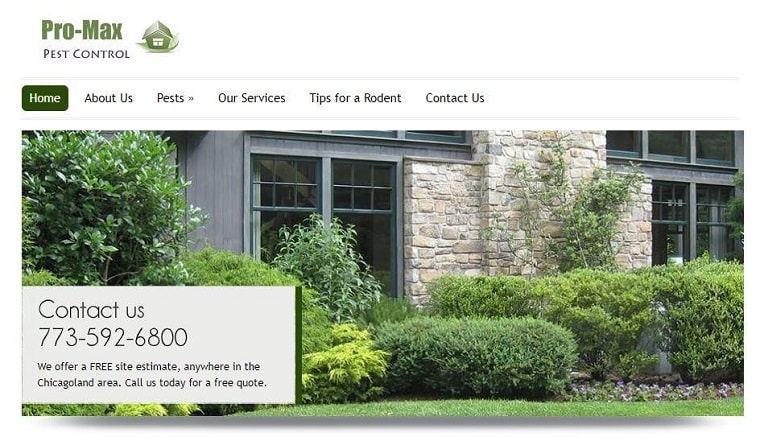 BEST FOR
Residential and commercial pest management
SERVICES
Ant, bedbug, cluster fly, drain fly, fruit fly, moth, cockroach, and spider control

Rodent control

Commercial services

Stinging pests extermination

ADDRESS
1811 N. Larrabee Chicago IL 60614
CONTACT
Phone: (773) 592-6800
WEBSITE
http://pestcontrolpromax.com/
Pro-Max offers solutions to over 47 household pests and is committed to protecting clients through environmental-friendly methods. The company is also the fastest-growing pest control company in Chicago.
7. Eco Tech Pest Control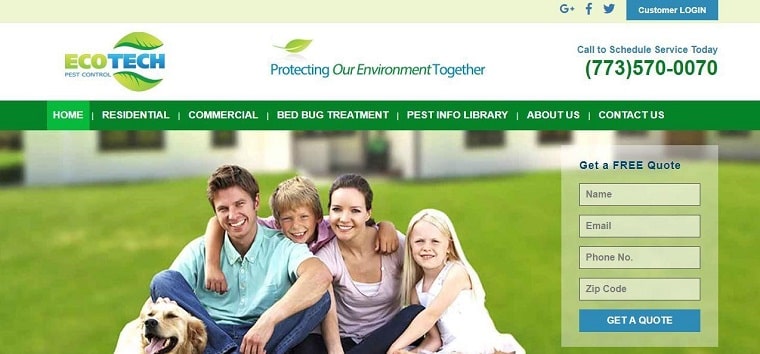 BEST FOR
Residential and commercial pest management
SERVICES
Bedbug treatment

Ant, beetle, cockroach, cricket, earwig, flea, fly, lice, mosquito, silverfish, tick, termite, and spider extermination

Bee and rodent control

ADDRESS
6271 Howard St, Niles, IL 60714
CONTACT
Phone: (773)570-0070
WEBSITE
https://www.ecotechpestcontrol.com/
Eco Tech Pest Control is a local, family-owned business that has been servicing the Chicago area for years. It provides environmental-friendly products as well as effective pest prevention and elimination for its clients, observing the principles of Integrated Pest Management.