Homes and commercial establishments have a risk of being infiltrated by unwanted and nuisance pests. This problem might sound too common but the solution may not be a simple spray of insecticides or pesticides. Without proper treatment, these pests could cause a bigger problem in your homes or businesses.
In Dubai, the government takes pest control services seriously as they penalize illegal pest control service provider. To aid you in finding your perfect pest-control service provider, we have prepared 6 best pest control options for you to choose from.
Note: Due to the current pandemic outbreak, we've noted the relevant service changes for some of the shops listed below. Where applicable, we've noted the policy or service changes.
1. Al Jazeerah Pest Control & Cleaning Services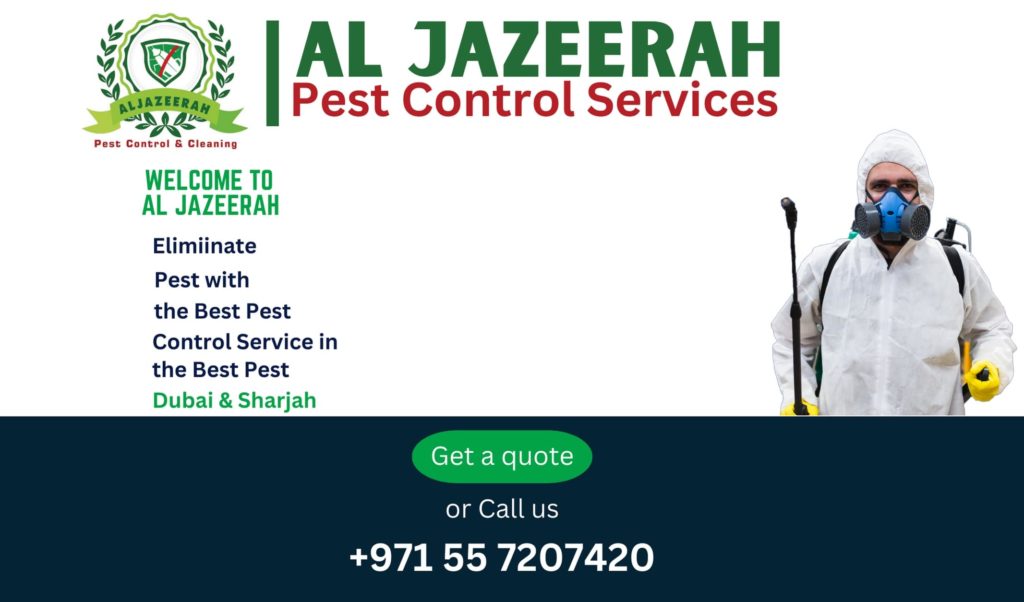 Services
Pest Control: ants, bed bugs, bird control, cats, cockroaches, flies control, honey bees, lizard control, mosquito control, rats, snake control, termites, and wasps.

General Cleaning: villa cleaning, water tank cleaning, and glass cleaning.

Elevator Cleaning: paper removal and elevator polishing
Website
http://aljazeerahpestcontrol.ae
Address
Dubai Office: https://shortest.link/k3HM
Sharjah Office: https://shortest.link/k3Iu
Contact Information

[email protected]


MOB: +971 55 7207420DXB: +971 04 4503654
SHJ: +971 06 5358500
Operating Hours
24/7 Available
Al Jazeerah Pest Control offers cost-effective solutions to any of your pest problems. Their affordable services ensure that you get the most bang for your buck when it comes to pest control in your home or company.
They are well-known for providing unrivaled service to their consumers at all times. From the first day, you will be met by the courteous and professional personnel who will work with you to eradicate any insect problems you may have. They take their responsibilities seriously and will do all in their power to keep your home and business pest-free.
They have been working since 2011 in Dubai and Sharjah, a well-known name in the industry DM & SHJ municipality approved pest control service! Their team of experts uses American, German & Italian products to eliminate Cockroaches, Flies, Termites, Ants, Mosquitoes, Rodents and all kind of crawling insects.
Previous clients have been greatly satisfied with their works especially on their pest control services because they provide environmentally friendly and risk-free pest control solutions for your home and company. Their skilled professionals employ cutting-edge technology and procedures to successfully eradicate pests while causing the least amount of harm to the environment and your family.
They have the solution for you whether you are struggling with ants, rodents, or any other form of pest. You can rely on them to deliver a safe, dependable, and efficient pest control solution for all of your demands.
With the knowledge and experience to deal with any pest problem, they can handle everything, whether it is in an office building or a warehouse. They have successfully served the industrial sector for many years, with a reputation of excellent customer satisfaction and efficiency.
2. Akkad Pest Control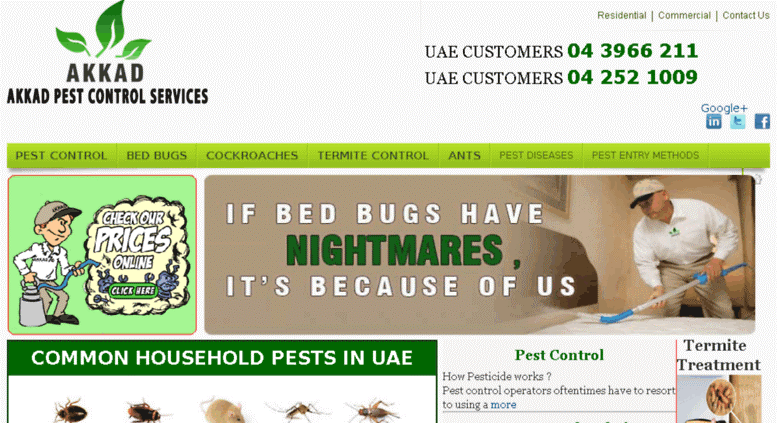 Best For
Bed Bugs Control/ Termination
Services Offered
● Gel Treatment
● Spray Treatment
● Spray Treatment
● Ant Granules
● Bait Stations
Contact Information
97143966211

04 399 66 211

Website
http://www.pestcontrol.ae/
Address
Dubai Bur Dubai – Al Attar Center, Office 114 Opposite Burjuman Mall
If you are looking for a company that allows you to be informed about the risks your home or your business have, grab your phones and call Akkad Pest Control now. The company has an advanced technology that controls pest infestation. What's also impressive about this company is that they care for the environment as they have been using environment-friendly ingredients for their treatments.
3. Proshield Pest Control Services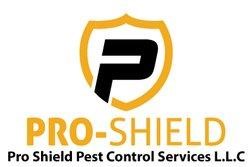 Best For
Cockroach Control
Services Offered
● Cockroach control
● Bed Bugs control
● Ants Control
● Rats and Mice Control
● Termites
Contact Information
+971 4 388 8235
Website
https://www.proshield.ae/
Address
Office G05, Sky Business Centre, Vista Boulevard, Nad Al Hamar – Dubai – United Arab Emirates
A company that listens is the promise of Proshield Pest Control Services to their clients. The company offers professional and services that guarantee results through their certified exterminators that will give you an expert advice regarding your pest concerns.
4. Paramount Pest Control

Best For
Cockroach Control
Services Offered
● Cockroach Control
● Rat
● Ants
● General Pest Control
● Wasp Nest Removal
● Bee Hive Removal
● Bird Control Services
● Cat Control Services
● Snake Control Services
● Villa Pest Control Services
● Garden Pest Control Services
Contact Information
Tel: 04-2233956

Fax: 04-3862133

Website
http://www.paramountpestcontrol.ae/
Address
Paramount Pest Control Services LLC
Suit # 115, MJM Al Ansari Building


Port Saeed, Dubai

United Arab Emirates




P.O Box: 125958
Paramount positions itself as among the leading companies in Dubai when it comes to offering pest control services. They are not only a one-time partner for controlling and terminating pests but they also provide contract services for the maintenance of your pest-free homes and business.
5. Al Madeena Pest Control Cleaning Services

Best For
Pests
Services Offered
Commercial Pest Control
Domestic Pest Control
Fumigation
Termite Control
Contact Information

971 4 261 6032

Website
https://www.almadeenapestcontrol.com/
Address
8 B St AL QUSAIS, 186936 Dubai – Dubai – United Arab Emirates
The power of Al Madeena's services is its network all over the United Arab Emirates that it was declared as the largest public health control company in UAE. They offer an array of services from that starts with bugs to snakes. Their ten-year experience in the pest-control service will surely put you at ease.
6. Supreme Pest Control Services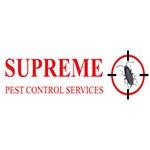 Best For
Ants, Bugs, Rodents
Services Offered
Ants Control
Bed Bug Control
Bird Control
Cockroach Control
Crawling Insect Control
Fly Control
Rodent Control
Termite Control
Contact Information
04-5136885 | 055-9483077
Website
https://www.supremepcs.com/en/
Address
P.O. Box: 231470, Dubai, UAE
"Big Time Service at Price You Can Afford" has been the slogan of Supreme Pest Control. This pest control company is reliable for giving their customers a reasonable price for a definitely uncompromised quality of services. Dial up 04-5136885 to put an end to your pest –related problems.
7. Pest Survey

Best For
Ants, Bugs, Rodents
Services Offered
Roach Control
Bed Bug Control
Ant Control
Rodent Control
Mosquito Control
Fly Control
Termite Control
Contact Information
Primary – 04 243 8746 / 055 482 9966 | [email protected]
Website
http://www.pestsurvey.com/
Address
Dubai, UAE
Pest Survey is a certified pest control company in Dubai. Their team is trained to survey and identify pest activity in and around the facility using their thorough approach.
Their team can help you control and get rid of pests in your commercial and residential area. They develop a targeted plan of action to control the pest with eco-effective treatment options and techniques.
Furthermore, they have a highly skilled pest control team who has years of experience, so you can rest easy knowing that you are in safe hands. They also follow health and safety procedures to ensure their workers' safety on top of your own.
8.
Al Rasa Pest Control & Cleaning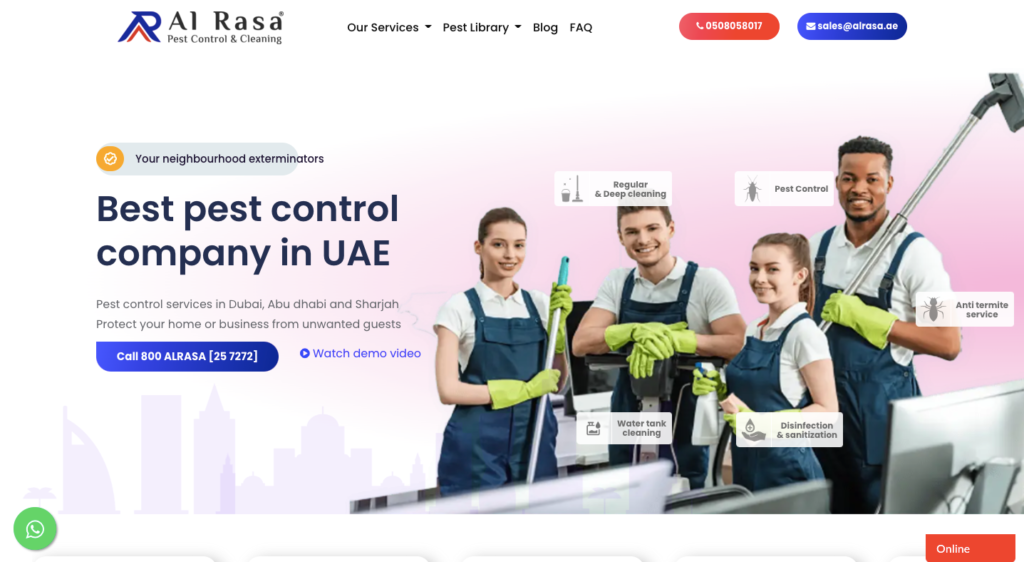 Best for
Pest control services
Services Offered
Pest Control (Residential and Commercial)
Water tank cleaning
Deep cleaning
Anti-termite service
Disinfection & sanitization
Soft cleaning
Contact Information
Phone:

+971444 77961
+971555 763647

Callback service:

+971 55 221 8752

Email:

[email protected]

Website

https://www.alrasapestcontrol.ae/

Address
Morocco G-02, International city, Dubai, UAE P.O. BOX:73431
AI Rasa Pest Control has been servicing Dubai, Abu Dhabi, Sharjah and Ajman with their pest control services since 2007 as their goal is to make life better by eliminating pest-borne diseases and unsanitary environments in the home and business.
We are impressed for they provide top-notch services for an affordable price and, of course, they never forget to see to it that the quality of the supplies they use and their employees are creme de la creme.
This company provides comprehensive, specialized, and long-term pest and sanitary control solutions in addition to comprehensive disinfection services for commercial and residential properties.
9.
Eradicators

Pest

Control

And

Cleaning

Services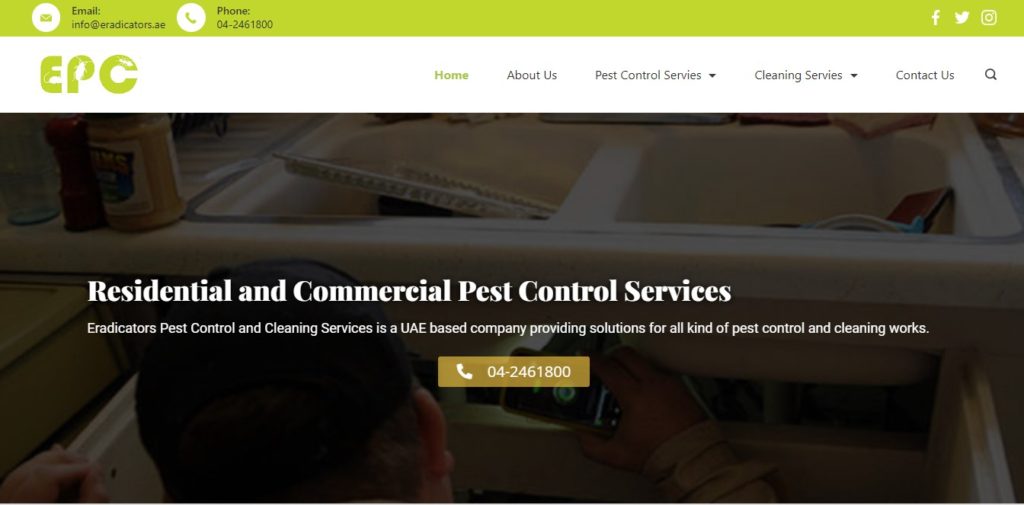 Best for
Residential and Commercial Pest Control Services
Services Offered
Contact Information
Landline No. : 04-2461800 Fax : 04-2634220
Mobile : +971585541800
Email :

[email protected]

Website

https://eradicators.ae/

Address
Office : Al Habtoor Business Tower,
Level : 21 Dubai Marina ,Dubai
P.O. Box : 343012, Dubai
No type of pest is welcome anywhere. But with Eradicators Pest Control, or EPC, they are the only company that can naturally get rid of any type of pest.
We prefer them over others because you can quickly schedule an inspection from them. However, do take note that this will be done through call, and not online.
Aside from this, we love how they offer heavy discounts for housing building societies in UAE. Great for those who have this type of business.
Talking about commercial pest control, we are amazed by how many type of workplaces they can cater. These are Educational Institutions, Food Processing, Healthcare Control, Hotel & Lodging, Business property Management, Restaurant & safe's, Retail Industry, and Small Businesses.
Similar to others, their treatment is completely safe. It causes minimum discomfort for all members of the house including babies and senior citizens.
If you want your place to be extra clean, they also offer cleaning services. And believe us when we tell you that this will surely make those pests not come back!
10. Rentokil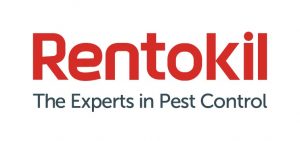 Best For
For rodent and mouse control
Services Offered
● Rodent infestation programs
● Ongoing and monitoring control


● Non-toxic modern control

Contact Information
800-73787
Website
https://www.rentokil.ae
Address
Unit 401 4th Floor Oud Metha Offices Building – Oud Metha Rd – Dubai – United Arab Emirates
Rentokil is of UK origin but it was able to compete with pest control among Dubai companies that offer pest control services. The company claims that rats and rodents control are their areas of expertise. Their well-trained technicians will guarantee you peace of mind.
Note: The shop has posted some safety measures here.