The heat of Singapore can make an aircon a practical necessity. Unfortunately, air conditioners can break down from regular use or lack of maintenance… in which case you'll need the best aircon repair in Singapore.
Need help choosing the best aircon service provider? The good news is that you don't have to search anymore — here's our list of best options for aircon repair in Singapore.
Note: Due to the current pandemic outbreak, we've noted the relevant service changes for some of the shops listed below. Where applicable, we've noted the policy or service changes.
1.   GoodCool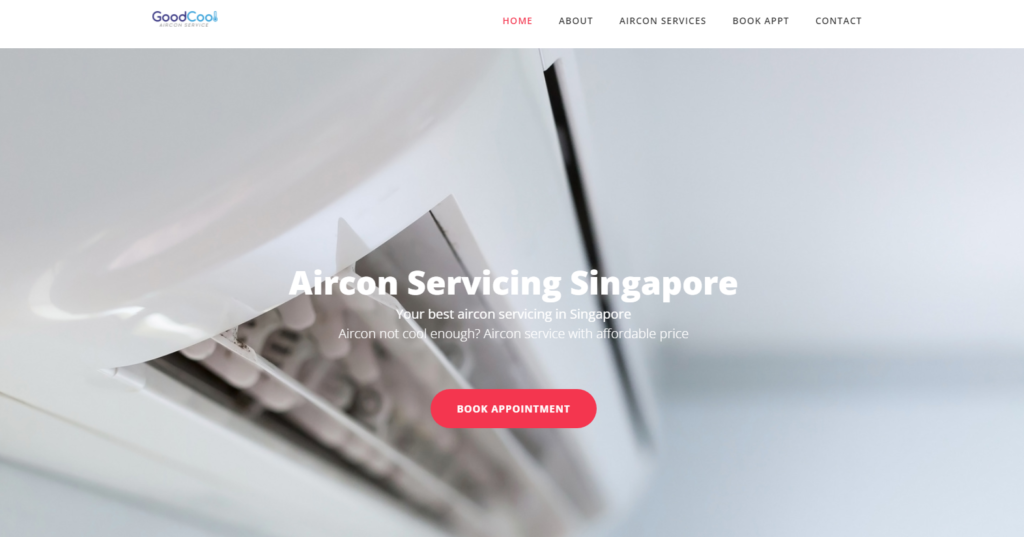 GoodCool is one of the most trusted companies by Singaporeans. We will give you more than enough reasons why you should start considering them as you one-stop shop for all your airconditioning needs.
In comparison to other companies, they are open everyday– yes, including weekends! Additionally, they can also serve people from any location.
Aside from these, their team has  more than 15 years of experience in aircon servicing. They also offer a range of aircon services, including normal aircon service, aircon chemical service, aircon chemical overhaul, and aircon condenser normal service.
If you notice issues such as water leaking, not cooling than usual, smelling weird, or hearing noises, they are always willing to help anytime.
2. Aircon Servicing Singapore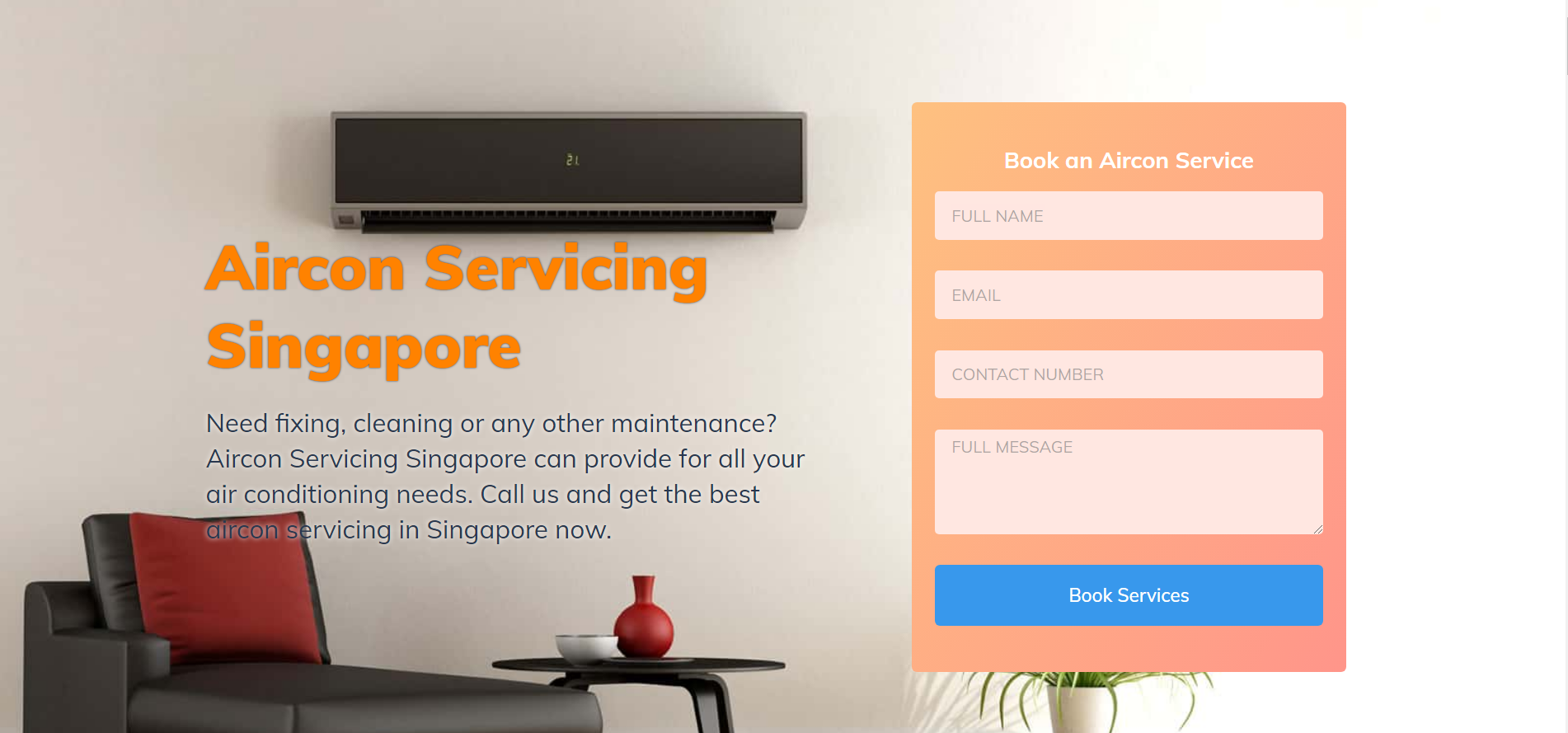 Need fixing, cleaning or any other maintenance? Aircon Servicing Singapore can provide for all your air conditioning needs. Call them and get the best aircon servicing in Singapore now.
From homes to offices, their company has been a leading aircon service island-wide. They're a full-service aircon servicing company in Singapore that can provide a variety of aircon services, from installations to repairs.
As one of the best aircon repair services in Singapore, they guarantee high-quality work that many customers would recommend. They only use quality parts for replacements and our expert technicians ensure your fixtures are taken care of.
3.     Coolbest Aircon Servicing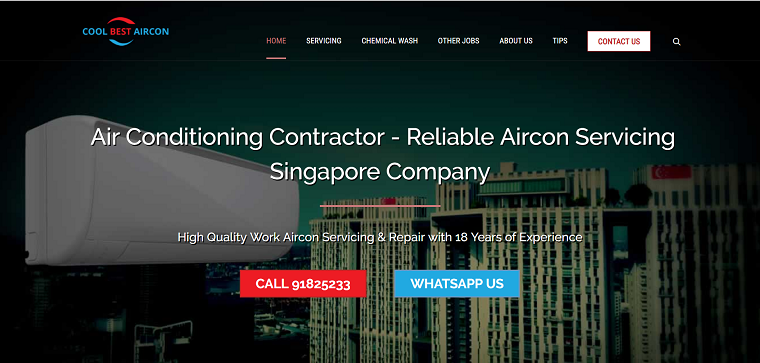 Best For
Air conditioner service and repairs
Services Offered
Aircon repair

Aircon installation

Thermostat installation and repair

Cleaning of aircon units

Address
Block 540 #03-1108, Jurong West Avenue 1 Singapore 640540
Contact Information
+65 9182 5233
Website
https://coolbestaircon.com/
 For 18 years, Coolbest Aircon Servicing has been described as reliable, fast, and professional by many. This isn't really surprising as the company trained its staff to ensure that all customers' needs are properly dealt with and that they are satisfied at all times.
Coolbest Aircon Servicing can repair various units, conduct chemical overhaul, and fix a leaking unit without any trouble. That's why many voted for them to be in our list of the companies to call for the best aircon repair in Singapore.
4.     DW Aircon Servicing Singapore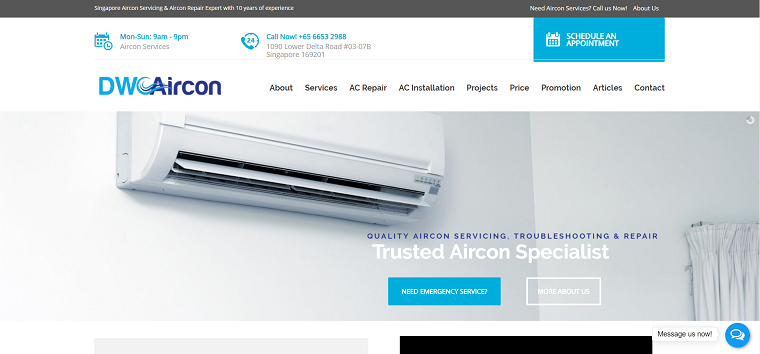 Best For
Aircon repairs and installation
Services Offered
Aircon repairs and installation

Aircon cleaning and gas top up

Aircon chemical wash

Address
1090 Lower Delta Road #03-07B Singapore 169201
Contact Information
+65 6653 2988
Website
https://dwaircon.com/
 Nothing is too much trouble for DW Aircon Servicing Singapore when it comes to AC troubleshooting, servicing, and repairing. They are also known for the promotions and affordable servicing prices they offer, allowing you to get your money's worth.
Their technicians who have many years of experience in the field can also do aircon installation, chemical wash, and gas top up.
Note: Due to the phased reopening from Circuit Breaker, the shop is currently fully booked until June 15. As there is a high volume of customers and limited manpower, please expect a minimum waiting time of 2 weeks for new appointments/booking. 
5.     SoCool Pte Ltd

Best For
Aircon Servicing and Repair
Services Offered
Parts replacement

Troubleshooting

Chemical wash and overhaul

Gas top up

Aircon installations

Normal servicing

Address
22 Sin Ming Ln, #06-76 Midview City, Singapore 573969
Contact Information
6631 8348; 88554818
Website
https://www.socool.sg/
 SoCool Pte Ltd is a prominent aircon service provider in Singapore because of its commitment to following the best practices and methods when conducting repairs and installations.
No matter what your aircon unit is, there's nothing to worry about because SoCool Pte Ltd supports most aircon brands including Panasonic, Samsung, Sanyo, Toshiba, and more. See the complete range of services they have for you at https://www.socool.sg/.
6.     Cool Earth Aircon Services

Best For
Emergency Aircon repair and servicing
Services Offered
Aircon cleaning, repairing, and installation

Standard aircon  servicing

Gas top up

Emergency repair and troubleshooting

Address
Block 108, Simei Street 1, Singapore 520108
Contact Information
(65) 9427 3833
Website
https://www.coolearth.com.sg/
 Need an aircon service provider that you can truly rely on? Then Cool Earth Aircon Services is the one you're looking for!
They have vast experience in dealing with commercial and residential clients, and conducting repairs, installations, and chemical wash, among others.
Dealing with an emergency situation? Fret not because Cool Earth Aircon Services also has a special team that offers reliable emergency repair service.
Call them today by dialing (65) 9427 3833 on your phone. You'll see why we think they're among the top companies offering the best aircon repair in Singapore.
7.     Marvellous Aircon Servicing Singapore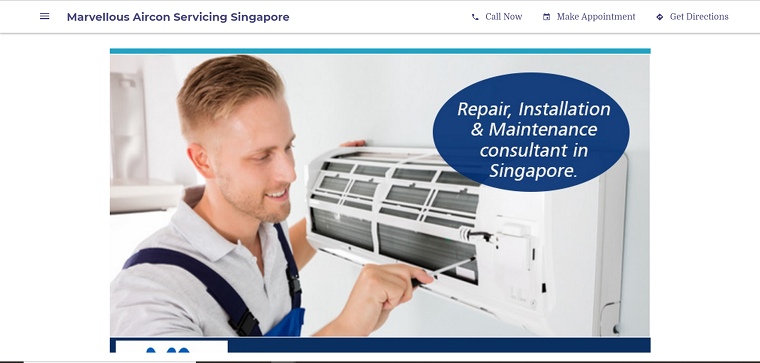 Best For
Aircon Repair, Installation and Maintenance
Services Offered
Chemical wash

Troubleshooting

Chemical overhaul

Gas topping

Normal servicing

Address
25 Woodlands Industrial Park E1, #04-02, Singapore 757743
Contact Information
6428 6288
Website
https://marvellousaircon.business.site/
Marvellous Aircon Servicing Singapore understands the need to service, repair, and maintain AC units, which is why their engineers are always available should you encounter any problems with your aircon.
They use the latest technology, offer quality service, and take all your needs into account so your issues will be resolved as quickly as possible.
If in need of an expert in normal service, troubleshooting, chemical wash, or gas topping, give Marvellous Aircon Servicing Singapore a call at 6428 6288.
8.     Skyzone Aircon Engineering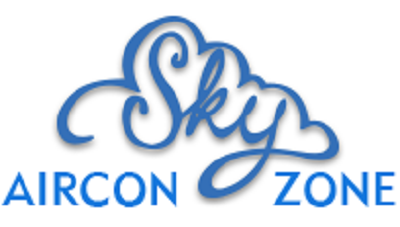 Best For
Aircon Servicing and Repair
Services Offered
General servicing

Yearly maintenance

Troubleshooting

Chemical wash or overhaul

Address
First Centre, 50 Serangoon North Avenue 4 #06-04 S (555856)
Contact Information
66590555; 90111005 (call or SMS)
Website
https://www.skyzone.com.sg/
Skyzone Aircon Engineering can help you out if your aircon is leaking water, not working, is smelly, or needs chemical cleaning.
They are highly experienced in repairing and servicing all types of AC units so you can be sure to get good value for money and nothing but outstanding service.
Their one-time general aircon service starts at $40.00. You can also book them for regular, annual or quarterly services to save more money.
Check out their website at https://www.skyzone.com.sg/ for more details or if you have questions for them and their experts.
9.     Yeobuild HomeCool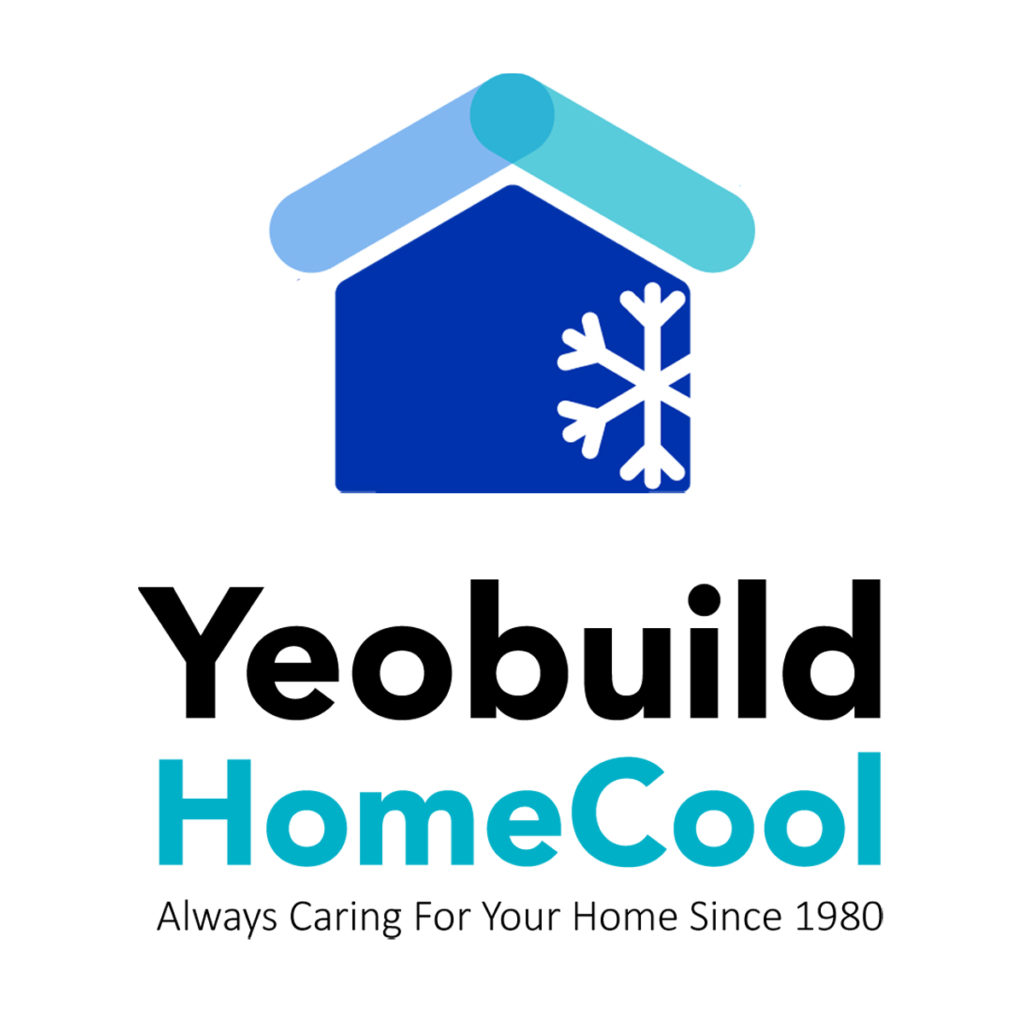 Best For
Aircon Services
Services Offered
Survey and Installation
Repair
Servicing
Address
5000 Ang Mo Kio Avenue 5
TechPlace 2 #02-10
Singapore 569870
Contact Information
+6562329328 |

[email protected]

Website
https://homecool.com.sg/
Yeobuild HomeCool surely delivers an overall service that is needed for your home! They have a strong foundation when it comes to overall home care!
From booking up to the post-care service, Yeobuild HomeCool is very convenient. Their website and services are fully automated for easy navigation and booking of services.
These are fundamental principles behind Yeobuild HomeCool as an outstanding air conditioning service company. They live up to a Genuine, Transparent, and Reliable service.
If you do decide to go with any of these Singapore aircon repair companies, let us know how your experience went with them. Leave a comment for us below, so that others can find out more about that aircon repair service!