The heat of Singapore can make an aircon a practical necessity. Unfortunately, air conditioners can break down from regular use or lack of maintenance… in which case you'll need the best aircon repair in Singapore.
Need help choosing the best aircon service provider? The good news is that you don't have to search anymore — here's our list of best options for aircon repair in Singapore.
Note: Due to the current pandemic outbreak, we've noted the relevant service changes for some of the shops listed below. Where applicable, we've noted the policy or service changes.
1.   GoodCool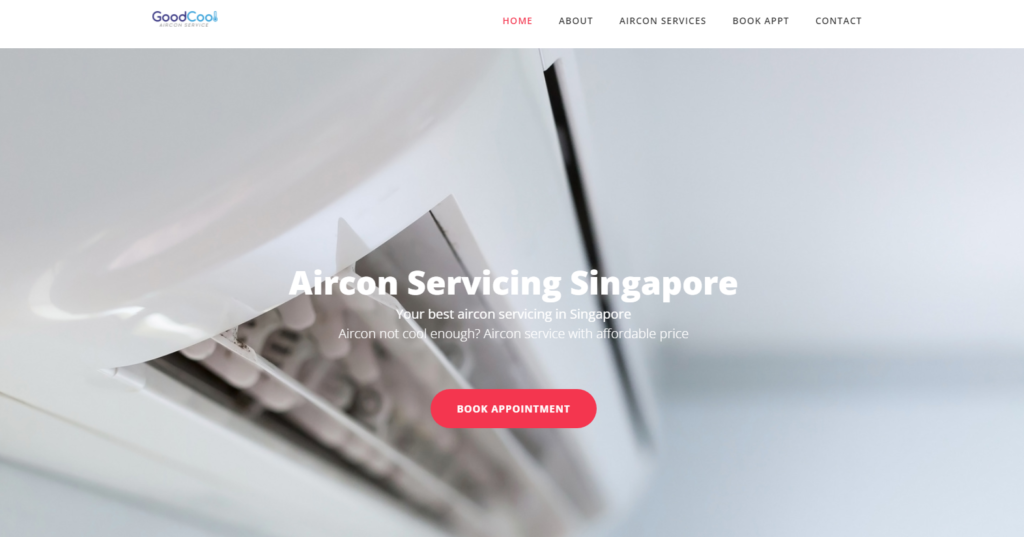 GoodCool is one of the most trusted companies by Singaporeans. We will give you more than enough reasons why you should start considering them as you one-stop shop for all your airconditioning needs.
In comparison to other companies, they are open everyday– yes, including weekends! Additionally, they can also serve people from any location.
Aside from these, their team has  more than 15 years of experience in aircon servicing. They also offer a range of aircon services, including normal aircon service, aircon chemical service, aircon chemical overhaul, and aircon condenser normal service.
If you notice issues such as water leaking, not cooling than usual, smelling weird, or hearing noises, they are always willing to help anytime.
2. Aircon Servicing Singapore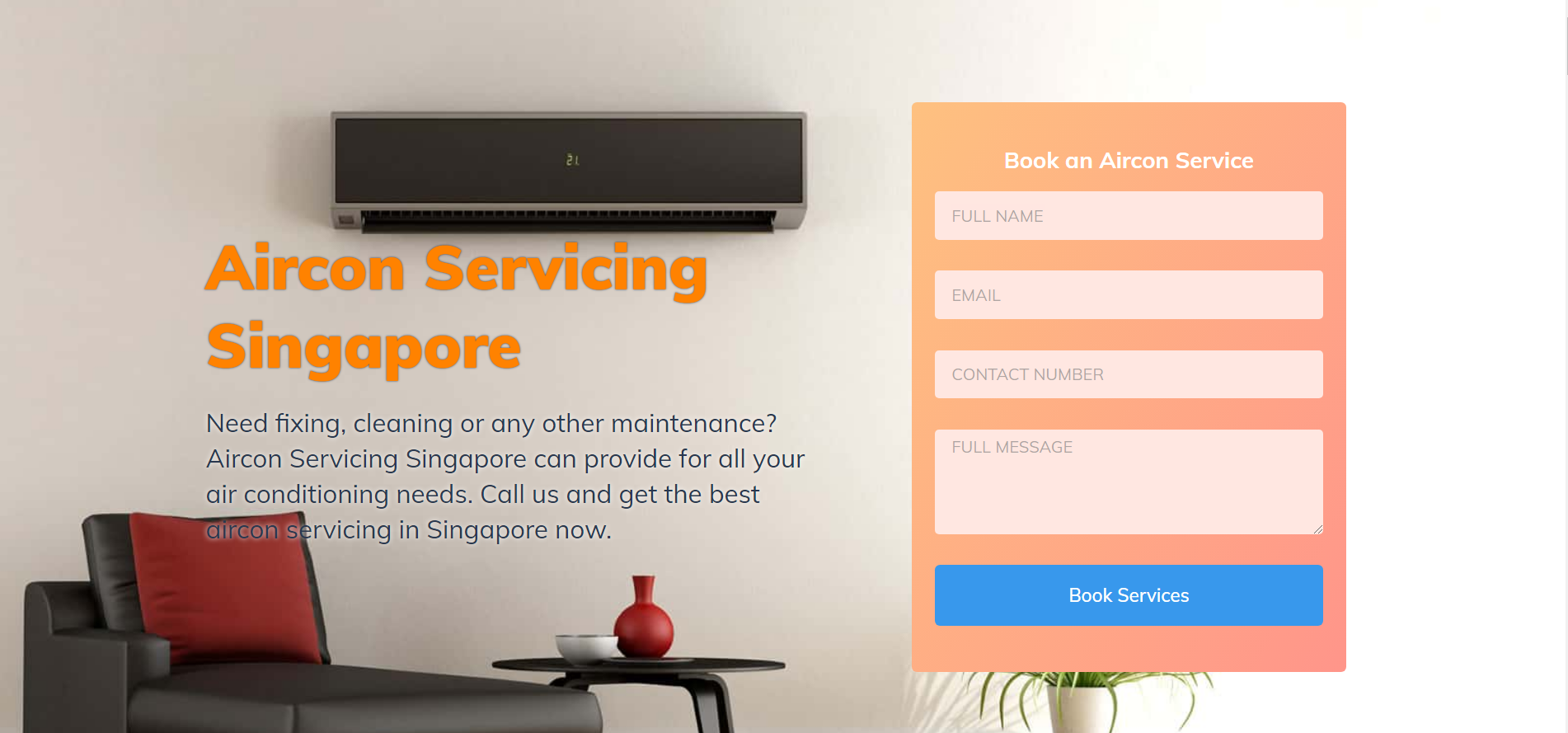 Need fixing, cleaning or any other maintenance? Aircon Servicing Singapore can provide for all your air conditioning needs. Call them and get the best aircon servicing in Singapore now.
From homes to offices, their company has been a leading aircon service island-wide. They're a full-service aircon servicing company in Singapore that can provide a variety of aircon services, from installations to repairs.
As one of the best aircon repair services in Singapore, they guarantee high-quality work that many customers would recommend. They only use quality parts for replacements and our expert technicians ensure your fixtures are taken care of.
3.     Coolbest Aircon Servicing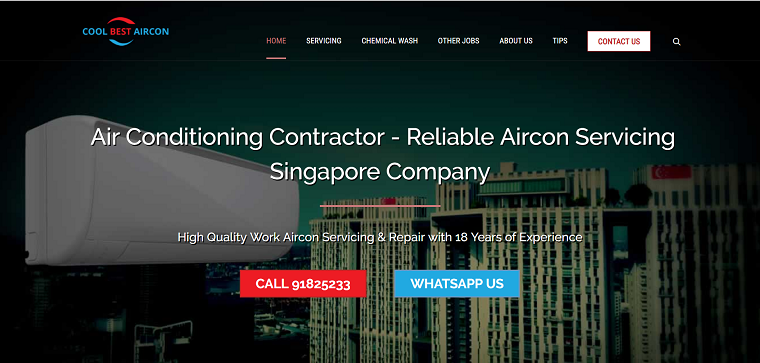 Best For
Air conditioner service and repairs
Services Offered
Aircon repair

Aircon installation

Thermostat installation and repair

Cleaning of aircon units

Address
Block 540 #03-1108, Jurong West Avenue 1 Singapore 640540
Contact Information
+65 9182 5233
Website
https://coolbestaircon.com/
 For 18 years, Coolbest Aircon Servicing has been described as reliable, fast, and professional by many. This isn't really surprising as the company trained its staff to ensure that all customers' needs are properly dealt with and that they are satisfied at all times.
Coolbest Aircon Servicing can repair various units, conduct chemical overhaul, and fix a leaking unit without any trouble. That's why many voted for them to be in our list of the companies to call for the best aircon repair in Singapore.
4.     DW Aircon Servicing Singapore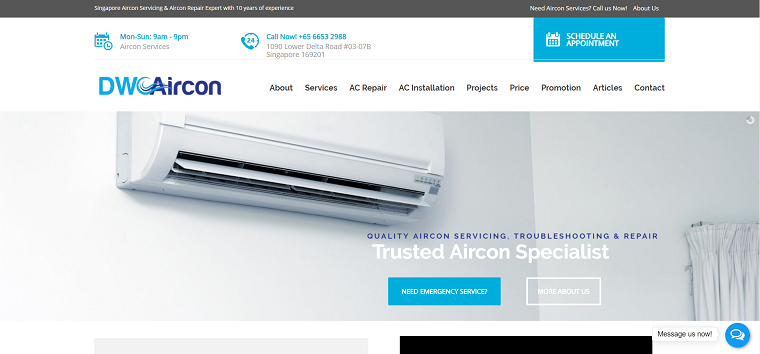 Best For
Aircon repairs and installation
Services Offered
Aircon repairs and installation

Aircon cleaning and gas top up

Aircon chemical wash

Address
1090 Lower Delta Road #03-07B Singapore 169201
Contact Information
+65 6909 2200
Website
https://dwaircon.com/
 Nothing is too much trouble for DW Aircon Servicing Singapore when it comes to AC troubleshooting, servicing, and repairing. They are also known for the promotions and affordable servicing prices they offer, allowing you to get your money's worth.
Their technicians who have many years of experience in the field can also do aircon installation, chemical wash, and gas top up.
Note: The shop is operating their aircon services as usual during this Covid-19 period. Due to the high volume of customers, some delays may be expected. All technicians will adhere to strict guidelines. Please contact them for assistance. Thank you.
5.     SoCool Pte Ltd

Best For
Aircon Servicing and Repair
Services Offered
Parts replacement

Troubleshooting

Chemical wash and overhaul

Gas top up

Aircon installations

Normal servicing

Address
22 Sin Ming Ln, #06-76 Midview City, Singapore 573969
Contact Information
6631 8348; 88554818
Website
https://www.socool.sg/
 SoCool Pte Ltd is a prominent aircon service provider in Singapore because of its commitment to following the best practices and methods when conducting repairs and installations.
No matter what your aircon unit is, there's nothing to worry about because SoCool Pte Ltd supports most aircon brands including Panasonic, Samsung, Sanyo, Toshiba, and more. See the complete range of services they have for you at https://www.socool.sg/.
6.     Cool Earth Aircon Services

Best For
Emergency Aircon repair and servicing
Services Offered
Aircon cleaning, repairing, and installation

Standard aircon  servicing

Gas top up

Emergency repair and troubleshooting

Address
Block 108, Simei Street 1, Singapore 520108
Contact Information
(65) 9427 3833
Website
https://www.coolearth.com.sg/
 Need an aircon service provider that you can truly rely on? Then Cool Earth Aircon Services is the one you're looking for!
They have vast experience in dealing with commercial and residential clients, and conducting repairs, installations, and chemical wash, among others.
Dealing with an emergency situation? Fret not because Cool Earth Aircon Services also has a special team that offers reliable emergency repair service.
Call them today by dialing (65) 9427 3833 on your phone. You'll see why we think they're among the top companies offering the best aircon repair in Singapore.
7.     Marvellous Aircon Servicing Singapore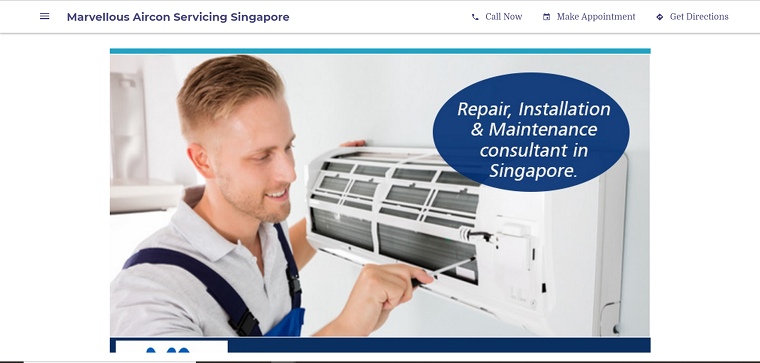 Best For
Aircon Repair, Installation and Maintenance
Services Offered
Chemical wash

Troubleshooting

Chemical overhaul

Gas topping

Normal servicing

Address
25 Woodlands Industrial Park E1, #04-02, Singapore 757743
Contact Information
6428 6288
Website
https://marvellousaircon.business.site/
Marvellous Aircon Servicing Singapore understands the need to service, repair, and maintain AC units, which is why their engineers are always available should you encounter any problems with your aircon.
They use the latest technology, offer quality service, and take all your needs into account so your issues will be resolved as quickly as possible.
If in need of an expert in normal service, troubleshooting, chemical wash, or gas topping, give Marvellous Aircon Servicing Singapore a call at 6428 6288.
8.     Skyzone Aircon Engineering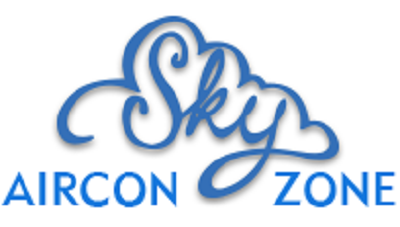 Best For
Aircon Servicing and Repair
Services Offered
General servicing

Yearly maintenance

Troubleshooting

Chemical wash or overhaul

Address
First Centre, 50 Serangoon North Avenue 4 #06-04 S (555856)
Contact Information
66590555; 90111005 (call or SMS)
Website
https://www.skyzone.com.sg/
Skyzone Aircon Engineering can help you out if your aircon is leaking water, not working, is smelly, or needs chemical cleaning.
They are highly experienced in repairing and servicing all types of AC units so you can be sure to get good value for money and nothing but outstanding service.
Their one-time general aircon service starts at $40.00. You can also book them for regular, annual or quarterly services to save more money.
Check out their website at https://www.skyzone.com.sg/ for more details or if you have questions for them and their experts.
9.     Yeobuild HomeCool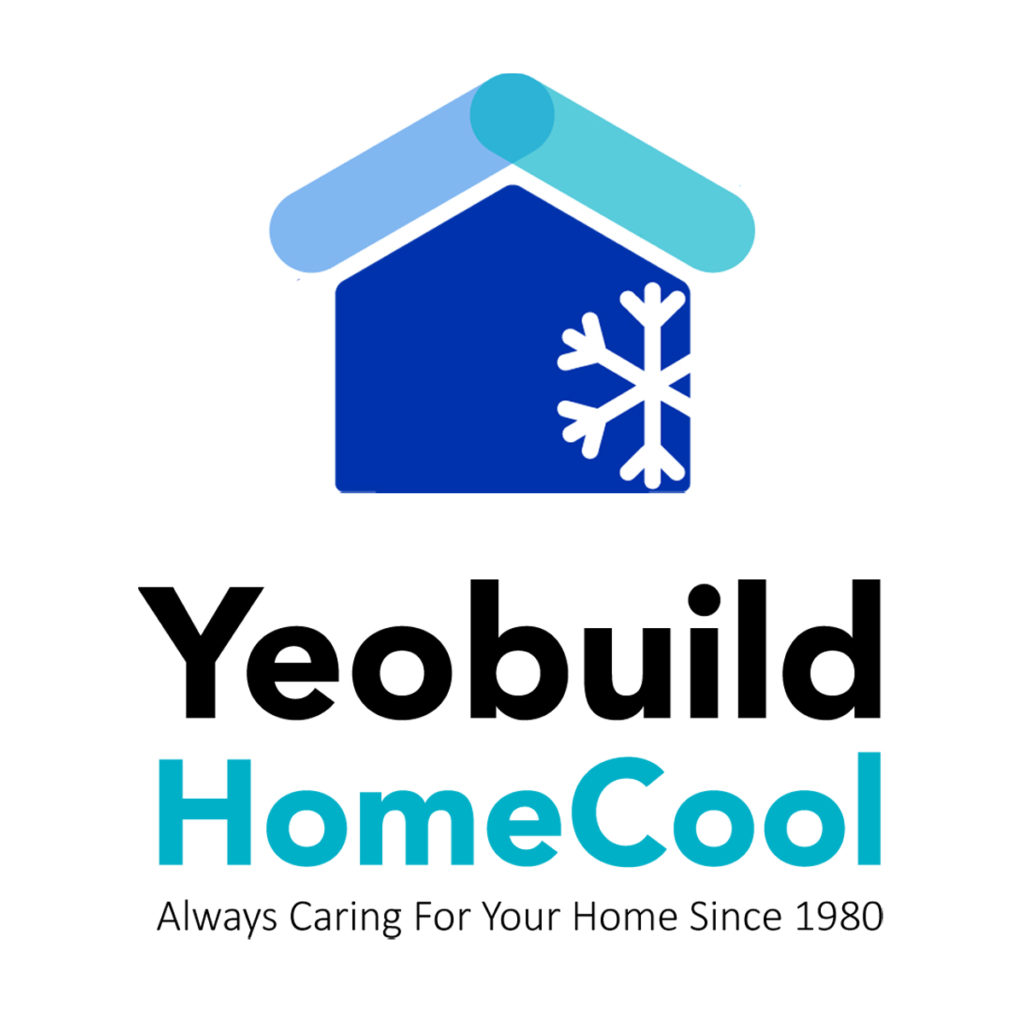 Best For
Aircon Services
Services Offered
Survey and Installation
Repair
Servicing
Address
5000 Ang Mo Kio Avenue 5
TechPlace 2 #02-10
Singapore 569870
Contact Information
+6562329328 |

[email protected]

Website
https://homecool.com.sg/
Yeobuild HomeCool surely delivers an overall service that is needed for your home! They have a strong foundation when it comes to overall home care!
From booking up to the post-care service, Yeobuild HomeCool is very convenient. Their website and services are fully automated for easy navigation and booking of services.
These are fundamental principles behind Yeobuild HomeCool as an outstanding air conditioning service company. They live up to a Genuine, Transparent, and Reliable service.
If you do decide to go with any of these Singapore aircon repair companies, let us know how your experience went with them. Leave a comment for us below, so that others can find out more about that aircon repair service!
10.    Sky Breeze Aircon Experts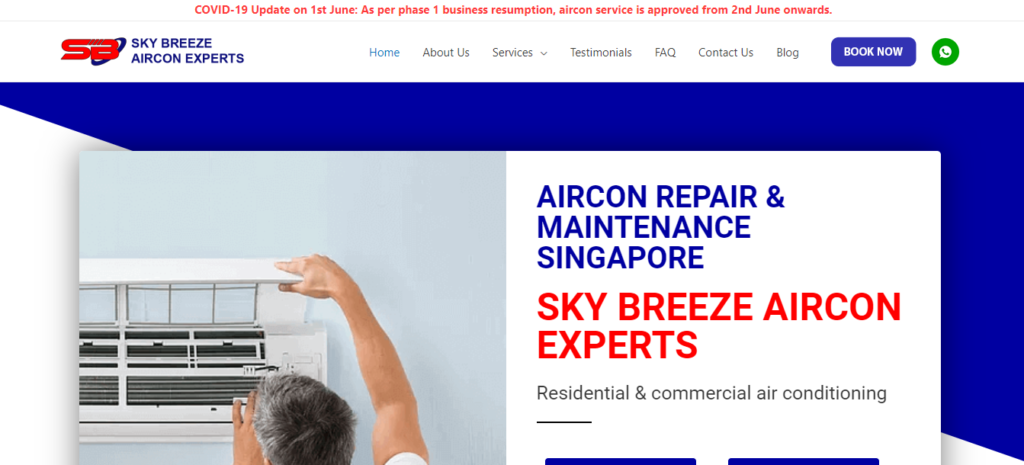 Sky Breeze Aircon Experts can achieve customer satisfaction because they provide people with a hassle-free aircon service. What's great about them is that they have an instant online booking and payment system.
Their experienced specialists can cater to everyone's aircon service needs. And did we mention that their staff members are trained to provide their services to all available brands in the market?
So if you do not see the brand of your airconditioning on their website, do not hesitate to contact them and ask.
If you only need a one time regular service or an annual maintenance package, they got you. Aside from these, other services of theirs are superior service, gas refill service, and chemical service.
11. Lemoncool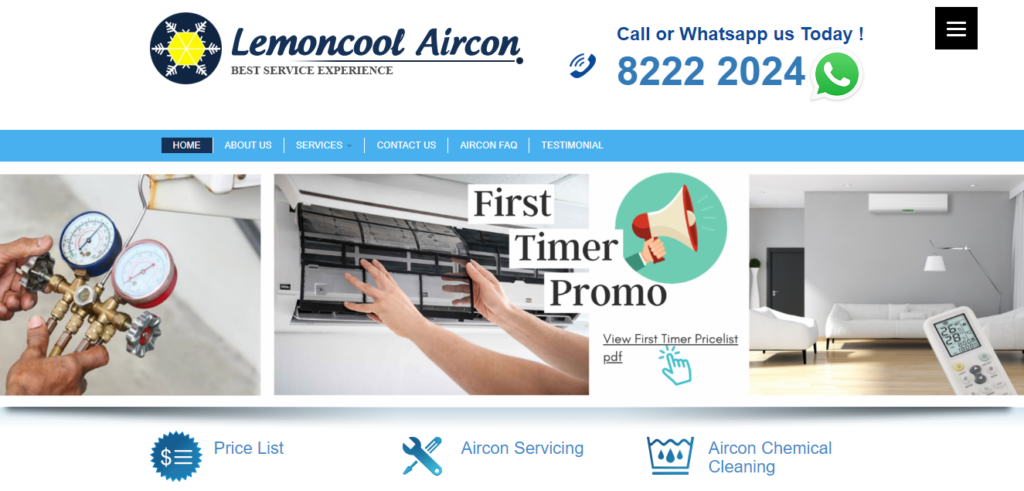 Lemoncool is your go-to company when it comes to all of your aircon service needs. From installation to repair, they have your back if you are having issues with your air conditioning unit may it be residential or commercial.
They have expertise across dealing with various brands of aircon units such as Panasonic, LG, Mitsubishi and Samsung among many others. They offer you efficient solutions and even features chemical services to better maintain your aircon units with every package you avail of.
Should you be looking for affordable aircon units, they also offer a wide range of units from well-renowned brands which you can choose from in which you can also enjoy a 6 months warranty. They are committed to delivering you only the best air conditioning services that will enable you to get the most out of your unit and keep you cool no matter the weather.
We recommend this company for your aircon unit needs due to their amazing work ethics and holistic approach in every job they do for you so that you are well-informed of what is the issue with your unit along with the most reliable solutions as well.
12. Airmaxx Aircon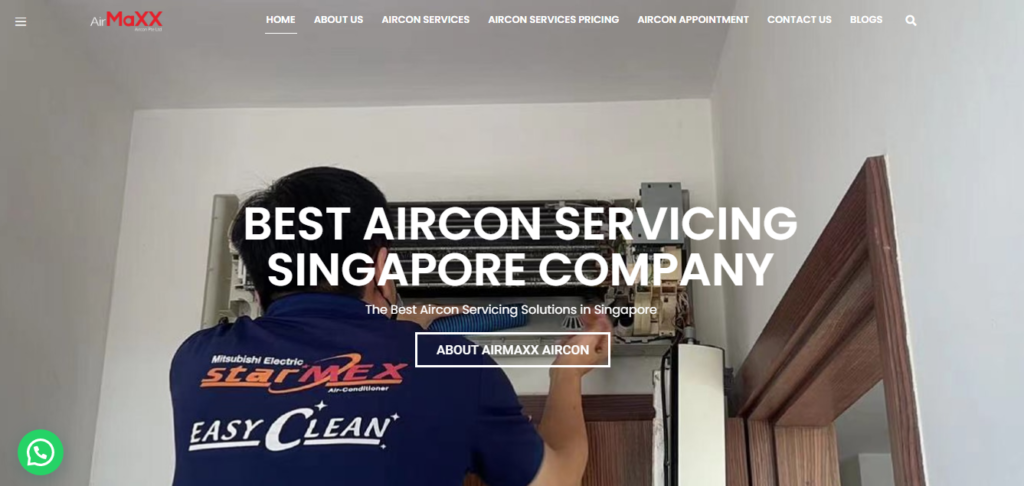 Airmaxx Aircon is your partner when it comes to all your aircon operation needs. From general services to installation and repair, they are dedicated to giving you only quality services at all times.
They employ only adequately trained experts who definitely know their way to every air conditioning unit. With all of their employees having over 10 years of experience in the field, rest assured that your unit will be in tip-top shape in no time.
The company only makes use of equipment and materials that are most efficient for the job and for your specific unit. They are able to offer their amazing services to both residential and commercial properties.
We recommend this company for your aircon repair services since not only do they have remarkable customer service but also competent rates for all the services they offer to ensure that you get the best value out of your money.
13. Purer Fresher Air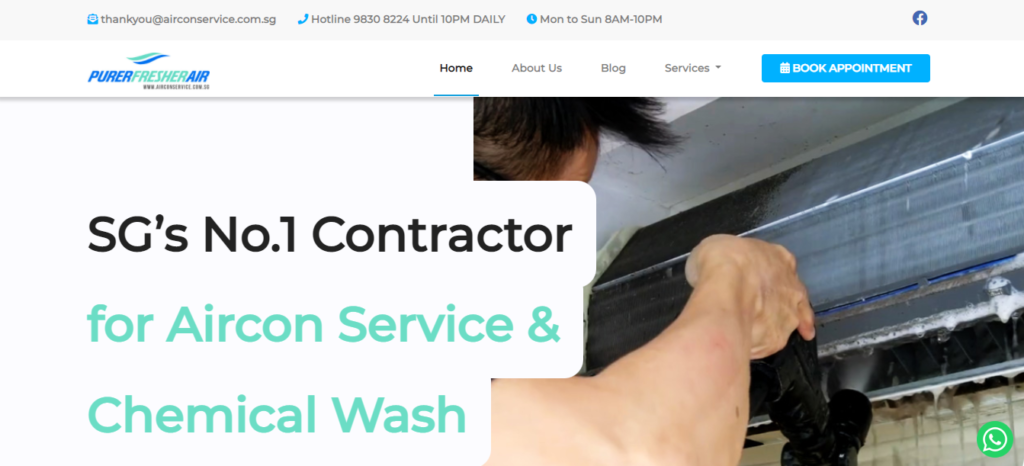 Purer Fresher Air has been providing quality and affordable airconditioning services ever since 2001. From aircon repairs, maintenance, chemical wash, gas top-up, and even installation, to over 10,000 households across Singapore, they can do it!
What makes them stand out from the other companies is the fact that their services can help you to ensure lower electricity bills as well as prolong the life expectancy of your aircon. Regardless of the type or brand of your product, do not fret because they have more than enough experience to cater to all brands.
Over the years, they have built a good reputation for their honesty in all their dealings. This is the main reason why they remain as one of the go-to companies of the people in the country.
At Purer Fresher Air, all servicing works are carried out directly by our full-time employees. This ensures that you enjoy only the best rates and best service possible – no markups or outsourcing involved.
14. Sub Cool Engineering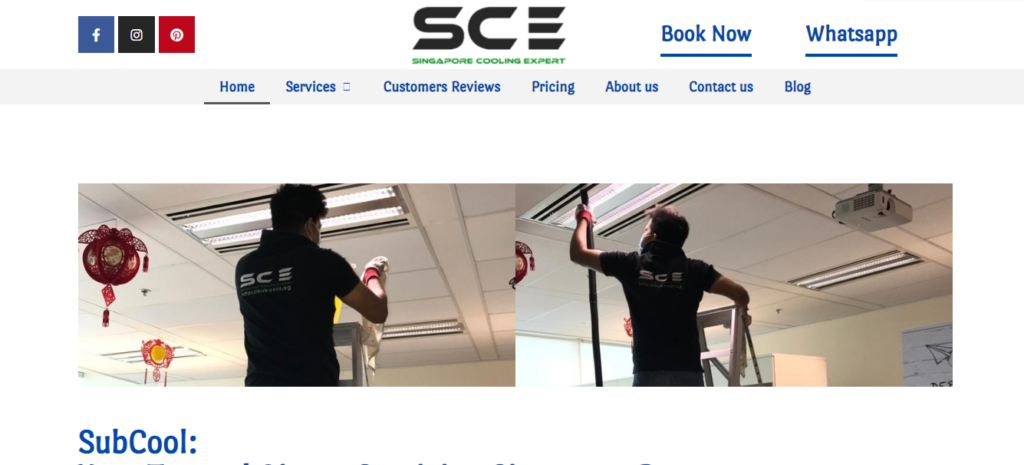 Best For
Cooling Experts
Services Offered
Aircon Repair Service, Aircon Gas Top Up Price of Service, Aircon Chemical Wash Price and Overhaul Services, Best Aircon Installation
Address
7 Temasek Boulevard, #12-07 Suntec Tower One, Singapore 038987
Contact Information
Email:

[email protected]


Call: +6590650723
Website
https://subcool.sg/
Sub Cool Engineering is a renowned company that has a number of awards and accolades for the superior quality of its workmanship. In comparison to other companies, all of their prices are very competitive and can be seen here.
With this, they have helped numerous residents in saving money as well as the environment.
We love how they provide customers with free quotations. Plus, their integrated online booking and payment platform with the function to amend your appointment.
If you are unhappy with the condition they left behind, just alert them and they will make it right for you.
15. City Cooling Pte Ltd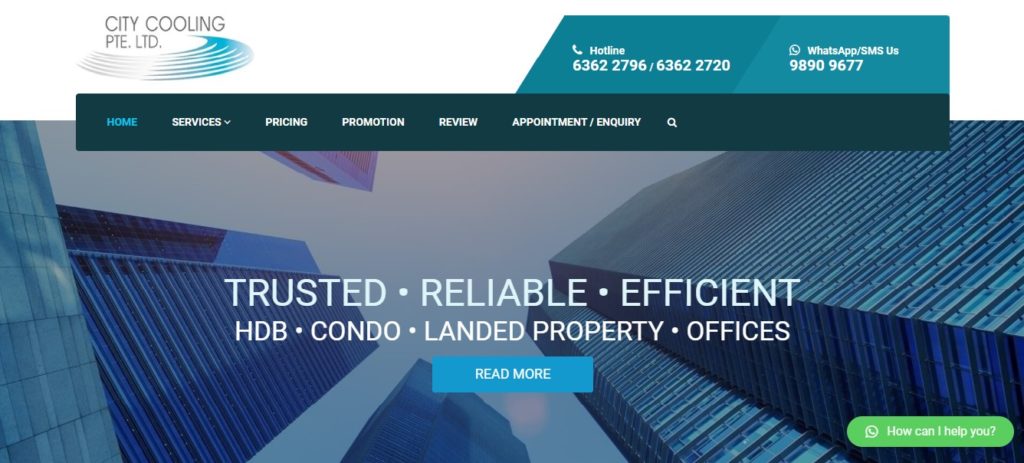 Best For
Maintenance Services
Services Offered
AIRCON CHEMICAL OVERHAUL
AIRCON INSTALLATION
AIRCON REPAIR REPLACEMENT
COMMERCIAL AIRCON
DAIKIN AIRCON SERVICING
AIRCON GAS REFILL
AIRCON PIPING
MITSUBISHI AIRCON SERVICING

Address
25 Woodlands Industrial Park E1, #04-02, Singapore 757743
Contact Information
Hotline: 6362 2796 / 6362 2720
WhatsApp/SMS: 9890 9677
Website
https://citycoolingengr.com.sg/
With City Cooling Pte Ltd, your air conditioner will be back in its tip-top shape in no time. What makes them stand out from their competitors is that they prefer doing chemical overhauling instead of aircon chemical cleaning.
This is the service they would usually recommend to their clients because aircon overhauling is a much more complete version of aircon chemical cleaning. In this method, the indoor fan coil unit will be dismantled and the evaporator coil full of lint will be thoroughly flushed with chemicals whiles in the chemical wash.
What's even better is that with this, you would not need to replace costly components and your aircon will definitely last for several years.
Aside from these, we like how they are open for 7 days a week. So in case you need emergency services, maybe consider getting their quick and efficient services.
16. EZ Aircon Servicing & Repair Singapore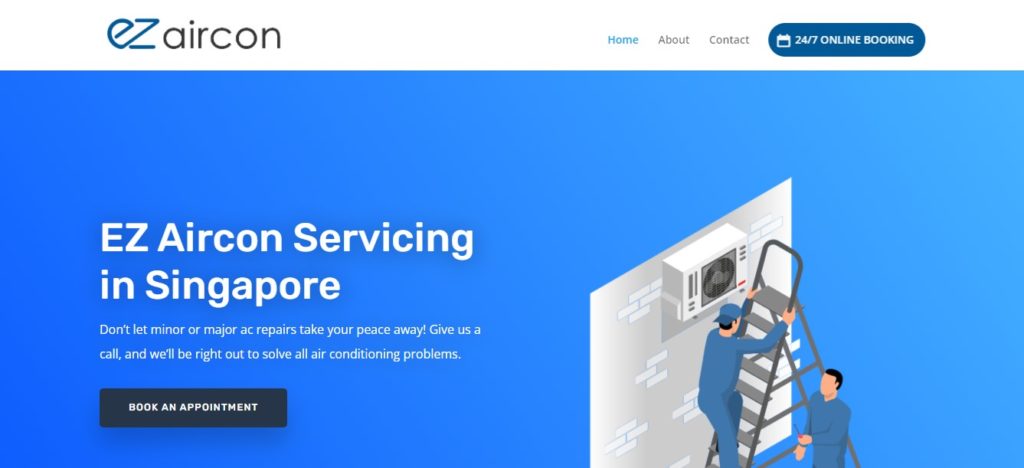 | | |
| --- | --- |
| Best For | Convenient and All-Around AC Services |
| Services Offered | AC Servicing, AC Repair, AC Chemical Washing, AC Gas Top-up, AC Maintenance Packages, AC Installation |
| Address | 696 Jurong West Central 1, Singapore 640696 |
| Contact Information | [email protected] |
| Website | https://ezaircon.sg/ |
EZ Aircon Servicing & Repair Singapore is a business that provides 24/7 any concerns regarding air conditioning units needed. They have been in the industry ever since 2000 and has placed hassle-free and services that will is most relevant to each client.
They have an easy to navigate website that can readily help clients book their appointment with the inclusion of a service call along with the assurance that the slot is secured and booked. Their system does not however provide corresponding price ranges, but they assure that they are able to work around the budget of the client.
Clients don't have to worry about providing the needed equipment for services since they always come to the job fully equipped of all the tools they need. Furthermore, they provide 60-day warranty to all of their services that enables clients to avail of no-charge inspection for all units if the service is under a package.
They could, however, create and utilize more packages that lets clients have more customization options such as the frequency of maintenance of inspections and the like. Client reviews could also be showcased more to bring more credibility to their claims of 100% customer satisfaction as well.
17. Coolhorizon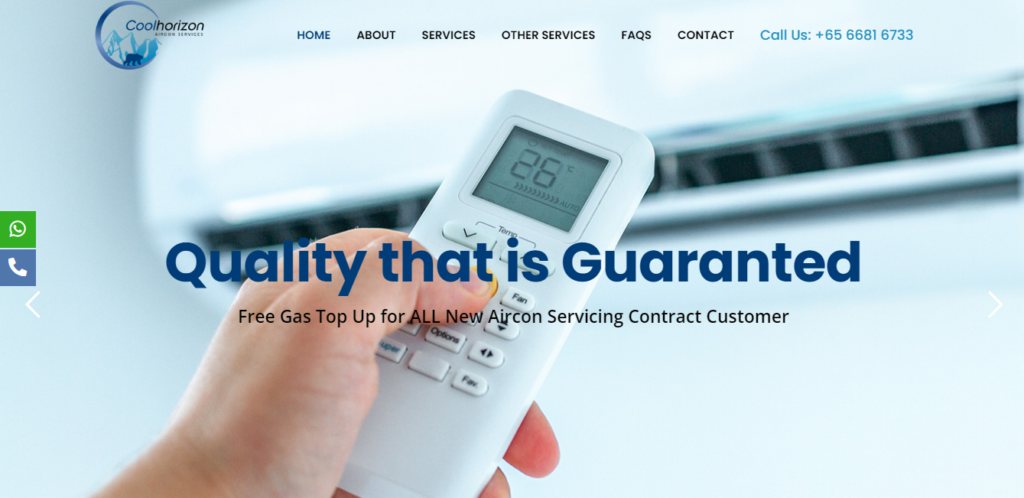 Coolhorizon is a company that provides all-around HVAC services that is always readily available no matter if it is a weekend or holiday. They have had over 25 years of experience in the field and have since then been striving to deliver quality customer service.
Their website is informative and geared to answer questions regarding HVAC services in general for clients who are new to the field. Price ranges and maintenance contracts along with their corresponding rates are readily available on their website as well.
They have different rates for resident and commercial units and offer packages for up to 3 air conditioning units. However, they only have quarterly and tri-yearly maintenance plans, but clients can contact them for more personalized visits and maintenance schedules.
Alongside HVAC services they also provide plumbing, electrical works, and other tile services so this company is also ideal for clients who also wish to avail themselves of those jobs as well.
18. Coldmax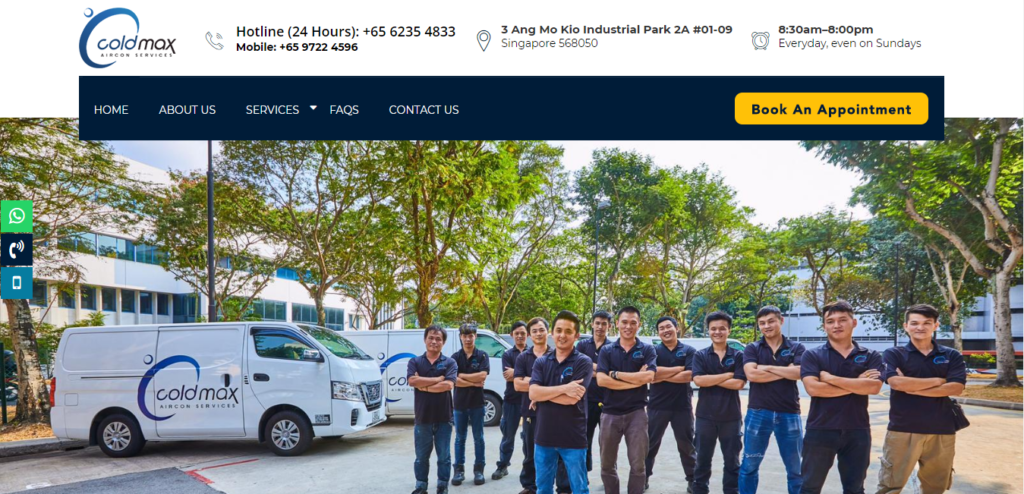 Coldmax is a company that specializes in providing general AC solutions and services that are guaranteed to be handled only by experts in the field. Hoping to provide reliable and effective aircon solutions, they accommodate all brands of AC units such as Toshiba, Samsung, and Panasonic among many others.
They readily have comprehensive packages on their website along with a number of valuable services included with every servicing. Furthermore, they also provide contract servicing and maintenance and a few contracts bases to choose from as well.
Their reviews highly commend them for their amazing customer service and consistent quality for each service even after many services and maintenance after. They are also described as timely and provide good value to money since with their rates – it is packed with services that will make the unit up and ready to function.
Their services are meant for long-term usage of units since they have a 90-day warranty for repairs and a 180-day warranty for the parts. For clients using their units only for a short time, availing of a contract basis is a factor to be considered as well.
19. SGCityAircon

SGCityAircon is a company that provides all-around AC services in both residential and corporate settings. They readily comply with the Building Thermal Installations Regulation so that clients can be assured that they are given only the best standards of service at safe and secure processes.
Their website is informative and could essentially serve as an exemplary resource for clients who are new to the said services and have some basic questions. Note, however, that their services do not cover heating and ventilation services that are commonly included within the usual AC servicing companies.
They also offer maintenance contracts and a 3–6-month warranty when it comes to spare part replacement and water leakage problems after service. Some services are only available upon request and do not include all the services that they offer so clients must make sure to avail of it as well.
The company is highly commended for its quality services and equally polite technicians who can get the job done and happily assist clients with any other issues that may arise.
20. EconCool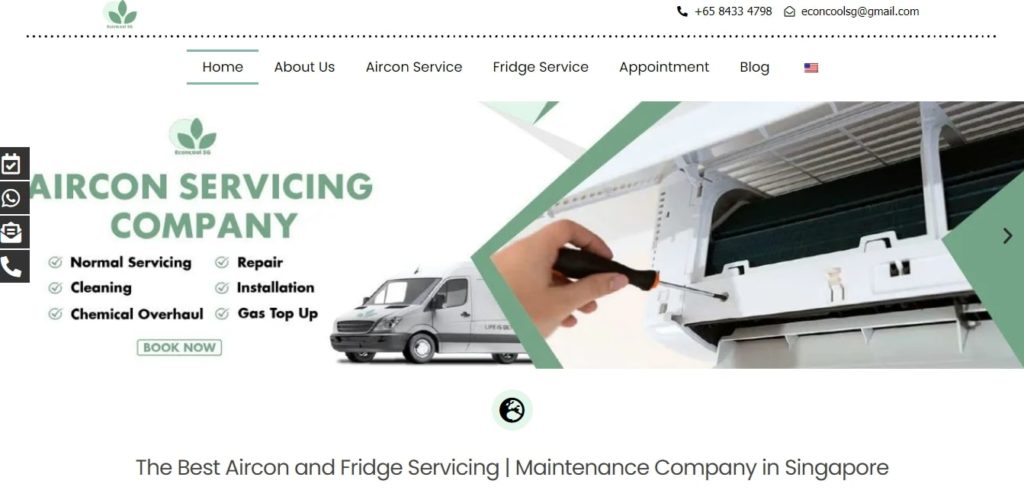 Best For
Full-time Aircon Services
Services Offered
Maintenance
Repair & Troubleshooting
Chemical Cleaning
Installation
Gas Top Up
Parts Replacement
Address
234b SUMANG LANE S#15-299 Punggol, Singapore 822234
Contact Information
+65 8433 4798


[email protected]

Website
https://econcool.com/
EconCool is a company that offers professional preventive and emergency AC services to various areas in the country such as the Woodlands, Tampines, Yishun, Toa Payoh, and Sengkang among many others. With over 20 years of experience in the field, they are able to service both commercial and residential units.
What we like about them is that clients can easily navigate through their website with ease and book online as well as flexible schedules to better accommodate busy clients.
They also only employ experienced and certified experts for the job so that clients can be sure that they are able to accurately diagnose what the problem is and give a corresponding solution that lasts for a long time.
Another thing we find commendable is that they offer 24/7 emergency consultation services to their clients so that they can have an idea right away regarding the price range and the problem with their AC unit.
Overall, with their past clients commending them for their pleasant staff behavior and equally updated tools and equipment, we highly recommend them to clients looking for a reliable and efficient professional company that handles any type of AC unit.
21. Infinity Air Pte Ltd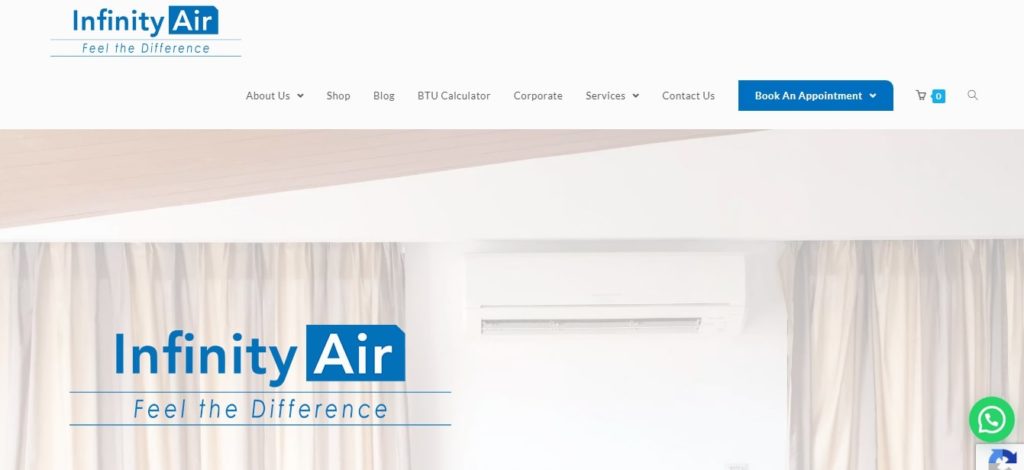 Best For
Residential and Commercial HVAC Services
Services Offered
Aircon Installation
Aircon Repair & Replacement
Address
12 Little Road #07-02 Lian Cheong Industrial Building Singapore 536986
Contact Information
+65 6285 6756
+65 9383 6574
[email protected]
Website
https://infinityair.com.sg/
Infinity Air Pte Ltd is a BCA Registered AC contractor who are able to accommodate a wide range of HVAC services for over 20 years already. With their extensive experience working with all sorts of air conditioning units, they have since then gained a reputation for being one of the most reliable and trusted brands in the industry.
We like that they have adequate knowledge and supplies when it comes to servicing various AC brands such as Panasonic, Fujitsu, Samsung, Mitsubishi, and LG among many others.
Furthermore, their work is both punctual and efficient wherein their past clients have commended them for their rapid yet long-lasting results when it comes to resolving AC repairs.
Though there are some instances that past clients have found their scheduling procedure faulty and could use improvement.
Nonetheless, with their AerisGuard exclusive features, skilled HVAC technicians, and the proper technologies to troubleshoot each AC problem, we highly recommend them to clients in the area who are in need of professional AC servicing.
22. Aircon Servicing & Repair Singapore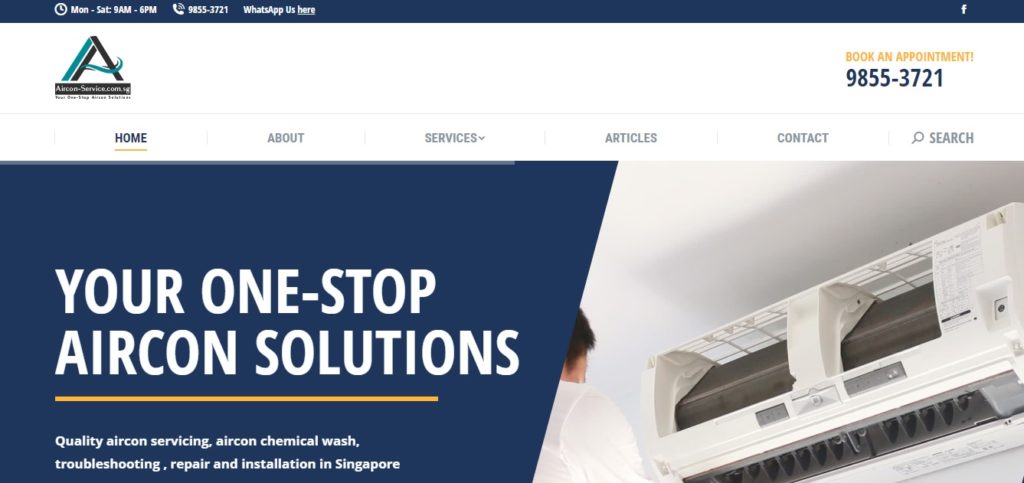 Aircon Servicing & Repair Singapore is a full-coverage AC servicing company that accommodates residential, commercial, and industrial units no matter what type of AC unit they may be. With over 10 years in the industry, they are among the best and most reliable brands when it comes to all things AC-related from installation to sustainable maintenance.
We like that they have a wide range of brands that they are able to supply and service such as Mitsubishi and Panasonic to ensure that clients get the proper and quality parts when it comes to repairing services.
Furthermore, clients are assured that all their workers are licensed and insured along with 60-day workmanship insurance if they are hesitant with their investment.
Though they do not accept emergency repair services so clients may have to book their services within their operating hours for a fast response.
Overall, with a multidisciplinary team of professionals, comprehensive maintenance packages, and convenient online booking features, we highly recommend them to clients in the area who are in need of AC unit servicing.