Homes don't function perfectly forever. It takes quite a bit of maintenance to make sure things are humming along, so residents can feel safe and secure. When things break down and you need an expert's help with some heavy lifting, that's when you call a professional handyman in Singapore. After all, not everything can be a feasible DIY project. Handyman services in Singapore can range from assembling furniture and mounting shelves to fixing leaky pipes and installing heater. Here are the best handyman services in Singapore for any project or budget.
1.     HRD Professional Handyman
BEST FOR

Multi-trade Handyman

SERVICES/SCOPE

Customise Fabrication, Exhibition and Display, Reinstatement Works, Custom made furniture, Plumbing & Waterproofing, Painting and Coating, Electrical  Services, Renovation and AA, Others

PRICING

Get a free quote from their website

WEBSITE

www.singaporehandyman.com.sg

ADDRESS

Block 9003 Tampines Street 93

#04 – 190 & 192

Singapore 528837

CONTACT
67829200 MMS/SMS 83189200 | [email protected]
HRD Professional Handyman can handle various handyman tasks, from installing power outlets to renovation and remodeling. They are properly insured, and their jobs are covered with at least 90 days of workmanship warranty. HRD hires full time in-house employees with multi-trade skill and years of experience, including carpenter, plumber, electrician, painter etc. Prices can vary widely, so better call 6782 9200 for a quote or go to their website for a free customized pricing depending on your needs.
2.     Handyman Services Singapore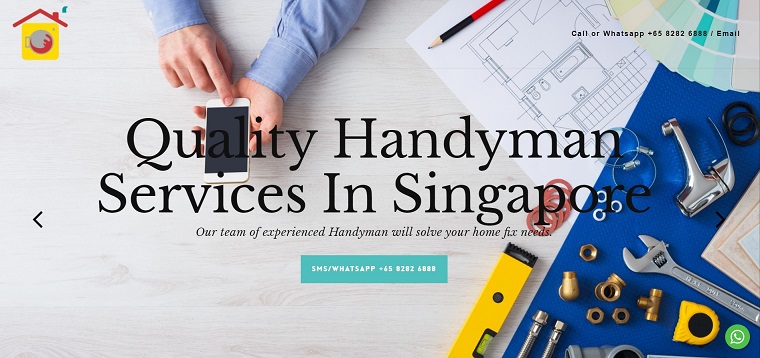 BEST FOR

Electrical works, air-conditioning, plumbing and painting services

SERVICES/SCOPE

Fix/mount shelve, TV bracket, curtain rod, roller blind; Minor/major tiling work

Supply & run SCV point or LAN cable; Install ceiling light, hanging light, false ceiling PLC light; Mount and install ceiling fan or wall fan; Re-piping, rectify pipe choke issue and unclogging; Install all kind of tap or mixer tap; Paint whole unit for residential or commercial

PRICING

Handyman Services – From SGD 50 per job

Electrical Services – From SGD 80 per job

Painting Services – From SGD 280 per job

WEBSITE

www.handymanservices.sg

ADDRESS
CONTACT

+65 8282 6888
Handyman Services Singapore is one of most popular handyman company in Singapore that provides various repair and home improvement services. Among their most requested handyman Singapore service are electrical works, air-conditioning installation and maintenance, plumbing and painting services. As for general contractor work, they provide installation of kitchen hoods, kitchen accessories, wall paintings and mounting mirrors as well as locksmith work and assembling furniture.
3.     ISOHomeCare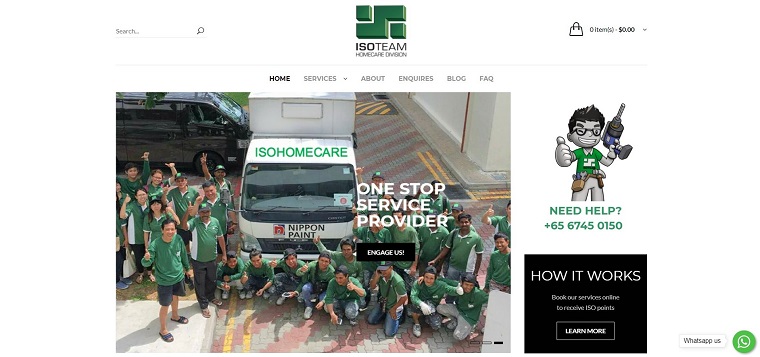 BEST FOR

Affordable Handyman Services

SERVICES/SCOPE

Handyman Services, Painting Services, Electrical Services, Plumbing Services, Waterproofing Services, Aircon Services, Flooring & Coating

PRICING

Handyman Services – From SGD 26 per job

Electrical Services – From SGD 22.50 per job

Painting Services – From SGD 1,000 for 3 bedrooms

WEBSITE

www.isohomecare.com

ADDRESS

8 Changi North Street 1

ISOTeam Building

Singapore 498829

CONTACT
+65 6745 0150 | [email protected].com
ISOHomeCare is a one-stop handyman solution with more affordable prices. You can hire them for various home improvement and maintenance needs in Singapore. Their team of expert handymen are skilled in a wide range of residential and commercial services which include home painting, plumbing, electrical wiring, installation and other general repair works. They have over 15 years of experience in providing handyman services, so you get expert service at budget-friendly costs.
4.     Joydom Engineering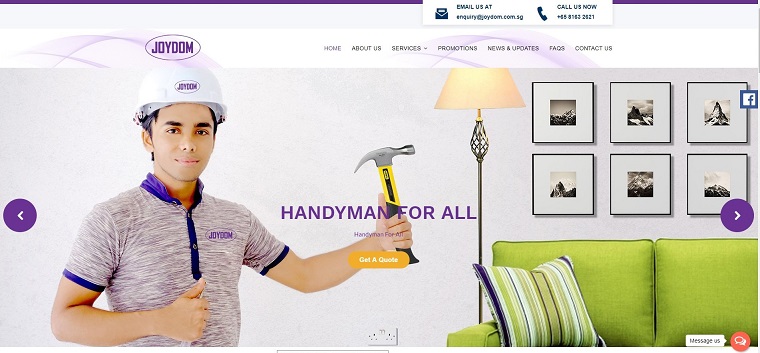 BEST FOR

Trade skills, repair work, maintenance work both interior and exterior.

SERVICES/SCOPE

Handyman Services; Plumbing, Sanitary and Gas; Electrical Services; Painting Services; Aircon Servicing; Door and Window Services

PRICING

Enquire for pricing

WEBSITE

www.joydom.com.sg/handyman-singapore

ADDRESS

5 Little Road, #03-01

Cemtex Industrial Building

Singapore 536983

CONTACT
+65 8163 2621 | [email protected]
Joydom Engineering can fix up virtually any part of your home. Aside from their engineering services, Joydom is a one-stop solution for a wide range of home, industrial and commercial maintenance and repair needs. They have a team of professional handymen Singapore known for the quality of their workmanship and reputation for reliability. Their handyman services cover installation of TV brackets, shelves, mirrors, pictures, paintings, cooker hoods and bathroom accessories, plumbing, electrical and painting.
5.     KaoDim
| | |
| --- | --- |
| BEST FOR | Hiring service providers for a wide range of service providers |
| SERVICES/SCOPE | Cleaning Services, Plumber Services, Lighting & Wiring Services, Aircon Services, Home Repair & Maintenance, Home Renovation & Improvement, Movers & Relocators, Appliance Service & Repair, Pest Control Services |
| PRICING | Submit a request to receive quotes from various providers |
| WEBSITE | www.kaodim.sg |
| ADDRESS | |
| CONTACT | +65 8748 1105 | [email protected] |
Instead of shopping around, let the service providers come to you through KaoDim. This marketplace app allows you to post jobs and service providers can respond to it with their quotes. Once you have selected the perfect provider for your needs, you can then hire the handyman and pay them directly once the job is done. Service providers signed up and vetted by KaoDim covers a large range of handyman Singapore services, like cleaning, plumbing, air-conditioner, lighting and wiring, home repairs, home renovations and improvement, appliance repairs, pest control and moving. The main categories are Home, Automotive & Transport, and Office.
6.     KiasuPlumber
| | |
| --- | --- |
| BEST FOR | General Home Improvement |
| SERVICES/SCOPE | Bathroom Accessories Installation, Rubbish Chute Installation & Replacement, General Home Improvement, Drywall Repairs & Finishing, TV Wall Mount |
| PRICING | Enquire for pricing |
| WEBSITE | www.kiasuplumber.com |
| ADDRESS | |
| CONTACT | +65 88205579 |
KiasuPlumber is your one-stop service provider for plumbing, electrical, painting and handyman job in Singapore. Outside of the usual handyman services, they also provide plumbing services such as for HBD plumber, water heater installation, leaking pipe repair, repair exposed copper pipe, replacement of shower screen, clogged sink and pipe bursting. They also provide electrical and painting services. This is a family-owned business with around 30 years of experience. Their 24-hour service will send you licensed professionals stationed all around Singapore so they can quickly and efficiently respond to urgent calls and jobs.
7.     Kluje.com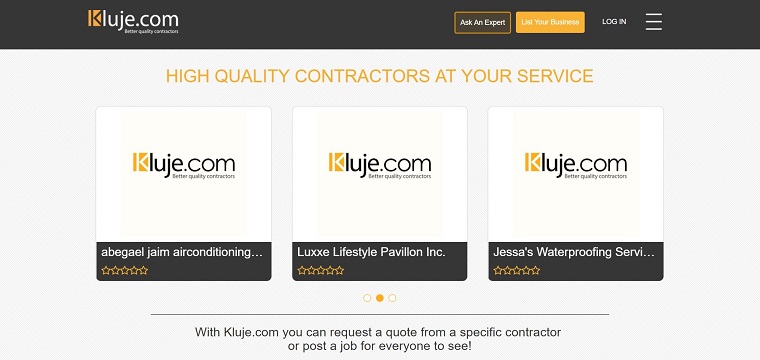 BEST FOR

Budget-Friendly Handyman Service Providers

SERVICES/SCOPE

Plumbing, Electricity, Gas Fitting, Painting, Cleaning, Gardening, Basic Carpentry

PRICING

Post a job to get bids and quotes

WEBSITE

www.kluje.com

ADDRESS

73 Loewen Road, #01-21

Singapore 248843

CONTACT
[email protected]
Another service-matching platform in Singapore for handymen jobs is Kluje.com. Clients or homeowners can post jobs detailing their handyman needs, then contractors can contact the client to submit a quote or bid on the work. This is a convenient way to compare prices and expertise. Afterwards, the client can select a contractor and pay them directly after the job is finished. There is also a rating feature to share their experience with others. You can also opt to look up the contractors on their list and go directly to them to ask for a quote.
8.     NTUC Home Services
BEST FOR

Fuss-free and reliable referrals for household repair and maintenance needs

SERVICES/SCOPE

Major Home Renovation, Minor Home Renovation, Carpentry, Plumbing, Ceiling & Roofing, House Painting, Network Cable Installation, Appliance Maintenance & Repair, Electrical, Air Conditioner, Other

PRICING

Contact them for a free quote

WEBSITE

www.income.com.sg/value-added-services/referral-services/home-services

ADDRESS

75 Bras Basah Road

Income Centre

Singapore 189557

CONTACT

Request Form
NTUC Home Services is a referral service. They will put you in touch with trusted and experienced service providers. They make sure to refer clients to good and reasonably-priced home services. Their panel of service providers have been thoroughly screened with relevant trade licenses before NTUC can recommend them to you. You can request for a referral for up to 3 services in a single form and get a free quote for it.
9.      Renodots
| | |
| --- | --- |
| BEST FOR | Painting Services, Home Cleaning Services |
| SERVICES/SCOPE | AC Services & Repair, Electrical & Wiring, Flooring Services, Home Cleaning Services, Painting Services, Movers and Packers, Plumbing Services |
| PRICING | Request for a free quote |
| WEBSITE | www.renodots.com |
| ADDRESS | |
| CONTACT | + 65 6788 3188 / +65 8118 0970 | [email protected] |
Make your home better, safer and more beautiful. Renodots is an expert at home improvement. It is basically a portal for matching homeowners to interior designers or various contractors. The quotes from service providers and professionals are provided for free. According to their website, you'll get up to 20% in savings if you hire handymen and contractors from Renodots. They promise to find you 5 service providers based on your budget and job specifications. For their job scope and services, you can find handymen for checking air conditioning, electrical, flooring, home cleaning, painting, packers and movers and plumbing services.
10.  ServisHero
BEST FOR

On-demand service providers

SERVICES/SCOPE

Electrical and Wiring, Handyman, Plumbing Installation and Repair, Home Cleaning, Air Conditioner Servicing, Spring Cleaning

PRICING

Get free quotes from various contractors

WEBSITE

www.servishero.com/sg/en/singapore

ADDRESS

#03-01 GB Building, Suite (308) 069542

143 Cecil Street, 069542

CONTACT
[email protected]
Another app or portal you can use to get free quotes from various contractors is ServisHero. Contractors and service providers are called Heroes. You can post a job and wait for bids or quotes from the service heroes, then you can select the perfect handyman for the job. Alternatively, you can also search for service providers, check out their ratings, feedback and other profile information to compare the handymen. All this information will help you make an informed decision and narrow down your options. You can download their app for ease of use. ServisHero is also available in Malaysia and Thailand.
11.  SGHomeNeeds
BEST FOR

Electricians, Handymen, Plumbers

SERVICES/SCOPE

Air-conditioning & Cooling; Carpentry & Woodworking; Cleaning Services; Curtains, Blinds & Shades; Electrical; Energy Efficient Home; Flooring; Handyman Services; Helpers; Home Add-Ons; Movers; Outdoor Home; Painting & Staining; Pest Control; Remodelling / Interior Design; Roofing & Gutters; Security; Senior Caretaker; Pools, Spas & Saunas; Walls & Ceiling; Windows & Doors

PRICING

Get free quotes from various service providers

WEBSITE

www.sghomeneeds.com

ADDRESS

51 Goldhill Plaza #08-02

Singapore 308900

CONTACT
+65 31591485 | [email protected]
SGHomeNeeds is another marketplace portal for home improvement. You can find service providers for a wide range of home improvement needs, including interior design, handyman, electricians, pest control, carpentry, handyman, home moving, cleaning and automating smart homes services. Like the other portals in this list, first you post a job and you'll receive free quotes. After vetting the responses, you can select a provider, negotiate, then hire them once you come to an agreement. This portal offers a wider range of services than the others, not just handyman Singapore. As always, with marketplace apps and portals, practice due diligence in vetting and interviewing prospective handymen.
12.  CWC Electrical Engineering Service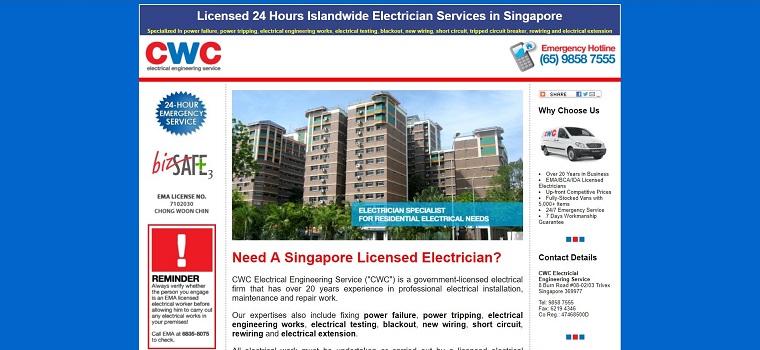 BEST FOR

Electrical Services

SERVICES/SCOPE

Residential and Commercial Electrical Services

PRICING

Enquire for pricing

WEBSITE

www.cwc.com.sg

ADDRESS

8 Burn Road #08-02/03 Trivex

Singapore 369977

CONTACT

9858 7555 (Chief Licensed Electrician Mr. Jacky Chong)
CWC Electrical Engineering Service is a government-licensed electrical firm with a 24-hour electrician service. Their expertise includes fixing power failure, power tripping, electrical engineering works, electrical testing, blackout, new wiring, short circuit, rewiring and electrical extension. CWC Electrical Engineering Service ("CWC") has over 20 years of experience in electrical installation, maintenance and repair work, so you know you are dealing with professionals.
13.  A1 Handyman Singapore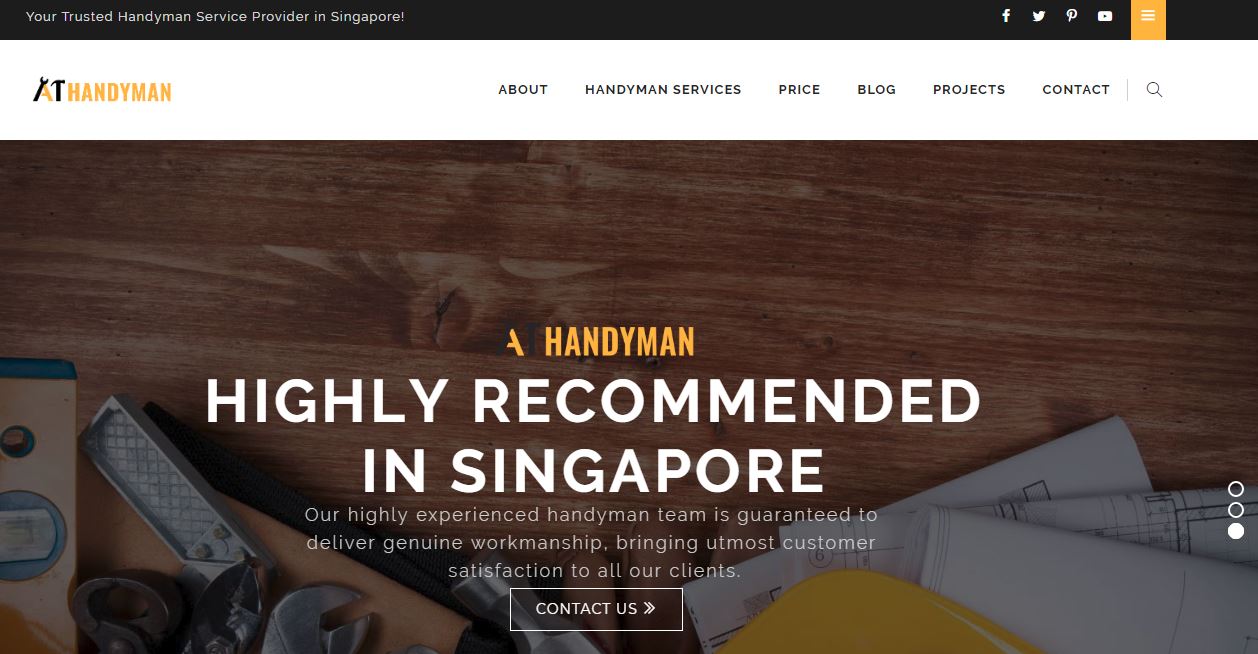 BEST FOR

Highly recommended handyman services

SERVICES/SCOPE

Plumbing
Electrical
Furniture Assembly
Aircon Servicing
Painting
TV Bracket Installation
Water Heater Services
Door Repair Service
Locksmith

See their full list of services here.

PRICING

Enquire for pricing

WEBSITE

https://www.a1handyman.com/

ADDRESS
1090 Lower Delta Road #03-07L, Singapore 169201
CONTACT
+65 6653 7555 | [email protected]
A1 Handyman Singapore provides exceptional support when it comes to tackling home maintenance problems. With reasonable and affordable prices, you can get quality handyman workmanship. They offer a wide range of professional handyman services like plumbing, electrical, aircon servicing singapore, water heater, door repair service, painting, locksmith, furniture assembly, and wall mounting installation services like TV bracket installation services. Need help figuring out a specific issue? Read through A1 Handyman's articles and browse their past handyman projects available on their website. For reliable handyman services, contact A1 Handyman today.