Electricity is almost present everywhere in our lives. It lights up our homes and business venues and greatly contributes to our daily tasks such as cooking our food, powering our electronic devices and appliances, and providing us security and comfort. What we are required to do, though, is to ascertain that it's well installed and maintained—and we need the right partners to do the job.
You can certainly find the most trustworthy electrician in Portland, Oregon. Scroll on and know about six of the best electricians in Portland. These folks guarantee not only professional service and workmanship, but also high-quality customer service experience.
1. Advantage Electric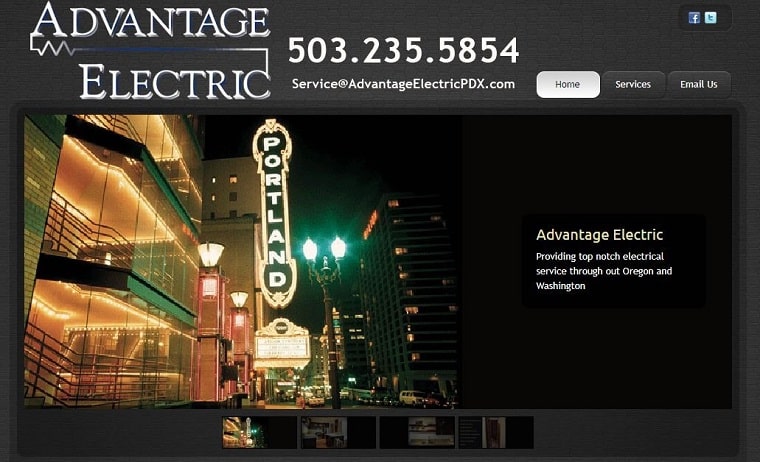 BEST FOR
Residential, commercial, and industrial electrical works

Green Power

Tenant Improvement

Custom Design Projects

Industrial Machine Repair

SERVICES
New circuits

Lighting

Panels and services

Life safety

General electrical works

ADDRESS
Not available
CONTACT
Phone: (503) 235-5854

Email: [email protected]

WEBSITE
http://advantageelectricpdx.com
Advantage Electric employs highly-trained experts in troubleshooting techniques to meet the needs of residents and business owners of Portland. It provides the best products and cutting-edge technologies to ensure complete customer satisfaction. The company also offers discounts to veteran and senior Portland residents.
2. Green Box Mechanical
BEST FOR
Home improvement services
SERVICES
Electrical, plumbing, and HVAC services

Electrical panel upgrades

New fixture installation

Troubleshooting electrical outlets/ switches/ circuits

Hot tub electrical installation

ADDRESS
3265 NW 29th Avenue, Portland, OR 97210
CONTACT
Phone: (503) 222-0555

Email: [email protected]

WEBSITE
https://greenboxmechanical.com/
Green Box Mechanical is a new kind of contracting company, created as a response to the demands of Portland. Its single-source, direct-to-consumer approach mainly focuses on electrical, plumbing, and HVAC services. The company understands that finding the right contractors can be rather stressful so it makes sure to hire only the experienced technicians in order to provide the highest quality customer service.
Green Box Mechanical also provides environmental-friendly products and upfront, tiered pricing to all its customers.
3. Young Electric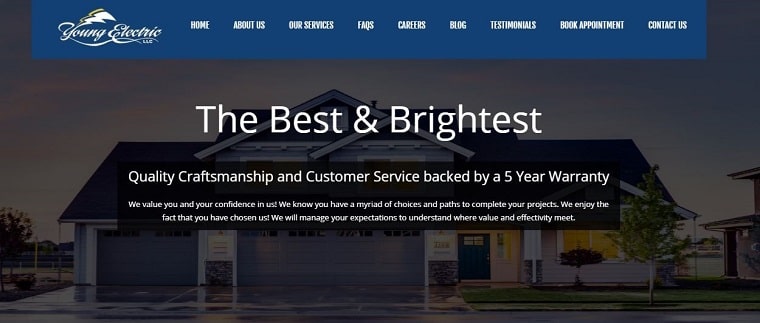 BEST FOR
Residential, commercial, and industrial electrical works
SERVICES
Home safety inspection

Design and build

Electrical service upgrades

Emergency and backup lighting

Warehouse electrical lighting

ADDRESS
Willshire Professional Building, 9999 SW Wilshire St #221, Portland, OR 97225
CONTACT
Phone: (971) 888-5081

Email: [email protected]

WEBSITE
https://www.youngelectricco.com/
Young Electric has been providing Portland, Hillsboro, Beaverton, Tualatin, Tigard, and Lake Oswego for over 20 years. Here's why you should consider their service:
YE is licensed, bonded, and insured
The superior quality of customer service
Honest and dependable professionals
Very competitive rates
4. Mr. Electric of Portland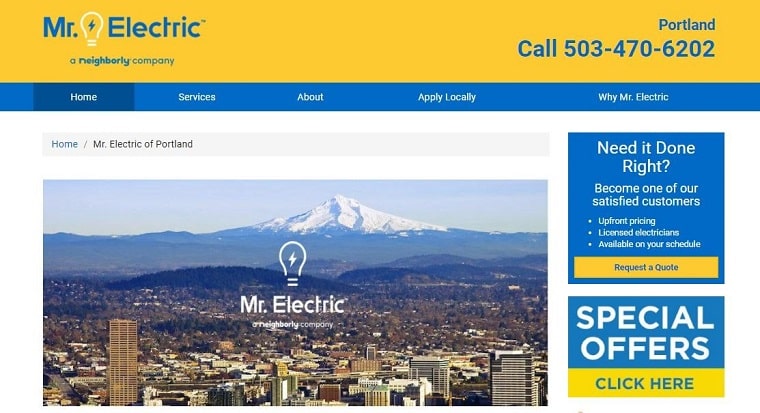 BEST FOR
Residential and commercial electrical works
SERVICES
Electrical safety

Lighting and installations

ADDRESS
5933 NE Win Sivers Drive, STE #205, Portland, OR 97220
CONTACT
Phone: (503) 470-6202
WEBSITE
https://mrelectric.com
Mr. Electric, a global franchise organization, was established in 1994 and has been providing electrical installation and repair services in Portland for years. The company's highly competitive electricians pay close attention to details since they strongly adhere to getting jobs done right the first time. They're trained to give complete customer satisfaction and are ready to help you with issues like outdated wiring, dead outlets, faulty switches, power surges, lighting installations, etc.
5. West Side Electric Company

BEST FOR
Residential and commercial electrical services

EV charging

SERVICES
New construction and remodel wiring

Service and repair

Breaker panel upgrades

HVAC wiring

Renewable energy

Zonal electrical heating

Installation and upgrading of electrical services

Interior & exterior, landscape, and security lighting

Surge suppression installation

Swimming pool and hot tub wiring

ADDRESS
1834 SE 8th Ave, Portland, OR 97214
CONTACT
Phone: (503) 231-1548 | (360)750-5786

Email: [email protected]

WEBSITE
https://westsideelectric.com/
West Side Electric, a family-owned and operated business, is Portland's full-service electrical contractor since 1961. It provides full-range electrical services for residential and commercial sectors. The company has developed a mobile crew that is fully equipped with top-grade electrical parts to warrant the timely installation, repair, troubleshooting, and onsite services. WSE also offers free over-the-phone- estimates that may involve an onsite visit, depending on the scope of work.
6. Phoenix Electric of Portland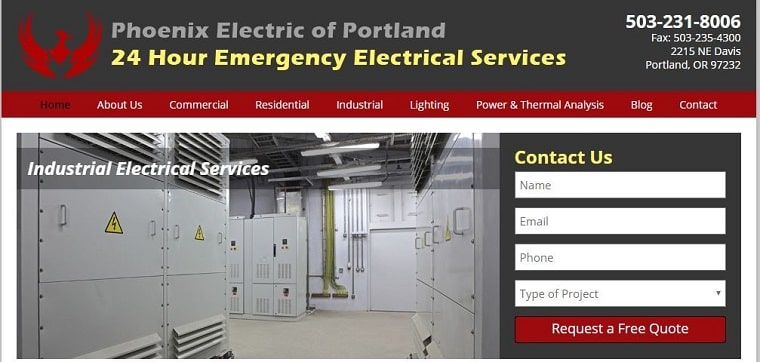 BEST FOR
Residential, commercial, and industrial electrical works

Lighting services

Power & thermal analysis

SERVICES
Troubleshooting and repair

Fixture replacement or repair

Underground wiring

Code of corrections

Accent and security lighting

Residential remodel

Emergency electrical service

ADDRESS
2215 NE Davis, Portland, OR 97232
CONTACT
Phone: (503) 231-8006

Fax: (503) 235-4300

Email: [email protected]

WEBSITE
https://www.phoenixpdx.com/
Phoenix Electric of Portland is a fully licensed, insured, and bonded electrical service provider. It's one of Portland's best electrical companies that bring excellent customer service and workmanship to all its clients. As an electrical contractor, they also specialize in manufacturing plants, automotive plants, new construction, remodels, motors and controls, pump stations, tenant improvements, and electrical service & maintenance.