The 6 Best Options for Electricians in OKC
Electricity is something to be taken seriously about. It can be a friend or a foe, depending on how we, humans, handle it. That being said, the comfort and safety of our homes, commercial buildings, schools, hospitals, etc. should be ensured by credible and reliable partners who are experts in handling electrical issues.
The pros in the electrical service industry can guarantee your safety and that of the people who matter to you. We understand this need so we listed six of the best electricians in Oklahoma City. They are all experts in their field and can assure you of an excellent job.
1. Mister Sparky Electrician OKC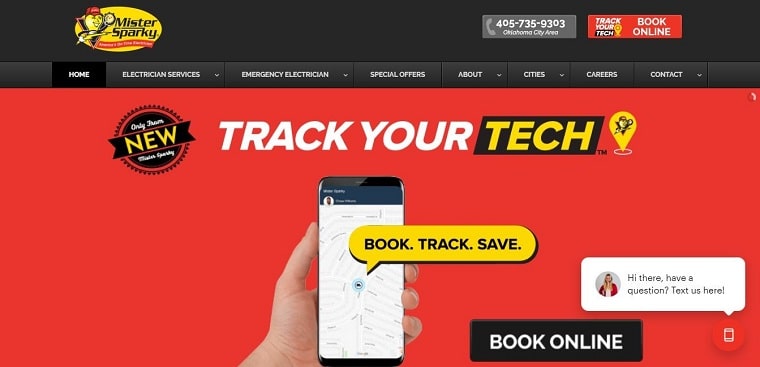 BEST FOR
Residential electrical works
SERVICES
Main electrical lighting

Lighting

Home automation

Surge protection

Amp upgrades

Carbon monoxide detectors

Emergency electrical repairs

Inspection, maintenance, and installation

ADDRESS
801 S.E. 84th Street, Ste. A Oklahoma City, OK 73149
CONTACT
Phone: (405) 735-9303

Email: [email protected]

WEBSITE
https://www.mistersparkyokc.com/
Dubbed as America's On-Time Electrician, Mister Sparky Electrician OKC is a national network of highly-competent and attentive electrical contractors. It's locally-owned and operated business that brings excellent customer service to all Oklahoma City residents. When you avail Mister Sparky's service, you will get:
The same day, next day, or emergency service
On-time arrival or your repair is free
Highly-trained and experienced, licensed electricians
Professional electricians are polite, uniformed, neat, drug-tested, and background-checked
Warehouse on wheels to guarantee first-time job precision
2. Edge Electric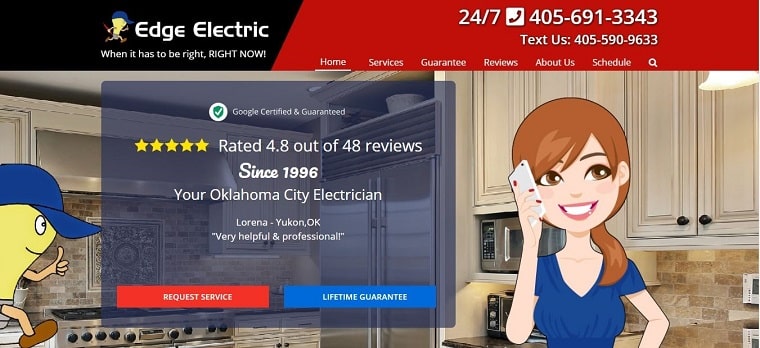 BEST FOR
Residential electrical works
SERVICES
General electrical services

Lighting

Surge protection

Generator installation

Rewiring

ADDRESS
1304 SW 110th Pl Oklahoma City, OK 73170
CONTACT
Phone: (405) 691-3343 | SMS: (405) 590-9633
WEBSITE
https://okcelectrician.com/
Edge Electric, a family-owned and operated business, provides first-class electrical services to the OKC Metro Area residents. It holds an A+ rating in BBB (Better Business Bureau). The company is dedicated to ensuring the electrical safety of your home and family.
Edge Electric offers:
24/7 customer service
Same-day service
Highly-competitive licensed electricians
Lifetime guarantee
3. Alliance Services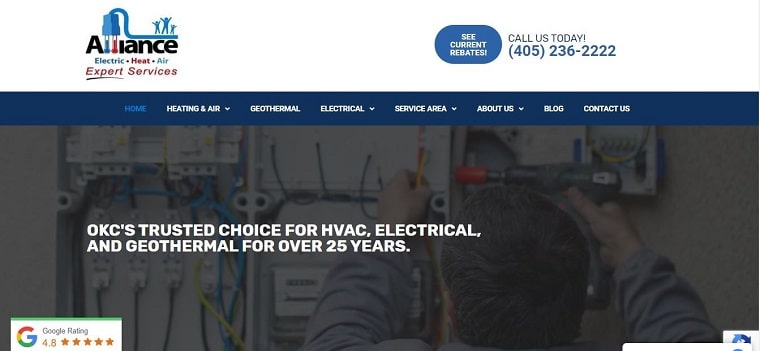 BEST FOR
Electrical, geothermal, air-conditioning, and heating services
SERVICES
Ceiling fan installation

Electrical panel upgrades

Electrical safety

Rewiring

Generator installation

Surge protection

ADDRESS
6500 S Council Road, Oklahoma City, OK 73169
CONTACT
Phone: (405) 236-2222 | (405) 745-4700

Email: [email protected]

WEBSITE
https://www.aesokc.com/
Alliance Services has been serving Oklahoma City metro since 1990. It has grown from a one-man shop to a full-blown home improvement provider it is today. AES is now a proud premier electrical and HVAC contractor in OKC that offers convenience, safety, and comfort to each of its client.
4. Barnett Electrical Services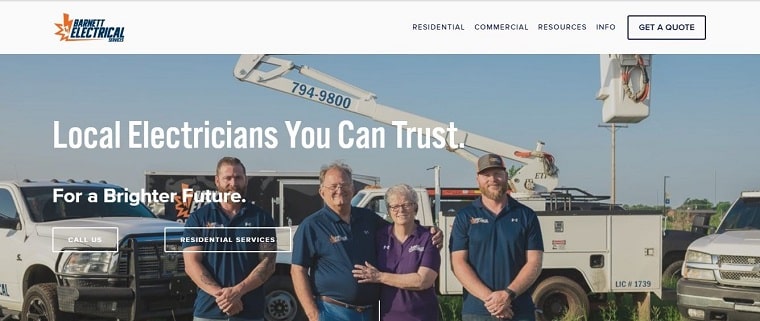 BEST FOR
Residential and commercial electrical works
SERVICES
New construction, remodeling, and general repairs

Childproofing outlets

GFCI installation

Doorbell systems

Post-inspection repairs

Data communications

Faulty/ bad underground

ADDRESS
908 SE 29th St, Oklahoma City, OK 73129
CONTACT
Phone: (405) 794-9800

Email: [email protected]

WEBSITE
https://barnettelectrical.com/
Barnett Electrical, a family-owned electrical repair and installation business, has been serving valued clients in the greater Oklahoma City area and other surrounding areas for over 35 years. It employs proficient, conscientious, and courteous electricians to provide its clients 100% customer satisfaction. The company also acknowledges the efforts of their military veteran clients by offering them special discounts. If you need any installation or repair work for your home or business establishment, Barnett Electrical is always ready to take on the job.
5. Rucker Mechanical & Electric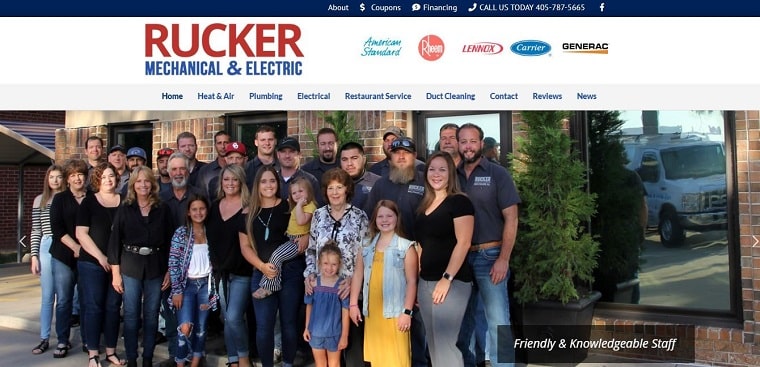 BEST FOR
Residential, commercial, and light industrial mechanical & electrical works
SERVICES
Electrical, heat & air, plumbing, air duct cleaning, and restaurant services
ADDRESS
5209 N Council Road, Oklahoma City, OK 73132-9735
CONTACT
Phone: (405) 787-5665

Fax: (405)787-5668

WEBSITE
http://www.ruckermechanical.com/
Rucker Mechanical & Electric was founded by Bob and Teresa Rucker in 1988. Since then, the company has strived to earn the trust and satisfaction of its customers in OKC. It doesn't observe high-pressure sales tactics. Instead, it offers clients the best solution to fix their problems at the most affordable price. Why should you choose RME as your electrician?
Licensed, insured, and bonded
Highly-trained professionals to aid your needs
After-hours service
Competitive rates
6. Osborne Electric Company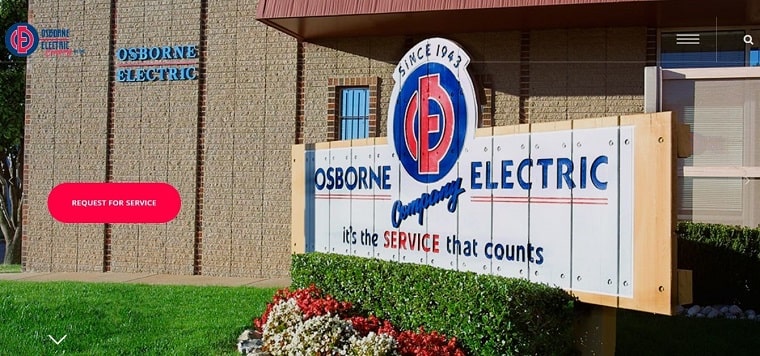 BEST FOR
Residential, commercial, industrial, and institutional electrical works
SERVICES
Lighting

Low voltage/ automation/ control systems

Energy solutions

Data and communications\

ADDRESS
101 NE 46th Street, Oklahoma City, OK 73105
CONTACT
Phone: (405) 525-7622

Fax: (405) 524-3494

Email: [email protected]

WEBSITE
http://osborneelectric.com/
Osborne Electric has been around since 1943 and has built up a reputation as one of Oklahoma City's premier electrical contractors. The company's team of highly-trained electrical specialists can solve any task or challenge given to them. They can also perform new construction projects including commercial buildings, religious establishments, educational institutes, data centers, and healthcare facilities.