Whenever you need something done in your home, no matter how small it is, you can always count on handyman service providers to deliver. However, there are those who go above and beyond—and best of them are listed below.
1.  HandyMatt
| | |
| --- | --- |
| BEST FOR | Quality work, efficiency, reasonable pricing, |
| SERVICES/SCOPE | Furniture Assembly, TV Mounting, Professional Art & Picture Hanging, Fixture Installations, Drywall/Patching, Door Hanging, Appliance Installations, Unclogging Sinks, Audio/Visual Installations, Gutter Guard Installations, Painting, Backsplash, Curtain Rod Installation, Tall Ceiling Light Changing, |
| PRICING | Contact for a quote |
| WEBSITE | https://www.handymattaustin.com/ |
| ADDRESS | |
| CONTACT | +1 512-537-7956 | [email protected] |
| PAYMENT | Online payment via credit card, Venmo, PayPal, Zelle, cash, or check |
HandyMatt is a British-run company whose proprietor has been in the trade since his early teens. That is why even though the company itself is young, the contractor already has decades of handyman experience behind him. As such, he can offer quality work regardless of the complexity and scope. He and his crew are also responsive, allowing them to do jobs quickly while taking into consideration the customers' demands.
2.  Greater Austin Residential Service Company (GARSC)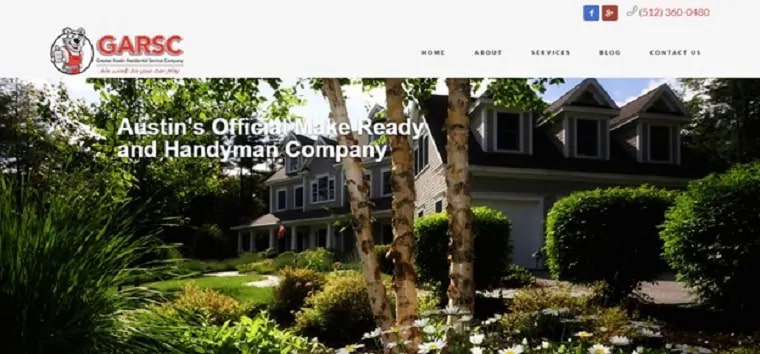 BEST FOR
On-time service delivery, on-budget services, culture of support
SERVICES/SCOPE
Make Ready Services, Handyman Services, Landscaping, Exterior Cleaning, Pressure Washing, Fence & Deck
PRICING
Request an estimate
WEBSITE
http://garsc.com/
ADDRESS
1704 1/2 South Congress

Suite G

Austin, TX 78704

CONTACT
+1 512-360-0480
PAYMENT
Credit card payments
GARSC promises to deliver on-time and on-budget services every time. The former is especially beneficial, as you can have more time with your family, friends, and work. And of course, the latter is crucial so you do not break the bank getting the ideal home you want. The company has a culture of support, something that is critical in them being able to offer top-notch customer service. Because of this, you can rest assured that you are only dealing with courteous professionals who deliver excellent work.
3.  Mend Services

BEST FOR
High level of craftsmanship
SERVICES/SCOPE

Quick Turnaround Projects
Preventative Maintenance
Facility Management
After Hours-Response
Repair & Maintenance Handyman Services
Carpentry Services
Paint Services
Demolition & Deconstruction
Rough Carpentry & Cornice
Welding & Fabrication
Fine Carpentry & Millwork
Drywall & Paint
Site Cleaning & Trash Hauling
Oversized Windows & Doors
Mulled Window Units
Pivot Doors Multi-Slide | Bi-Fold | Pocket Door Systems
Field Glazing Services

PRICING
Request a free estimate
WEBSITE
https://mendservices.com/
ADDRESS
9315 Thaxton Rd, Bldg 1 Austin, TX 78747
CONTACT
512.206.3188 | [email protected]
PAYMENT
Contact for payment methods
Mend Services is an Austin-based service firm known for accomplishing high quality maintenance programs, repair services and swift construction projects in the residential and commercial markets. They also provide specialty trade services to Austin's premier builders and general contractors. For each of their project, Mend's craftspeople employ requires strategic planning and conscientious management.
4. Mr. Done Right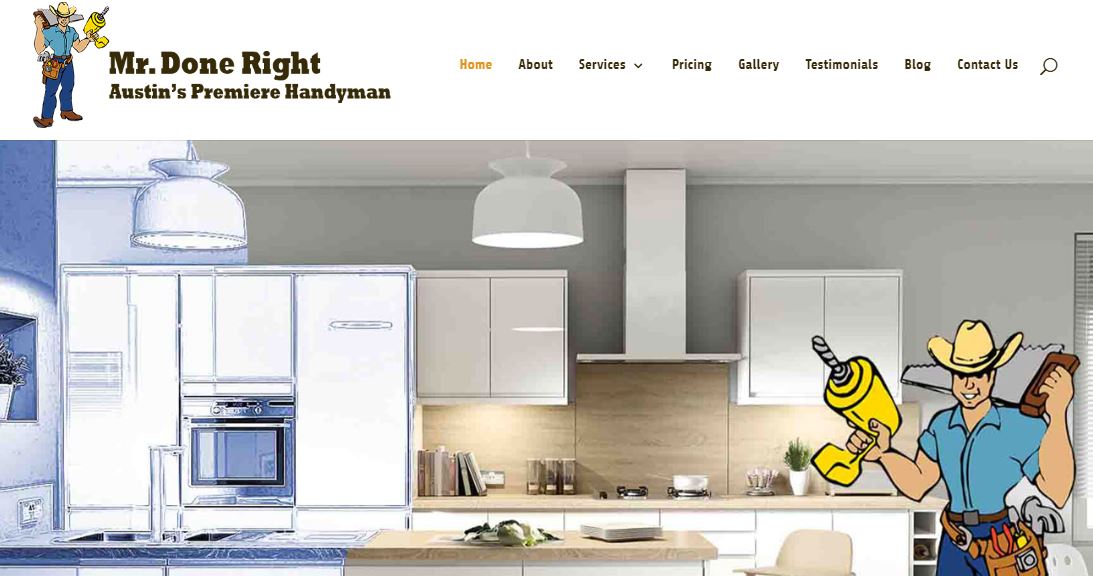 BEST FOR
Home or office fixing, interior or exterior remodeling
SERVICES/SCOPE
• Home projects and repairs
• House Painting: Interior/Exterior
• Bathroom / Kitchen Remodeling
• Installation or fix faucets/disposals/toilets
PRICING
Contact to request a free quote
WEBSITE
https://handyman-austin.com/
ADDRESS
2235 E 6th St #103, Austin, TX 78702
CONTACT
(512) 659-8931
PAYMENT
Contact for payment options
Mr. Done Right puts quality and customer satisfaction above and these two, together with over 15 years of experience, define their professional services. They have a team of building and repair professionals who ensures to apply detail and quality workmanship to every job, large or small.
5.  Professional Handyman Services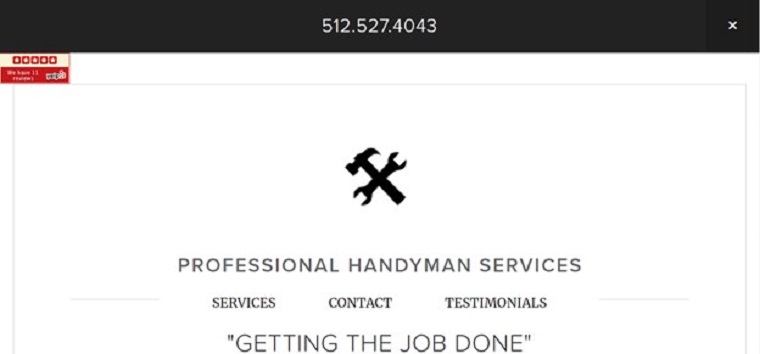 | | |
| --- | --- |
| BEST FOR | Knowledgeable, price conscious, tidy works, intuitive problem solving |
| SERVICES/SCOPE | Exterior Remodeling & Repairs, Electrical, Kitchen, Interior Remodeling & Repairs, Bath, Painting, |
| PRICING | Get in touch for free quote |
| WEBSITE | http://www.prohandymanservices.org/ |
| ADDRESS | |
| CONTACT | +1 512-527-4043 | [email protected] |
| PAYMENT | Cash, check, or bank transfer |
Professional Handyman Services is a crew that is known to be polite and professional. They display great knowledge and expertise in different areas, allowing them to solve problems intuitively to the delight of their customers. They are especially known to be price conscious, meaning they can help you save money where they can. And once the job is done, you can expect them to tidy up after themselves so you do not have to do any cleaning.
6.  ABC Home & Commercial Services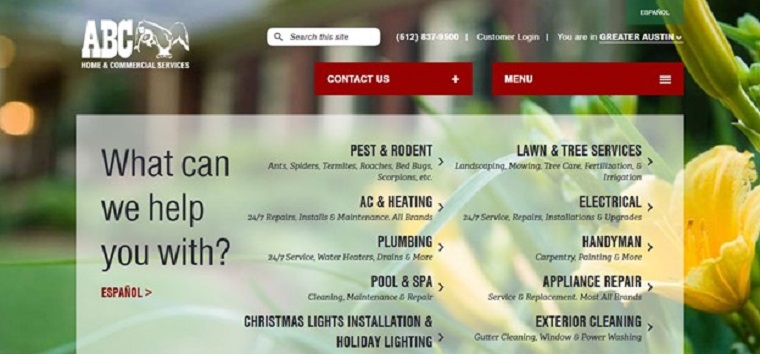 BEST FOR
Wide range of services, transparent pricing, bilingual, award-winning company
SERVICES/SCOPE
Pest & Rodent Extermination, Lawn & Tree Services, AC & Heating, Electrical, Plumbing, Handyman, Pool & Spa, Appliance & Repair, Holiday & Event Lighting, Exterior Cleaning, Smart Home Security & Technology, Commercial Services
PRICING
Book your services online to find out how much you need to pay
WEBSITE
https://www.abchomeandcommercial.com/austin
ADDRESS
9475 E Highway 290

Austin, TX 78724

CONTACT
+1 512-837-9500
PAYMENT
Online payment via credit card
ABC Home & Commercial Services in Austin is an award-winning company. They managed this feat because of their wide range of services that they are a true one-stop shop for all your home improvement needs. They are also very transparent in their pricing as you can immediately find when you book their services online. They even offer extra and follow-up services, whose fee you can find in the booking engine as well so you do not get unpleasant surprises, bill-wise.
7.  BP Handyman Service Company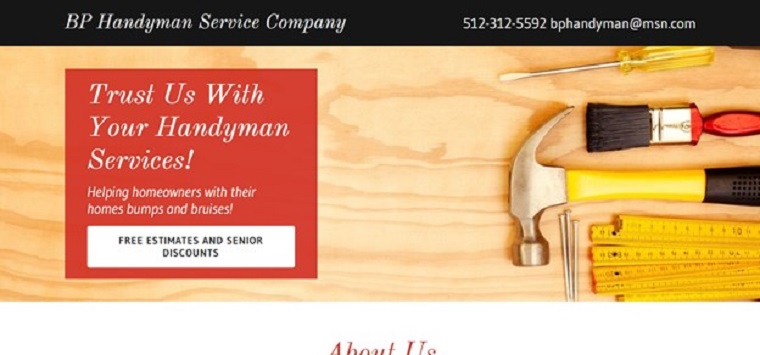 | | |
| --- | --- |
| BEST FOR | Senior discounts, internet/Yelp discount, talented contractor |
| SERVICES/SCOPE | Custom Painting, Plumbing, Electrical, Woodwork, Screens & Weatherization, Power Washing, Caulking |
| PRICING | Contact for a free estimate |
| WEBSITE | https://bphandyman.net/ |
| ADDRESS | |
| CONTACT | +1 512-312-5592 | [email protected] |
| PAYMENT | Cash, check, or bank transfer |
BP Handyman Service is a custom work-friendly contractor. They offer custom painting and can do a wide variety of jobs upon request. On top of that, they have reasonable pricing to go with the personalized services. They even offer senior discounts, something that is very beneficial to people of that age range. And if you happened to have found them over the internet or Yelp, you can enjoy a discount as well. But what sets this firm apart is that they offer power washing. This means you can get your house, sidewalks, and driveways cleaned aside from getting repairs done.
8. The Handyband Collective
BEST FOR

Home Improvement

SERVICES/SCOPE
Sticky Doors
Drippy Faucets
Drywall Patching
Landscaping
Carpentry
Painting
(Contact for a complete list of their services)
PRICING

Base Rate: $80 per hour

WEBSITE
http://www.handybandcollective.com/
ADDRESS
Austin, TX
CONTACT

[email protected]

PAYMENT

Contact for more information
The Handyband Collective is not your usual handyman services provider. They are both owned and operated by local music and entertainment professionals who have expertise in this field.
Their Handyband pair are billed at varied rates with only 2 hours minimum which is already enough to cross out all the things on your to-do list. Since they prefer working efficiently, they mostly finish their projects before the estimated time, which can save you a couple of bucks.
We believe they are great since if the job is too complicated for them, they will not hesitate to book other kinds of specialists than by continuing it without knowledge. This allows them to make you feel more comfortable and make you feel that what you are paying for is worth it.
After you submit a new gig, which is their term for a service request, on their website, their 3-phase process of understanding, estimating, and booking can take from 48 hours to 2 weeks. Now 2 weeks may seem too long, but this process is based on the complexity of your requested project.
Another thing we love about them is their Give and Get mission which is they sell merch to provide money for the local community. The profit from this merch also doubles as a way to give paid training to musicians who want to experience more skills to better fund their arts career.
9. DiamondPoint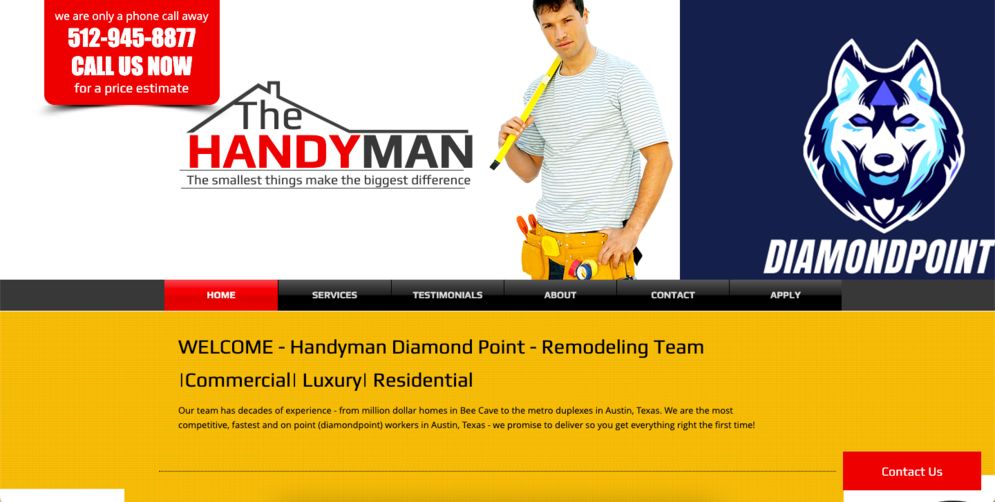 With their decades of experience in construction and repair services, DiamondPoint can fix whatever needs to be repaired. 
All the contractors at DiamondPoint have had many experiences with remodeling, restoring, building and fixing homes.  
They work with bathrooms, doors, furniture, flooring, windows, and kitchens. They're also handy with painting and carpentry. They can do virtually anything!
According to their customers, this team of all-rounders are very professional and have great workmanship. 
One thing, though, is that they don't have a list of their rates on their website and you'd have to call them to get a price estimate. 
We don't see much reason for you not to try their services out. We think you'll be just as happy with their work as other customers. 
Have you found the right contractor yet? If not, you can go through the list again or start making calls or sending emails to these companies.