From skyscrapers to simple houses, contractors help us realize our vision by building and developing the place we can consider home or a site where we can conduct our business.  These people built the landmark buildings and infrastructures that reflect our civilization's continuous progress… and with no others is that truer than with the best contractors in Singapore.
Contractors oversee construction or renovation of buildings, stores, multi-unit housing projects, malls, hotels, individual houses, and other commercial sites.  Most building contractors have their own companies and have extensive experience in the construction industry.
With numerous construction firms out there, you might start wondering which one to choose to be your partner in bringing your dream house, office, or building into a reality.  Without further ado, here are the best contractors you can find in the country:
1. Livspace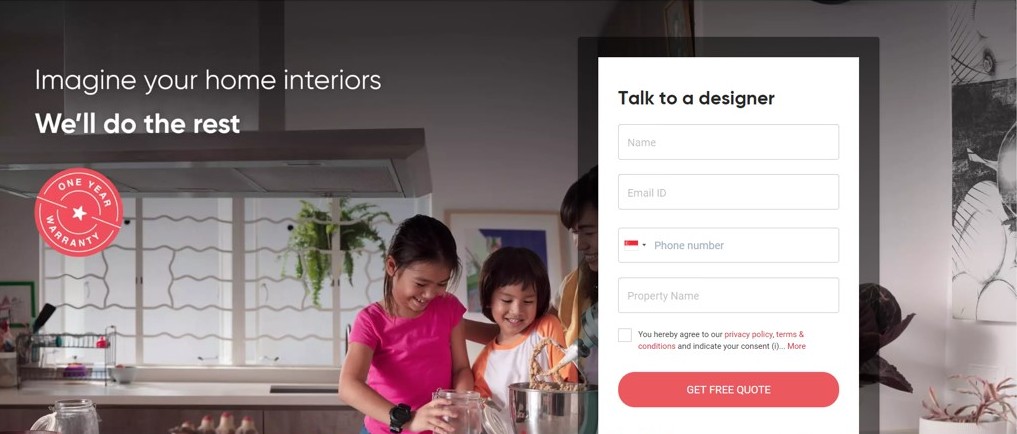 BEST FOR
Renovations, Full Home Interiors, Carpentry
SERVICES/SCOPE
Renovations
Design and build
Carpentry work
Demolition, hacking, masonry, plumbing, etc.
Furniture and decor sourcing
PRICING
You can talk to a designer to get a free quote and sample designs.
WEBSITE
https://www.livspace.com/
ADDRESS
Level 6, Beach Centre, 15 Beach Road, Singapore 189677
CONTACT
https://www.livspace.com/
Livspace, as Asia's biggest interior designer, is also one of the leading choices if you need the best contractors in Singapore for home interiors and innovation. They have award-winning designers and verified contractors to help customers make their long-lasting dream homes a reality.
To make sure they only hire proven contractors and service professionals, each contractor undergoes a 3-step quality check: Onboarding (portfolio screening), Testing (performance evaluation projects) and Monitoring (via a project manager). For peace of mind, customers also get $4 million insurance cover by AXA as well as one year warranty on all civil and woodwork.
Livspace has proven their mettle in various living spaces, including condos, HDB homes and landed homes. You can start the process of building or renovating your home in 5 easy steps via their convenient and easy-to-use platform.
Don't just take our word for it, check out past testimonials and feedback from over 20,000 happy and satisfied clients. In fact, 4 out of 5 customers recommend Livspace!
2. Renovation Contractor Singapore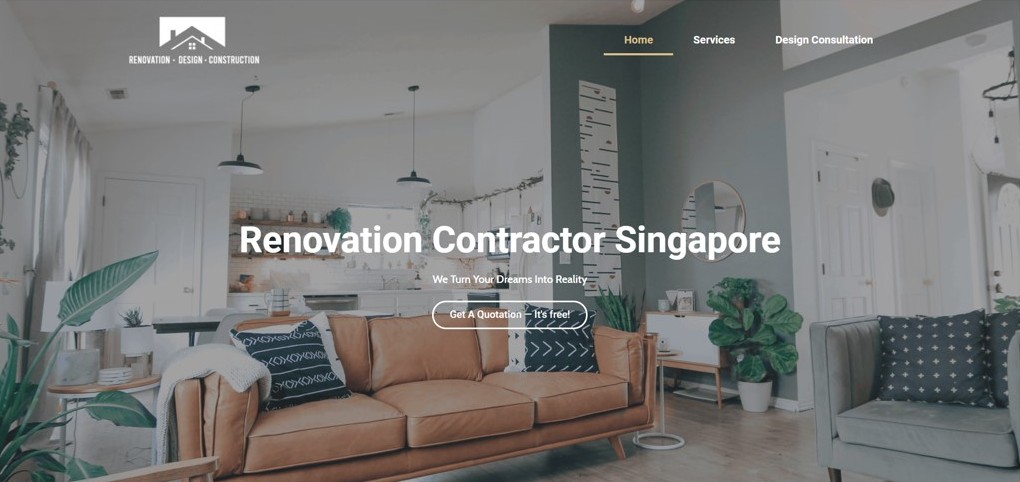 Renovation Contractor Singapore can turn your design dreams into reality. With award-winning interior designers at your disposal, they can create your perfect home from start to finish.
In their capable hands, any room can be both functional and inspirational. They can turn the heart of your home, the kitchen, into a space that inspires you to cook, bond, indulge and more.
This full-service contractor and interior designer can handle any job, big or small, be it a simple paint job or a full renovation. You'll find yourself in exceptional hands with licensed professionals, responsive customer service and excellent after-sales support.
That's why we put them in this list of the best contractors in Singapore. They provide some of the best services in the industry.
3. Singapore Carpentry

| | |
| --- | --- |
| BEST FOR | Design and build projects |
| SERVICES/SCOPE | Carpentry, interior design |
| PRICING | Browse the website for preferred services to learn more about their pricing. |
| WEBSITE | https://www.carpentry.sg/ |
| ADDRESS | 90 Sophia Road Singapore (228160) |
| CONTACT | +65 8100 4193 |
| PAYMENT | Contact for payment options |
Singapore Carpentry group is a leading carpentry firm in Singapore that provides quality carpentry services without the hefty price tag.
They have a factory space of more than 8,000 square feet, and more than 30 in-house, skilled carpenters who can meet your needs in terms of custom-made carpentry.
Singapore Carpentry group also has an umbrella of subsidiaries with a comprehensive team of designers and in-house sub-contractors to offer a range of modelling and building services such as full renovation and design & build projects.
We think they're among the best contractors in Singapore if your project is going to involve a lot of woodwork, in particular. They truly shine in that area.
4. Arcxource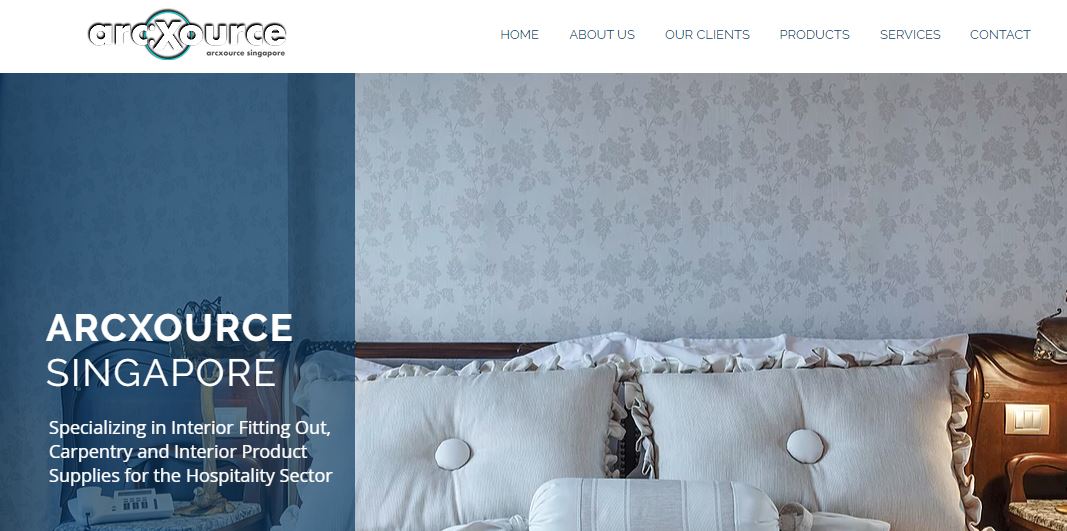 ARCXOURCE SINGAPORE is a multifaceted company with divisions dealing in interior fitting out and carpentry works, interior products supplies, as well as maintenance and repairs.
The brands, products and services they distribute are continuously expanding as they establish more partnerships to suit the market trends and client demands.
5. Calvary Carpentry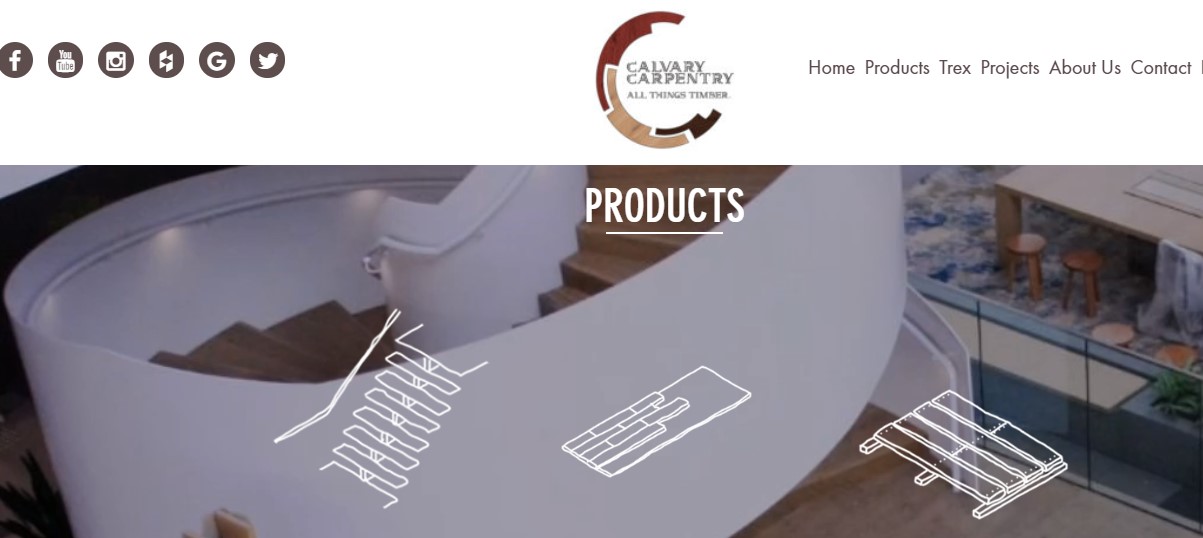 BEST FOR
Timber specialists
SERVICES
Specializes in timber products such as:
Decking
Composite decking
Timber Flooring
Stairs
Trellises,
Fences
Wall cladding
Timber Benches
Loft
OSMO Wood Varnish
ADDRESS
Calvary Carpentry Pte Ltd
#07-26 Northpoint Bizhub
2 Yishun Industrial Street 1
Singapore 768159
CONTACT
6684 4012


[email protected]

WEBSITE
https://calvarycarpentry.com/
Calvary Carpentry is a timber specialist that specializes in the the supply and installation of wood fixtures. They have a team of professional carpenters who have on average 15 years of experience with a combination of committed young executives to innovate and refurbish industry ideas.
Again, this is one of the best contractors in Singapore if your project requires a lot of woodwork. For custom timber installations and construction, they're absolutely amazing!
6. Thomson Renovation Contractor
BEST FOR
Professional contractors
SERVICES
Renovation Services
Kitchen Renovation Services
Bathroom Renovation Services
ADDRESS
42 Canberra Drive Singapore (768434)
CONTACT
Email: [email protected]
Tel: +65 97999375
WEBSITE
https://thomsonreno.com.sg/
Thomson Renovation Contractor has over 10 years of experience in the building industry, completing a wide assortment of renovation and general building works among residential and commercial projects in Singapore.
They always aim to deliver seamless project management and exceptional final results, regardless of the project's size and complexity.
7. TK Contractors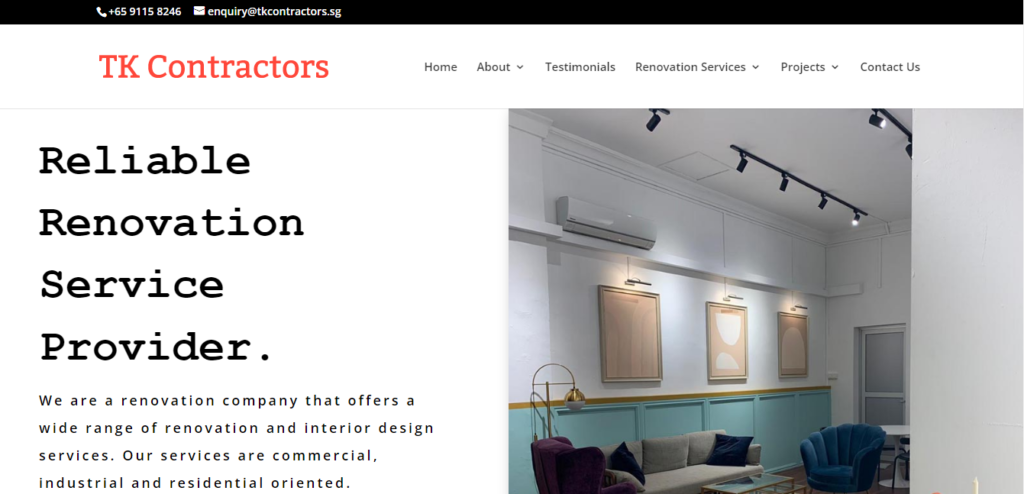 BEST FOR
Renovation Services
SERVICES
Carpentry, Supply & Install, Residential and Commercial Projects
ADDRESS
M-space, 6D Mandai Estate #03-12, Singapore 729938
CONTACT
Mobile: +65 9115 8246
Email: [email protected]
WEBSITE
https://tkcontractors.sg/
TK Contractors is a company that specializes in all sorts of renovation jobs and interior design for residential, commercial, and even industrial settings. All of their services and standards are accredited and certified by various interrelated associations as well.
Their website is very accommodating and geared to present clients what each of their services entail and include. However, price ranges are lacking with the descriptions of their services, but they do provide free quotes
The location of their office, showroom, and workshop are simply in one address so clients will not be confused which one to go to should a concern arise. Not only that, but they also currently have 5-star ratings for Google due to their timely delivery yet quality services.
Clients also enjoy straight from the workshop quality that can also be personalized according to specification and request at any time prior to constructing the furniture. Furthermore, from start to finish, they have the services and right expertise for the job.
Any queries about them or the others in this list? Send us a message and we'll get back to you!
You can also send us suggestions for more contractors if you think we missed some amazing ones. But be sure to tell us why they're amazing, of course!