Do you have a tree in your property that needs to be removed? Or perhaps an uprooted one that needs to be hauled?
Taking good care of this matter is every property owner's job. After all, we're not only adding value to our property, but we're also keeping our loved ones safe. To help you find trustworthy helpers to get the job done right, we listed six professional tree removal companies in Sydney.
Read on and learn the services they offer and, of course, the relevant details you need to know about them.
So, what are we waiting for? Let's begin.
1. Get Lopped Tree Services

BEST FOR
Treescape management
SERVICES
Tree removals

Land clearing

Tree pruning

Stump grinding

Mulching

Arborist reports

ADDRESS
20 Clevedon Street, Botany, Sydney, NSW 2019
CONTACT
Phone: 1800-438-567

Email: [email protected]

WEBSITE
https://www.getlopped.com.au/
Founded in 2008, Get Lopped Tree Services is a leading tree service company based in Sydney. From a small, two-man team, it has grown to a fleet of ten trucks, twenty-member staff, and five chippers. If you hire Get Lopped Tree Services, you will certainly have the peace of mind. Sydney knows these folks to provide exemplary services and deliver complete customer satisfaction.
Why choose Get Lopped Tree Services?
Liability insurance available
24/7 emergency callouts
Free inspections
2. Shane's Trees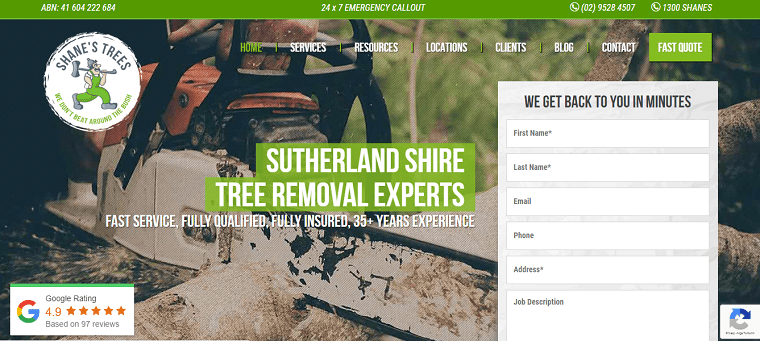 BEST FOR
Tree removal
SERVICES
Tree pruning and trimming

Stump grinding

Free woodchip

Palm removal

Land clearing

Arborist reports

Golf course maintenance services

ADDRESS
4 Cherana Place, Kareela, Sydney, NSW 2232
CONTACT
Phone: 02-9528-4507 | Mobile: 0422-927-381

Email: [email protected]

WEBSITE
https://www.shanestrees.com.au/
Shane's Trees is a team of arborists and professional climbers with over 35 years of industry experience. They carry all the required qualifications and are completely insured. With extensive knowledge and training, they have perfected the craft of safely removing messy and dangerous trees from your property with minimum to zero disturbances.
Why choose Shane's Trees?
Fully qualified and insured
Priority on safety
Free quotes and advice
Quality guarantee
Free no-obligation inspection
3. Tall Timbers Tree Services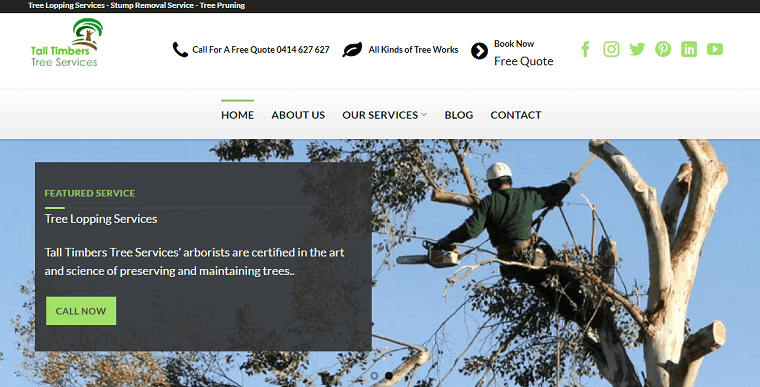 BEST FOR
Tree lopping services
SERVICES
Tree removal

Stump removal

Tree pruning

Tree felling

ADDRESS
1 Rider Boulevard, Suite 10B, Level 10, Rhodes, Waterside Shopping Centre, Sydney, NSW 2138
CONTACT
Phone: 0414-627-627

Email: [email protected]

WEBSITE
https://talltimberstreeservices.com.au/
For stress-free tree removal, Sydney trusts Tall Timbers Tree Services. Phillip Couzal started the company in the early 1990s, and since then, it has mastered every single species of trees. With this knowledge, they have been able to protect lawns, properties, estates, and commercial establishments.
Why choose Tall Timbers Tree Services?
Free quotes
A comprehensive range of tree surgery and tree removal services
State-of-the-art equipment and techniques
Fully qualified arborists
4. High Point Trees

BEST FOR
Tree management
SERVICES
Tree removal

Emergency tree removal

Tree pruning

Palm tree removal and palm cleaning

Tree maintenance

Gardening

Tree services

Land clearing

Stump grinding

Gutter cleaning

ADDRESS
Not available
CONTACT
Phone: 0412- 333-013
WEBSITE
https://www.highpointtrees.com.au/
High Point Trees is Sydney's local experts for tree removals and services. For over a decade, they have been helping the city to stay clean and green. As a member of the National Arbour Society, they follow high-quality environmental and safety standards. High Point Trees operate in all major areas of the Western Sydney region and Hills District.
Why choose High Point Trees?
24/7 emergency tree removal
Member of National Arbour Society
Honest and fixed pricing
Free no-obligation quote and advice
Fully insured
10% senior discount for tree removal
5. Sydney Tree Co.

BEST FOR
Tree removal and preservation
SERVICES
Canopy reduction

Tree pruning

Mulching

Stump grinding

Tree surgery

Property care

Maintenance and planting

ADDRESS
501/233 Castlereagh St, Sydney NSW 2000
CONTACT
Phone: 0431- 732-265

Email: [email protected]

WEBSITE
https://sydneytreecompany.com.au/
For over 16 years, Sydney Tree Company has been a family-owned and operated tree service company. They provide top-notch tree removal services in Sydney's metropolitan area and surrounding communities. The company has established its reputation through the customers' word of mouth.
Why choose Sydney Tree Company?
Comprehensively insured
Professional workmanship in line with the Australian Standards
Specialty equipment for safe services
6. JW Tree Services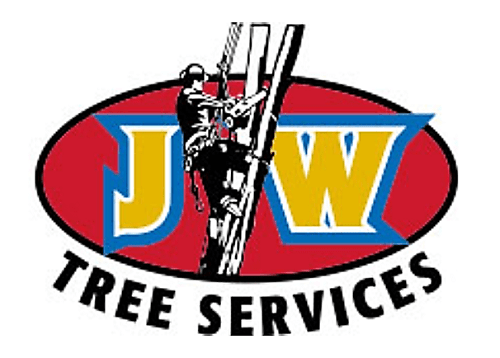 BEST FOR
Tree services
SERVICES
Tree removal – Sydney

Stump grinding

Tree pruning

Crown thinning

Crown lifting and raising

Crown reduction

Dead wooding

Hedge trimming

ADDRESS
Mailing: P.O. Box 3279 St. Pauls 2031
CONTACT
Phone: 0417-689-996

Email: [email protected]

WEBSITE
https://jwtreeservices.com.au/
James Whiston started JW Tree Services with the goal of providing Sydney with professional tree services. They offer top-rated arboricultural services for domestic and commercial clients. From diagnosing the issue to performing decorative hedge trimming to stump grinding, they can successfully accomplish the job.
Why choose JW Tree Services?
Free, no-obligation written quotations
20+ years of industry experience
Friendly and efficient services