Whether you're planning on replacing, repairing, refurbishing or recoating your roof, working with a reliable roofing company can benefit you in so many ways. Aside from that fact that they can do any roofing job for you the right way, they are also available anytime you need them. Local roofers, especially those that offer emergency services, will be with you as soon as possible, ready to solve any issues you have with your roof system. Moreover, these experts are also familiar with international building regulations, local codes, and other industry guidelines, ensuring that all work will be carried out safely.
Those are just some of the great things about hiring professional roofers. And if you're still unsure about working with one, perhaps checking out these 6 best roofing companies in Vancouver will convince you. They provide excellent services in their own ways, and by reading further you'll learn how they could be of great help to your next roofing project!
1.     Cooper Roofing Vancouver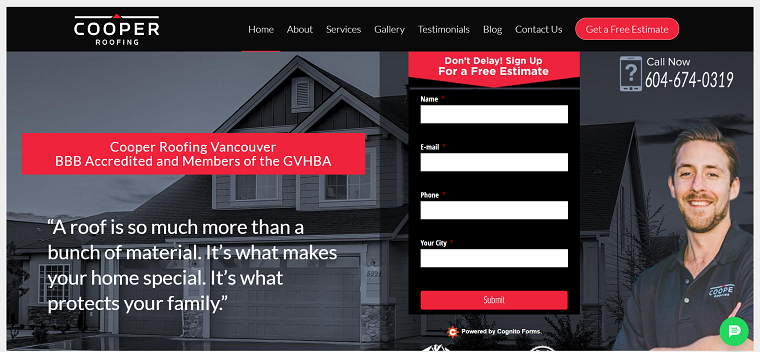 Best For
General Roofing Work
Services Offered
Commercial and residential roofing

Emergency repairs

Roof clean up

Roof installations and maintenance

Metal, shingle, and torch-on roofing

Address
600-1285 W Broadway,

Vancouver V6H 3X8

Contact Information
604-674-0319
Website
https://cooperroofs.ca/
Known as the top-rated roofing company in Vancouver, Cooper Roofing Vancouver continues to be of great help to commercial and residential sectors by offering quality general roofing services and roof repairs. Their team understands how important your roof is so they always make sure that their solutions are effective, keeping your property secure at all times. Call them now at 604-674-0319 if you need expert assistance with roof maintenance or handling various roofing systems such as shingle, torch-on, and metal roofs.
2.     Penfolds Roofing & Solar

Best For
General Roofing and Solar Services
Services Offered
Roof removal

New roof installation

Roof repairs

Solar panel installation

Commercial and residential services

Emergency services

Address
2230 Hartley Ave., Coquitlam, BC V3K 6X3, Canada
Contact Information
 1-877-252-2007; 604-254-4663
Website
https://www.penfoldsroofing.com/
Penfolds Roofing & Solar is the expert you should go to if you're looking for highly efficient roofing and solar services in one company. Since 1937, they have been catering to the various roofing needs of Vancouver residents, covering anything from emergency roof leak repairs, cedar roof installations, and flat roofing. And of course, to help you reduce your electric consumption and do more good for the environment, they can offer you with rooftop solar panel installation service based on your exact needs.
3.     Millwall Roofing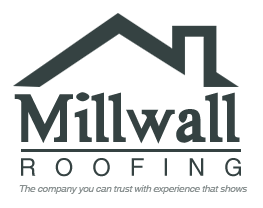 Best For
General Roofing Work
Services Offered
Residential and commercial roofing

Roofing repairs and maintenance

Address
2090 W 1st Ave Vancouver, BC V6J 1J5
Contact Information
604.763.1930
Website
http://millwallroofing.com/
Millwall Roofing truly excels in many aspects of roofing work, making them one of the trusted experts to call on for general roofing services. Because they're a full-service roofing company offering a broad range of services, they can handle all commercial and residential needs. And with their many years of experience in the business, they sure know how to handle many roof types including asphalt shingle, cedar, and slate roofs.
4.     Macbeth Roofing & Waterproofing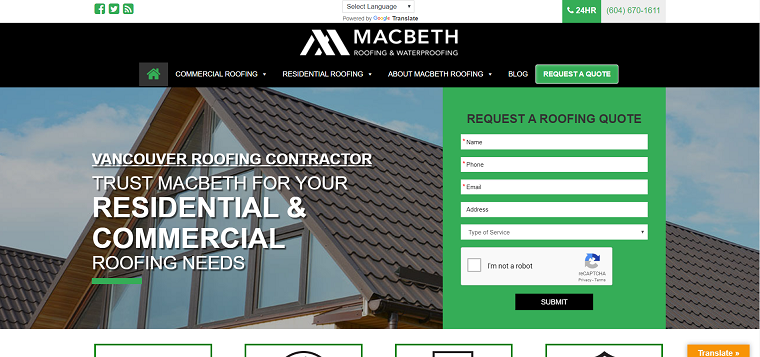 Best For
Residential and Commercial Roofing
Services Offered
Built-up roofs

Roof repairs, installations, and maintenance

Guttering services

Metal flashings

Cedar, asphalt, metal, and zinc roofing

2-ply torch-on system

Emergency services

Address
1275 W 6th Ave,

Vancouver, BC V6H 1A6

Contact Information
(604) 670-1611
Website
https://macbethroof.com/
Macbeth Roofing & Waterproofing is another company that has been sought after by many because of their top-notch commercial and residential roofing solutions. By treating every client with honesty, integrity, and respect, they are able to gain the trust of numerous Vancouver residents. In addition to that, their roofers always guarantee to complete every work following the safety standards and to the highest quality. Hence, you're certain that your roof is in great hands when you hire them.
5.    Tonys Roofing LLC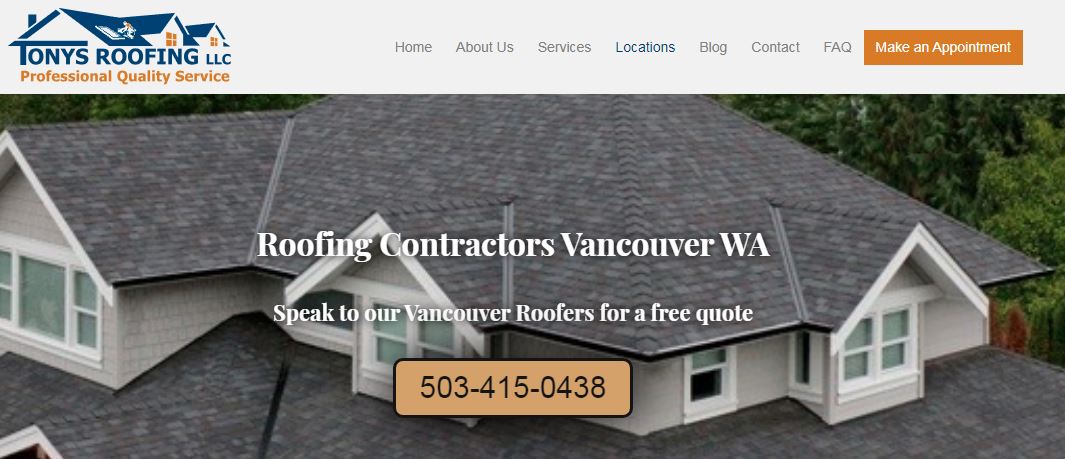 Tonys Roofing LLC is a well-known company for their professional work on roofing services such as roof replacements, roof repairs, roof inspections, roof cleaning, and more. They have over 20 years of roofing experience and over more than hundreds of homeowners helped.
6.     MPG Roofing

Best For
General Roofing Work
Services Offered
Residential, commercial, industrial, and strata roofing

Gutters and downspouts

Waterproofing

Maintenance and repairs

Skylight services

New and re-roofing

Address
1892 W Broadway, Vancouver, BC V6J 1Y9, Canada
Contact Information
604-226-3866
Website
http://ww1.mpgroofing.com/
MPG Roofing is another name you can trust for general roofing work. Whether you own a commercial, residential, or industrial building, they have an experienced team that can handle your roofing project. You can depend on them for professional roof maintenance or prompt emergency roof repairs. If you think your existing roof needs a refresh or you require a new one, they can offer your re-roofing service or even build a new roof for you.
7.     Above All Roofing

Best For
Residential Roofing
Services Offered
Emergency repairs

Skylight installation and repairs

Re-roofing

Installation services

Gutter installation and maintenance

Carpentry, drywall, and painting

Address
3346 Calder Avenue, North Vancouver, BC  V7N 3R5
Contact Information
604-985-9214
Website
https://aboveallroofingltd.ca/
Above All Roofing takes pride in its more than 30 years of experience in the roofing industry. In this span of time, they were able to provide useful advice, excellent workmanship, and of course, professional roofing services at fair prices to numerous Vancouver residents. Their main services include emergency roof repairs, shingle roofing, and skylight installation, just to name a few. They can also do painting, roof reconditioning, and gutter maintenance upon request.