Trustworthy handyman service providers who are local and do not exact steep prices are always hard to find. Fortunately, there are those who are a cut above the rest and thus, have become formidable presences in the industry. They are listed below as part of the 10 best handyman services in San Diego for any project or budget.
1.  Unstoppable Handyman San Diego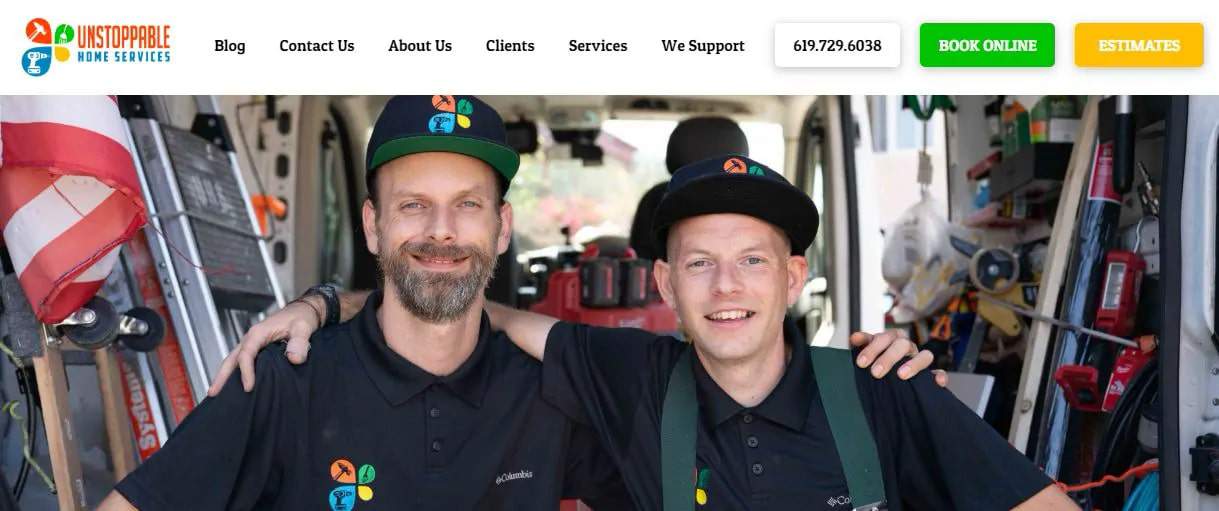 | | |
| --- | --- |
| BEST FOR | Outstanding workmanship, timely discounts, trusted handyman company |
| SERVICES/SCOPE | Repairs, Installations, Plumbing, Drywall, |
| PRICING | Request a free estimate |
| WEBSITE | https://unstoppablehandyman.com/ |
| ADDRESS | Lemon Grove, CA 91945 |
| CONTACT | +1 619-729-6038 | +1 619-649-8588 | [email protected] |
| PAYMENT | Cash, check, or bank transfer |
Unstoppable Handyman San Diego is a handyman company that is local and family-owned. They provide outstanding workmanship regardless of the extent or magnitude of the task, which is why they are sought after by San Diego residents. They even offer timely discounts as gratitude to customers who regularly call them for their handyman services. Because of this, they have forged strong relationships with their clients.
2.  San Diego Pro Handyman (SDPH)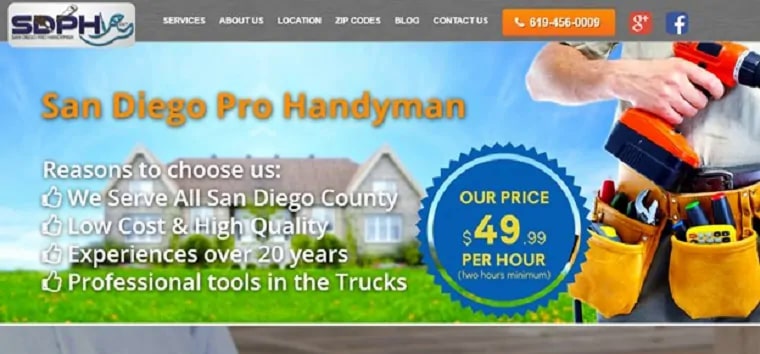 BEST FOR
Fully equipped crew, material provision, serves all of San Diego County
SERVICES/SCOPE
Carpentry Services, Plumbing Services, Electrical, Heating, Tile/Stone, Painting, Packing, Appliance Repair, Fence & Gate Repair, Air Conditioner, Ceiling Repair, Drywall Repair, Furniture, Blind-fitting,
PRICING
$49.99 per hour, two hours minimum
WEBSITE
https://sdpro-handyman.com/
ADDRESS
7514 Girrard Ave., Unit 1

 

La Jolla, CA 92037

CONTACT
+1 619-456-0009 | [email protected]
PAYMENT
Cash, check, or bank transfer
San Diego Pro Handyman is a fitting name for this company, as they indeed serve the entire San Diego County. They are also real professionals who arrive on site fully equipped with the required manual and power tools, including ladders. And in case you require additional materials, they can select and shop what you need and want for you. With SDPR, you are sure to get what you paid for since they deliver only top-notch handyman services from carpentry to furniture assembly and blind-fitting. They are reasonably priced and they finish the job in a realistic amount of time.
3.  The Handyman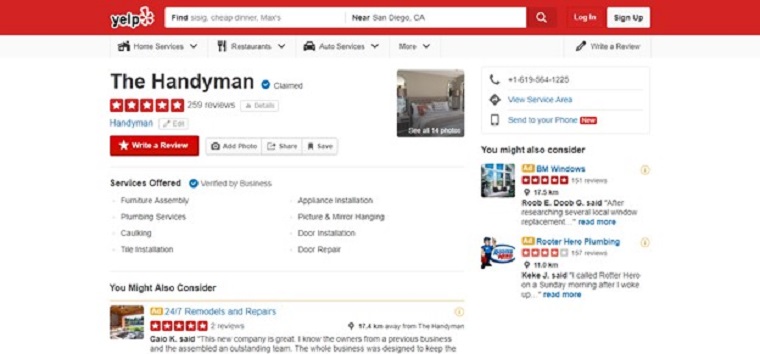 | | |
| --- | --- |
| BEST FOR | Outstanding customer service, same day fix, creative solutions |
| SERVICES/SCOPE | Furniture Assembly, Plumbing Services, Caulking, Tile Installation, Appliance Installation, Picture & Mirror Hanging, Door Installation, Door Repair |
| PRICING | Request a quote |
| WEBSITE | https://en.yelp.com.ph/biz/the-handyman-san-diego |
| ADDRESS |   |
| CONTACT | +1 619-564-1225 |
| PAYMENT | Cash or check |
The Handyman is a one-man team that services the vicinity and immediate surroundings of San Diego. The person behind this is known to many customers as very communicative and helpful. He even provides advice even if he cannot offer his services to clients in certain areas. Furthermore, his previous customers know him to be prompt and at times, he can offer same-fixes. Because of this, he has received glowing reviews from grateful clients.
4.  Done Today by CJ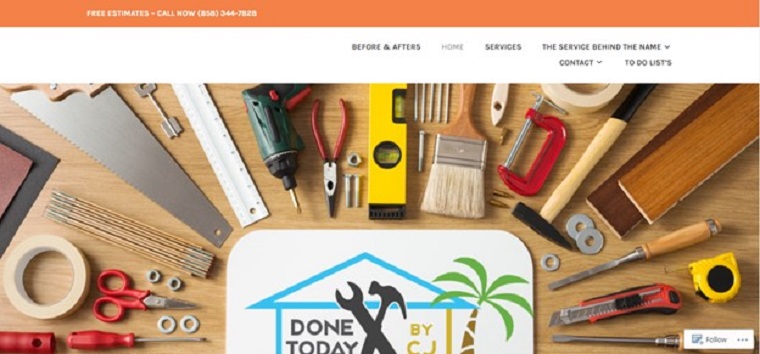 | | |
| --- | --- |
| BEST FOR | Fast turnaround time, water vessel servicing |
| SERVICES/SCOPE | Home & Property Repairs, Installations, Fences, Patio Covers, Decks & Gates, Drywall, Texture, Painting, Light Electrical & Plumbing, Framing and Carpentry Finish |
| PRICING | Request a quote |
| WEBSITE | https://donetodaybycj.com/ |
| ADDRESS | Pacific Beach, CA 92109 |
| CONTACT | +1 858-344-7828 |
| PAYMENT | Cash, check, or bank transfer |
Done Today by CJ is a unique handyman services company because aside from the standard offerings, they also provide vessel maintenance services. As such, they have a wide variety of clients who have had them work on their homes as well as on their vessels. In any case, the company ensures that all work requests you made are carried out diligently and promptly. As such, you can enjoy a well-maintained home sooner.
5.  She Fixed It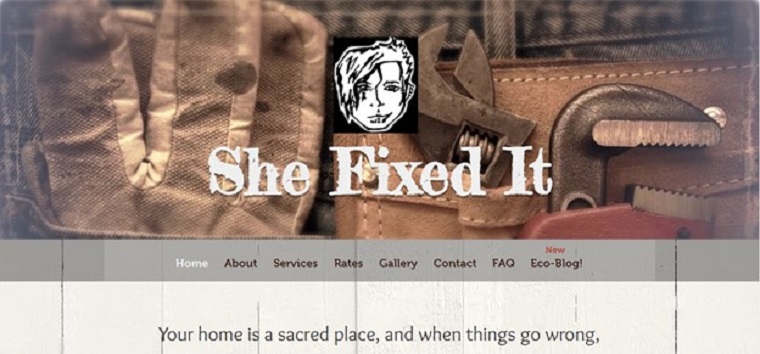 | | |
| --- | --- |
| BEST FOR | Transparent service scope, visible rates, trustworthy work |
| SERVICES/SCOPE | Preventative Maintenance, Carpentry, Electrical, Plumbing, Drywall & Painting, Exterior Work, Furniture Assembly, Picture Hanging, Security, Miscellaneous Services |
| PRICING | From $70.00 for handy services and from $50.00 for painting jobs. The rates indicated here are exclusive of travel rates. |
| WEBSITE | https://www.shefixedit.com/ |
| ADDRESS |   |
| CONTACT | +1 206-769-8035 | [email protected] |
| PAYMENT | Cash or check |
She Fixed It may be unique to most people because it is owned by a female proprietor but this company does offer a wide range of handyman services, from maintenance to carpentry. She also offers solutions to security challenges to ensure that you feel safe in your home. Other than her trustworthiness when it comes to her service delivery, she is also transparent in what she can and cannot do for you. On top of that, her rates are visible as well as the smaller print. As such, you can avoid confusions and conflicts regarding payment.
6.  Rancho Bernardo Handyman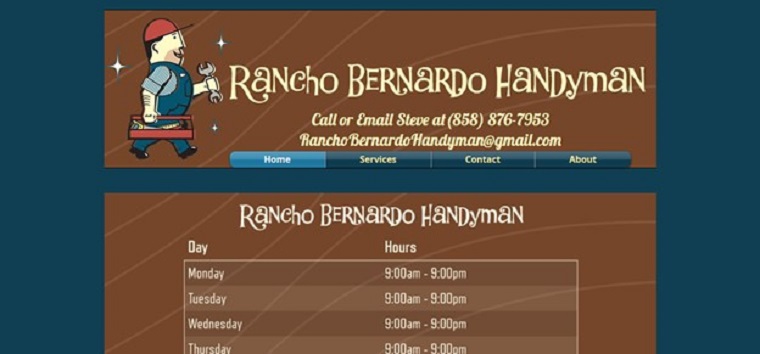 BEST FOR
Computers, audio and video troubleshooting, long hours
SERVICES/SCOPE
Repair, Installation, Painting, Carpentry, Plumbing, Electrical, Heating & Cooling Troubleshooting & Repair, Hanging Pictures & Shelves, Smoke Detector, Home Security, Power Washing, Custom Work, Odd Jobs
PRICING
Call or email for rates
WEBSITE
https://www.ranchobernardohandyman.com/
ADDRESS
11956 Bernardo Plaza Drive #240

 

San Diego, CA 92128

CONTACT
+1 858-876-7953 | [email protected]
PAYMENT
Cash or check
Rancho Bernardo Handyman is a one-man team that you can rely on for repairs, installations, carpentry, custom work, and odd jobs. Before you call big companies, you can first get in touch with this small company, as they can offer top-notch services without the steep price tag. Aside from the standard handyman services, this firm can also help you set-up your computers and troubleshoot your audio and video appliances.
7.  Finest City Handyman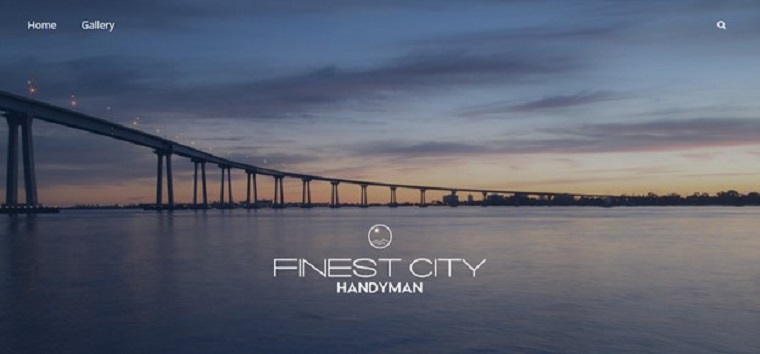 | | |
| --- | --- |
| BEST FOR | Carpentry and woodworking, reasonable prices, excellent service |
| SERVICES/SCOPE | Flooring Installation, Caulking, Flooring Repair, Door Installation, Tile Installation, Carpentry, Woodworks, Plumbing, Electrical, Finish Work |
| PRICING | Ask for a quote |
| WEBSITE | https://www.finestcityhandyman.com/ |
| ADDRESS |   |
| CONTACT | +1 562-661-9771 | [email protected] |
| PAYMENT | Cash or check |
Finest City Handyman specializes in carpentry and woodworking and have excellent reviews in that area. The firm offers reasonable prices for jobs and always delivers top-notch services to customers. He is also known to clients as honest and reliable, thus they give him high ratings and glowing reviews.
Many of the listed service providers are one-man teams that neighborhood people rely on for their everyday maintenance and repair needs. Plus, some of them can handle heavier tasks too! All you need to do is ask to make sure.
8. Castle Handyman Services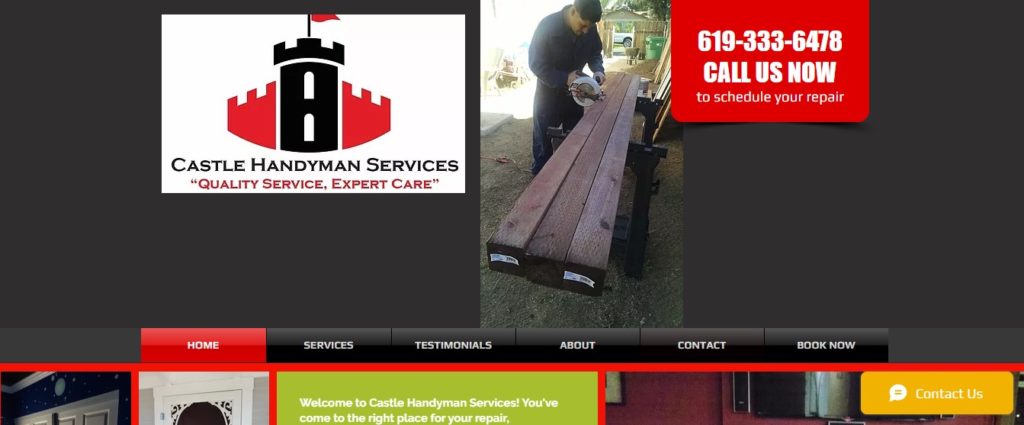 The professional handyman behind Castle Handyman Services is Joe Urista. The company was established in 2013 and he has been providing handyman repairs and installations for homes and small businesses ever since.
Given their extensive range of services, they can almost cater to everyone. From your plumbing and electrical to flooring and painting needs, they can serve you.
What sets them apart from other companies is how he responds quickly. So if you need emergency services, you may want to consider calling him for an easy and quick fix.
Lastly, for quality service and expert care, their price is always reasonable as they do not hide additional fees.
9. Matthew Jenkins Handyman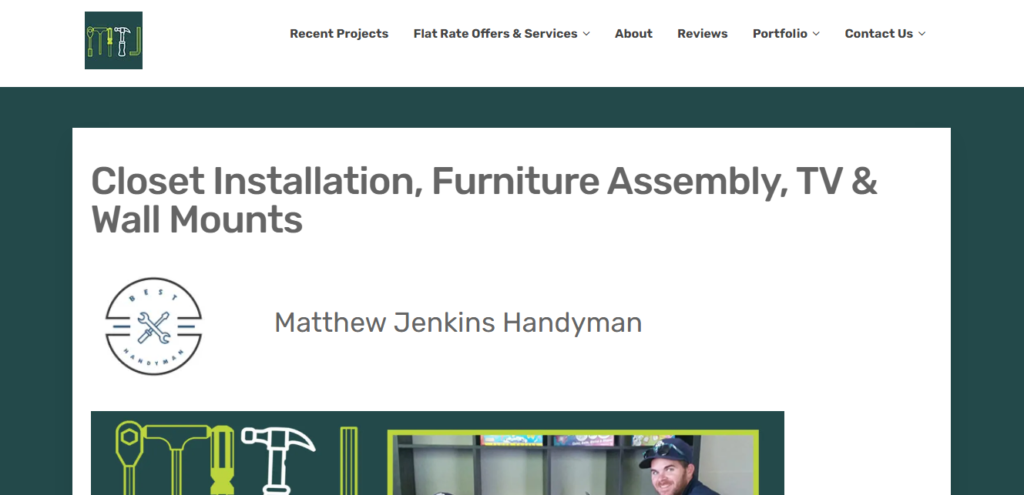 Matthew Jenkins Handyman is a business started by an individual who has expertise when it comes to all sorts of handyman services such as repairs, installations, and event set-ups. With a passion for fixing, he has since then acquired several years in the industry before spearheading a business of his own.
The website is simple and straightforward and presents the needed information in a way that clients will not have a hard time understanding. Though there are minimal visual aids, the inclusions and the rates of the services are clearly stated for each one.
Though some handyman services may not be fit for his expertise, he is able to refer clients to other professionals to ensure clients that they get the best work possible. Furthermore, a strong testament to his excellent services can be seen on the portfolio and recent projects which clients can easily access as well.
Transactions are also made hassle-free and convenient since the company also accepts both cash and online payments and is secured using Quickbooks.
10. North San Diego Handyman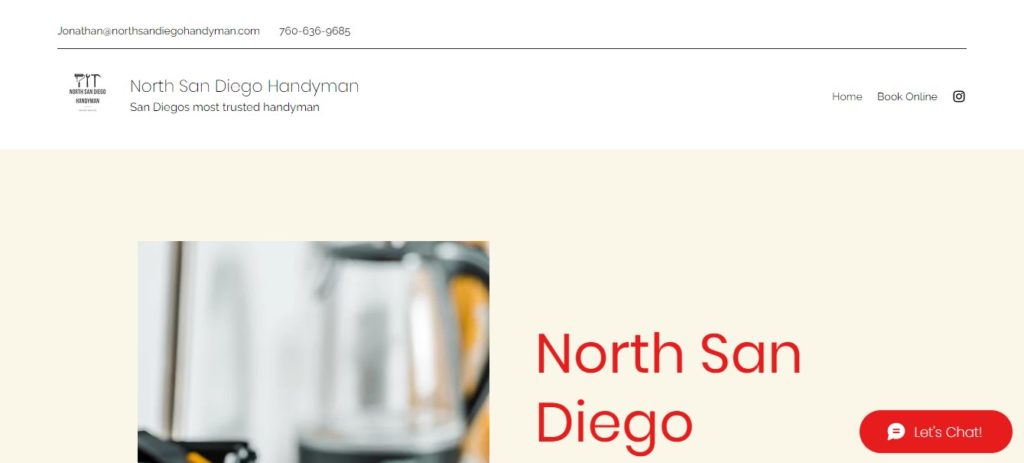 BEST FOR
Indoor and Outdoor Fixes
SERVICES/SCOPE
Drywall Repairs
Tile Installation
Stucco Services
Full Home Painting Services
Custom Fence Installation
PRICING
Contact for more information
WEBSITE
https://www.northsandiegohandyman.com/
ADDRESS
3830 Front Street #3, San Diego, CA. 92103
CONTACT

[email protected]


760-636-9685
PAYMENT
Contact for payment options
Make your outdoor space look more beautiful with North San Diego Handyman. Given their years of experience with fence installation, you will be able to get your fences up in no time.
What goes well with new fences is a house that is newly painted. We prefer them over other companies when it comes to this service because they can supply both materials and labor.
You do not have to worry about a single thing, trust me.
Now if your issue is indoor, specifically on your drywall, do not worry because they can also do it for you. The reason why we love them for this type of repair is how their workers are detailed oriented.
They would always double-check their work and make sure that there is no damage left behind.
Unfortunately, their rates are not available on their website but they do give a free estimate once you call and tell them your issues.