Considering taking care of complicated roofing tasks all by yourself? Think again, and think carefully. Whether you have to deal with roof repairs, installation, replacement or maintenance, you should already know that hiring a roofing expert to help you is the most cost-effective way to go.
Why cost-effective, you ask? It's a common misconception that hiring roofers costs a fortune. Because in truth, many of them offer services at fair prices. And since these experts can guarantee superior work and results, you are sure to get excellent value for your money. So for no sweat roofing work and all-round outstanding service, we give you the 6 best companies in St Louis that you should be hiring for your next project.
1. Frederic Roofing Co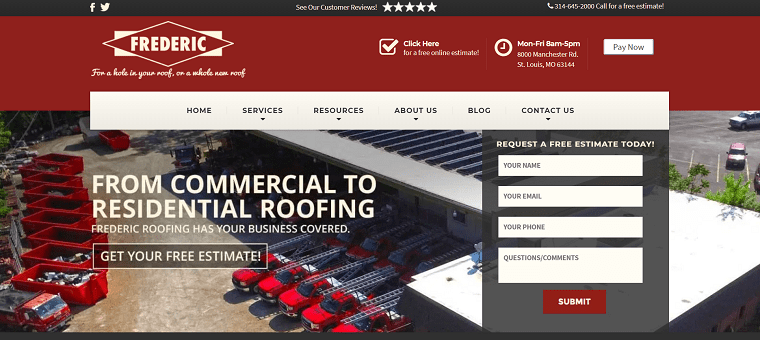 Best For
General Roofing Work
Services Offered
Commercial and residential services

New roofs and roof repairs

Roof cleaning

Tuckpointing

Gutters and downspouts

Masonry and sheet metal work

Address
8000 Manchester Rd.

St. Louis, MO 63144

Contact Information
314-645-2000
Website
https://www.fredericroofing.com/
When it comes to versatility, Frederic Roofing Co has already proved their worth in St. Louis. This company can handle both residential and commercial roofing projects, covering anything from general roofing, guttering, and masonry to sheet metal work. They are confident with the comprehensive range of services they have and the skills they gained over the years because through all these, they can accommodate every roofing need there is.
2. The Flat Roof Company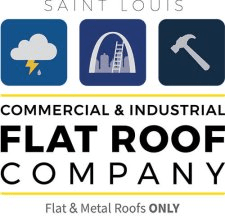 Best For
Commercial Roofing
Services Offered
Commercial, industrial, and residential roofing

Flat and metal roofing services

Roof restoration, repair, and replacement

Address
555 Washington Ave. Suite 310

St. Louis, MO 63101

Contact Information
314.995.2700
Website
https://www.theflatroofco.com/
The Flat Roof Company is the one you need if you're having trouble with commercial roofing tasks. From office buildings, commercial plazas, retail facilities to warehouses that in need of roofing solutions, their team will always be ready to help. Their more than 30 years of roofing experience means there won't be too simple or too complex of a roofing job for them to complete. In addition, the company also offers residential services, ensuring homeowners with durable and leak-free roofs.
3. Angle Roofing & Gutter Company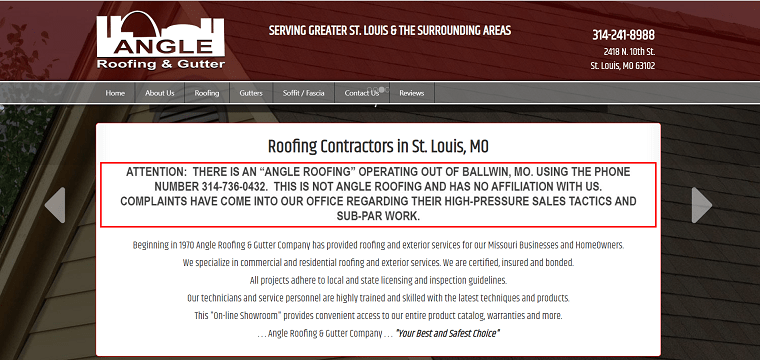 Best For
General Roofing Work
Services Offered
Residential and commercial roofing

Metal roofing

Soffit, fascia, and seamless gutter services

Address
2418 North 10th Street

St. Louis, MO 63102

Contact Information
314-241-8988
Website
https://angleroofing.com/
Angle Roofing & Gutter Company has begun helping St. Louis residents with their roofing issues in 1970. Up until now, their team showcases exceptional workmanship, offers great warranties, and delivers overall service that's second to none. Regardless if you need commercial or residential roofing solutions, their highly-trained team can provide exactly what you need, safely and efficiently.
4. MLK Roofing & Construction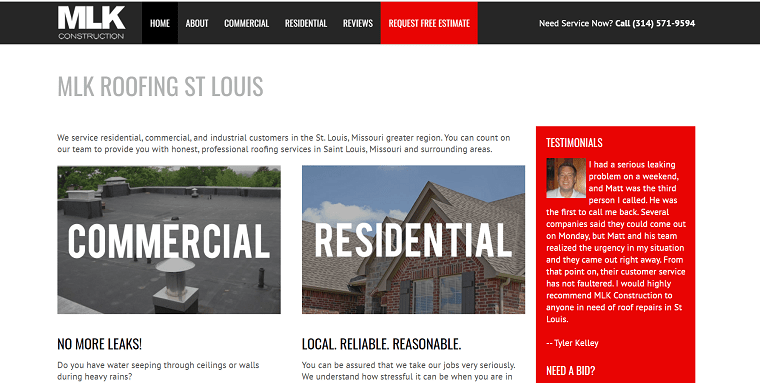 Best For
Commercial and Residential Roofing
Services Offered
Commercial, residential, and industrial roofing

Flat roofing

Leak discovery, repair, and prevention

Re-roofing and tear-offs

Hail and wind damage repairs

Address
1215 S. Jefferson Avenue

St. Louis, MO 63104

Contact Information
(314) 571-9594
Website
https://stlroofingcompany.com/
Tired of pesky roof leaks? Want to remove your old, rusty roof and replace it with a new one? Thinking of refreshing the look of your current roof? Whatever you want to achieve in your project, MLK Roofing & Construction can make it happen. They are a great choice of company if you're after prompt and professional roofing services done by well-trained roofers. Anything that's roof-related that you want them to do, they will do it with excellence.
5. B King Roofing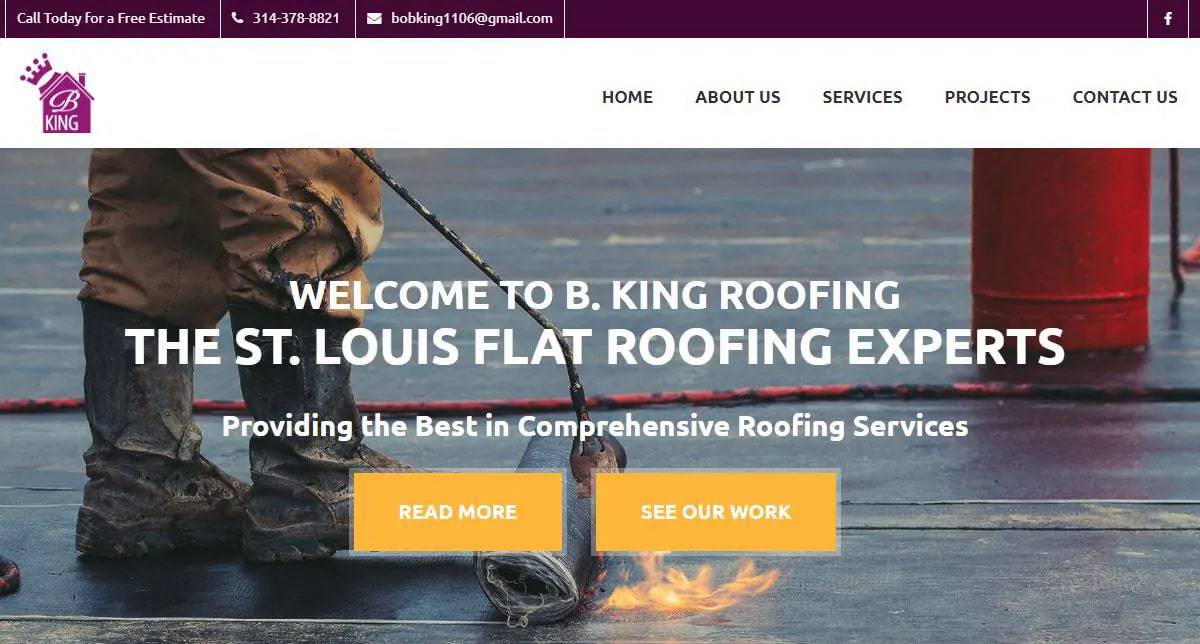 Since they began in 1979 as part of Roofers Local #2, B King roofing has been providing St. Louis homeowners and businesses with the best in roofing service. While they specialize in flat roofing, their expertise doesn't end there. Over the past 30 years, they have become a reliable and knowledgeable partner for the repair, replacement, and maintenance of any roofing application.
6. Home Perfect Exteriors

Home Perfect Exteriors believes in providing the kind of great customer service that earns client recommendations to family and friends. They are specialists in roof replacements & storm damage repairs. They pride themselves on delivering outstanding quality and 5-star service at affordable rates for clients large and small.
7. St. Louis Roofing & Exteriors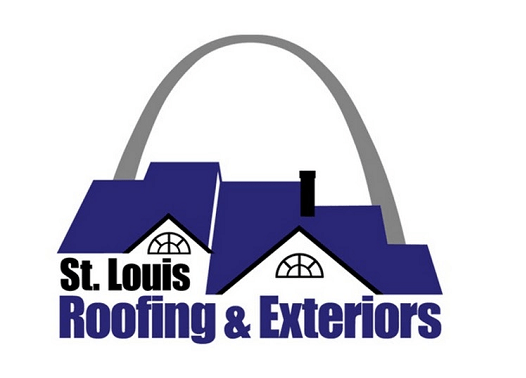 Best For
General Roofing Work
Services Offered
Roof repairs

Roof leak detection

Roof replacements

Commercial and residential roofing

Flat and shingle roofing

Address
11150 Lindbergh Business Ct #111

St Louis, MO 63123, United States

Contact Information
(314) 244-3799
Website
https://stlroof.business.site/
St. Louis Roofing & Exteriors is well-known for their promptness and great communication skills. Many commercial and residential establishments have trusted this company because aside from completing roofing work in the quickest way possible, they don't compromise on quality and still meet client expectations. They offer free inspections and estimates and specialize in low slope and flat roofing, guttering, roofing siding, and other general roofing work. For complete details, go to https://stlroof.business.site/.
8. Gateway Roofing LLC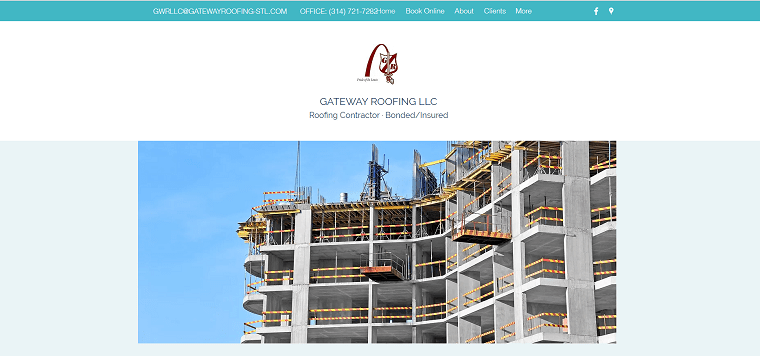 Best For
Low-slope Roofing
Services Offered
Commercial and industrial roofing

General roofing work

Low-slope roofing

Address
6117 Minerva Ave, St. Louis, MO 63133, USA
Contact Information
(314) 721-7282
Website
https://www.gatewayroofing-stl.com/
Low-slope roofs are among the most budget-friendly options today. Also, their upkeep duties are simple to carry out, making them ideal for those looking for low-maintenance roofs. So if you think low slope roofing will benefit you and your property, then you can get it at Gateway Roofing LLC. They specialize in this kind of product, enabling them to provide you with high-quality roofing system coupled with material and labor warranties. For more details, visit their website: https://www.gatewayroofing-stl.com/.