Looking for a qualified and prompt plumber? If you are, our list here of the best plumbers in Henderson, NV is made for you.
But before we go straight to our top choices, we'll go over their rates for a bit. By doing this, you will be able to pick one that offers the best price for its service.
If you're ready, let's start!
How Much Does Hiring a Plumber Cost in Henderson, NV?
Hiring a plumber in Henderson, NV typically costs around $169 to $500 or $331 on average. These figures were taken from Home Advisor, a trusted home services website.
The price will depend on several factors, namely the size and type of the work, parts, special equipment, and trip costs. Calling a plumber during out-of-hours or emergencies will incur a higher cost.
Clients will either pay the plumber a flat or labor rate. The labor rate often ranges from $45 to $200 per hour, while flat rates stay within the $140 to $5,500 range as you can see in the table below.
| | |
| --- | --- |
| Plumbing Service | Price Range |
| Toilet repair | $140 – $300 |
| Leaking or burst pipe repair | $150 – $350 |
| Drain clearing | $200 |
| Waterline repair | $300 – $4,000 |
| Water heater repair | $550 |
| Sewer main installation | $3,000 |
| Septic tank installation | $5,500 |
Before you call or message the plumber, it helps to look at the available special offers on the website. This is so the plumber can lower your price in your written estimate.
Also, to get the best price, you can get quotes from different plumbers and select the one you feel is the most cost-effective for you.
The Best Plumber Options in Henderson, NV
Now that you have a good idea of how much plumbing services cost, let's proceed to our best plumber options in Henderson, NV!
1) Innovative Plumbing Pros, LLC

SERVICES
Residential Plumbing
 
Drain cleaning
Faucets repair/install
Garbage disposal repair/replace
Gas line repair
Leak detection
Sewer inspection
Sewer repair/replace
Toilet repair/replace
Water heaters
Waterline repair/replace
 
Commercial Plumbing
 
Copper piping
ADA compliance
Potable water systems
Sanitary waste & vent
Code compliance
Acid waste
Grease trap interceptors (install)
Heating hot water
Chill water
Backflow preventers
Natural gas
Storm drains
Seismic
New construction
Urinals (waterless and standard)
Flush valves
Toilet chair carriers
Floor drains
Floor clean-outs
Combination waste & vent
Floor sinks
ADDRESS
661 Powder Brook Dr., Henderson, NV 89002, USA
CONTACT DETAILS
702-672-7567


[email protected]

WEBSITE
https://innovativeplumbingpros.com/
For licensed and prompt plumbers, Innovative Plumbing Pros is one of the best options for plumbers in Henderson, Nevada.
It's a family-owned and operated company whose technicians have more than 20 years of combined experience. They offer a great range of plumbing services from leak detection to new-build fixture installs, and everything in between.
Whether you have an issue with your home or business plumbing, their team can handle it. They use state-of-the-art equipment like sewer video cameras and hydro-jets to provide fast and efficient work.
Besides that, they can take on emergency jobs 24/7 to get you out of your plumbing quagmire.
And they guarantee all their workmanship to give you peace of mind.
Asking questions or setting an appointment is also easy with them. You'll be assisted by their polite and knowledgeable staff over the phone or by email.
Their rates have been reported by clients to be great and fair. The company offers plenty of specials online such as a military discount for those fighting for the country and people, for one.
Find the estimate too high for your plumbing project? You can also apply for their financing to spread even the costs over several months.
Innovative Plumbing Pros covers clients located in Henderson, NV with same and next-day service. You can request a quote or schedule a service with them online.
Certified and insured plumbers
Gives a satisfaction guarantee
24/7 emergency services available
Offers a military discount
Has finance options
Closed on the weekends
Complaints about promptness & customer service
Customer Reviews
The plumber scored a fantastic 5/5 stars on Google. Many clients lauded them for coming on time, answering all their questions, and performing the work efficiently.
One homeowner named Ryan said this of the plumber:
"Although I didn't use Innovative Plumbing for the work that I need at my house. They were very professional, honest, and prompt. The technician that came to my house and the staff in the office that scheduled the service were all very professional and polite."
Furthermore, Carlos wrote this:
"Was dealing with a horrible plumbing company that didn't communicate with me what was going on. So my friend Kenny (comment below) recommended this company. I emailed them with the part that I needed and if they had it. Sure enough they responded right away saying that they did have it and could be here the next day. Jose showed up the next day to save the day from that annoying leak that had been going on for over a week. Thanks! Jose and Innovative Plumbing Pros."
2) Sin City Plumbing & Maintenance LLC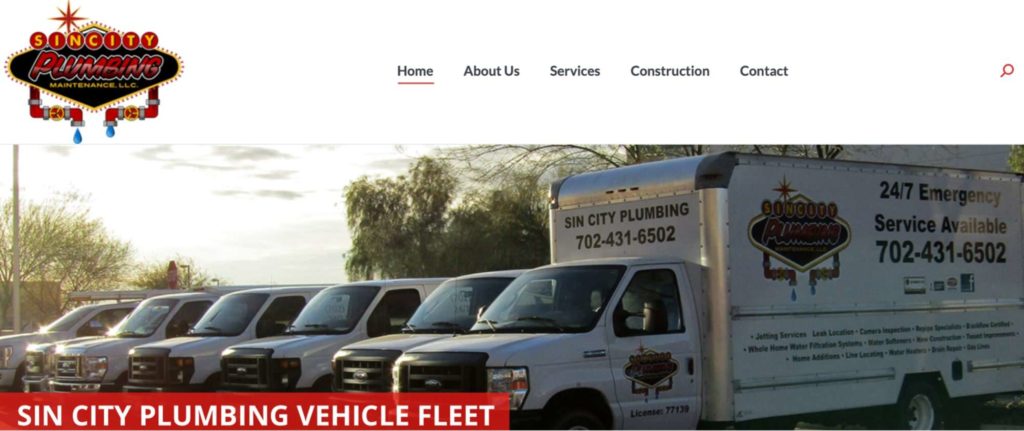 SERVICES
Plumbing repairs
Sewer & drain cleaning
Water heater repair & replacement 
Tankless water heaters
Leak detection & repair
High-pressure hydro-jetting
Video pipeline inspection
Steam & sauna repair/install
Backflow certification
Whirlpool jacuzzi tubs repair/install
ADDRESS
2301 Haren Dr, Henderson, NV 89011, USA
CONTACT DETAILS
(702) 431-6502


[email protected]

WEBSITE
https://sincityplumbing.com
Situated at Haren Drive in Henderson, Sin City Plumbing specializes in bathroom remodeling and tenant improvement works.
Its plumbers are certified by the Plumbing-Heating-Cooling Contractors Association. That means they're well-versed in all facets of commercial and residential plumbing, including sewer cleaning, hose bib installs, water heater services, and water main excavations, among others.
To protect your potable water supply from contamination, they can install a backflow testing device too. They can also build your dream bathroom with a new toilet, jacuzzi tub, and also steam room.
These projects can cost a lot but they have finance options to help you afford them without high interest. But the great thing about this company is their prices are already decent and honest, as clients can attest to.
You can call them out at any time of the year even in the evenings and holidays. So if your water heater broke or your ceiling leak out of the blue, they can sort it out for you.
On top of that, they give a satisfaction guarantee for every client. This way, they can ensure that your plumbing is working as it should after their service.
One client also wrote that they updated him before, during, and after the service. This is nice since this shows that they care about their clients.
Endorsed by Home Advisor and trusted review sites, Sin City Plumbing & Maintenance surely ranks among the best plumbers in Henderson, NV!
Specializes in remodeling works
PHCC-licensed plumbers
BBB-accredited business
24/7 emergency services available
Gives a satisfaction guarantee
Finance options available
Offers a lot of discounts
Complaints about customer service
No live chat support
Customer Reviews
Some clients complained about their customer service. However, the majority said they had fair prices, great communication, and adept staff.
Here's a comment posted by one client, Zahna, on Facebook:
"Best in the valley, hands down. Phil and Ian were the ones I dealt with the most and they were great to deal with. The quality of their work, always on time and fair prices. Best in the valley as far as I'm concerned. Would definitely recommend."
What's more, Howard recommends this company. He wrote:
"Five stars. Sam just installed our new hot water heater. He's a total pro! He was very organized and explained everything very clearly. In no time he had the old one out and the new one in. Would highly recommended Sin City Plumbing!"
3) Atlas Plumbing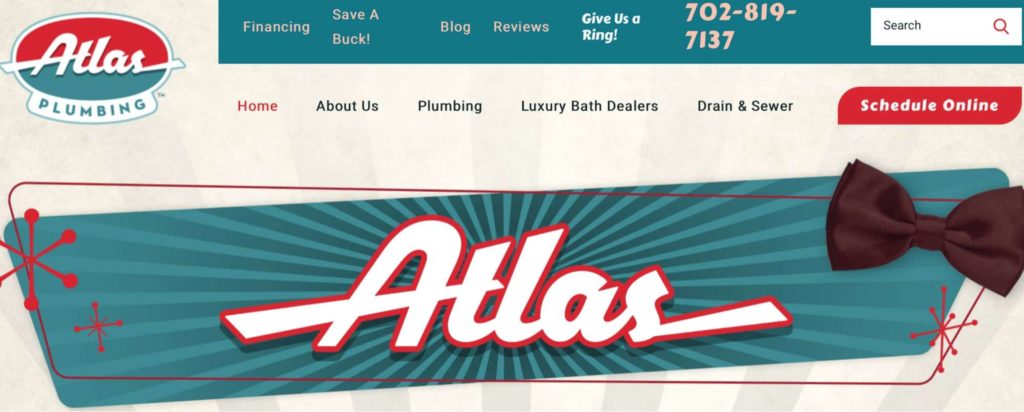 SERVICES
Drain & sewer
Luxury bathroom technologies
Leak detection
Mobile home plumbing
Video inspections
Water heater repair
Water treatment
ADDRESS
1628 Athol Ave, Henderson, NV 89011, USA
CONTACT DETAILS
702-819-7137


[email protected]

WEBSITE
https://www.atlasplumbinglv.com/
With a dapper team, neat website, and convenient financing, Atlas Plumbing is a cut above the rest. It was established in 1980 and is now run by the founder's sons, Sunshine and Rod.
Atlas Plumbing is registered with the BBB but only holds an A rating. As they have a roster of certified Master Plumbers, you can entrust your home or business plumbing to them.
They are the go-to plumber if you plan to convert to a green and energy-efficient home. They install smart leak detectors, low-flow fixtures, tankless water heaters, and natural gas lines for heating and cooking.
Other than that, they perform common plumbing repairs and maintenance like unclogging a drain, fixing a leaky pipe, and installing a water filtration system. Being an authorized Luxury Bath product dealer, they can remodel your entire bathroom and make it modern and classy.
What we like about them is they don't capitalize on unfortunate situations. If you call them on the weekends due to an emergency plumbing situation, they won't charge you an extra cost.
And unlike most plumbers, this family-owned company makes its service warranty explicit. They give clients up to a year to ensure that no issues arise from their workmanship.
They also have live chat support so you can reach them quickly whether you have a simple inquiry or have urgent work to be done.
Although they received some complaints about their customer service, most people had a great experience in using this company.
Atlas Plumbing provides plumbing services throughout Henderson and the Las Vegas Valley. They cater to both business and home plumbing needs usually on the same day.
Certified Master Plumbers
BBB-accredited business
Live chat support available
Finance options available
Provides a 1-year service warranty
Answers emergency calls
Has coupon & special deals
Only has an A rating from the BBB
Complaints about their customer service
Customer Reviews
According to most reviewers, the staff was neat and personable to deal with. They were also very pleased with the plumbing install and repair results in their homes.
Check out Kira's feedback of the plumber below:
"Had a major leak, water pouring out of my living room ceiling , from my master bathtub .. called them on a recommendation.. they were at my house in 20 minutes and were awesome .. Mario the tech was super helpful and fixed the issue .. And Michelle and the other girls in the office were very helpful and professional.. thx so much definitely keeping this number !!!"
Also, a happy client named Genevieve wrote this:
"Such a nice company to use. So refreshing that they were able to come out and fix the issue and explain what happened and why it happened. I would definitely recommend them to anyone looking for knowledgeable honest plumbers."
4) 702 PlumbAir
SERVICES
Plumbing Services
 
Water heater repair & installation
Tankless water heater repair
Drain cleaning
Water treatment & filtration
Piping & repiping
Leak detection
Emergency plumbing
 
HVAC Services
 
AC repair
AC replacement & installation
AC maintenance
Ductless mini split systems
Heat pumps
Heating services
Indoor air quality
ADDRESS
900 Wigwam Parkway #130, Henderson, NV 89014, USA
CONTACT DETAILS
702-447-0131


[email protected]

WEBSITE
https://www.702plumbair.com/
702 PlumbAir is a plumbing company owned by husband and wife Sherrie & George. They are focused on giving personal attention to their clients and providing top-notch workmanship.
It offers same and next-day service without top-up costs. Getting a project quote and response from them is also super-fast according to their clients.
Their plumbers take on both commercial and residential plumbing jobs round the clock. They can install and repair washbasins, water filtration, water lines, gas lines, tankless water heaters, and toilets.
But that's not all as they can also do a wide range of HVAC tasks for AC split systems, heat pumps, and home heating. As other plumbers don't specialize in these services, it could be a double-win for you.
If you plan on doing the repairs yourself, you can freely ask them through their website. This won't cost you anything and they'll reply to your concerns or inquiries shortly.
All seems to be well with this company in terms of work and service. However, some clients said they charged higher prices than other plumbers.
Senior citizens and soldiers can get a special 10% off their bill. Moreover, they offer club membership to their clients, giving them access to exclusive discounts and promos to use for their next service.
The payment process is also simple wherein you will receive an invoice online and can pay it using any major credit card.
Therefore, if you need a plumber to fix your HVAC and plumbing systems in one go, you can certainly rely on 702 PlumbAir!
Same-day service available
Can also handle HVAC work
24/7 emergency availability
Offers seniors and military discounts
Has several financing options
Expensive rates
It can take a while to earn back their membership cost
No mention online of a service guarantee
Customer Reviews
On Google, they received 4.9/5 stars from many clients. They said they were easy to get ahold of, on time, and fast and efficient with their work.
One satisfied client, Chris, wrote this feedback:
"Next day service. Arrives 30-minutes early. Honest quote by a clean polite installer. No up charge at time of invoice. Text updates of appointment, driver on the way & link to pay invoice online. If you need a plumber, 702 i"s the call to make."
And Markus gave this comment as well:
"702 Plumbers called us within 5 minutes of requesting a quote (after normal business hours) on HomeAdvisor to make a next day appointment. Michael came out the next day. All work was done extremely efficiently and professionally the same day."
5) Benjamin Franklin Plumbing

SERVICES
Emergency plumbing services
Plumbing repairs
Leak detection
Drains
Pumps
Water heaters
Garbage disposals
Faucets
Showers
Bathtubs
Toilets
Sinks
Sewers
Piping & repiping
Water lines
Water treatment
Outdoor plumbing
ADDRESS
7705 Commercial Way Suite 115, Henderson, NV 89011, USA
CONTACT DETAILS
(702) 323-5945
WEBSITE
https://www.benjaminfranklinplumbing.com/
Benjamin Franklin Plumbing is a popular franchise plumber with many locations across America.
It dubs itself as 'the punctual plumber', which they guarantee or they'll pay you 5 bucks for every minute they're late. But note that this has a maximum amount of up to $300 only.
It offers a complete list of residential and business plumbing. From piping to bathroom remodeling, including drain unblocking, sump pump issues, and water treatment works, they have the skills, knowledge, and resources to do.
Of course, their team is licensed and insured to ensure you and your property are safe as they work. They also carry the necessary parts in their van to make quick work of your plumbing issue at home.
However, several clients pointed out that their prices were more than reasonable. So you always have to clarify the price before going with their service to avoid surprises.
Furthermore, they don't offer any coupons or special deals online that give you more value for money.
They're open throughout the week 24/7 to deal with any emergencies you may have. Adding to this convenience is their wide range of payment methods—Visa, American Express, Discover, and Mastercard, as well as cash and check.
Also, their plumber aims for a 100% satisfaction guarantee. If you find any fault regarding their work, they'll come back soon to correct it.
If you want a timely and reliable plumber, Benjamin Franklin Plumbing is an awesome choice, being one of the top plumbers in the Valley!
Pays clients $5 for every minute they're late
Licensed and qualified team
24/7 emergency availability
Accepts various payment methods
100% satisfaction guarantee
Finance options available
Expensive service
No coupon and special deals
Customer Reviews
It received its fair share of criticism in terms of rates. That said, most clients noted that they had a courteous and professional team.
They explained the whole process, resolved their plumbing problems, and also shared useful tips.
Harold wrote this review on Google Business:
"Matthew explained and went over everything that was wrong with plumbing and what was causing problem. Matthew also gave good tips on how to keep up maintenance for good plumbing."
And CJ shared his experience below with the plumber:
"Mat was highly professional, clean, and pleasant. Plus he fixed it right the first time. Will positively call again."
FAQs about the Leading Plumbers in Henderson, NV
---
And that completes our top options for plumbers in Henderson, Nevada. As clients will agree, they provide dependable service from start to finish.
Do you have any questions or suggestions about our picks? If so, don't hesitate to send us a message and we'll check it out first thing.
But if you merely have several small plumbing and carpentry jobs to do, you can just call one of our best handyman options in Las Vegas!