When it comes to the aesthetic aspect of a house, some people tend to overlook the flooring. It may be because it's the part we only walk on, believing that it's more on functionality than style. That's where one can go wrong—flooring should be stylish and safe at the same time. If you have the right partners, you can convert your home and business premise into a sight to behold.
Below are six of the best San Diego flooring companies that will help you with your flooring issues. These guys provide the finest flooring materials and services you can possibly imagine. Scroll on and get to know them:
1. Star Flooring & Remodeling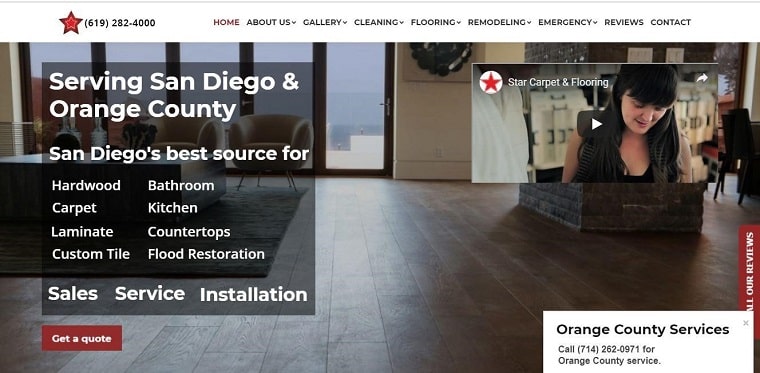 BEST FOR
Residential & commercial flooring installation, repair, and cleaning services
SERVICES
Floor cleaning, remodeling, and emergency services

Hardwood, carpet, laminate, and custom tile flooring

Kitchen and countertops

Flood restoration

ADDRESS
3430 El Cajon Blvd. San Diego, CA 92104
CONTACT
Phone: (619) 282-4000
WEBSITE
https://starflooringandremodeling.com/
Star Flooring & Remodeling, a full-service flooring and floor-covering company, has been in business since 1979. The company is fully licensed, insured, and bonded to ensure customers of reliable and high-quality products and services. It handles wide-range of flooring projects—from professional upholstery, carpet, and tile cleaning to commercial hardwood, laminate, and tile flooring installations. If you need color restoration of grouts as well as repair and stretching of damaged carpets, Star Flooring & Remodeling can do them for you.
2. America's Best Flooring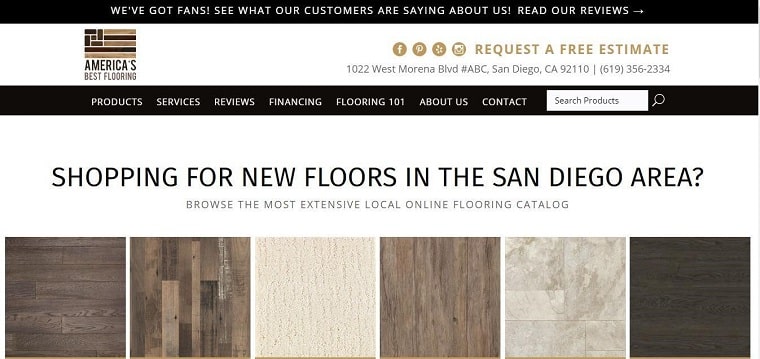 BEST FOR
Residential flooring services
SERVICES
Furniture removal

Design consultation

Flooring installation

Carpet disposal

Custom showers and tub surrounds

Area rug binding

Carpet re-stretch

Flooring repairs

ADDRESS
1022 West Morena Boulevard #ABC, San Diego, CA 92110
CONTACT
Phone: (619) 356-2334
WEBSITE
https://www.americasbestflooring.com/
America's Best Flooring, a family-owned and operated company since 2000, understands that choosing new floors can be challenging. Its team of experts can provide you the best flooring options and solutions for your home. If you're interested in their products and services, you can ask them for a free estimate.
3. Prestige Hardwood Flooring

BEST FOR
Traditional and contemporary hardwood floor refinishing and installation services
SERVICES
Dustless sanding and refinishing

Engineered, hand-scraped, and prefinished solid hardwood floors installation

Carpets

Laminated flooring services

ADDRESS
2555 Morena Blvd. Suite C, San Diego, CA 92110
CONTACT
Phone: (858) 274-1212 | (619) 440-1333 | (760)753-1414
WEBSITE
https://prestigehardwoodfloors.com/
Prestige Hardwood Floors is one of the leaders in providing traditional and contemporary hardwood floor installation and refinishing in San Diego, California. It offers eco-friendly and innovative services that enable you to stay right at home while your floors are being transformed. The company's team of flooring experts consists of prompt, respectful, and diligent professionals that will ensure a hundred percent high-quality customer service.
Prestige Hardwood Floors is also a proud member of the BBB (Better Business Bureau). It is also fully licensed, insured, and bonded which means that it can stand behind its works and products.
4. La Mesa Flooring Company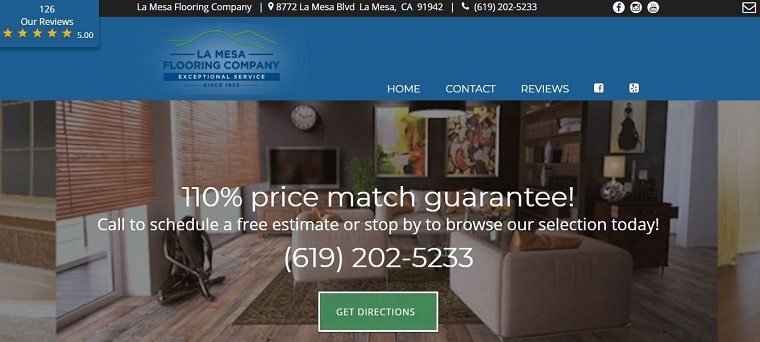 BEST FOR
All types of flooring services
SERVICES
Hardwood floor installation, refinishing, and repair

Flooring remodeling services

Financing services

Hardwood, vinyl, laminate, carpet, tile, and stone flooring

ADDRESS
8772 La Mesa Blvd., La MesaCA91942
CONTACT
Phone: (619) 202-5233
WEBSITE
https://www.flooringstoresandiego.com/
La Mesa Flooring Company has more than 80 years of experience in the flooring industry. Its reputation is built on trust, making it one of the best flooring service providers in the San Diego area. The company employs flooring specialists with 20 years of experience. They can provide excellent installation services which translate to having your new flooring last for years and decades to come.
5. Kwest Flooring Services

BEST FOR
High-quality wholesale floors
SERVICES
Carpet installation
Ceramic tile removal
Flooring installation
Laminated floor
Laminated floor installation
ADDRESS
7088 El Cajon Blvd San Diego Ca 92115
CONTACT
(619) 647 7432
(619) 467 0047
[email protected]
WEBSITE
http://sdlaminateandcarpet.com/
Kwest Flooring Services has been servicing homes and businesses in the San Diego area for more than 15 years. They offer high-quality wholesale floors at the lowest guaranteed price with professional installation. They offer a wide range of wholesale flooring options, including carpet commercial and residential, laminate floors, hardwood floors, ceramic tile, vinyl floors, vct tile, vinyl planks and more, from many colors to match the décor of any home.
6. Geneva Flooring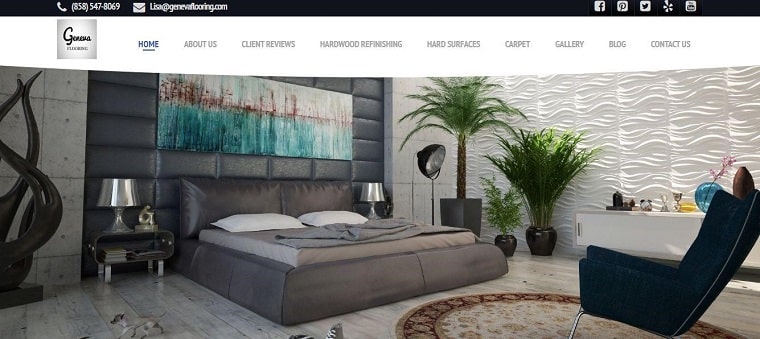 BEST FOR
All types of flooring consultation services
SERVICES
Hardwood, engineered, laminate, bamboo, cork, and luxury vinyl flooring

Flooring installations and refinishing

Carpet

ADDRESS
9360 Activity Road, Suite D, San Diego, CA 92126
CONTACT
Phone: (858) 547-8069

Email: [email protected]

WEBSITE
https://www.genevaflooring.com/
Geneva Flooring is a woman-owned and operated business specializing in educating customers about the various types of engineered, hardwood, carpeting, laminate, vinyl, bamboo, and cork flooring. They provide excellent service according to their clients' needs and expectations. Geneva Flooring is also a proud member of BBB (Better Business Bureau) and has an A+ rating.
7. Woodchuck Flooring

Woodchuck Flooring has been family owned and operated serving San Diego county since 1985 offering sales, installation and refinishing of hardwood flooring. They bring expertise in different wood species, modern finishing techniques and durable finishes for your very own custom flooring solution.
8. Flooret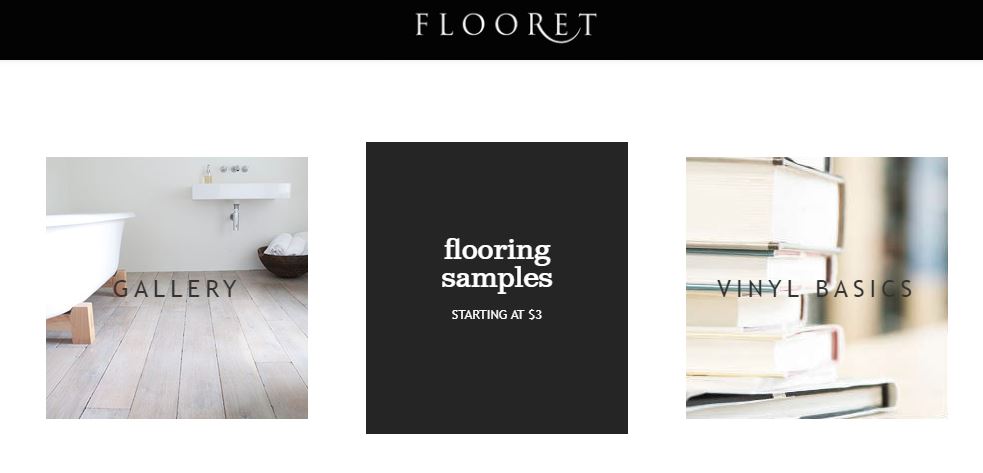 BEST FOR
Contemporary flooring; eco-friendly flooring
SERVICES
Modin Rigid Vinyl Plank
ADDRESS
3047 University Ave., STE 204
San Diego, CA 92104
CONTACT
1-800-700-8122 | [email protected]
WEBSITE
https://www.flooret.com/
Flooret was conceived as an alternative way to manufacture, source, and purchase flooring. As strong members of the green building movement, all of their products qualify for various LEED credits as part of the USGBC program. They aim to provide the highest percentage of recycled and recyclable synthetic products, and FSC 100% Certified wood products, having zero or negligible formaldehyde and VOC emissions, and are audited by reputable third-parties.
9. California Flooring & Design
BEST FOR
Interior floor design, home design, and flooring design
SERVICES
Hardwood, carpet, laminate, tile, and stone flooring installation

Craftsman installation

Flooring restoration and cleaning

Home and interior flooring design

ADDRESS
8266 Miramar Rd., Suite A, San Diego, CA 92126
CONTACT
Phone: (858)408-0047

Email: [email protected]

WEBSITE
https://www.cafloordesign.com/
California Flooring Company, a family-owned and operated business, has been in servicing San Diego for years. It offers reliability, productivity, and responsiveness considered to be a cut above the rest. The company's passion for innovation and quality service makes its name synonymous with value, reliability, and exceptional quality.