Saving time and ensuring quality work are among the common reasons for hiring a roofer whenever we need to accomplish certain roofing tasks. But aside from that, having your go-to roofing company is important, especially when you need emergency roof repair or replacement services.
As early as now, it would be ideal if you know the right company to turn to once you're faced with any kind of roofing problems. To give you an idea, you can check out these best roofing companies in Liverpool. They might differ in the services they provide, but all of them are capable of helping you when you need them the most.
1.     Childwall Roofing Company Ltd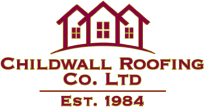 Best For
Roof Maintenance
Services Offered
Roof repairs

Re-roofing

Flat, tile, and slate roofing

Leadwork and insurance work

Skylights and chimney services

Address
111 Childwall Road, Liverpool, L15 6UR
Contact Information
0151 722 2981; 07711 407117; 07703 062 102
Website
https://childwallroofing.co.uk/
Established in 1984, Childwall Roofing Company Ltd has long been known as a leader when it comes to various roofing solutions, particularly in roof maintenance. Many people have commended this company for the reliable, quality, and professional service that they deliver at all times. Regardless of the size of the job, they aim to satisfy all clients by meeting all of their requirements. They also offer emergency services in case your roof needs immediate attention.
2.     J J Nuttall Specialist Roofing Limited

Best For
Flat Roofing
Services Offered
Flat roofing systems and repairs

Residential, commercial, and industrial services

Slate and tile repairs

Garage and extension services

Address
Unit 2A, Redwood Point

Woodward Road, L33 7UZ

Contact Information
07910 501 344
Website
http://www.jjnuttallroofing.co.uk/
On the other hand, J J Nuttall Specialist Roofing Limited should be your company of choice if you're after a flat roofing expert. Using industry-approved and top-notch roofing materials and equipment, they can offer long-lasting flat roof systems and conduct excellent repair works. They understand how busy some customers are as well as their varied requirements, and so J J Nuttall Specialist Roofing Limited strives to deliver personal and prompt service at all times.
3.     Maintenance Free Roofing Ltd

Best For
General Roofing Work
Services Offered
Brand new roofs

Guttering and fascias

Emergency repairs

Roof windows

Orangeries or glass rooms

Address
Suite 117, Maghull Business Centre, 1 Liverpool Rd N, Liverpool L31 2HB, United Kingdom
Contact Information
0151 321 1159
Website
http://www.mf-roofing-liverpool.co.uk/
When you hire Maintenance Free Roofing Ltd, expect that all of your roof-related issues will be dealt with professionally. This company is known for its expertise in handling all types of roofing jobs. Their three decades of industry experience serves as evidence in their professionalism when it comes to providing brand new roofs, doing emergency repairs, conducting guttering work, and a lot more. If you're interested to know more about the company, head over to their website: http://www.mf-roofing-liverpool.co.uk/.
4.     D & I Roofing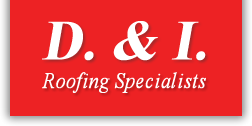 Best For
General Roofing Work
Services Offered
New roofs

Guttering work

Storm damage repairs

Flat roofing

Refurbishments

Skylights/rooflights

Address
78 Ravenna Road

Liverpool L19 4TZ

Contact Information
0151 427 3448
Website
http://www.dandiroofing.co.uk/
From flat roofing, refurbishments, guttering to storm damage repairs, nothing is too difficult to handle for the team at D & I Roofing. They know how complicated these tasks can be but they have spent many years doing these for Liverpool residents. Now, they know the ins and outs of various roofing jobs and this should give you the assurance that you'll only receive great results from their team. If you need them for any roofing job, you may call at 0151 427 3448.
5.     One Source Roofing Services

Best For
Competitive Roofing Services
Services Offered
New roof
Reroofing
Flat roofing
Roof repairs
Velux window installations
Gutters, fascias & soffits
Emergency & storm damage repairs
Mortar work
Lead work
Address
Kemp House, 160 City Road, London, UK EC1V 2NX
Contact Information
0151 541 0588
[email protected]
Website
https://onesourceroofing.co.uk/roofers-liverpool/
One Source Roofing is an established roofing company in Liverpool providing services all over the northwest area. They undertake all aspects of roofing and no job is too much trouble. If you want a tile replaced, no problem, if you need a whole new roof, no problem – their team of time served roofing contractors are very skilled and their prices are very competitive.
6.     Liverpool Roofing Company Ltd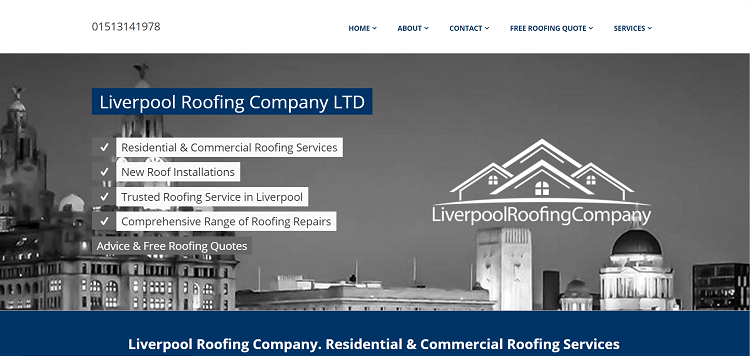 Best For
General Roofing Work
Services Offered
Residential and commercial roofing services

New roof installation

Roof repair and cleaning services

Chimney and guttering work

Waterproofing systems

Address
92 Woodfarm Hey, Liverpool L28 1RL, United Kingdom
Contact Information
01513141978
Website
https://liverpoolroofingcompany.com/
For all types of residential and commercial roofing services, you can find them at Liverpool Roofing Company Ltd. Indeed there's no too big or too small of a job for them to complete, thanks to the wide-ranging roof services they have. From slate roofing, repairs, re-roofing, waterproofing, and roofing extensions, they promise to deliver the best results. They can also offer valuable services that you may find useful for your chimney, fascias, and soffits.
7.     Roofer & Builder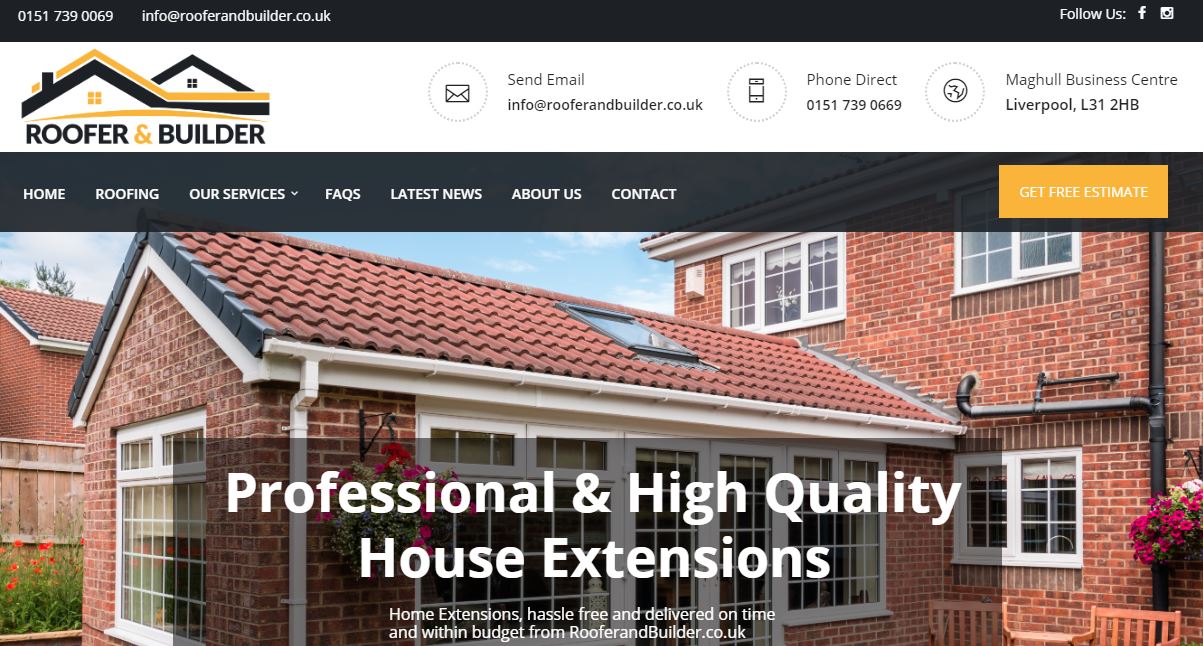 | | |
| --- | --- |
| Best For | Combined 99 years of experience in roofing services |
| Services Offered | Roofing, extensions, remodelling, fascias and soffits |
| Address | Maghull Business Centre, 1 Liverpool Road North, Maghull, Liverpool L31 2HB |
| Contact Information | [email protected] | 0151 739 0669 |
| Website | https://rooferandbuilder.co.uk/ |
Roofer and Builder's highly experienced roofing specialists can service every roof type, every domestic build type and every internal remodelling project. They are also trained to handle your emergency repairs and leaks. Contact Roofer and Builder for advice; they work with architects, kitchen and bathroom designers, professionals and tradespeople to ensure your project goes smoothly.
8.     Saxon Roofing

Best For
Residential and Commercial Roofing Services
Services Offered
Full and part re-roofs

Tiling and slating

Roof repairs and maintenance

Chimney stack work

Traditional lead roofing and welding

Skylight installation

Address
80 Pitville Ave, Liverpool, L187JQ United Kingdom
Contact Information
0151-721-5571; 0770-660-9731
Website
http://saxon-roofing.co.uk/
Saxon Roofing has a strong client base in Liverpool, not just because of their top-quality roofing solutions but with their excellent customer service as well. No matter what their clients' roofing requirements are, they know how to deal with all these in the best way possible. All of their needs are taken into account once the work begins so the final results meet, if not exceed, their expectations. To learn more about Saxon Roofing, check out their website at http://saxon-roofing.co.uk/.