Well-trained, experienced, and reliable – these are the traits that make electricians worthy of hiring. But more than that, you should understand that it's always ideal to work with these experts if you have complicated electrical tasks to deal with. Not only you will save lots of time and effort, but you can also guarantee the long life and high functionality of your electrical systems or fixtures.
Ready to reap the benefits of hiring an electrician? Here are the 6 best electrical experts in Leicester that you can consider hiring for swift and exceptional service.
1.     786 Electricals Ltd

Best For
General Electrical Work
Services Offered
Landlord inspections

Domestic and commercial electrical services

Fire alarm testing

Emergency lighting

Address
14 Walcote Rd, Leicester LE4 9FR
Contact Information
07584 321 989; 0116 238 9915
Website
https://www.786electricals.co.uk/
Safety will never be a concern when you allow 786 Electricals Ltd to handle your electrical problems. Why? This company is staffed with electricians who are passionate in doing every work as safely as possible. They maintain the high quality of electrical services they offer by complying with health and safety requirements and giving their best at work. To know more about the company and its team, head over to https://www.786electricals.co.uk/.
2.     CAL Electrical Ltd

Best For
General Electrical Work
Services Offered
Residential, industrial, and commercial electrical services

Electrical fault finding

Lighting services

Electrical upgrades, rewiring, and additions

Address
1 Top Cl, Thorpe Astley, Leicester LE3 3RJ
Contact Information
0116 431 8048
Website
http://www.calelectrical.co.uk/
The extensive experience of CAL Electric Ltd in domestic, commercial, and industrial electrical work easily makes them one of the trusted electrical experts today. In addition, such experience also enables them to take on any task, big or small. Their friendly team is also willing to give you advice when needed as well as a free, no-obligation quote if you're interested in the services they offer.
3.     365 Electrician Leicester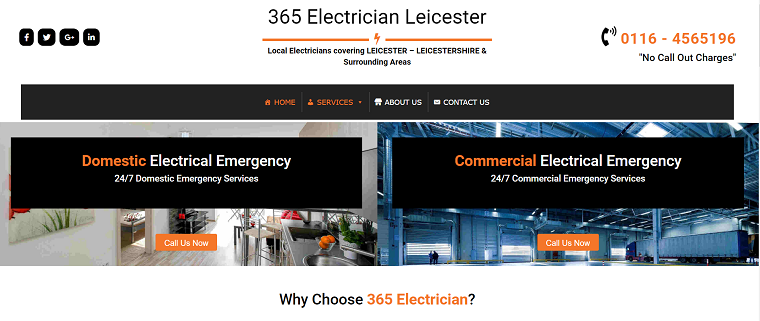 Best For
Domestic and Commercial Electrical Work
Services Offered
24/7 electrical emergency services

Electrical installation, fault finding, and certifications

House rewiring

Outdoor lighting

Address
3 Oswin Road, Leicester,

Leicestershire LE3 1HR UK

Contact Information
0116 – 4565196
Website
https://365electrician.co.uk/
Householders and business owners can put their trust in 365 Electricians Leicester because they promise to deliver the quality electrical service that clients deserve at the lowest price possible. Should you have electrical problems that need immediate attention, this company also offers 24-hour emergency services with no call out charges and hidden costs. They only want the best-priced, reliable electrical solution for you, and if you want that too, give them a call at 0116 – 4565196.
4.     MHK Electrical Contractors Ltd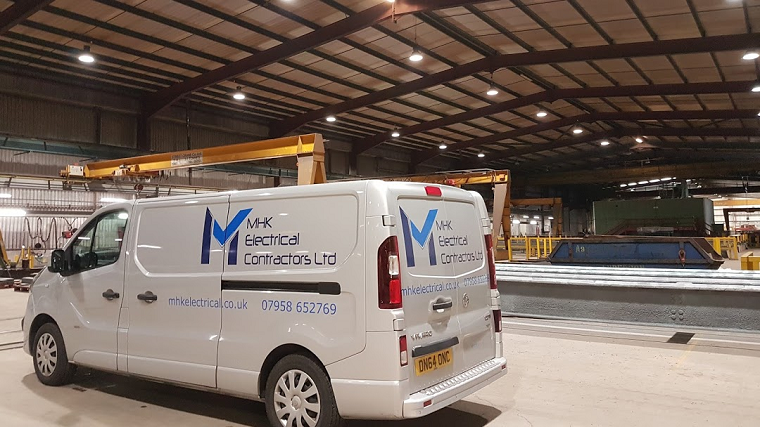 Best For
Electrical Installation
Services Offered
Domestic, commercial, and industrial services

Lighting services

PAT testing

Electrical repairs

CCTV and intruder alarm system installation

Address
High View Close, Hamilton

Leicester, LE4 9LJ United Kingdom

Contact Information
07958 652769
Website
http://mhkelectrical.com/
MHK Electrical Contractors Ltd is your go-to company if you specifically need help with electrical installations. They have done some of the largest installations in and around Leicester, so you know their engineers can handle any project, no matter how complex it is. Aside from installations, they're also experienced and well-equipped when it comes to PAT testing, lighting, and repair works.
5.     Glenfield Electrical

Best For
General Electrical Work
Services Offered
Domestic, commercial, and industrial services

Electrical testing

24-hour emergency call-out

Rewiring, installation, maintenance and repairs

Address
Mill Lane Industrial Estate,

The Mill Lane, Glenfield, Leicester, LE3 8DX

Contact Information
0116 478 3679
Website
https://www.glenfieldelectrical.com/
Glenfield Electrical is one of the most recommended electricians today because of the first-class service they provide to commercial, residential, and industrial clients. Their high-level of professionalism reflects on the way their electricians work and present themselves. They will come to work in complete uniform and won't leave mess behind after they successfully finish the job.
6.     Astute Electrics
Best For
Emergency Electrical Services
Services Offered
Domestic and commercial services

Full rewiring

Lighting services

24-hour emergency service

General electrical work

Address
80 Fielding Road, Birstall

Leicester, Leicestershire LE4 3AN

Contact Information
0116 484 9897
Website
https://www.astute-electrics.co.uk/
Astute Electrics offers a broad range of electrical services so this means they can easily cater to every electrical need of the domestic and commercial sectors. They can take care of anything from emergency repairs, lighting work to full rewires. They're particularly good at dealing with emergencies, thanks to their vans carrying the best test equipment and materials for any job. This and their strong skills at work allow them to fix problems right away.