Have you ever experienced the horror of seeing tiny flying and crawling creatures invade the blissful quietness of your home or business property?  If left unattended, these pests can't merely damage your property but also pose threats to your physical and mental health.
Good thing that there are reliable partners in Austin whom you can entrust various pest problems.  They will determine the presence of the pests within the vicinity of your area and quickly implement even before infestations begin.  Below are the best and most credible pest management companies you can find in Austin, Texas:
1. A-Tex Pest Management

| | |
| --- | --- |
| BEST FOR | Residential and commercial pest management |
| SERVICES | Rodents and wildlife control |
| ADDRESS | PO Box 270211, Austin TX 78727 |
| CONTACT |  (512) 577-4454 |
| WEBSITE | http://www.atexpestmanagement.com |
A-Tex Pest Management has been eradicating pests and removing these health threats from Austin home and business properties since 2012.  The company performs inspection—and, of course—pest treatment and removal.  It also provides home protection management plan, serving as the continual barrier against pests entering your property.  Their action plan ascertains environmental-friendly experience to all residents, visitors, and workers in the Austin area.
If you're interested in their service, just click on this link for a free quote.
2. J&M Pro Services

BEST FOR
Rapid pest control service
SERVICES

Pest, termite, scorpion, rat, spider, cockroaches, rodent, and beetles control
Beehive, squirrel, ant, and spider removal
Bat exclusion
Termite solutions
Biting & Stinging Insects
Wildlife
Emergency pest control
Humane management of wildlife
Bedbug infestation management

ADDRESS
PO Box 2802
Pflugerville, TX 78691
CONTACT
512-294-0119
WEBSITE
http://jandmproservice.com/
J&M Pro Services' initial general pest control (GPC) service includes the time allotted to our highly trained technician to brief you about their service, ask about your concerns and explain their services to you. They also inspect the interior and exterior of your home. Using the information gathered, they will prescribe a treatment plan to gain control of pests.
During J&M Pro Services' inspections and services, they will keep a sharp eye out for bed bugs, termites or rodents, and let you know of any conducive conditions that can be addressed. This allows them to have a warranty that exceeds any other company's General Pest Control in the state. They also respond within 24 business hours to all customer calls for re-services. They warranty most crawling insects including ones that other companies don't, like pantry pests, wasps, bees, carpenter ants, acrobat ants, clover mites, German cockroaches, fleas, and ticks.
3. Alpine Pest Solutions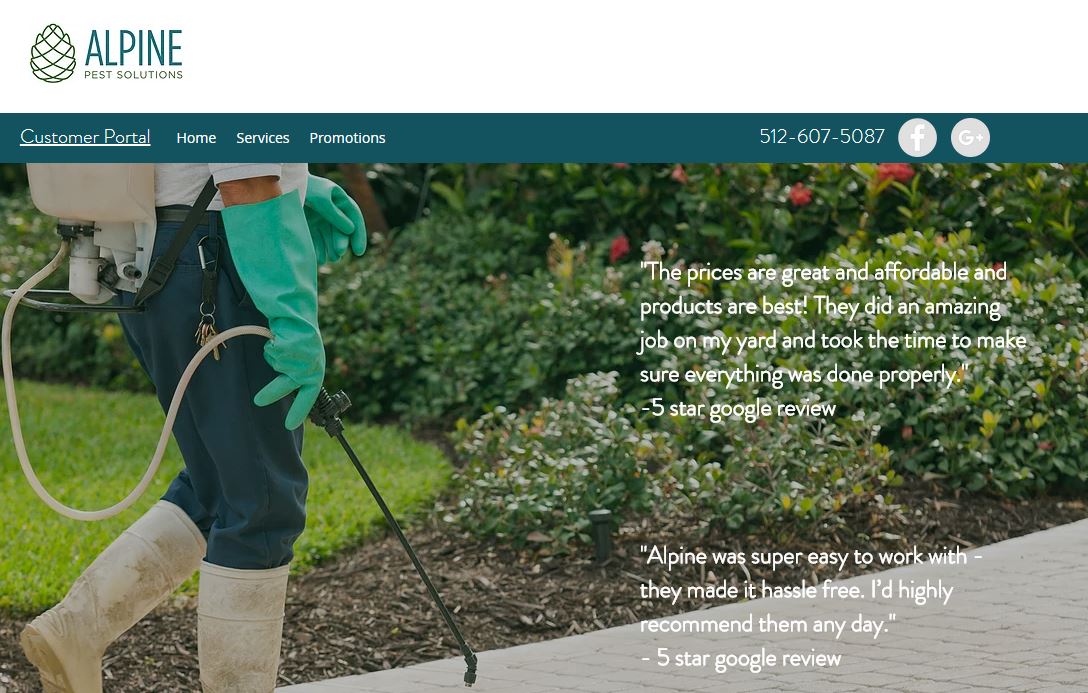 BEST FOR
Indoor and outdoor pest control services
SERVICES

Ant Extermination
Bed Bug Extermination
Flea Extermination
Mosquito Extermination
Pest Proofing
Rodent Extermination
Termite Extermination
Wasp Extermination
Crawl Space & Attic Services
Cockroach Extermination
Eco/Green Cleaning
Preventative Services
Recurring Maintenance
Spider Extermination
Tick/Mite Extermination

ADDRESS
Austin, TX 78727
CONTACT
512-607-5087
WEBSITE
https://www.alpinepestsolutions.com/
Alpine Pest Solutions has been associated with a high level of quality and professionalism for over 10 years of their pest control experience. They use environmentally-conscious products and continuously improve the personalized services they provide.
4. Berrett Pest Control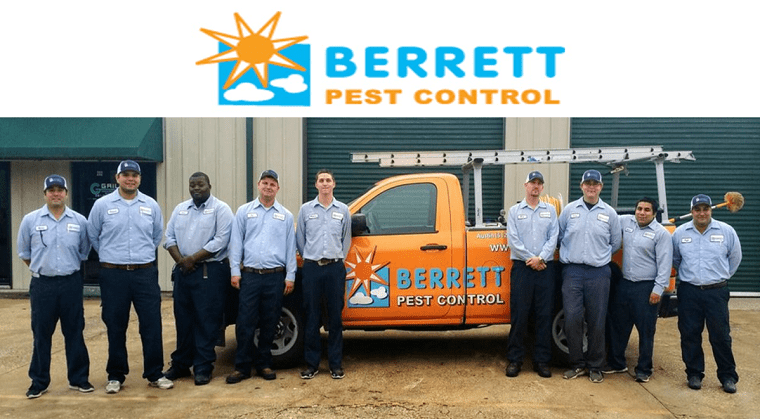 BEST FOR
Residential and commercial pest management
SERVICES
Wildlife control

Termite, bedbug, cockroach, bee, wasp, ant, mosquito, spider, and rodent control services

ADDRESS
8906 Wall Street #803, Austin, TX 78754, USA
CONTACT
 (512) 879-6140
WEBSITE
https://berrettpestcontrol.com/
Berret Pest Control is an award-winning pest control company that provides A-1 pest management and removal services.  They cater to both residential and commercial property owners.  They have been providing a 100% satisfaction guarantee and first-class customer service since 1999.
The company also gives a free estimate to all interested property owners.
5. X Out Pest Services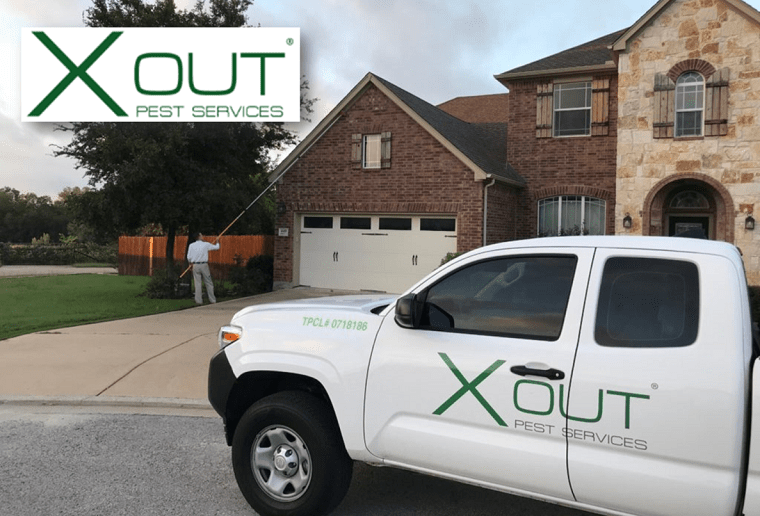 BEST FOR
Residential pest management
SERVICES
Pest, termite, scorpion, rat, spider, cockroaches, rodent, and beetles control

Beehive, squirrel, ant, and spider removal

Bat exclusion

Termite solutions

Biting & Stinging Insects

Wildlife

Emergency pest control

Humane management of wildlife

Bedbug infestation management

ADDRESS
6001 W Parmer LN STE 370-102, Austin, TX 78727
CONTACT
 (512) 271-5656
WEBSITE
https://xoutpest.com/exterminator-austin-texas/
X-Out Pest Control Services aims for Austin residents to achieve and maintain healthy lives by making their homes and properties pest-free.  The safety of the environment, children, and pets is the company's topmost priority.
X-out employs world-class pest control experts who are trained to provide customized treatments that penetrate the nesting and feeding areas of targeted pests.  This results in an average of 96% reduction of household pests and preventing 89% of future pest-related diseases and allergens in your home.  The solutions used are also formulated with smart product technology, administered with safe application procedures, and provide a simple yet powerful scope of pest control service.
6. Barefoot Mosquito & Pest Control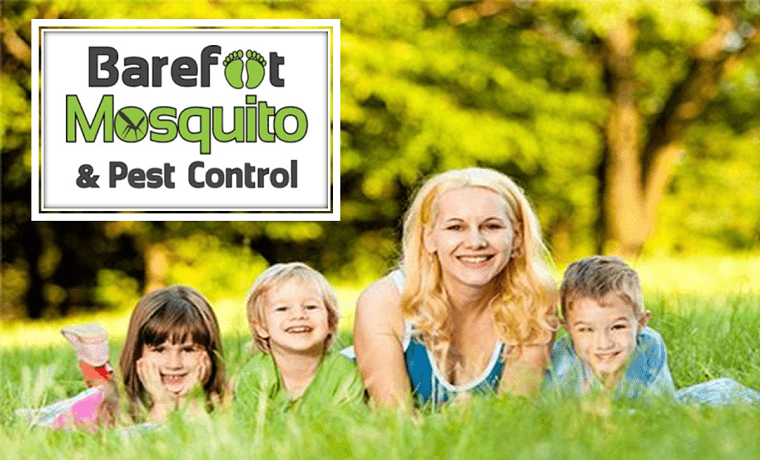 | | |
| --- | --- |
| BEST FOR | Mosquito control services |
| SERVICES | Pest, mosquito, bedbugs, termites, and flea & tick control services |
| ADDRESS | 8060 US-290, Austin, TX 78736 |
| CONTACT |  (512) 400-2008 |
| WEBSITE | https://www.barefootmosquito.com |
Barefoot Mosquito & Pest Control offers affordable rates and competitive services.  They don't force their customers for annual contracts or equipment purchase.  This gives the clients the freedom to freely go if the company cannot meet their expectations.  But with the five-star reviews given by hundreds of their previous and existing clients, the company has already established its credibility in Austin.
Barefoot Mosquito & Pest Control provides 100% guaranteed results and 99% natural solution to pest issues.  They ensure that exposure of Austin families to harmful pathogens is significantly reduced.
7. Fresh Pest Control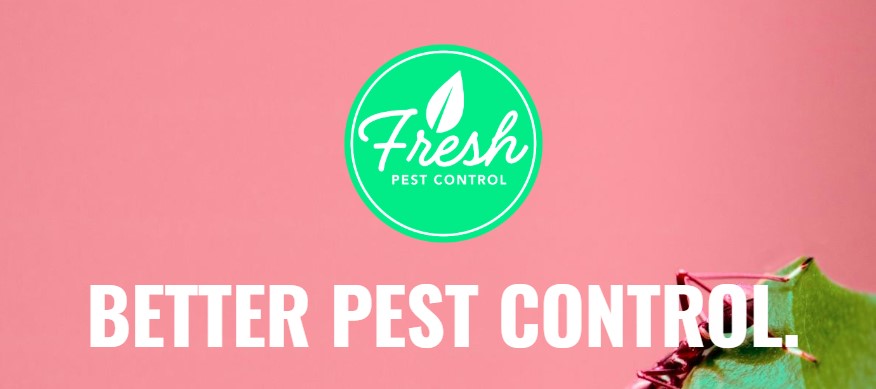 BEST FOR
Eco-friendly pest management
SERVICES
Pest Control of:

Mosquitos
Termites
Bed Bugs
Rodents

ADDRESS
200 University Blvd. Suite 225 #205
Round Rock, TX 78665
CONTACT
[email protected]

512-273-7777

WEBSITE
https://www.freshpest.com/
Solve your pest problem quickly and effectively with Fresh Pest Control! They have over 14 years of experience in offering the people of greater Austin a 100% Natural & Organic treatment.
8. Titan Pest Management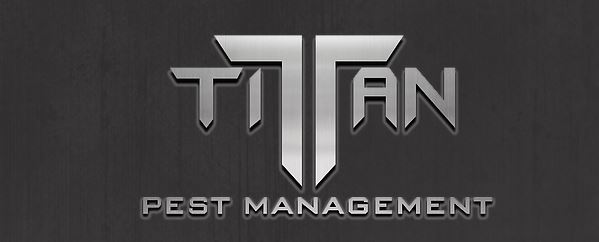 BEST FOR
Highly rated pest control service, with 5-Star reviews on Google, Home Advisor, Facebook, and Yelp
SERVICES
General Pests – Termites – Wildlife
ADDRESS
4100 Sunrise Rd Suite #150
Round Rock, TX 78665
CONTACT
844-55-TITAN [84826]
WEBSITE
https://www.titanpestmanagement.com/
At Titan Pest Management, they believe in providing quality pest control services tailored to the specific needs of the home or business. of their customers. Getting A+ accreditation from BBB, their local technicians are trained and experienced in combating the common invasive pests.
9. Bulwark Exterminating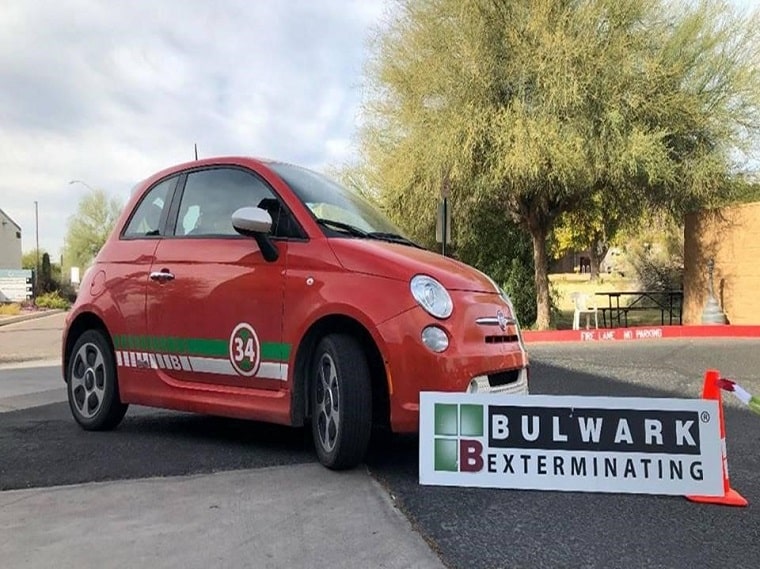 Serving Texas for two decades, the Bulwark Exterminating has already provided topnotch pest management services to over 11,000 Austin families.  Their pest management expertise prevents Austin's most common household pests such as scorpions, spiders, and ants from invading your property.
Bulwark is a family-owned business which is why they provide the best pest control coverage for families.  They also boast that their products are "less toxic than toothpaste" but still get the job done.
10. Stride Pest Control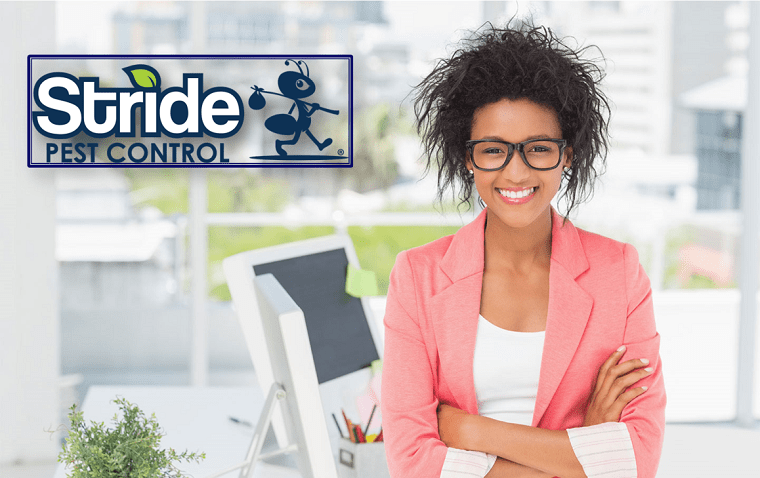 BEST FOR
Residential and commercial pest management
SERVICES
General residential pest control

General commercial pest control

Mosquito, termite, bedbug, and small rodent control

Flea, tick, and chigger services

ADDRESS
2250 Double Creek Dr. Unit 6991

Round Rock, Texas 78664

CONTACT
Phone: (512) 777-1339

Email: [email protected]

WEBSITE
https://www.stridepestcontrol.com/
Stride Pest Control has been providing pest control services for both residences and business properties located in the greater Austin area since 2013.  The company takes pride in their 5-star online reviews in various platforms like Yelp, Facebook, and Google.
Stride utilizes the best products, safety protocols, and application strategies in the industry.  Even though they are experts in their field of work, they also prioritize quality service and customer relationships over merely eliminating pests.