With the help of licensed and trained electricians in Edinburgh, you no longer have to stress over your electrical problems that you don't even know how to solve. Meanwhile, if you need servicing or maintenance work for your electrical appliance, professional electricians can also do the job correctly.
These experts can actually do a lot of things, and help you out no matter what your electrical concerns are. So if you're thinking of working with an electrician, you're on the right track. Here are 6 best electrical companies in Edinburgh that you can trust no matter what your needs are.
1.     Keith Gunn Electrical Solutions

Best For
General Electrical and Lighting Work
Services Offered
Domestic and commercial services

Common electrical services

Electrical testing and installations

Lighting, rewiring, and fuse boards

PAT testing

Address
21C Strathearn Rd

Edinburgh EH9 2AB Midlothian

Contact Information
0131 225 3205
Website
https://www.electricianinedinburgh.com/
The team at Keith Gunn Electrical Solutions is composed of highly trained and experienced electricians with vast knowledge in various electrical work. They carry out every job in the most efficient way possible from small residential work to complete rewiring projects. But more than that, they excel the most in providing lighting solutions. They can do lighting repairs and installations, offer blended lighting schemes, and fit chandeliers.
2.     Ideal Electrical Solutions (UK) Ltd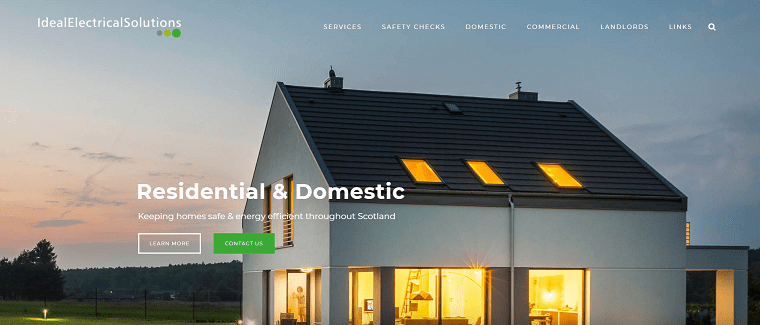 Best For
Residential and Commercial Electrical Work
Services Offered
Residential and commercial services

Landlord testing and checks

Rewiring and stair lighting

Data cabling

Smoke alarms

Address
4-5 Parsons Green Terrace, Edinburgh, EH8 7AN
Contact Information
0131 258 2750
Website
https://ies-edinburgh.co.uk/
Ideal Electrical Solutions (UK) Ltd is considered an industry leader when it comes to completing any electrical project on time and with high-quality. Through their cost-effective services and solutions, they can keep homes and businesses safe and energy efficient at all times. Their team is expert in rewiring, stair lighting, data cabling design and installation, and more.
3.     KM Electrical Services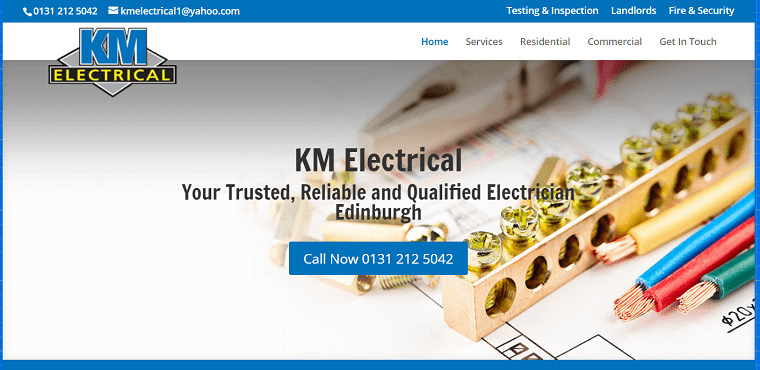 Best For
General Electrical Work
Services Offered
Electrical installations

Testing and certification

Electrical maintenance

Electrical services homes, businesses, and landlords

Address
20 Spylaw Street

Edinburgh EH13 0JX

Contact Information
0131 212 5042
Website
http://km-electrical.com/
The best part about hiring KM Electrical Services for your electrical needs is that you're certain that there will be a reliable, qualified and trusted electricians at your doorstep right when you need them. There isn't too big or too small of a project for them to complete. And regardless if it's all about electrical planning, design or maintenance, they can do all of these without any trouble. If you'd like to get in touch with KM Electrical Services today, grab your phone and dial 0131 212 5042.
4.     EICR Edinburgh

Best For
Domestic Electrical Work
Services Offered
Electrical installation and repair

Testing services

Landlord services

Audiovisual and eco electrical services

Address
25 1/2 Porteous Pend Edinburgh,

Edinburgh EH1 2HP

Contact Information
0800 228 9008
Website
https://eicredinburgh.com/
Keeping homes safe and up to date is a large part of the work done by the team at EICR Edinburgh. They have experienced people who can handle your Wi-Fi networks, remote LED lighting and other audiovisual needs. They can likewise work on smoke alarm installation, home automation, and rewiring, to make sure that your property is secure from the inside out.
5.     Edinburgh City Electrical Contractors
Best For
Residential and Commercial Electrical Work
Services Offered
Electrical rewire and fuse boards

Lighting installation

Fault finding and electrical maintenance

Electrical inspection and testing

Domestic, industrial, and commercial work

Address
22 North Leith Sands, Edinburgh, EH6 4ER
Contact Information
0131 554 3282; 07763566013
Website
https://www.edinburghcityelectricalcontractors.co.uk/
Edinburgh City Electrical Contractors' aim is to be the number one electrician in Edinburgh and beyond. For many years, they have been working hard on this by offering swift service and competitive prices to each and every client. Once you work with Edinburgh City Electrical Contractors, they are guaranteed to arrive on time and do the job quickly yet efficiently. They will also clean the area after completing the work to show respect to you and your property.
6.     Lumen Electrical Services Ltd

Best For
Residential Electrical Work
Services Offered
General electrical work

Full/partial house rewiring

Lighting and smoke/fire alarm installation

Wi-Fi installation

CCTV installation and repair

Address
31/2 Royal Park Terrace, Edinburgh EH8 8JA, UK
Contact Information
0131 661 1181
Website
https://lumen-electrical.com/
You can put your trust in Lumen Electrical Services Ltd regardless of the size or complexity of your electrical project. They are known to provide the best in quality, value, and expertise whether you require help in simply changing a lighting system or complete home rewiring. Other great things they can do for your home include internet enhancement, dimmer switches installation to create mood lighting, and TV wall mounting.