In any kind of structure where people live, the roof is one of the many things that you will first notice. This part of your building isn't something that you must overlook because it plays a major part in protecting you from sun, rain, wind, and other harsh weather conditions.
It's important that your roof is well-maintained to ensure the comfortability of everyone. Or if you have an old one that needs a repair or replacement, then you shouldn't dismiss the thought of hiring a roofing company to help you out. In fact, here are the best roofing companies in Calgary that can ensure your roof is always in excellent condition.
1. Epic Roofing & Exteriors
Searching for a roofing specialist that is experienced, reliable and has an excellent reputation, then Epic Roofing & Exteriors is the exact one you need. With over 34 years of business experience and more than 30,000 projects completed, this company won't surely have any trouble helping you no matter what your roofing needs are. Their team can provide residential and commercial roofing services including repairs, inspections, and replacements.
2. Hubbard Roofing & Exteriors Inc.
Hubbard Roofing & Exteriors Inc. is a full-service exterior renovation specialist that mainly focuses on conducting roofing and exterior work. They claim that their name in this industry is synonymous to quality products and workmanship and every time, they work hard to prove this by offering extensive roofing assistance. They can help you with ice damming, roof tune-up, hail damage repair, and so much more.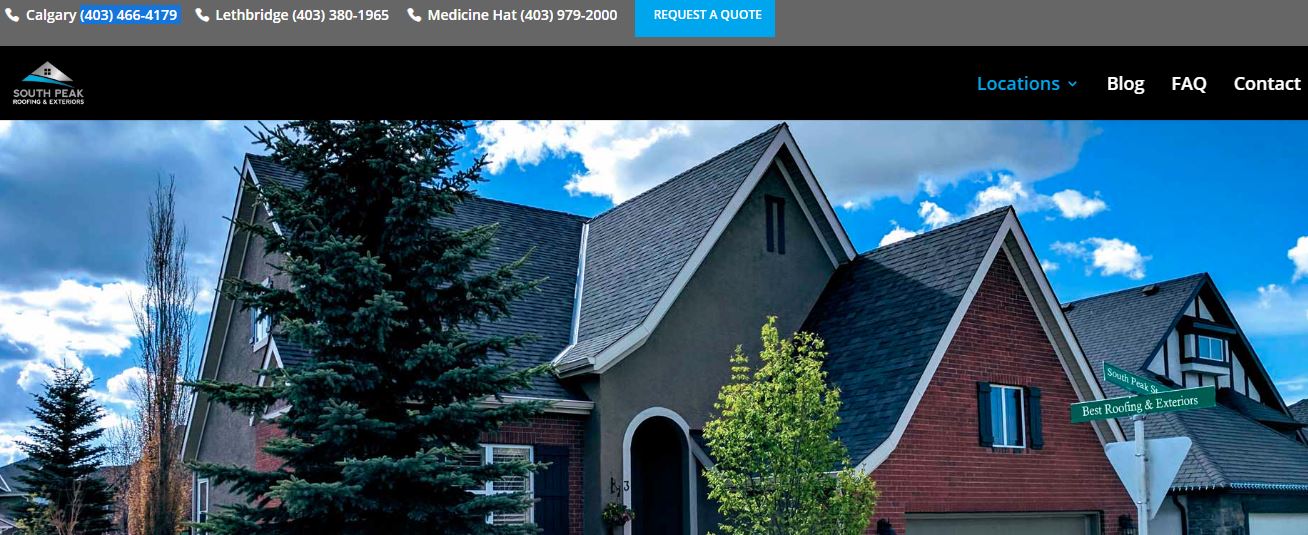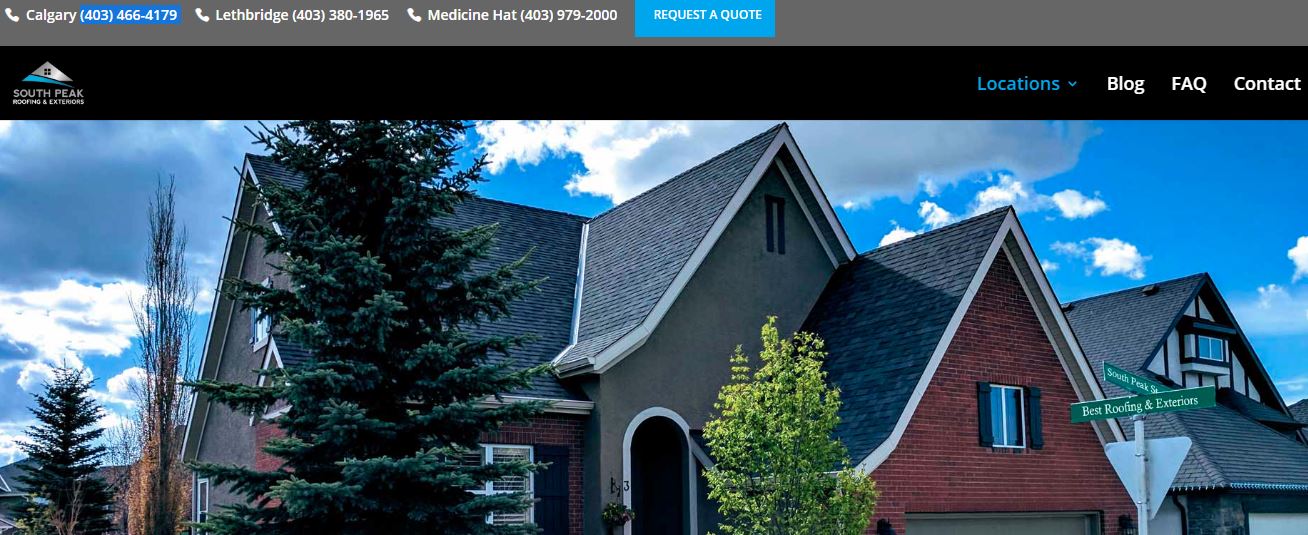 Best For
Best Manufacturer Roof Warranty in Calgary
South Peak is the only roofing company in Southern Alberta that has the Shingle Master SELECT designation.
Services Offered
Roofing, exterior, siding, and property services
Address
38 Inverness Rise SE
Calgary, AB T2Z 2X2
Contact Information
(403) 466-4179
[email protected]
Website
https://southpeak.ca/calgary/
As a Calgary roofing and exteriors contractor, South Peak's Calgary roofers and exterior crews are simply the best: friendly, proficient and their clean up often leaves homeowners properties cleaner than before they started. Their service area covers approximately 100km radius of Calgary, as well as offices in Lethbridge and Medicine Hat.
4.     Calgary City Roofing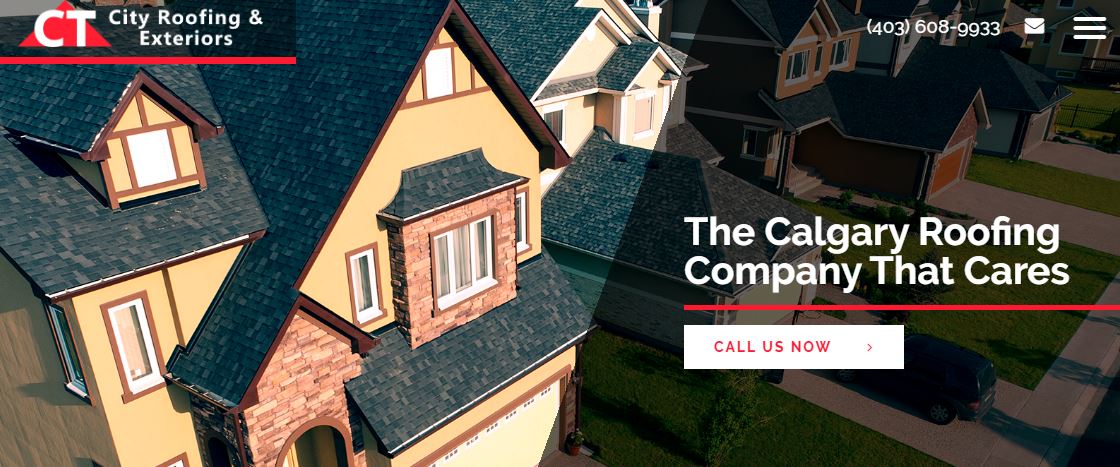 City Roofing & Exteriors puts safety, quality work and on-time delivery as their top priority. As the preferred Calgary Roofing Company, they've earned 4.9-rating from 49 Google reviews. They provide full-service exterior renovations in Calgary and surrounding areas for both residential and commercial projects as a trusted roofing contractor and consultant.
5. AKRoN Roofing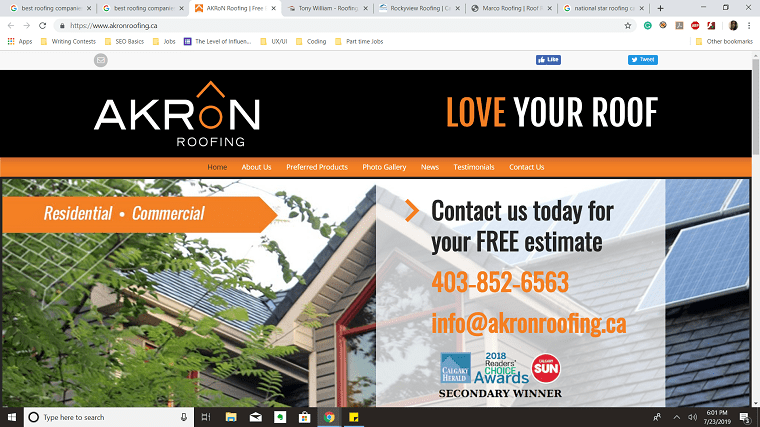 The team at AKRoN Roofing cares about the quality of work they provide to each customer that's why they strive to do the job right the first time and offer roofing solutions that last long. From minor repairs to roof installations, they make sure to complete the project successfully. They start with giving a free estimate and discussing the options you have so you get the power to make decisions and choose the best roofing services for you.
6. Rockyview Roofing
Rockyview Roofing can work on any project regardless of its size or complexity. Their team of professional roofers specialize in roof replacements, new roof construction, and roof rehabilitation. These quality roofing services, when combined with the team's integrity and exceptional customer care, make Rockyview Roofing one of the most dependable contractors out there.
7. Signature Roof Tile Ltd.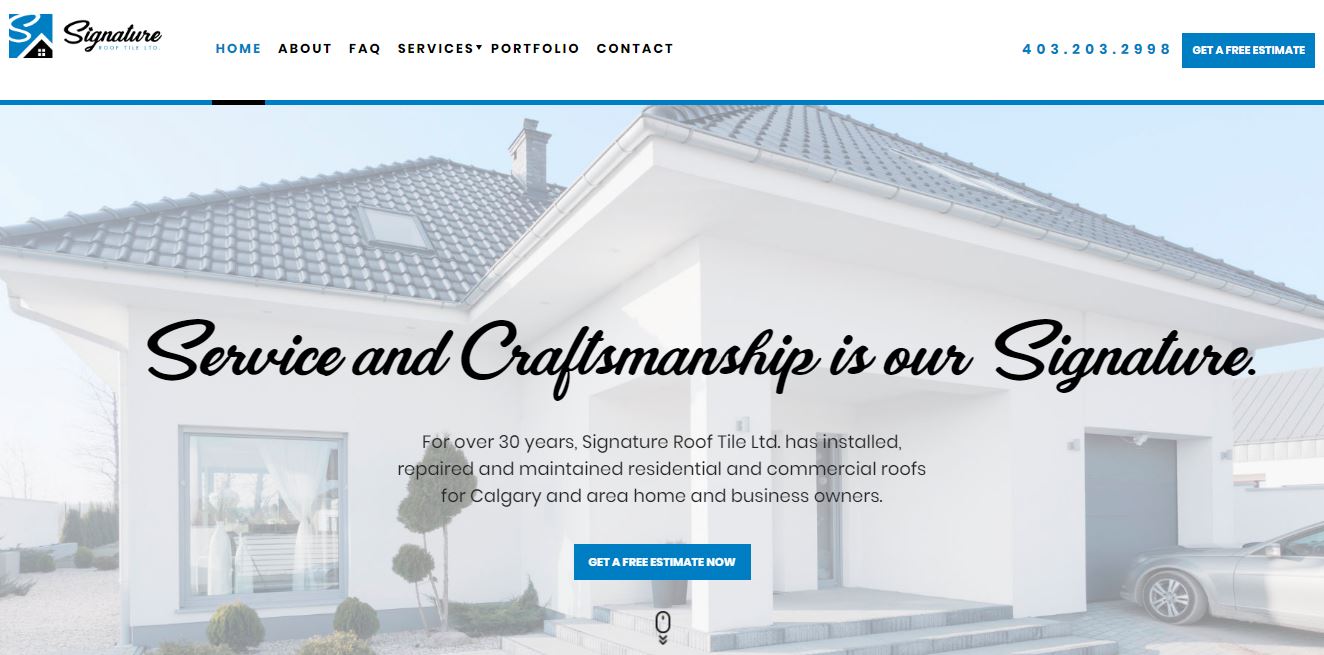 Signature Roof Tile Ltd. has provided top-quality workmanship, sound roofing expertise, and comprehensive roof tile product supply, installation, and repair services for customers in Calgary. They specialize in concrete tile roofs fully stocked with durable, high quality and attractive Unicrete concrete roof tiles.
8. Advanced Level Roofing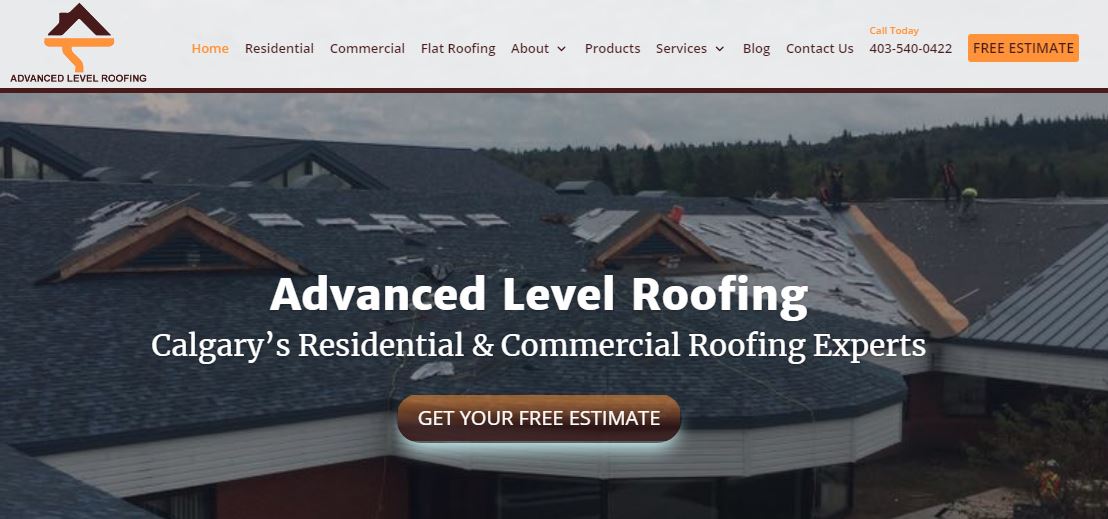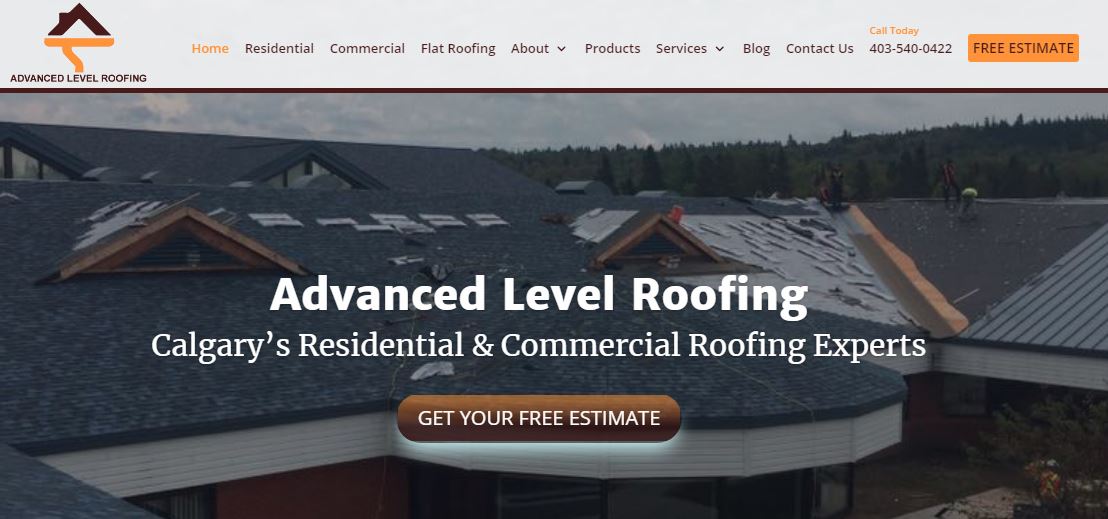 At Advanced Level Roofing, every single roof we install and fix is done to above industry standards. Their professional team will make sure that your roof will stand up against Calgary's harsh seasons and, as a result, how we help you to protect your property's value.
9.     Patribeck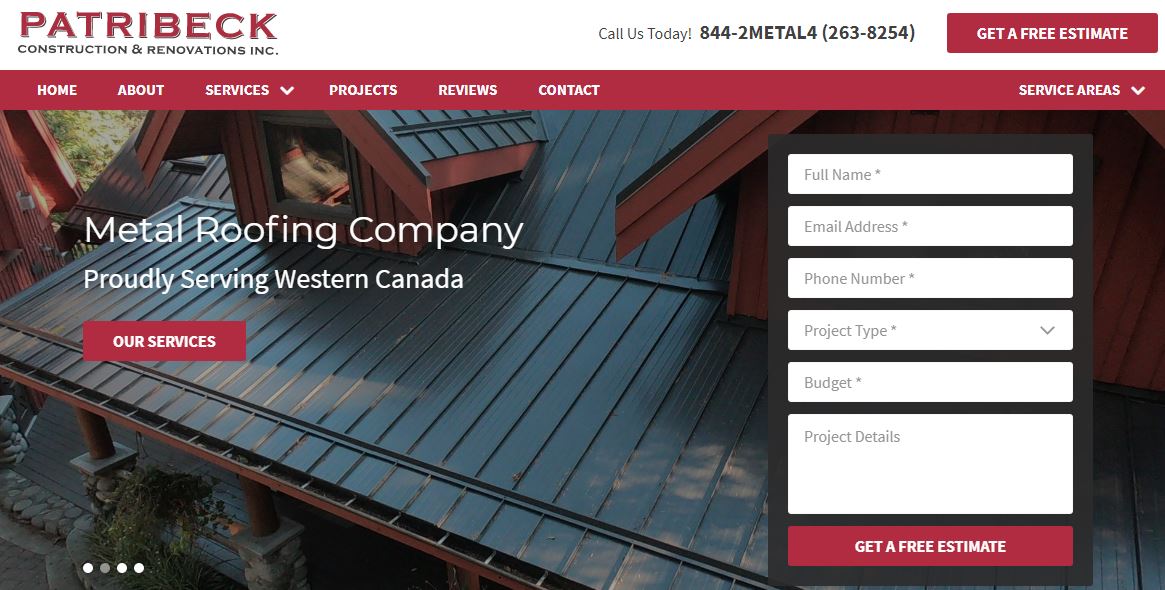 Best For
Metal roofing and exterior services as well as complete James Hardie exteriors
Services Offered
Residential and commercial roofing Asphalt roofing systems
Metal Roofing Services
Metal Siding Services
Soffit Fascia Drainage
Farm & Agriculture
James Hardie Siding
Address
Service areas:
Saskatchewan
British Columbia
Alberta
Contact Information
Toll Free: 844-2METAL4 (263-8254)
Email: [email protected]
Website
https://patribeck.com/
Patribeck is a trusted roofing company for residential and commercial properties in Alberta, British Columbia & Saskatchewan. They have been offering permanent roofing and exterior services since 2002. Currently, they do not offer conventional asphalt shingle roofing or vinyl siding services.
10.    Avalon Construction


Best For
Residential exterior restoratoins
Services Offered
Roofing, Siding, Eaves-troughs, Downspouts, Fascia, Cladding, Soffit, Doors, Windows and all other exterior components
Address
#201 2004 14 Street N.W. Calgary, AB T2M 1A6
Contact Information

Office Phone: +1(403) 973-5903

Email: [email protected]

Website
http://www.avalonconstructionltd.com/
Avalon Construction is a general contractor and is mainly located in southern Alberta. Currently, they are working in multiple areas in Alberta: Calgary, Lacombe, Okotoks, Chestermere, Airdrie, and Tuscany.
11.    Top Roofing Systems


Best For
Roof repair services
Services Offered
New Roofs, Re-Roofs, Flat Roofs, Leak Repairs
Asphalt Laminated Shingles, EPDM Gutter Experts, Single Ply Membrane Roofing: EPDM and TPO
Address

179 Rocky Ridge Cir NW
Calgary AB T3G4P1

Contact Information

403 926 2012
[email protected]

Website
https://www.toproofingsystems.com/
Top Roofing Systems offer professional and affordable roofing services to residential and commercial clients in Calgary and surrounding areas. They're also a Malarkey Certified Installer.
12.     Calgary Elite Roofing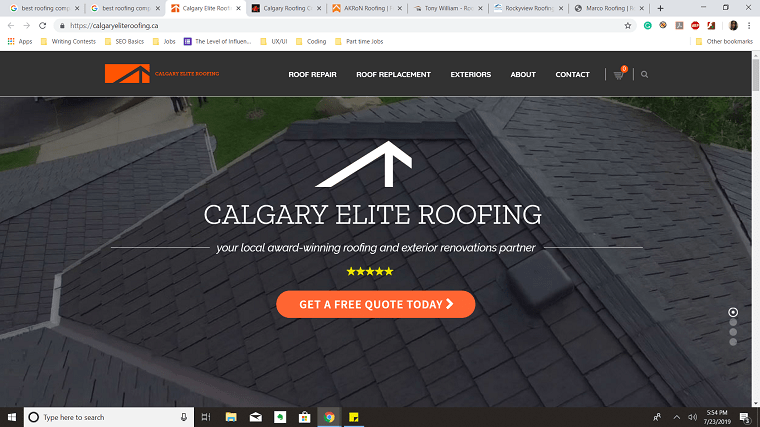 | | |
| --- | --- |
| Best For | Roofing and Exterior Renovations |
| Services Offered | Roofing repair and replacement Exterior renovations |
| Address | Suite 300 – 160 Quarry Park Blvd SE Calgary, Alberta, T2C 3G3 |
| Contact Information | (403) 478-2580 |
| Website | https://calgaryeliteroofing.ca/ |
Calgary Elite Roofing is the company to turn to if you're looking for an expert that can conduct roof repairs for all types of structures and systems. Over the years, they have gained the trust of many because they are able to deliver excellent services at affordable prices. They don't compromise on the quality of work so you can be certain to get good value for money.
13.     National Star Roofing Inc.
| | |
| --- | --- |
| Best For | General Roofing Work |
| Services Offered | Residential and commercial roofing Asphalt roofing systems |
| Address | 5 42 St SW, Calgary, AB T3C 1Y2, Canada |
| Contact Information | (403) 477-7712 |
| Website | https://www.nationalstarroofing.ca/ |
Regardless if you have residential or commercial roofing needs, National Star Roofing Inc. has the right people and tools to help you out. They also take pride in using the highest quality of products to guarantee customer satisfaction and excellent service. They can work on commercial projects, handling both EPDM and SBS roofing, and they also have residential roofers who can provide installation and repair services to homeowners.
14.     No Payne Roofing Inc
| | |
| --- | --- |
| Best For | Re-roofing |
| Services Offered | Complete roofing services Gutter cleaning Siding repair Chimney repair Skylights installation |
| Address | 44 Hawkcliff Pl NW, Calgary, Canada T3G 2S2 |
| Contact Information | (587) 600-9018; (587) 315 6811 |
| Website | https://nopayneroofing.ca/ |
Apart from being professional and courteous to each and every customer, No Payne Roofing Inc is known for the comprehensive roofing solutions they have on offer. From roof repairs to roof replacements in Calgary, their team can show quality craftsmanship and work proficiency, ensuring that you are contented with the final output. After getting your roof serviced, No Payne Roofing Inc can also conduct siding repair, gutter cleaning, skylight installation, and more.
15.     Marco Roofing Ltd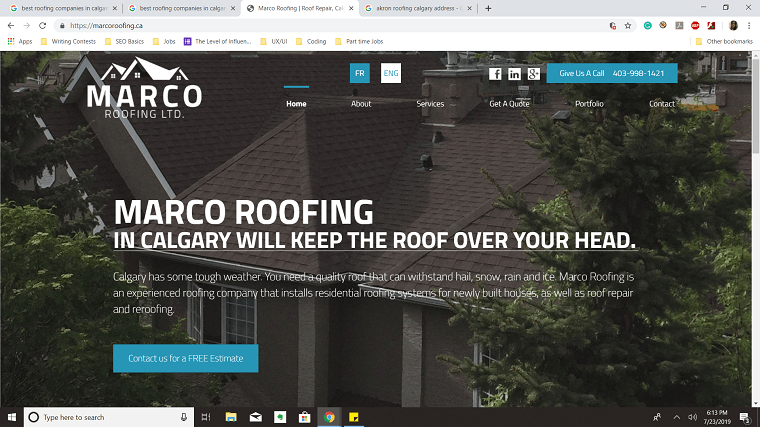 | | |
| --- | --- |
| Best For | General Roofing Work |
| Services Offered | New roof installation Roof repairs Soffits, eaves, and siding Insurance claims |
| Address | 115 Covepark Dr Ne Calgary, AB, T3K 5Z5 |
| Contact Information | 403-998-1421 |
| Website | https://marcoroofing.ca/ |
If you're in need of a roof that can withstand harsh weather conditions and other potential damages, Marco Roofing Ltd can help you out. They have the experience and expertise when it comes to installing residential roofing system for newly built homes. To fully make sure that your house is kept warm, dry, and appealing, they can also install good quality siding and eaves. Visit https://marcoroofing.ca/ to find out the more about their services.
16.    Attic Pros Insulation & Ventilation Services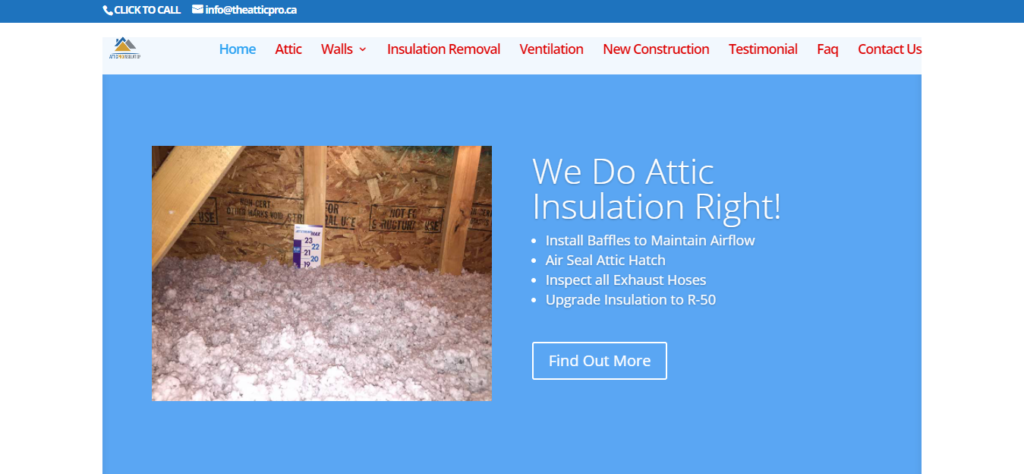 Attic Pros Insulation & Ventilation Services has been in business for over 13 years. They have served thousands of happy and satisfied clients in Calgary and surrounding areas.
In comparison to other companies, they make sure that everything is done the same way how they discussed it with their clients. Another unique factor that people love about them is that they do not change their prices, that it always stays the same from what they quoted in the beginning.
For them, their top priority is the customer's satisfaction. They would regularly ask their client to check their work in order for them to monitor the changes that Attic Pros Insulation & Ventilation Services team did.
According to the testimonials of their previous customers, they said that they give the quote on time, their pricing was comparatively good than others, and they always listen to issues then find a solution for it.