Is your fridge not working like usual? If it is, we'd suggest calling the best companies for fridge repair in Toronto at once to keep your stored food from spoiling.
In this guide, we've listed down our top repair providers, their range of services, and frequently asked questions to get you started on hiring one to fix your valued refrigerator.
We'll begin by tackling the average cost of getting your fridge repaired. So if you're ready, let's go!
How Much Does Fridge Repair Cost in Toronto?
In Toronto, ON, fridge repair costs vary from one company to another. Depending on the problem of the appliance, homeowners typically spend around $225 to $500.
Some of the common fridge issues include a freon leak, broken seal system, and damaged compressor. Aside from this, there can be a problem with the condenser coils, thermostat, ice maker, or the door being dented.
Below is a table that summarises the different costs of fridge repair services. Note that the labour rate has already been included in these numbers.
| | |
| --- | --- |
| Fridge Issue | Average Cost |
| Condenser coil cleaning | $100 – $440 |
| Thermostat repair | $100 – $440 |
| Compressor repair | $225 – $375 |
| Sealed system repair | $225 – $450 |
| Gas leak repair | $225 – $500 |
| Ice maker repair | $330 |
| Control board repair | $500 – $800 |
The Best Fridge Repair Options in Toronto
Now that you have an idea of the repair costs, we now present to you the best fridge repair options in Toronto!
1) Canada Appliance Repair

SERVICES
Appliance Install & Repair

Dishwasher install & repair
Freezer repair
Fridge repair
Gas appliances repair
Gas dryer repair
Gas range install & repair
Microwave installation
Oven repair
Range hood install & repair
Washer/dryer install & repair
Wine fridge repair

Brands

Miele appliance repair
Blomberg appliance repair
ADDRESS
325 Bogert Ave, Toronto, ON, Canada M2N1L8
CONTACT DETAILS
(416) 887-5839


[email protected]

WEBSITE
https://canadaappliancerepair.ca
For a quick, same-day fix to your refrigerator issue, you can get Canada Appliance Repair. It's a leading company in the field, available 7 days a week, and serves clients in Toronto and the GTA.
Whether you own an LG, Samsung, Frigidaire fridge, or another brand, their certified and insured technicians can promptly restore to good working order and keep it running for years more.
Some of the issues they can troubleshoot are unstable temperature, compressor damage, switchboard malfunction, faulty lights, loud or whistling noises, and frost accumulation.
As they stock and carry high-quality parts with them, repairs can usually be done the first time. But even if they have to source the required component, you won't have to wait long, said their clients before.
Apart from that, they're known for their great communication throughout the service as well as their reasonable rates and willing and helpful staff.
It's relatively easy to book with them too. You can either phone them directly or fill out their form online—a customer service staff will get in touch with you shortly.
Can repair all brands of fridges
Insured and qualified team
Same-day appliance repair available
BBB accredited company
Open 7 days a week
Customer Reviews
There have been several negative reviews about their service and price. But, most people said that their technicians were knowledgeable and prompt and gave fair rates.
One client named Vitaliy remarked this of the repair provider:
"Really appreciate Taras' advise how to properly handle a situation with broken compressor in LG fridge."
Next, Janice said this:
"Taras was top notch! I have never been more pleased with a true professional and service man such as him. He explained and showed me the problem to where I could easily understand it. I would suggest this company to all my friends and family! Very affordable, out of a 10 I give them a 12 Keep up the great job."
2) I-FIX Appliance Repair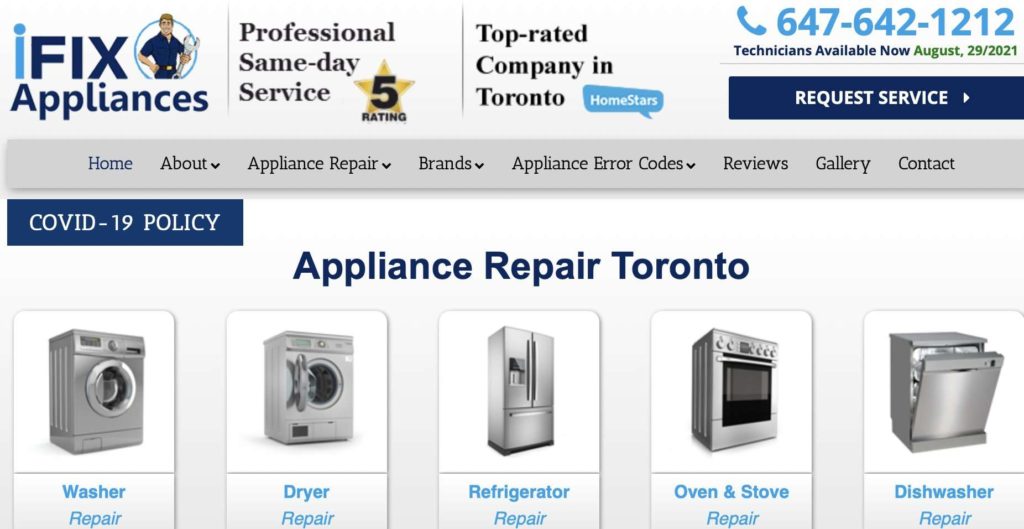 SERVICES
Washer repair
Dryer repair
Refrigerator repair
Oven & stove repair
Dishwasher repair
ADDRESS
1656A Eglinton Ave W, Toronto, ON, Canada M6E2H2
CONTACT DETAILS
647-642-1212


[email protected]

WEBSITE
https://ifixappliances.ca
I-FIX Appliance Repair is one of the best companies for fridge repair in Toronto. Unique with them is their transparency with respect to the cost and time of repairing your refrigerator from the get-go.
It's also known for its quick, same-day response to sort out clients' appliance issues. Their phone lines are open 24/7, which is useful if you've stumbled upon any issue or need urgent assistance.
Do note, however, that some clients had problems with their customer service. Some didn't get a reply to their message, while others weren't accommodated at the expected date of appointment.
They have a licensed and insured team that fixes a wide range of brands and models. These include Inglis, Miele, Bosch, Samsung, KitchenAid, GE, Thermador, among others, and even discontinued models.
Same as other companies, they don't back up their services or parts with a reliable warranty. As such, you would have to pay extra to get them to come back and resolve the problem.
Aside from refrigerators, they can assess and repair washers, dryers, cooktops, ovens, and dishwashers. To get value for your money, you can get them to check any one of these appliances in your home as well!
I-FIX Appliance Repair offers its services in Toronto and its districts, including Scarborough, North York, and Etobicoke.
Guaranteed same-day repair service
Gives transparent rates
Licensed and insured technicians
Fixes any fridge brands and models
Takes 24/7 emergency calls
No parts and service warranty
Some clients had issues with their customer service
Customer Reviews
The majority of clients commended their professional, efficient, and courteous staff. They were successful at getting their appliances up and running again.
Take a look at Laura's comment of them:
"I highly recommend iFix. We have called them twice and both times they did an excellent job. Very quick response, very professional, and good price."
Another client, Jennifer, also shared this on Google:
"I was extremely impressed with David and his company's service. Very professional, courteous, efficient and overall amazing to work with. They also were very careful entering our home- wore masks, took off their shoes, etc. As well, they went above and beyond the required work to help out. Highly recommend!"
3) Certified Mechanical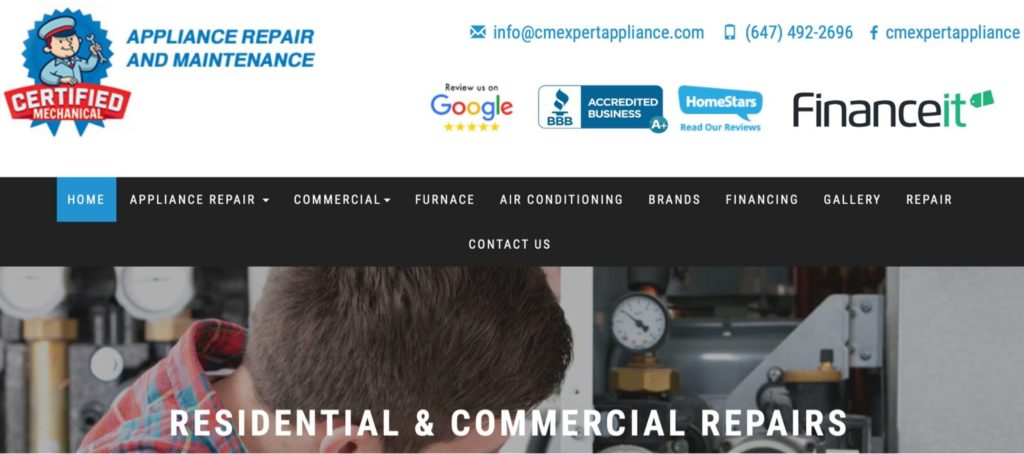 Locally owned and operated, Certified Mechanical offers appliance repairs, replacement, and maintenance for business and residential clients throughout Toronto and the GTA.
It's committed to two things: providing safe, fast, and effective fridge repairs and ensuring client satisfaction.
Their certified and insured team can repair refrigerators of any make and model. Plus, their vans are fully stocked, allowing them to fix the majority of problems in a single visit.
Also, unlike other companies, they give clients a satisfaction guarantee so in case your appliance fails to work after the service, they'll soon return to fix it.
But here, they charge higher rates for the repair work, and if you're on a tight budget, it might be better to pick another company on this list.
And although they offer a $20 off coupon, you can't avail of it on your first service with them, but for the following one.
Moreover, whether your walk-in cooler or ice machine failed early in the morning or late at night, their team is on call and ready to assist you.
Many people shared that not only was the team able to repair their appliances, but they also provided an explanation of the entire process and what they were doing.
And so, we included Certified Mechanical in our lineup of the top fridge repairs in Toronto. You should pick this company for efficient, informative service, adept staff, and 24/7 availability!
Licensed and insured team
Provides residential & commercial repairs
Can work on any make and model
A+ BBB rating
Open 24/7
Guaranteed client satisfaction
Expensive service
Coupon is usable only after the service
Customer Reviews
Many clients said that the team was courteous, prompt, and skilled. Below are some of their reviews online.
One client named Max shared this review on Facebook:
"He was my technician and was very honest, courteous and on time. Did a wonderful repair on my refrigerator and did not charge for additional parts that were not needed. He repaired and just charged the service fee. Very happy with this service."
Also, Jon posted this one:
"Our refrigerator was leaking water from the inside on to the trays, almost ever since we bought it. We called for the repair and they came promptly, they were fast, honest and very kind. I would have highly highly recommend them for any repair!"
4) RA Appliance Repair

SERVICES
Fridge repair
Oven repair
Stove repair
Washer repair
Dryer repair
Dishwasher repair
ADDRESS
7-555 Wilson Heights Blvd, North York, ON M3H6B5 Canada
CONTACT DETAILS
647-477-0799
1-833-619-1636


[email protected]

WEBSITE
https://raappliancerepair.ca
Giving the others on this list a run for their money is RA Appliance Repair. Firstly, it covers a wider service area than them within the GTA and Ottawa.
They respond to their clients swiftly and conduct their work the same day—even within the hour, if possible—as customers can attest.
Once there, their tradesman will quickly diagnose the fridge problem, make the necessary repairs or part replacement. They bring high-grade parts with them in their vehicle that are needed for the job.
Qualified and insured, their crew follows the industry standards and methods to repair your fridge and give it a new lease on life. So chances are you won't need to spend a fortune to replace it with a new one for some time.
Whatever type of fridge you have, be it a free-standing, french door, side-by-side, wine cooler, or a different kind, they can fix it. Also, they don't have any restrictions when it comes to its brand and model.
With RA Appliance Repair, the team gives a fixed price depending on the type of the fridge, labour, and extent of the problem. This prevents surprises when you get a different price than the one that's quoted.
This being said, there were a few clients that complained about their premium prices.
Moving on, their payment methods are varied and include Mastercard, Visa, Interac, and cash. Paying them will therefore be convenient and easy.
Just in case your fridge can no longer work like before, they also have a wide range of fridges available for purchase. They can help you find one that appeals to your budget and needs, and installation and delivery for this are available.
RA Appliance Repair is open daily from 8:00 AM till 10:00 or 11:00 PM. Hence, if you require emergency services, you can simply reach them through their two phone numbers as given above.
Licensed and insured team
Same-day appliance repair
Gives fixed prices
Open the whole week
Offers a satisfaction guarantee
Accepts Visa, Mastercard, Interac, and cash payments
Only repairs domestic fridges
Can be expensive
Customer Reviews
Clients cited that they were on-site soon after the call and got back their problematic fridge up and running. They also said that they were courteous and followed health safety protocols.
Check out this review coming from Luisa:
"Fridge broke overnight! I was freaking out. Arrived on time. Covid-friendly. and fixed my fridge! Well worth the money and service."
Plus, another happy client named Amisi said this:
"Artur went above and beyond. He was very professional and got everything done in a timely matter. Thank you! I now have a working fridge :)"
5) Gold Star Appliance Repair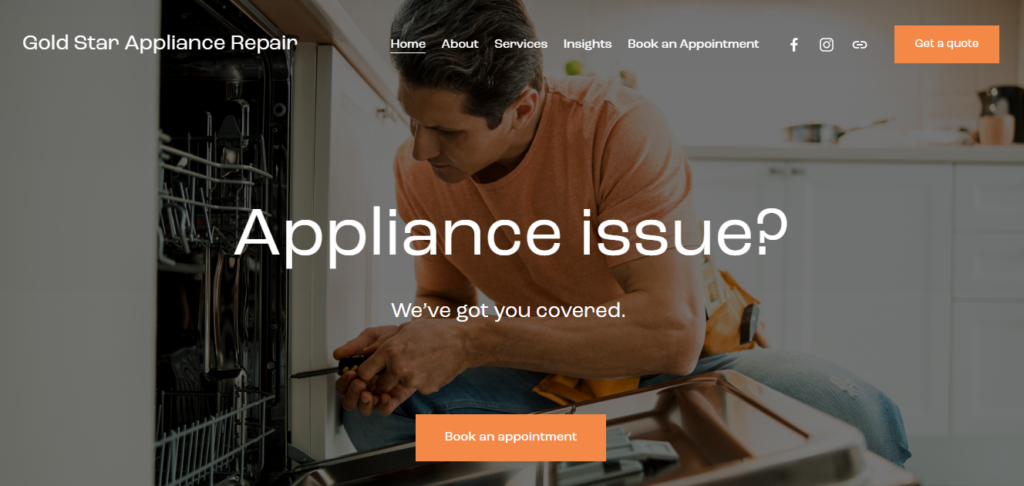 Gold Star Appliances Repair is a family-run appliance repair company that delivers both quality services and excellent customer service in which they are acclaimed and pride themselves for. They have extensive experience in every area that they offer such as repairs, installation, and cleaning which can surely satisfy your needs no matter what brand that may be.
The company only employs highly skilled service technicians that are adequately trained and is sure to take extra care into every job you want them to get done. May it be your first time or have hired other repair services in the past, their staff is sure to guide you throughout the whole process and listen to your specific concerns in order to get the job done.
They also have a comprehensive booking feature on their website that provides you with their available schedules and all the information you need to know to book the said appointment as soon as possible and at your most convenient time. Furthermore, they also keep up to date with their procedures as they have their very own COVID-19 safety protocols for your household's safety as they do their work in your homes.
We recommend this company for you if you are in need of reliable, trustworthy, and high-tier appliance repair services that are sure to have a balance of excellent customer service and experienced staff for the job.
Free phone constitutions available
Offers 90-day warranty and satisfaction guarantee 
Same-day and emergency service available via phone booking
Over 150 positive reviews on social media and homestars.com 
Mode of payment is not available
Customer Reviews
Here are some reviews from their clients:
"Excellent service! They went above and beyond what was required. Maor is very skilled at what he does. They provide honest assessments. They installed a new washing machine when others said it wasn't possible because of the configuration of the space. I highly recommend this company." — Eldon M.
Great service! Very professional! We had a problem Friday morning with our fridge, since it was long weekend I was afraid to be stuck with not working fridge, Maor came and fixed it. Very happy with his service! Thank you!!! — Tali S.
6) Appliance Repair Genie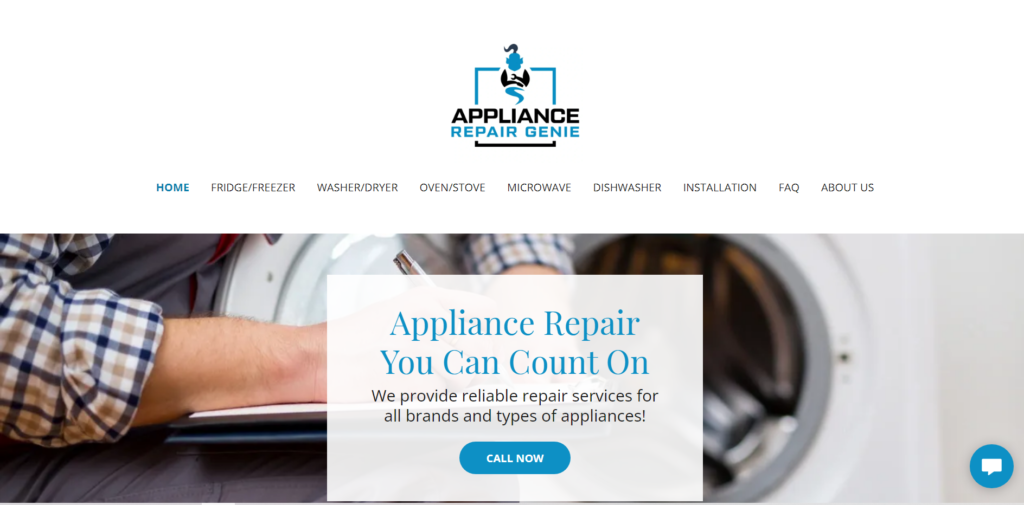 At Appliance Repair Genie, their priority is personalized customer service.
They don't just stick to one go-to solution when handling each of their repair projects. Instead, they take a close look at your appliance to find out which part is causing it to malfunction.
We can definitely recommend them because they offer their services at an affordable rate. However, the final price is on a case-to-case basis depending on which part is broken, so it may be hard for you to estimate how much you need to prepare.
Diagnostic fees start at $80, but a part of it can go be waived if you push through with repairs.
However, don't let that discourage you from choosing them, because the team behind this family-owned and -operated business is not only approachable regarding your concerns, but offers a lower price range compare to other companies.
Reasonable rates
Serves the GTA, including Markham, Scarborough, and Durham region
Licensed and insured
Rates are unavailable online
No free consultations or diagnostic services
Customer Reviews
Here are some reviews from their clients:
"My Sub Zero Refrigerator was broken 😥 so called this company and they came to inspect the problem on the same day. The service was very fast and very affordable 😍 i will call appliance repair genie again for all of my appliances."
7) Octopus Royal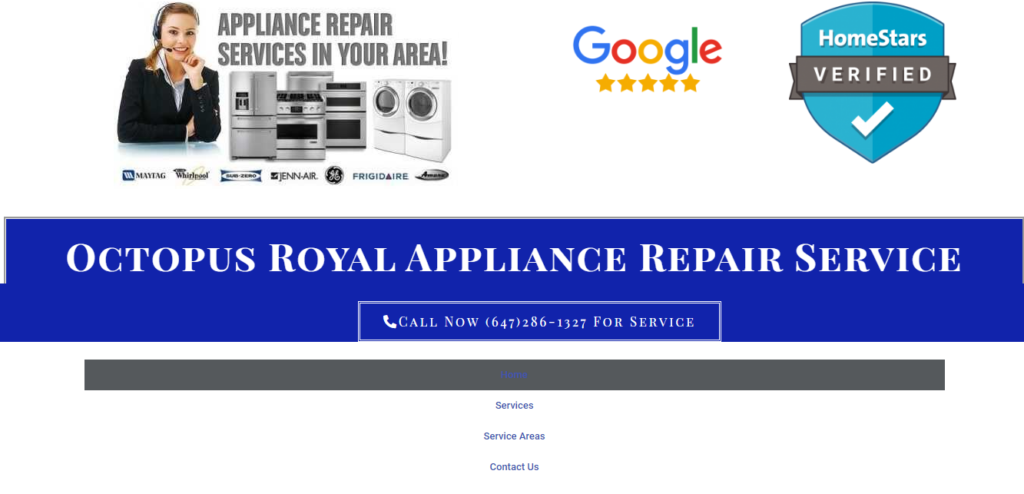 Octopus Royal is a company that specializes in any appliance you might find an issue with as they have wide and extensive knowledge on each brand of the said appliances. Their experts are able to repair, install and maintain any appliance you may need to help with such as kitchen stoves, refrigerators, freezers, dishwashers, and microwaves among others.

They also have access to the biggest appliance manufacturers which helps them procure parts easier and faster so that you can use your appliance as soon as possible. They service a lot of brands including G, Samsung, Miele, Sub-Zero, Whirlpool, Viking, Bosch, GE, and Electrolux among others.

The company also offers same-day repairs if you are in a hurry to get the said appliance fixed and working once again as they are also known for their accurate diagnosis and workmanship. Furthermore, they have a comprehensive system wherein you can get an accurate quotation of services that is transparent and free of hidden fees.

We recommend this company if you are looking for a one-stop-shop when it comes to appliance repair, installation, and maintenance as they offer such services at affordable rates along with high-quality supplies that came directly from the manufacturers of the said appliances.
Wide range of appliance care services
Highly accredited experts
Accurate diagnosis
Effective methodologies
Website could be improved
8) Affordable Appliance Repair Markham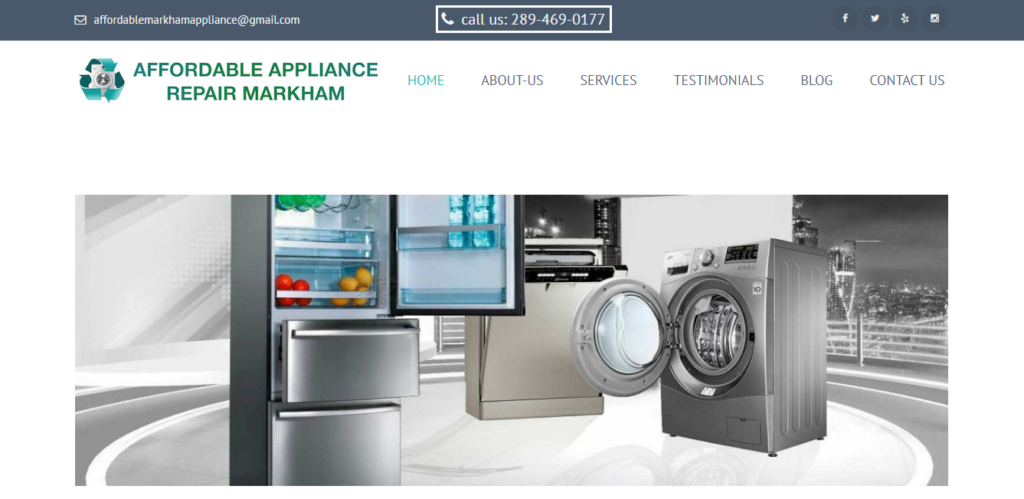 Affordable Appliance Repair Markham is your go-to for reliable emergency appliance repair services due to their comprehensive and expert procedures should you have called in for their help. They are open all week so you don't have to worry should you encounter any appliance issues out of the blue on holidays or weekends.
They employ only the best repair technicians for the job with adequate training in which they make it to the point that they receive the latest training so that you can be assured that they only put their best foot forward in any job you have for them. Each of their jobs is completed with utmost skill and care so that you can feel safe and secure when you use the said appliance after they have done their job.
Their technicians also have extensive knowledge when it comes to how various appliance brand works and understand just how different methods are applied in order to produce optimal results. Furthermore, they pride themselves on their excellent customer service which will surely guarantee you a pleasant and hassle-free experience with them along with speedy assistance and repair services as well.
We recommend this company for your emergency appliance repair services due to their prompt customer response both at affordable rates and at equally fast and efficient services which will ensure that you are able to use your appliance as soon as possible.
Affordable rates
Caters to emergency appliance repair services
Proficient services
Customer Reviews
Here are some reviews from their clients:
"I cannot express enough how beyond frustrating and stressful it is when a fridge decides to over heat instead of staying cool. I had a few days worth of groceries in my refrigerator, when I got up last Monday morning I found my refrigerator was not keeping cool. In fact, the outside was really hot to the touch. I did not know what to really do. So, I made a quick call to Affordable Appliance Repair Markham and they had one of their repair men out take a look for me. He was able to replace my temperature control panel that was malfunctioning. Their repair man was able to have my fridge back in working order by mid-day. Thank you Affordable Appliance Repair Markham. You guys are a life and money saver."
"Coming from an old school household where we had to help wash our clothes by hand and hang it up to dry, it's a big relief to have a machine that does all that dirty work for you. But it also sucks because technology is not always reliable either. For example, my washer broke down the other day and water went every which way, took forever to get it all soaked up. I call in the pros at Affordable Appliance Repair Markham, and their washer repair guy was able to tell me what need to be replaced. I needed a new intake valve and water pump. Gratefully they had the parts on hand and I got my washing machine fixed that very day. No more old school washing here for this dude. Thank a million Affordable Appliance Repair Markham."
9) Man With a Wrench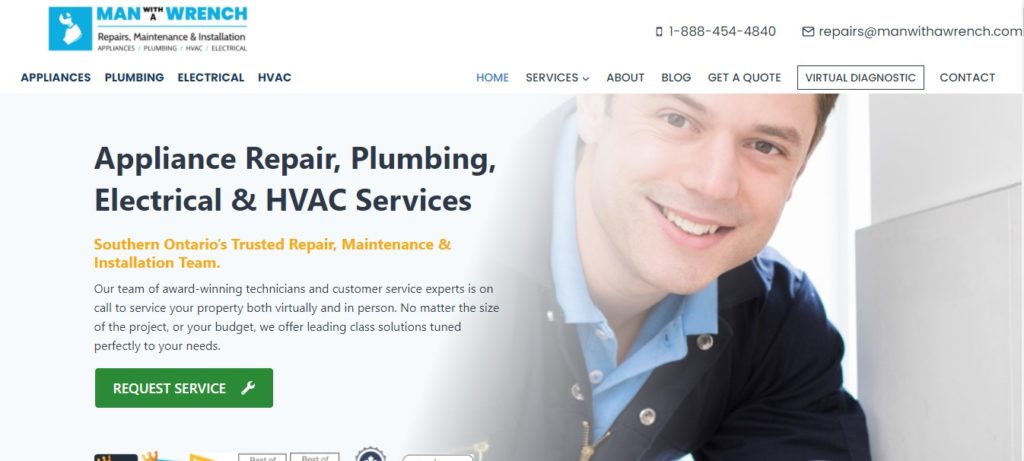 With more and more appliances of all sorts in our homes, it's unsurprising that we're seeing a rise in the need for appliance repair.
The Man With a Wrench is an experienced and professional company that can help consumers with their repair needs. They offer repair services for all types of appliances from refrigerators to washing machines, dishwashers, and ovens to dryers.
They've been contracted by top-tier companies like LandLord, Property Management Toronto, and Royal York Property management, to provide repairs on new appliances before they're delivered to customers' homes.
We definitely recommend them to make sure that your refrigerator is in tip-top condition all year round.
Work directly with coveted manufacturers
Offers other services aside from fridge repair
Provides leading-class services and prices that are fully transparent throughout the entire process
Exceptional warranty
Base rates are not available
Customer Reviews
Here are some testimonials from their clients:
"My tenants called me and advised that the fridge and freezer stopped working. I called Miele and advised that the earliest a service person is available would be in 2 week's time. By the time I called Man With a Wrench, it was already 6:30pm. Cristina answered the call and was able to arrange for someone to come the next morning. She gave detailed information on how the service will be charged. The service person who came the next morning was professional and courteous. He returned a second time as we needed to thaw the freezer and reset the fridge. He gave great advice on how to avoid the same issues from reoccurring. The charge was reasonable and exactly as quoted. I would highly recommend them."
"After attempting to use other technicians and failing I then decided to obtain the parts myself and use "Man with a Wrench". When I contacted Chris, he advised me to email him pictures of the parts that I have obtained in order to ensure that I had the correct parts. Thankfully I had all the parts and the same day I had an appointment for the next business day. Despite a severe snow-storm the 2 service technicians (Oleg and Archie) arrived at the allotted time and repaired my microwave. They both wore personal protective equipment and they took the extra precaution of flipping the breaker to the microwave. "Man with a Wrench" was professional, helpful, reliable, and their fee was reasonable. I would have no hesitancy in recommending them to any-one with an appliance issue."
10) ARNI Services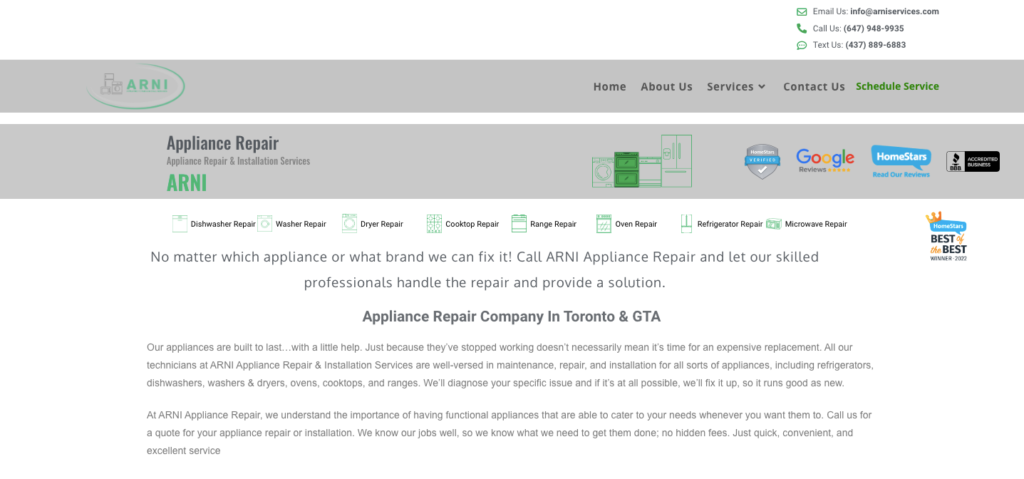 Any malfunctioning of your appliances at home will for sure cause great inconvenience to your daily lives. Good thing that we were able to come across ARNI Services as they offer a one-stop shop for your home appliance repair needs.
One of the highlights of their service is their refrigerator repair. It is impressive that they can cater to almost all brands of refrigerators if need to be repaired.
We are impressed that they have hired well-experienced technicians to service all new and existing freestanding and built-in fridges from all manufacturers, including Whirlpool, Samsung, LG, Monogram, and many more. These technicians will provide you with the root cause of all of your refrigerator problems and then within the shortest time possible.
A sneak peeks at the refrigerator repairs that they can do are the following: Bottom freezer refrigerator repair, Top freezer refrigerator repair, Side by side refrigerator repair, French door refrigerator repair, Built-in refrigerator repair, and Stainless steel refrigerator repairs.
BBB accredited
No hidden fees
90 days warranty on parts and labor done by ARNI Services
Trained employees
Great customer service
Base rates are not available
Customer Reviews
Here are some testimonials from their clients:
"⭐⭐⭐⭐⭐Arni was recommended to us by many and now I understand why .Cant recommend this company enough! very professional & knowledgeable! takes the time to make sure everything is installed properly. We have moved to a new build which not all the connections were build properly or build in at all to install all the appliances. He took the time to create new ones and made sure everything worked perfectly and gave us a peace of mind cant thank him enough!!" – Anat Ajison Pare
"Highly recommended technician. My GE Bottom Freezer Refrigerator stopped cooling and so I called these guys on a Friday evening after seeing the positive reviews. The technician came the same night to inspect and fix my fridge. Was a simple fix and technician charged a very fair price." – Francis Reyes
"Jenya from Arni services is really an honest person who wants to give the best service as quick as possible. He does what he says. I have gotten my washing machine serviced from him multiple times and I would definitely recommend him for his genuineness and fair pricing." – Praveen
11) Max Appliance Repair

SERVICES
Stove repair, Washer repair, Dishwasher repair, Dryer repair, Fridge repair, Oven repair
ADDRESS
314 Torresdale Ave, Toronto, ON, M2R 3N3 Canada
CONTACT DETAILS
(647) 797-4537


[email protected]

WEBSITE
https://maxappliancerepair.ca
Max Appliance Repair is a family-owned appliance repair shop based out of Torresdale Avenue in Northern Toronto. They have gathered stellar reviews fromclients.
It offers a price-beat guarantee wherein they can give you a lower price than competitors. Speaking of, people wrote that they charged reasonable rates for their repair work except for a few.
With lots of coupons online, you can cut down your expenses using their limited-time offer. Also, senior citizens can get a special discount with them—not many repair specialists offer these discounts.
Given their experienced and knowledgeable crew and fully stocked vehicles, you can rest assured that the repair will be done without the slightest bit of hassle.
Parts installed onto your fridge get a warranty of up three months or more. And if you aren't contented with their service, they'll sort out the issue at no additional cost, through their satisfaction guarantee.
Even though they promise same-day service, some complained about their response times, which for them took more than a day.
The highly-rated company also offers stove, washer, dryer, dishwasher, and oven repairs. They serve clients all over the Greater Toronto area.
Licensed and certified team
Can beat competitor's prices
Same-day services available
No 24/7 urgent services
Complaints about customer service
FAQs about the Best Options for Fridge Repair in Toronto
---
And those were our top options for fridge repair in Toronto. If you've used one of these services before, you can tell us how it went for you by sending us a message.
Furthermore, if you have any questions or thoughts about our picks, please let us know and we'll check them out.
Aside from that, you may be interested in the best garage door repair in Toronto. Like those we featured, they can assist you the same day and solve your problem on the spot.