Whether you need to repair, replace, or maintain the roof of your property, here are the best roofing Brisbane companies you can call to get it done in a safe and efficient way.
But, before we move on to our top recommendations, we'll delve into the average cost of roof services. This can help you plan ahead and know how much budget you should have for them.
The Average Cost of Roofing Services in Brisbane
Roofing contractors charge different rates for their services in Brisbane. Since each client's roof condition and needs are unique, we recommend getting an on-site inspection for a precise quote.
If you are merely comparing prices for further consideration, you may want to use a roof replacement calculator online or get a quote from a qualified contractor over the phone.
Now, we'll start with the average cost of roof replacement in the city. This can range between $8 and $500 per square metre, depending on the roof size and style, roofing, and labour.
Here's a table below showing the costs of replacing various types of roofs. As you can see in the data, concrete roofing material costs the least whilst slate roof types cost the highest.
| | |
| --- | --- |
| Roof Type or Membrane | Average Replacement Cost |
| Traditional slate-tiled roof | $200 – $500 per square metre |
| Terracotta-tiled roof | $80 – $110 per square metre |
| Steel roof | $50 – $70 per square metre |
| Sarking | $8 – $10 per square metre |
| Concrete-tiled roof | $40 – $60 per square metre |
For roof repair, you can expect to spend from around $1,000 to $2,500. Some common works include repairing roof tiles or ridge caps, renewing tile mortar, and sealing split gutter joints.
The factors that can affect roof repair price include the extent of the damage, materials, and the roofer's skill level.
Also, scroll down to see how much most roof repair tasks cost. Your roof might need a combination of the ones listed here, and as a result, will cost you higher.
| | |
| --- | --- |
| Roof Repair Services | Average Cost |
| Minor roof repair | $1,000 |
| Replace guttering of a small roof | $1,200 |
| Replace broken roof tiles | $1,300 |
| Ridge capping repair for a tiled roof | $2,000 |
| Repair and renew roof tile mortar | $2,500 |
Rates normally increase in relation to all of the factors we mentioned earlier because they mean more effort, time, and safety risks for the roofer in completing the roof repair or replacement.
The Best Roofing Brisbane
Now that we've tackled the cost section, we give you our lineup of the companies offering the best roofing services in Brisbane!
1) Brisbane Roofing Solutions

SERVICES
Roof repairs
Leaking roof
Roof tiling
Roof coatings
Roof painting
Guttering services
Whirlybirds
Exterior house painting services
ADDRESS
101 Kulcha Street, Algester, Brisbane QLD 4115 Australia
CONTACT DETAILS
(07) 3276 1546


[email protected]

WEBSITE
https://brisbaneroofingsolutions.com.au/
Brisbane Roofing Solutions is a preferred roof restoration and repair company based in the southern suburb of Algester. It has been serving Brisbane and Gold Coast clients for more than two decades.
It's owned by James Kelly, an experienced roofing contractor with a solid foundation. From having worked with two top roofing companies, he learned about the various roofing techniques and materials, which have proven to be invaluable to the business he now owns.
He and his team can repair or restore iron, concrete, terracotta, fibro, and decramastic roofing surfaces among others. They use only high-quality primers, sealers, and membranes to protect and extend the life of the roof.
The company is a versatile contractor as they can also take on roof and exterior house painting work, whirlybird installation to ventilate the heat from the house, and guttering jobs.
Unlike competitors, they offer free on-site roof inspection to give you an accurate estimate. By the way, we advise against trusting companies that offer to quote by just seeing a photo of your roof.
Another benefit with them is that you wouldn't have to worry about paying the entire sum after the service. They offer financing through Skye, in which you can divide the total amount into equal monthly payments for 2 years, interest-free!
They offer first-class and professional roofing Brisbane services, as many clients can attest to. And these are backed up by a generous 10-year labour guarantee!
Trade-qualified roofers
Wide variety of services
Free roof inspection and quote 
Offers 24-months interest-free payments
10-year labour warranty
Doesn't offer commercial services
Unavailable on the weekends
Complaints about their process and customer service
Customer Reviews
Professional and seamless roofing and repainting
"We could not recommend Brisbane Roofing Solutions more highly. From start to finish they were professional, friendly and organised our roof sealing and repainting seamlessly. Jesse and Alex who completed the work were such lovely guys to deal with and we are extremely happy with the end result. We were so happy that we chose them, their great reviews were correct." –Mark Dumont
Quick turnaround and upfront communication
"The team did an amazing job on our roof! The turn around was very quick and the outcome was of high quality. There was a 6-8 week delay before they could start the job (from quote time to time of works) but this was communicated upfront and it goes to show how busy they are because of their great work! Would definitely recommend!" –Joanne Chan
2) Vantage Point Roofing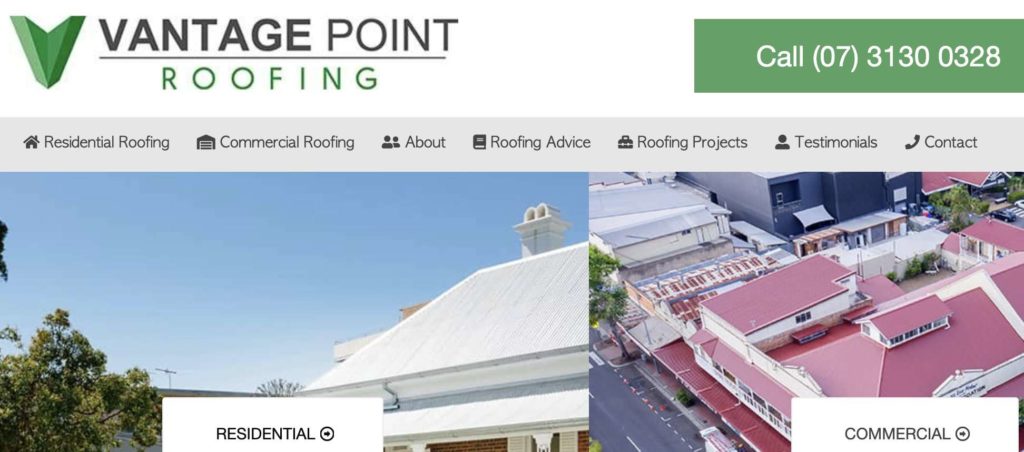 Do you have a leaky, worn-down, or asbestos-filled roof? In this case, you can get Vantage Point Roofing to sort the issue out.
Their investment is in their highly skilled and professional team members who work together to give excellent and safe roof outcomes. They also undertake regular audits to ensure they continue to meet the industry safety standards.
They serve both residential and commercial clients, including property and facility managers, body corporates, and insurance companies and property owners.
Depending on the roofing problem, they can tailor a solution that can meet their specifications and timeframes, not just a random and standard fix.
Vantage Point roofers specialize in sleek metal roofing. They can replace the damaged roof of your house, office, RV, warehouse, or industrial complex.
As they use Bluescope Steel products for roof replacement, you can get the advantage of their lengthy warranties, and a 10-year service guarantee on top of that.
Having successfully replaced and repaired over 5,000 roofs and a fantastic reputation amongst clients, they certainly have some of the top roofing Brisbane services.
If you need functional accessories for your roof such as skylight panels, ventilation, or downspouts, they can install them for you too.
It's usually easy to book an appointment with them. You can do this by directly calling them, or for roof replacement, by filling in their form online and they can get back to you shortly.
However, during the peak season, they get so busy that they might call a subcontractor to inspect your property for minor problems, for example, a small leak or downpipe problem.
Also, the roofing firm can accept cash, cheque, and direct deposit payments. But, we observe that they don't have any finance options available.
Finally, Vantage Point Roofing is available from Mondays to Fridays from 7:00 AM to 5:00 PM. They cover Brisbane, the Gold Coast, and the Sunshine Coast areas.
Metal roofing specialist
Safety-focused roofers
Offers residential and commercial services
100% satisfaction guarantee
10-year service guarantee
Accepts cash, cheque, and direct deposit payments
No finance options
Can be busy during peak seasons
Closed on the weekends
Complaints about customer service
Customer Reviews
Easy to work with
"I had the friendly staff from Vantage Point Roofing come to my home for a roof inspection after a hail storm. Lewis was friendly, knowledgeable and explained the repairs process. The detail in the quote sent through also identified the issues that needed to be rectified and I was very happy with the easy to work with team at Vantage Point." –Adrianne Jamieson
Impeccable professionalism and communication
"I didn't think I would be this excited about a new roof – replacement of a 90 year old roof and far from an easy job with all the angles and window hoods. The professionalism and communication throughout the process from initial contact, sales, scheduling and trades was second to none even with the elements against us. Special mention to Jack, Matt, Michael & Eddie for the long hours they put in to ensure the job was done, their attention to detail and how well the site was kept at all times. Also to James in sales and Dan with the scheduling. Highly recommend." –Megs H
3) Queensland Roofing

SERVICES
Roof repairs
Roof replacement
Roof restoration
Home improvement
ADDRESS
19/10 Eagle St, Brisbane City QLD 4000, Australia
CONTACT DETAILS
+61 1300 902 037
WEBSITE
https://www.queenslandroofing.com.au/
Queensland Roofing was formed in 1978 and offers roof replacement and repair. They specialise in metal, tile, and Colorbond roofing, which is a resilient and lightweight material.
But no matter what type of roof you have, be it concrete, decramastic, or slate, their licensed builders can work on fixing any minor issues to providing a full-scale replacement.
In addition to this, they provide a range of home improvement services—such as termite control, pergola, carport, and veranda repair, asbestos removal, and handyman services.
Unique about this company is their price-beat guarantee. As such, if you find a lower quote from another contractor, you can show them the written quote and they can top it.
Another pro is the fact that they're open seven days a week to service your roof. Given this, it's probably safe to say that the work can be finished at a much quicker rate.
Plus, they can give you an estimate over the phone, but this is not a 'guesstimate'. They use satellite imaging that allows them to still make their prices accurate.
Most clients lauded this company in terms of its constant updates, fast response, and great work outcome. While they offer a service warranty, it's not indicated as to how long it is valid.
So, these are the reasons why they are one of the best roofing specialists in Brisbane. If you want an outstanding roof result, reliable service, and decent price, you should choose them.
Price-beat guarantee
Licensed builders
Takes on business and home roof works
Offers phone quotes
Gives a workmanship warranty
Gives a service discount
Open the whole week
Length of warranty not indicated
No finance options available
Complaints about customer service
Customer Reviews
Superb workmanship and friendly service
"Exceptional service! Can not recommend them enough. I found the customer service to be fantastic and Morgan was a pleasure to work with. He kept me informed every step of the way as to what was happening. I would definitely go through them again if I have any issues and recommend them to all my family and friends. Super friendly crew and excellent workmanship." -Lindy Lockwood
Diligent tradesman and thorough roof inspection
"…David performed a through inspection in and on the roof. Something that other roofers would not do. He also discovered leaks we weren't aware of and gave us a quick history on the issue prone decramastic tiles and flashing issues with our roof. He spent almost 2 hours all up (about an hour over multiple phone calls and an hour to come out and quote) without any guarantee of us accepting the quote. This kind of service is extremely rare and we were quite impressed.
We were highly appreciative of David's honesty and transparency throughout the process.
When it come to the job itself, we ended up going for a roof replacement with a colorbond roof. Andre and his team were very efficient and professional. There were a couple of hiccups along the way, but these were rectified quickly." –MJ
4) Vincent Roofing

Covering Brisbane and the adjoining areas, Vincent Roofing offers roof restoration, repair, and maintenance for business and home properties irrespective of the project size.
Their team is fully certified and insured so you can expect the best result for your roof, its recurring issues solved, and safety and accountability until the work is finished.
Their forte is in building Zincalume, Colorbond, and metal roofs. Their roofing products are all made in Australia and designed to withstand harsh or inclement weather.
If you want a visually appealing new roof, then you've found the right company. They have transformed dilapidated roofs into picture-perfect ones as you can see in their online gallery.
The process of fixing or replacing your roof can be stressful but it doesn't have to be. As clients can confirm, their staff is responsive and helpful to deal with from quoting to completion.
Being open six days a week, they can answer your questions, advise you regarding roof colour, and book you an appointment.
Although this company offers a service warranty of up to seven years, it's shorter compared to those of other roofing contractors.
Also, their office is based in Springfield Lakes, which is a bit far from Brisbane CBD, and thus mean a higher trip fee. You can get a free quote from them on their website or by phone.
Fully licensed and insured crew
Uses Aussie-made products
Serves domestic and business clients
7-year roofing warranty
Shorter warranty period
May charge a higher trip fee
Closed on Sundays and public holidays
Customer Reviews
Professional and knowledgeable to work with
"Eli is a good professional and very knowledgeable. Highly recommend Vincent Roofing. Thanks for your service. No more leakage in my house." –Sayura Quezada
Awesome service and good workmanship
"Quality, Responsiveness, Awesome service from another great local business. Honest and good workmanship, highly recommended!" –Tom Haldys
5) Ozroofworks Metal Roofing

SERVICES
Roofing Services

Metal roofing
Colorbond roofing
Roof insulation
Metal roof repairs
Roof replacement

Gutter Services

Gutter replacement
Gutter repairs
Box gutters
ADDRESS
42 Jackson St, Hamilton QLD 4007, Australia
CONTACT DETAILS
1300-459-915


[email protected]

WEBSITE
https://www.ozroofworks.com.au/
If you are thinking of changing your roof for a metal one, you could try Ozroofworks Metal Roofing. It's a family-owned business that has grown and thrived for over 40 years.
They use Colorbond and Zincalume for their roofing materials. These products are popular nowadays since they are incredibly durable and rust-resistant.
These kinds of roofs can actually hold out during a hurricane or typhoon because they are made to endure it.
Of course, they have insured and licensed roofers who strive to finish your new roof project to a high quality and on time.
The reason you can be confident of their metal roofing is they give a long warranty of 30 years. Coupled with this is their outstanding labour guarantee of a decade—beating other companies out there.
Apart from that, we like that they have uploaded videos of their previous roof projects for everyone to see and evaluate whether they are the right company for them.
Plus, they have a fast and modern quote form so you can reach the team immediately from their web page. This doesn't involve completing a lot of information, only just a few essential details.
Their only blemish is that a few people were dissatisfied with their customer service. But we think that the majority can agree that Ozroofworks Metal Roofing offers some of the best roofing Brisbane services.
Metal roofing specialist
Serves business and residential clients
Licensed and insured roofers
30-year product warranty
10-year workmanship warranty
Closed on Sundays
No discounts and offers available
Complaints about customer service
Customer Reviews
Great customer service and excellent re-roofing
"Mathew and his crew were very professional and punctual. Mathew explained in details what problems my roof had and the required fixes. His team arrived on time and did a great job re-roofing my roof. If you want a roofing company that's great with customer service and does an excellent job with what they do. You will not be disappointed with this company!" –Diane Houston
Professional roofing job and great value for money
"Hey matt thanks for my reroof and carport you did,great value and professional job by the boys very polite and work done right the first time would highly recommend this company to friends and family and people wanting anything to do with roofing? Cheers guys" –Gary Vale
FAQs about the Top Roofing Brisbane Services
---
And that's all for our list of the best roofing services in Brisbane. If your roofing has a problem, don't delay, as you can depend on these licensed, safe, and trusted contractors.
Have any questions or comments at all about our picks? If you do have one, feel free to drop us a line and we'll get back to you in a jiffy.
Besides that, you may also want to remodel your house, add a new section to it, or repair faulty furniture. So for this, you can enlist the help of the best carpenters in Brisbane!