Moving to another place is yet another life adventure.  Make it even better by partnering with a reliable removalist that can make your transfer comfortable and convenient.
Since we know that you still have a bunch of things to do before the big event, we have already conducted the research part for you.  And after hours of comprehensive research, we were able to put together six of the best removalists Newcastle homes and businesses trust.
These brands are considered the best in their field through their history, expertise, innovation, customer service, and five-star reviews.  They went through the ups and downs in the local industry of Newcastle, New South Wales, but still focused on providing quality services.  You can never go wrong in choosing one of these companies.
So, what are we waiting for? Time is crucial at this point.
Come on, and let's meet them.
1. Acrobat Removals & Storage

BEST FOR
Home and office removals
SERVICES
Modular furniture storage

Local, intrastate, and interstate removals

Onsite relocations

Long-distance removals

Household removals

Apartment removals

Furniture, piano, safe, trampoline, home gym, and potted plant removals

Desk combo and compact unit removals

Disassembly and reassembly of furniture

Pre-packing and storage

Supplies packaging materials

ADDRESS
9 Friesian Close, Sandgate, Newcastle, NSW 2304
CONTACT
Phone: 02-4940- 9500

Email: [email protected]

WEBSITE
https://www.acrobatremovals.com/
Acrobat Removals & Storage has been moving homes and offices since 1994.  It is known to execute its job as quickly as possible while giving respect to you and your belongings.  The Acrobat's staff has the ability and efficiency to help you achieve a stress-free transfer experience.
Why Acrobat Removals & Storage?
Free accurate quotes
Discounts for interstate removals
25+ years of moving expertise
2. Carnall Removals

BEST FOR
Domestic, commercial, and industrial removals & storage
SERVICES
Local, national, international, and long-distance removals

Home and business removals

Art, furniture, and antique removals

Transport and delivery

Packing and unpacking

Interstate backloading

School and library relocations

Storage

ADDRESS
5 Ranton Street, Cardiif, Newcastle, NSW 2285
CONTACT
Phone: 02-4953- 6555 | Mobile: 02-4953-6500

Email: [email protected]

WEBSITE
https://www.carnallremovals.com.au/
Carnall Removals, a family-owned and operated removalist company, has been established since 1978.  It offers comprehensive coverage in servicing the Hunter region, Central Coast, Port Stephens, Victoria, Queensland, and New South Wales.  The company's professional team can prepare your furniture using a unique method before their loading and transportation.
For commercial and industrial moves, the Carnall Removals approach entails one of its representatives to first consult with your project manager for the removal.  This enables them to establish the scope of removals, budgets, and deadlines.
3. Time Rite Removals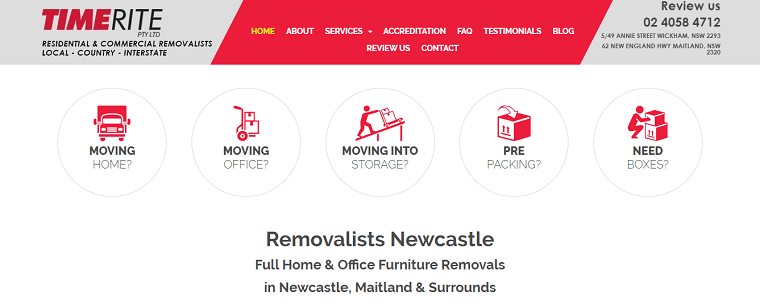 BEST FOR
Full residential and commercial removals
SERVICES
Home and business removals

Pre-packing and unpacking

Home and office furniture removals

Delivery and storage

Local and interstate removals and storage

Moving insurance

ADDRESS
5/49 Annie Street, Wickham, Newcastle, NSW
CONTACT
Phone: 02-4927- 6687

Email: [email protected]

WEBSITE
https://timeriteremovals.com.au/
If you're looking for efficient and fast removalists, New Castle recommends Time Rite Removals.  The company offers excellent customer service at low rates, ensuring that you receive value-for-money services. It also provides moving insurance, offering coverage for your valuables throughout the entire relocation process. Time Rite Removals guarantees professional packing and transport of your property using only the most efficient techniques and best care to minimize any damage.
4. Newcastle Moving and Storage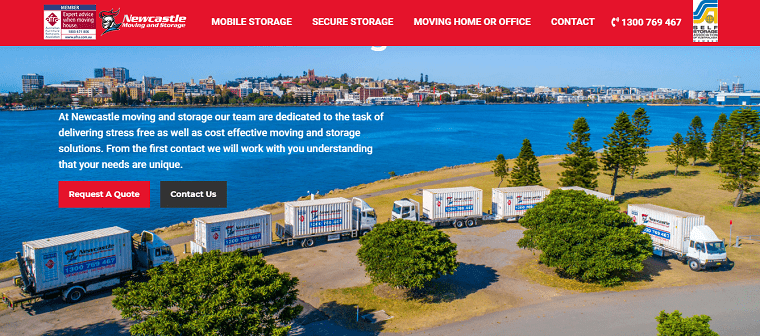 BEST FOR
Home and office removals & storage
SERVICES
Mobile storage

Office relocations

Secure storage

Furniture removals

ADDRESS
499 Tomago Road, Tomago NSW 2322
CONTACT
Phone: +61-1300- 769- 467

Email: [email protected]

WEBSITE
https://www.newcastlemoving.com.au/
New Castle Moving and Storage has been moving Australian homes for 30 years.  It is also a certified member of the Australian Furniture Removers Association (AFRA), offering expert advice when it comes to moving properties.  Aside from those, New Castle Moving and Storage prides itself on progressing along with time by incorporating innovative methods, solutions, facilities, and equipment to serve its customers better.  If you have queries or need assistance for your relocation, give them a call or use this contact form to reach out.
5. Move With Ben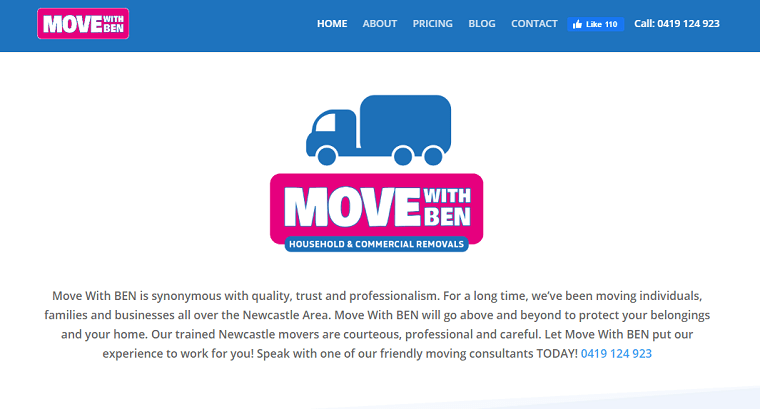 Move With Ben has been providing high-quality removalist services with excellent customer service since 2014.   The company implements its 3-men-and-a-truck policy, knowing that the job is done quickly and more efficiently.  This way, you also obtain more cost-effective services.  Move With Ben services New Castle, Greater Hunter, and the rest of the NSW.
6. Novocastrian Removals & Storage (Direct Furniture Removals)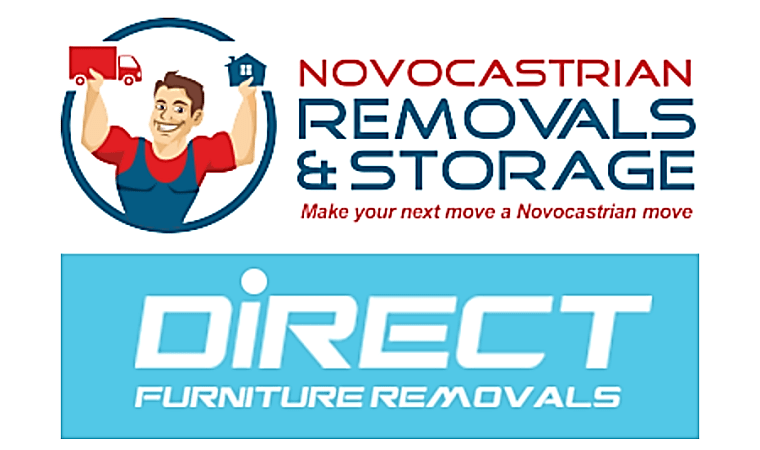 BEST FOR
Interstate and country removals
SERVICES
Furniture removals

Backloading

Piano and large item removals

Loading

Dismantling and reassembly

Secure short-term or long-term storage

Packing and unpacking

Office and commercial removals

Transit insurance

Antique, artwork, and fragile item removals

ADDRESS
Awaba Road, Toronto NSW 2283, Australia
CONTACT
Phone: (02) 4950-5583 | 24-hour hotline: 0406-480-916

Email: [email protected]

WEBSITE
http://directremovals.com.au/
Novocastrian Removals & Storage (a.k.a. Direct Furniture Removals), a family-owned and operated business, has 20 years of industry experience and high-quality, fully-insured services.  It allows you to decide with flexibility, offering two pricing options: hourly rate and fixed price. Novocastrian also offers tailored services to better cater to your budget and requirements.