Whether great or small, professional plumbers will always find a way to meet your plumbing needs.  They are capable of standing behind their work, guarantee customer satisfaction, and build customer relations that stand through time.  For your plumbing issues, only trust professional plumbers who can give value for your money.
If you're a resident or business owner located in Castle Hill, New South Wales, you can always rely on these professional local plumbers:
1. Good Neighbour Plumbing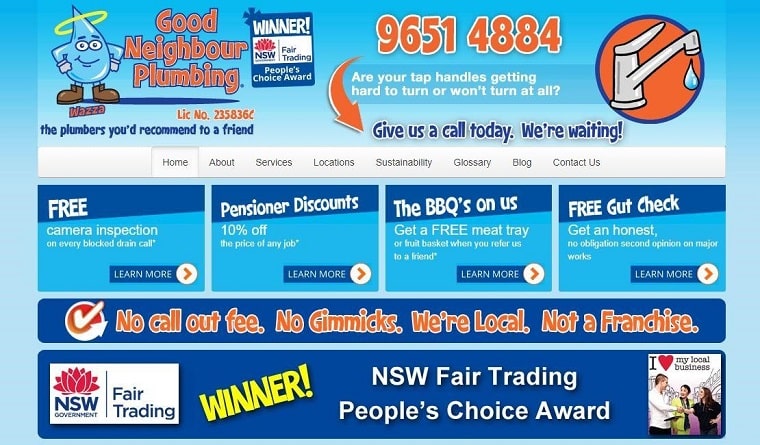 BEST FOR
Blocked drains
SERVICES
Trenchless pipe patching

Jet blasting

CCTV camera inspections

Septic tank and absorption pit renewal

Renewing existing lines

Connection to mains

Water leaks

Tap and toilet repair

Filter and gas points

ADDRESS
10 Wetstone Way, Dural, New South Wales, Australia 2158
CONTACT
Phone: 9651- 4884

Fax: (02) 9651- 7081

Email: [email protected]

WEBSITE
https://www.goodneighbourplumbing.com.au/
Good Neighbour Plumbing, a locally owned business, is a premier plumbing company that provides high-quality services, excellent workmanship, and customer satisfaction.  What's more? If you have a serious water leak, Good Neighbour Plumbing is willing to provide you with a statement that you can forward to Sydney Water to recoup money from a high water bill.  The company also provides water efficiency certificate documents for your rental property.
2. SalCo Plumbing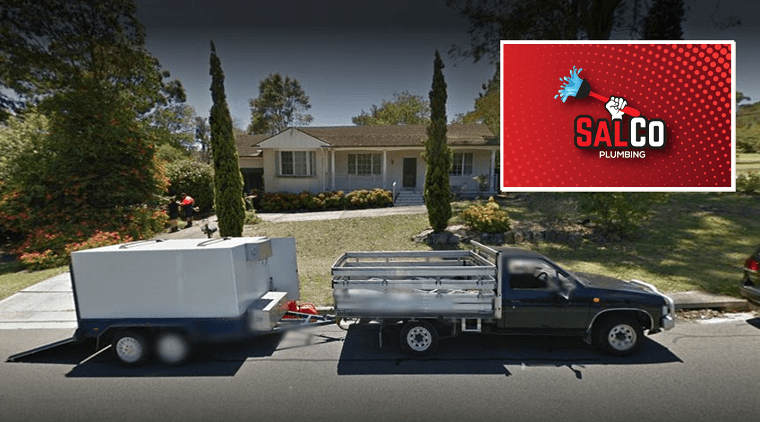 BEST FOR
Blockages and overflowing drains services
SERVICES
Hot water systems and Gas hot water systems

Blocked toilet

Leaking taps and pipes

Plumbing installation

Clogged and blocked sink

Pipe repair

General plumbing

Emergency plumbing

ADDRESS
29 Eaton Rd, West Pennant Hills NSW 2125, Australia
CONTACT
Phone: (61) 456- 258- 254
WEBSITE
https://www.serviceseeking.com.au/profile/142520-salco-plumbing
 SalCo Plumbing uses cutting-edge equipment and innovative methods to deliver high-quality plumbing, drainage, and gas fittings services.  The company always aims to exceed customer satisfaction by providing guaranteed and quality workmanship at reasonable rates.
3. SWAG Sewer, Water & Gas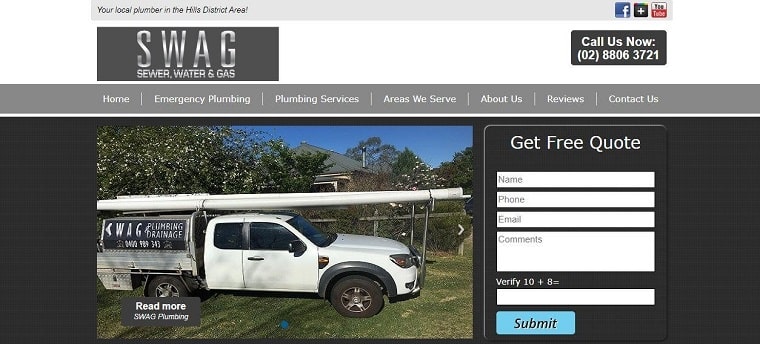 BEST FOR
All types of plumbing services
SERVICES
Residential and commercial plumbing

Maintenance and repairs

Emergency plumbing

General plumbing

Rainwater tanks installation

Hot water systems

Water leak detection

ADDRESS
Suite 414, 2 – 8 Brookhollow Avenue, Baulkham Hills NSW 2153
CONTACT
Phone: (02) 8806 3721
WEBSITE
http://swagplumbing.com.au/
 SWAG Sewer, Water & Gas is a full-service residential and commercial plumbing service company located in the Hills District.  It is fully insured and licensed in order to provide guaranteed work to its customers.  Their years of experience can be translated into the quality of service they deliver.  Below are the good points of SWAG:
Fully trained and licensed plumbers
Uniformed and neat professionals
Upfront quotes, no hidden charges
Prompt response and service
Clean work area after leaving
4. Buzz Plumbing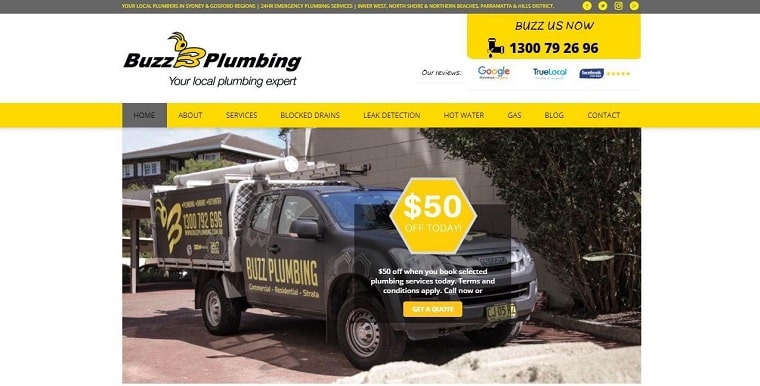 BEST FOR
SERVICES
Blocked drains

Leaked detections

24-hour emergency plumbing

Gas plumbing

Hot water systems

Roof repairs

Commercial and industrial services

Strata, real estate, and body corporate

ADDRESS
106/14 Loyalty Rd, North Rocks, NSW, Australia, 2151
CONTACT
Phone: 1-300-79-26-96
WEBSITE
https://buzzplumbing.com.au/
Buzz Plumbing is an Australian-owned and operated plumbing company servicing the Central Coast and Sydney area 24/7.  They implement the highest standards when it comes to their workmanship, customer service, and equipment so that you will always receive value for your money.  Here are some reasons why you should consider hiring Buzz Plumbing:
Vehicles equipped with parts and tools to get the job completed straight away
Offers helpful advice to get you started
Fixed quotes
24/7 emergency services
5. Emergency Plumber Near Me
Emergency Plumber Near Me is a highly reputable and trustworthy plumbing company amongst the locals in Castle Hill. Their on-call team is available 24/7 within the Castle Hill suburb, always to the rescue. With a network of over 30 overnight plumbers, there has never been a time when they haven't had a plumber available.
6. President Plumbing Solutions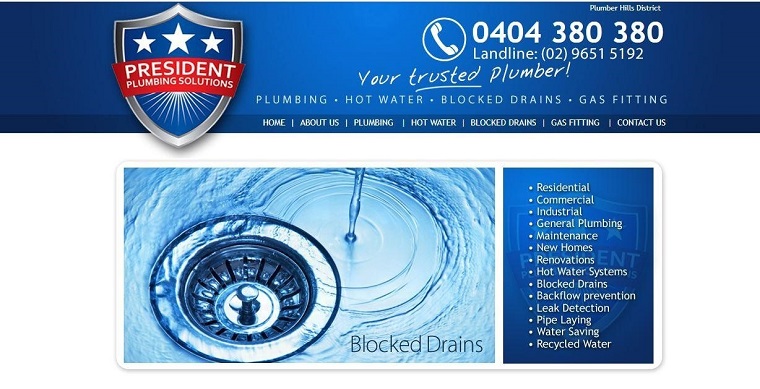 BEST FOR
Residential, commercial, and industrial plumbing services
SERVICES
Emergency plumbing service

General maintenance

Blocked drains

Hot water systems

Gas fitting

Pipe laying

Recycled water

Backflow prevention

ADDRESS
53 Wildrose St, Kellyville NSW 2155, Australia
CONTACT
Phone: (02) 9651-5192 | Mobile: 0404-380-380

Email: [email protected]

WEBSITE
http://www.presidentplumbing.com.au/
Headquartered in Kellyville, President Plumbing has been servicing the Hills District for more than a decade.  Its team of top quality tradesmen provides a wide spectrum of plumbing services including hot water, drainage, emergency plumbing, and gas fitting needs.  Even though President plumbing is based in the Hill District, it services the entire North-Western region of Sydney.
7. Hogans Plumbing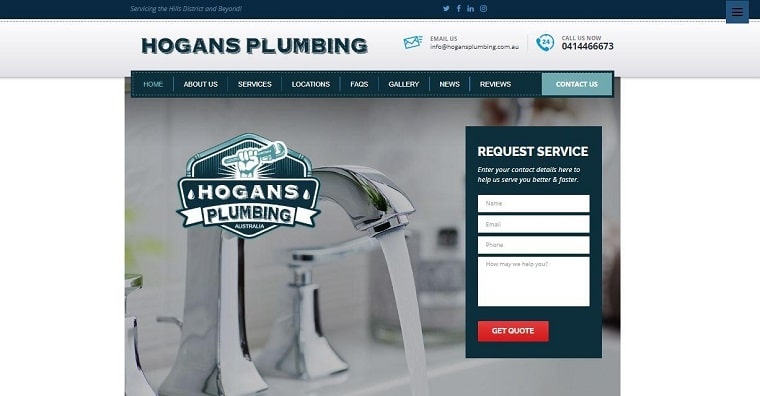 BEST FOR
Residential and commercial plumbing works
SERVICES
Hot water services

Toilet repairs

Commercial and industrial services

Water treatment systems

Gas line services

Roofing and maintenance

Fixtures and leak repairs

ADDRESS
The Hills District, NSW, Australia
CONTACT
Phone: 0414-466-673

Email: [email protected]m.au

WEBSITE
http://hogansplumbing.com.au/
Hogans Plumbing, a fully licensed and insured plumbing service provider, was founded on trust, service, and quality work.  The company is committed to excellence whether in workmanship or customer service.  Its team of professional plumbers always looks forward to achieving a high standard of quality work and feedback to push further to the next level.  Hogans Plumbing offers the following:
24-hour emergency services
Highly dedicated support staff and uniformed, licensed plumbers
Free estimates
Discounts to police officers, seniors, and teachers