Are you facing plumbing issues like leaky pipes, running toilet, sewer blockages or frozen pipes?  Are you living in Ottawa?  If you answered "yes" to both questions, then worry not. We listed the most reliable partners to do the job:
1.  John The Plumber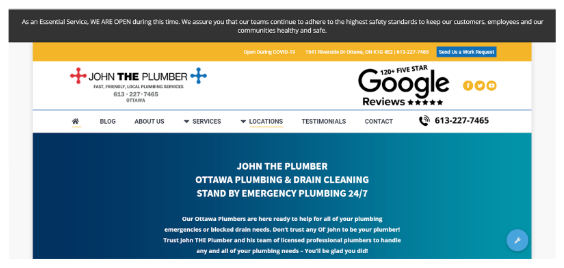 | | |
| --- | --- |
| BEST FOR | Emergency plumbing services |
| SERVICES | General plumbing, blocked drains and sewers, drain replacement, frozen pipes, clogged showers, leaks, burst pipes, clogged sink, sump pump replacement, hot water tanks, hot water heaters, hot water problems, pipework replacement |
| | 1541 Riverside Dr, Ottawa, ON |
| CONTACT | 613-227-7465 |
| WEBSITE | https://johntheplumber.ca/ |
With 15 years of experience in the industry, John the Plumber promises only the most reliable and effective plumbers to help you with all your plumbing emergencies. Originally coming from Ottawa., Join the Plumber has expanded to serve a wider customer base as they have grown through their competent team of professional plumbers. 
They offer services for blocked drains, clogged sewers, drain replacement, leaks, toilet maintenance, and many more. They proudly tout a 2 year warranty for their services, as well as their 24/7 emergency services.
2.     Mr. Rooter Plumbing—Ottawa
BEST FOR
Residential, commercial, and emergency plumbing services
SERVICES
Drain cleaning, HydroScrub® – Jetting, sewer system backups, sewer line repair & replacements, trenchless sewer line repair, plumbing video camera inspection, plumbing diagnosis & inspection, plumbing repairs, plumbing replacement & installations, water line repairs

water heater repair & replacements, plumbing system maintenance, emergency service, backflow prevention device replacement & installation, boiler service

septic tank service, preventative maintenance products & services, etc.

ADDRESS
3900 Russell Rd. Ottawa, ON K1G 3N2
CONTACT
Phone: 613-746-0000

https://www.mrrooter.ca/ottawa/about-us/contact/

WEBSITE
https://www.mrrooter.ca/ottawa/
Established in 1970, Mr. Rooter has remained committed to providing their customers with top quality services.  It is a family-owned and operated company with franchises all over the country yet connected with a common set of values and shared belief in providing the best possible customer satisfaction.  If you have any questions, just head to their website and fill up the query form.
3.  Out of This World Plumbing

We can confidently say that Out of This World Plumbing is Ottawa's friendliest plumber. Their team has been providing exceptional plumbing services in the area since 2004, especially since they were more known formerly as DS Plumbing). There's no doubt that they are one of the fastest and most professional Ottawa plumbers.
For these guys, no job is too big or too small—they simply love plumbing. The company provides predictable pricing which means that they will let you know the full price of work in advance, including the labor; and 100% satisfaction guarantee.
4.    Safari Plumbing Ltd.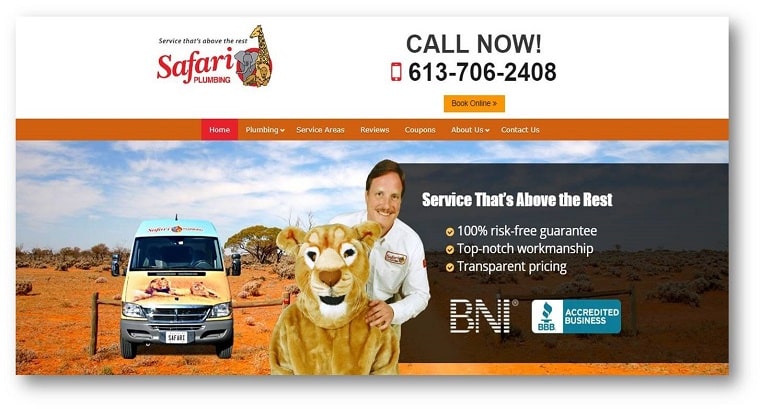 BEST FOR
General plumbing services
SERVICES
Kitchen plumbing, clogged toiled repair, root removal, drain cleaning services, sump pump services, etc.
ADDRESS
1902 Robertson Road, Suite 202H, Ottawa, ON K2H 5B8, Canada
CONTACT
Phone: 613-706-2408

Online booking: https://www.safariplumbing.ca/schedule-an-appointment/

WEBSITE
https://www.safariplumbing.ca
Safari Plumbing Ltd. is a fully-insured and licensed plumbing company.  Established in 1979, the company already has 40 years of experience in bringing high-quality services to its clients in both domestic and commercial sectors.  All of their technicians are registered and licensed by the Government of Ontario.  Moreover, the company has $2 million in liability insurance to ensure that their clients' property is fully secured and protected.
Whether you need a simple repair or a huge renovation project, Safari Plumbing's experienced technicians are always ready to serve you.  Feel free to let them know how they can be of help via this link.
5.  Bertrand Plumbing & Heating Inc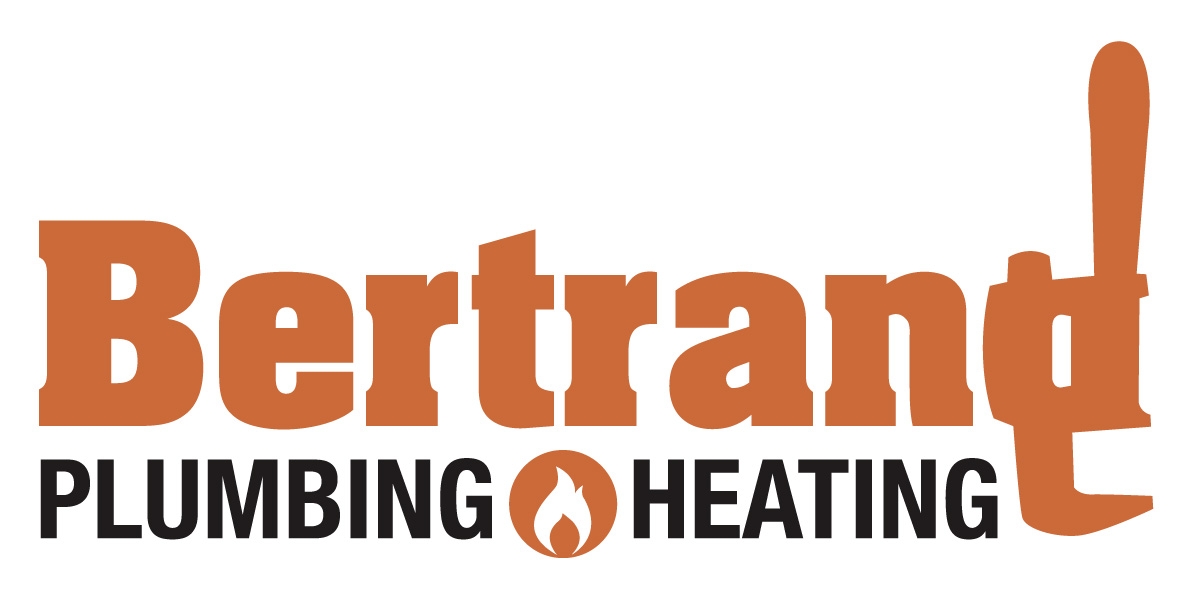 | | |
| --- | --- |
| BEST FOR | Residential or commercial plumbing, heating, air or water treatment service solutions |
| SERVICES | Plumbing; heating, cooling, and ventilation; ductwork service; fireplace design and installation; radiant flooring; water treatment |
| ADDRESS | 195 Bay Street, Embrun, ON, K0A 1W1 |
| CONTACT | Phone: 613.443.3090 |
| WEBSITE | https://www.bertrandplumbing.com/ |
Bertrand Plumbing & Heating Inc. si renowned for high quality residential and commercial plumbing, heating, ventilation, air conditioning and water treatment services in the Greater Ottawa Area since 2005. A family owned business, their installation and service workmanship has been rewarded with repeat business. They're committed to all of their tasks – large or small – and insist on getting it right. Their team has the technical abilities, and quality products (such as Carrier heating and cooling products) to complete any project.
6.   Francis Plumbing & Heating Climate Care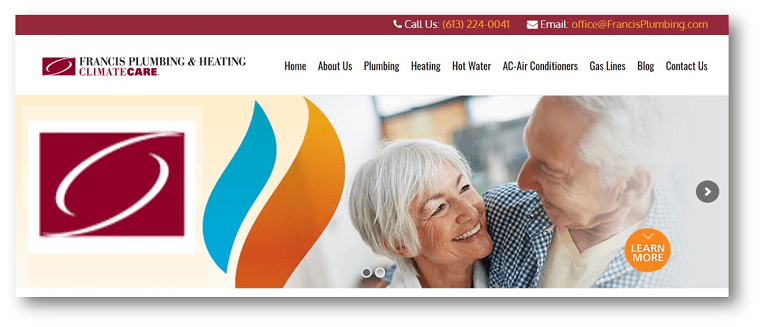 | | |
| --- | --- |
| BEST FOR | Plumbing, heating, and air conditioning services |
| SERVICES | Plumbing, air conditioning, hot water, heating, and gas services |
| ADDRESS | 25-174 Colonnade Road South, Ottawa, ON K2E7J5 |
| CONTACT | Phone: 613- 224-0041 |
| WEBSITE | https://francisplumbing.com/ |
Francis Plumbing and Heating has over 80 years of experience in providing plumbing, gas, and heating services in Ottawa.  The company employs licensed Ottawa plumbers, and HVAC specialists to ensure that their customers are provided with complete satisfaction.  They also make sure that they have the right resources through the latest technologies in order to give the best service and help homeowners to save money.
7. Dr. Pipe Drain and Plumbing

According to the testimonials of their previous clients, they said that dealing with Dr. Pipe was a rare experience when you feel good paying. They also mentioned that they respond immediately, made a quick, no obligation analysis, and identified immediately the source of the problem.
Another client mentioned that they definitely recommend Dr. Pipe Drain and Plumbing because they give a way lower quote than other companies. And that even though it was cheaper, they did not compramise the quality of their service.
No job is too small or too big for them. They provide a comprehensive approach and their services include everything from drain cleaning to finding a creative solution to upgrade or repair the issue you are dealing with.
People choose them because they are fully licensed and insured, they have a 1 year warranty for plumbing repair, 5 years for rough-ins, 10 years for waterproofing, and 20 years warranty on underground drain jobs.
Their licenses include P.ENG License, Master Plumbing License, Plumbing License, Fire protection Technician License, and WSIB.