Planning to build your dream home can be a stressful process.  You need experts to help you out.
If you're living in Calgary, we just have the right list for you.  We have rounded six of the best home builders Calgary residents trust over the years.  These companies have built uniquely beautiful homes that reflect the personality and lifestyle of their clients.
Want to be part of their clientele? Scroll on and get to know them.  We're sure that you'll find the one who best suits your style and needs.
Are you ready? Fabulous!
Let's start.
1)   Trickle Creek Homes, Inc.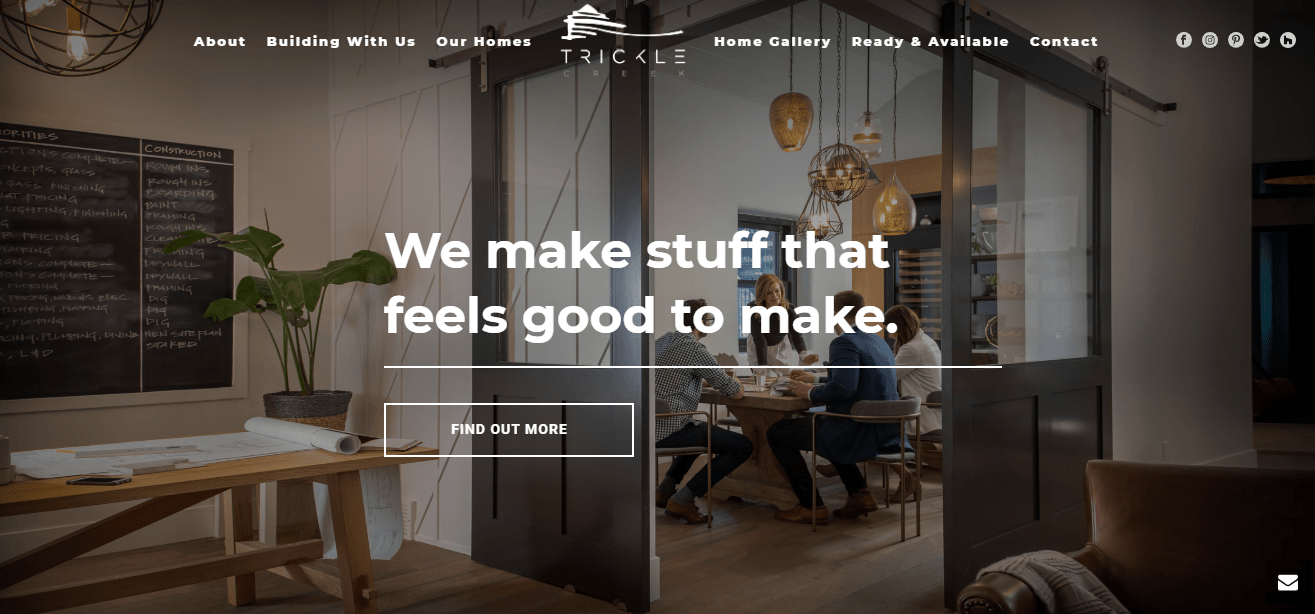 BEST FOR
House and land
SERVICES
New construction

Custom-built home

Kitchen, bathroom, and basement renovations

Residential home

Interior and exterior design

Floorplanning

House planning

Project management

Remodeling

ADDRESS
1631 45 Avenue Southwest, Calgary, AB T2T 4H9
CONTACT
Phone: (403) 984-4400

Email: [email protected]

WEBSITE
https://www.tricklecreekhomes.ca/
Trickle Creek Homes, Inc. takes pride in providing Calgary residents the most beautiful homes you can ever lay your eyes on.  They work with amazing people, from their clients, staff, architects, designers, to their tradespeople.  With the combined talents of the company's team, clients are sure to receive experience like no other—of course, in a positive way!
Why choose Trickle Creek Homes, Inc.?
Award-winning
Flexible packages
Amazing team of talented professionals
2)  Alair Homes

BEST FOR
Design & build and renovation works
SERVICES
Interior and exterior design

Kitchen, basement, and bathroom renovation

Whole-house remodeling

Landscaping

Outdoor living spaces

Custom-built homes

Green building

Additions and extensions

Deck building

New home construction

Project management

Project consultation

ADDRESS
165 – 1209 59 Avenue Southeast, Suite 400, Calgary, AB T2H 2L7
CONTACT
Phone: (403) 768-3247
WEBSITE
https://www.alairhomes.ca/calgary/
Alair Homes has extensive experience in general contracting.  They specialize in understanding the needs of the clients and use this as the foundation of building homes.   As a premier design-build firm, Alair offers a straightforward approach in implementing business that is distinctively unique from the other home builders.
Alair Homes utilizes a state-of-the-art online system that allows customers to see what happens during the construction.  Through this system, they will know about material costs, contract information, timelines, and a wide array of options offered by the trade specialists. This makes the whole building process an enjoyable one.
Why choose Alair Homes?
Free no-obligation quote
Honest and transparent
Innovative online system
3)  Excel Homes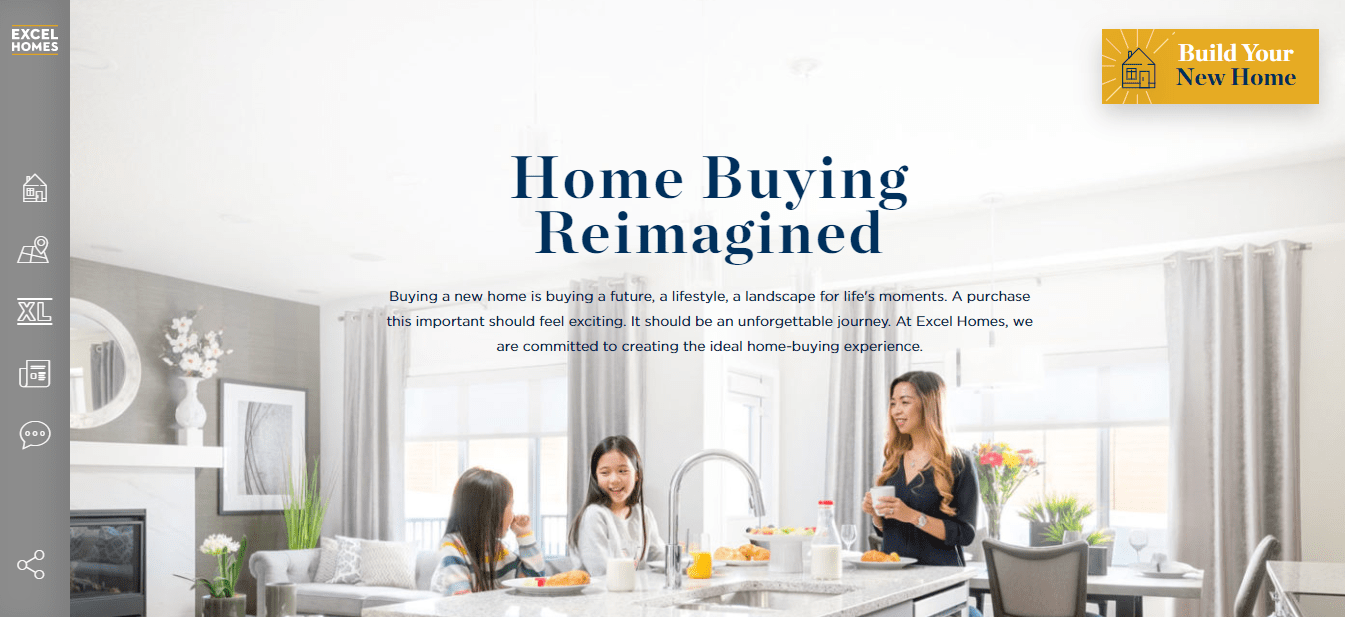 BEST FOR
New constructions
SERVICES
Custom-built home

Kitchen, bathroom, and basement renovations

Floor and house planning

Project management

Remodeling

Residential homes

Home design

Design and build

ADDRESS
1710 – 14th Avenue Northwest, Suite 200, Calgary, AB T2N 4Y6
CONTACT
Phone: (403) 253-1433 | Mobile: (403) 293-4568

Email: [email protected]

WEBSITE
https://www.excelhomes.ca/
Excel Homes, from the name itself, offers excellent design-build services that will make your home building a memorable and satisfying experience.  Since it started in 1988, Excel Homes has built over 12,000 homes and has received more than 50 prestigious awards.  As a passionate home builder in Calgary, they are highly dedicated in creating your ideal quarters.
Why choose Excel Homes?
Curated experience
Award-winning services
BUILT GREEN performance at no extra cost
Financial options
4)  Shane Homes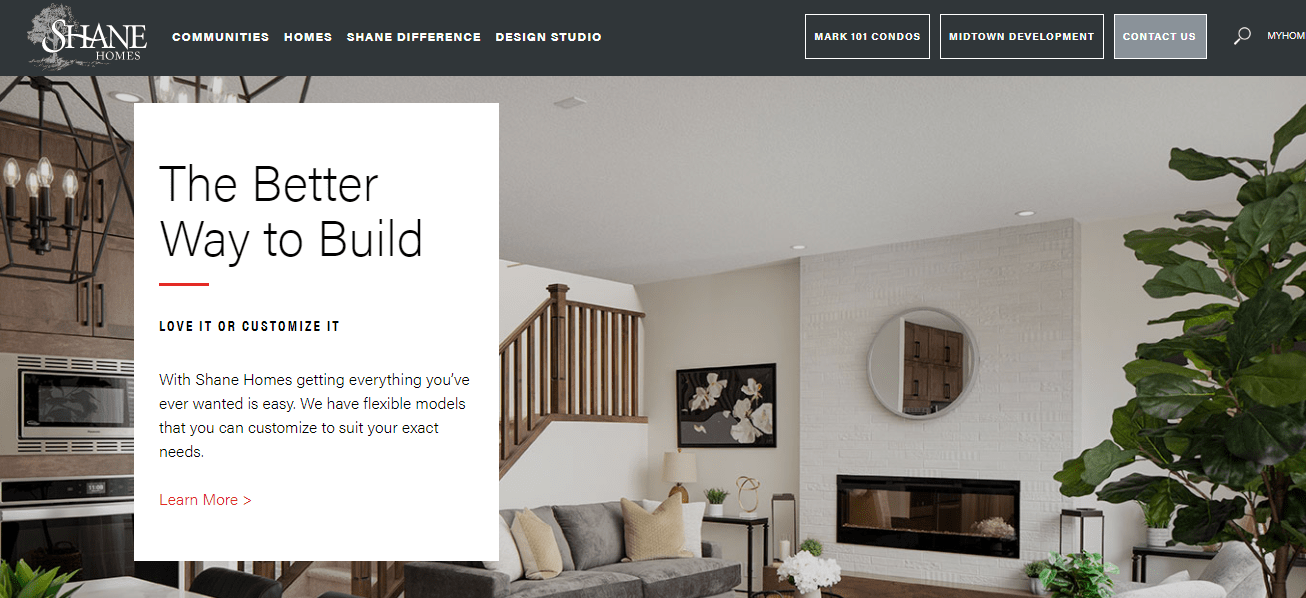 BEST FOR
Custom-built homes
SERVICES
Design and build

Interior design

Home design

Project management

Floorplanning

Kitchen and bathroom remodeling

Kitchen and bathroom customization

ADDRESS
5661 7th Street N.E. Calgary, Alberta, Canada T2E 8V3
CONTACT
Phone: 403-536-2200

Email: [email protected]

WEBSITE
https://www.shanehomes.com/
Shane Homes goes above and beyond floor plans. When Cal Wenzel and Barry Basillie founded the company in 1979, they have one thing in mind: To create beautiful and comfortable houses clients can call homes.  From the initial milestone of 50 homes completed in the late 1980's, Shane Homes has since developed to be one of the largest home builders in Calgary.
Why choose Shane Homes?
40 years of industry experience
Tailored services
Award-winning
5)  Sterling Homes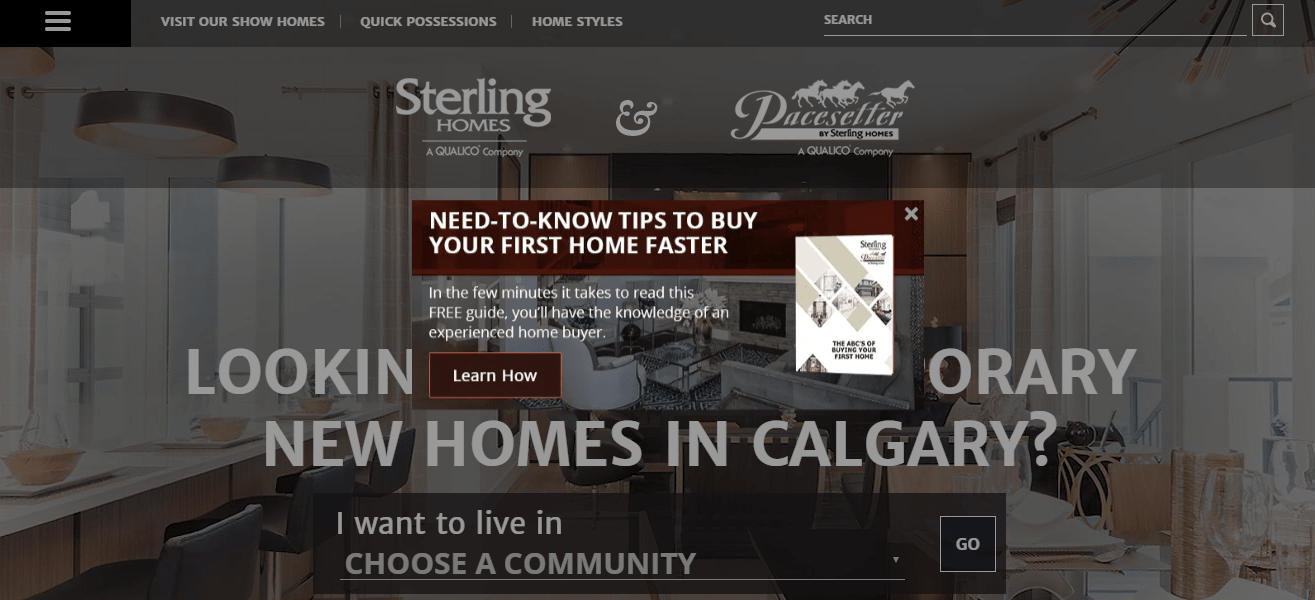 BEST FOR
Design and build
SERVICES
Interior design

Project management

Consultation services

Green building designs (BuiltGreen™ program)

Floorplanning

ADDRESS
5709 2 St SE, Calgary, Alberta T2H 2W4
CONTACT
Phone: 403-253-7476

Email: [email protected]

WEBSITE
https://www.sterlinghomesgroup.com/
Sterling Homes has been one of Calgary's favorite home builders for over six decades.  They have been selected for their unique designs, quality of services, and excellent workmanship.  Sterling Homes always aims for customer satisfaction is their number one priority.  For this reason, the company only employs the best craftsmen, designers, and architects in the industry.  If you're interested in their service, feel free to give them a call or message via the contact details above.
Why choose Sterling Homes?
65+ years of expertise
Award-winning home plans
Value for money
6)  Trico Homes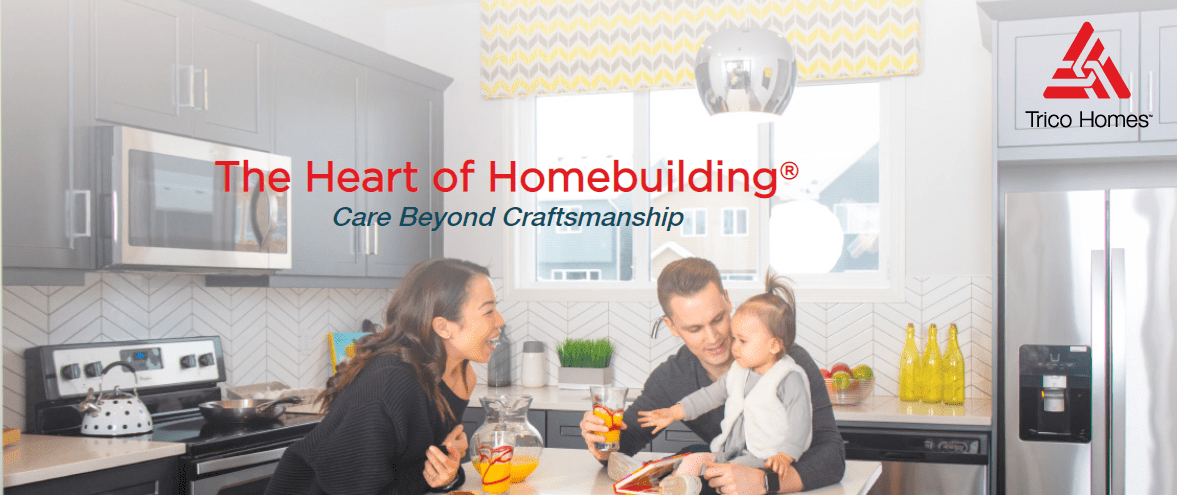 BEST FOR
Design and build
SERVICES
Floorplanning

Interior design

Project management

Consultation services

Whole-house contruction

ADDRESS
1005 – 11 Avenue SW, Calgary AB, T2R 0G1
CONTACT
Phone: 403- 287-9300

Fax: 403-287-9915

WEBSITE
https://tricohomes.com/
Trico Homes is a one-of-a-kind home builder trusted by Calgary residents.  The company is Western Canada's first B Corp home builder which means that they dedicate their efforts for the greater good.  Trico is also the only builder to offer customer rewards system.  This program enables you to save money through discounts and savings.
Why choose Trico Homes?
Award-winning services
Certified B Corporation
25+ years of industry experience
7) Siena Signature Builders Inc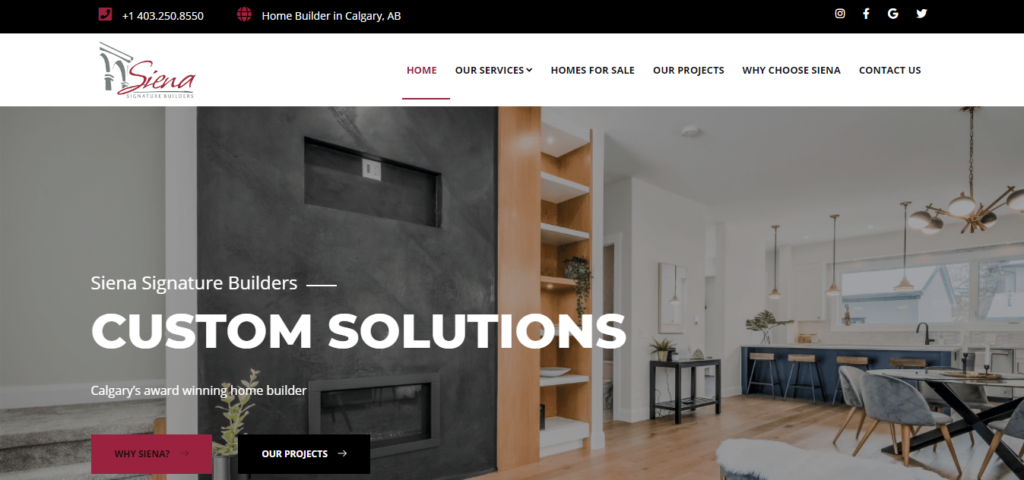 BEST FOR
Custom Solutions
SERVICES
Custom & Prebuilt Homes

Renovations
Basement Renovations
Kitchen Renovations
Bathroom Renovations
Living Room Renovations
Exterior Renovations
New Suit Additions
Garages
ADDRESS
421 22 Ave NE, Calgary, AB T2E 1T8
CONTACT
1 (403)250-8550
[email protected]
WEBSITE
https://sienabuilders.ca/
Siena Signature Builders Inc. is one of the most trusted companies in Calgary because they can bring something a little extra. A previous client mentioned that they usually offer value-added insights and education with the decision they make to ensure that they made the right decision.
Kevin Davis, another previous client, said that Mike, the owner and operator of Siena Signature Builders Inc., gently guided them througout the entire process. He also answered many questions and provided valuable insight on the aspects of their house design.
Kevin also stated that the company only uses superior products and skilled contractors, that they feel safe knowing that everything is high quality even though some of it are hidden behind walls and ceilings. He also complimented Mike's attention to details when it comes to designing, finishing touches, and his foresight into the needs of his family.
People prefer to contact them when in need of designing services because they offer multiple options that can make the home of your dreams come true. What's unique about them is they provide full lifecycle consultation on everything – location, permitting and financing, layouts, material selection, design functionality and even post-construction considerations.
Why choose Siena Signature Builders Inc.?
Never sacrifice in quality
Never cut corners in our process
Cost Effective