A faulty dishwasher is the last thing you need if you have a lot of plates to wash regularly. Thankfully, you can call the best dishwasher repair in Toronto to repair yours to a like-new state.
In this article, we've featured the appliance repair companies you can rely on the most. You will also find a cost guide, service pluses and minuses, and answers to commonly asked questions here.
Kindly scroll down to begin our discussion for today!
The Average Cost of Dishwasher Repair in Toronto
The average cost of repairing a dishwasher depending on the issue is $150 to $425. Parts and labour are already included in the aforementioned range.
A good rule of thumb is if the dishwasher repair costs almost or about the same as a new dishwasher, you should get a new one instead to prevent higher expenses.
Now, below are the estimated rates of common dishwasher repair services. Since each company offers different rates for the work required, it's best to get at least three quotes so you can pick the one you feel will give you the best value.
| | |
| --- | --- |
| Dishwasher Service | Cost Range |
| Dishwasher replacement | $150 – $375 |
| Heating element replacement | $150 – $375 |
| Dishwasher leak repair | $150 – $425 |
| Pump replacement | $225 – $375 |
The Best Options for Dishwasher Repair in Toronto
We judged each company based on a set of criteria before putting them on this list. This is to confirm that they are truly some of the best dishwasher repair services in Toronto!
The criteria we were referring to are as follows:
Without further ado, let's now move on to our top dishwasher repair providers list!
1) Maydone Appliance Repair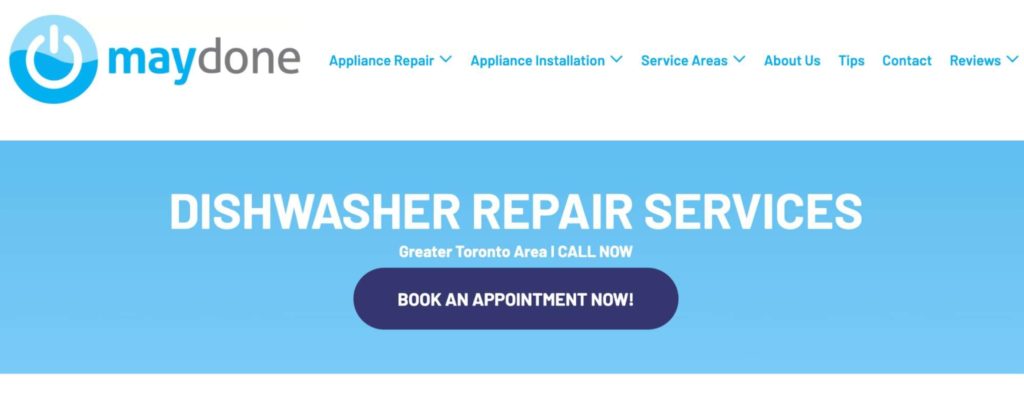 SERVICES
Washing machine repair
Dishwasher repair
Fridge repair
Dryer repair
Oven repair
Stove repair
Microwave repair
Range hood repair
ADDRESS
70 Angelina Ave, Woodbridge, ON L4L 8N9 Canada
CONTACT DETAILS
+1 (647) 558-5825
+1 (888) 513-0052
WEBSITE
https://maydone.com/
Maydone Appliance Repair has licensed and insured technicians who repair and install a complete range of home appliances. This includes washers, dryers, ovens, stoves, range hoods, fridges, and dishwashers.
They can fix any problem for any type of dishwasher, whether you own a free-standing, compact, integrated, or slim model. As well as those manufactured by high-end and budget appliance brands like Bosch, Samsung, GE, Miele, Dacor, Viking, Electrolux, etc.
All the parts used are authentic and durable which, along with their workmanship, come with a 1-year warranty.
Their service is focused on efficiency so the client can get all their dishes done at short notice. They are available from Monday to Sunday almost all day and can arrive at your house soon after the call.
Furthermore, you can book or cancel your appointment through their Messenger widget online. One of the things they pride themselves on is their on-call customer service to assist you whenever you need them.
Having said that, we'd like to mention that some clients complained about their customer service and rates.
Nevertheless, they offer a lot of discounts to give you your money's worth. Among them are special deals and promos for first-time, senior, loyal, and online clients.
Finally, Maydone Appliance Repair services clients in the Greater Toronto Area and accepts credit cards, Interac e-transfer, and cash. Sure enough, they fit the bill as one of the best options for dishwasher repair in Toronto!
Same-day service available
Licensed and insured technicians
$30 off on first-time service
Messenger chat support
1-year service and parts warranty
Accepts cash, credit card, and e-transfer
Open the entire week
Doesn't accept Discover Network
Complaints about price and customer service
Customer Reviews
Efficient and informative tech
"Great service. Technician was wonderful explained things and fixed the problem right away." -Darlene Shlass
Promptly fixed the dishwasher's blockage issue
"I called contacted Maydone Repair through Homestars and they responded immediately. Max attended to inspect my dishwasher within 48 hours and explained my options fully and associated cost. He was able to clear a blockage that existed in one of the drainage hoses on his initial service call. I would definitely recommend Maydone for any appliance repair." -Trevor Grzybowski
2) iFix Appliance Repair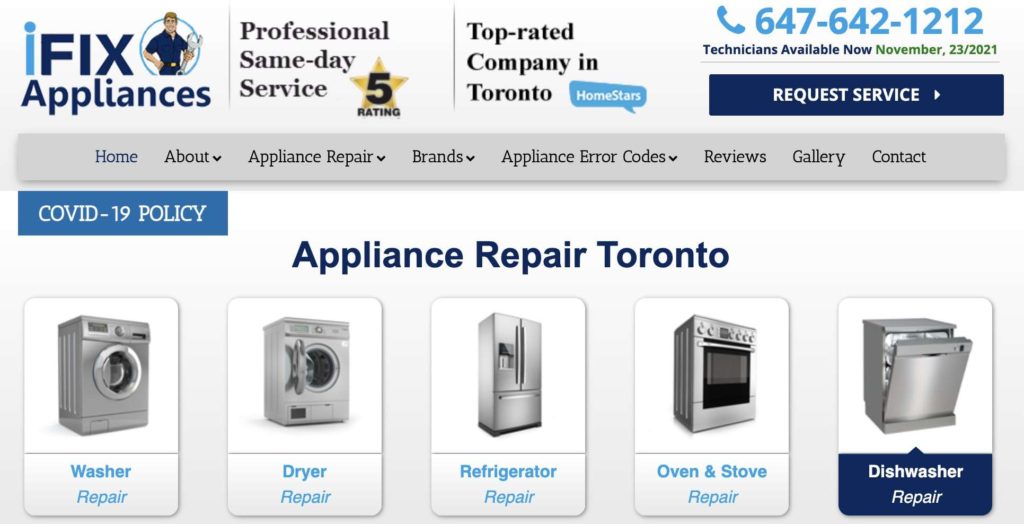 SERVICES
Washer repair
Dryer repair
Refrigerator repair
Oven & stove repair
Dishwasher repair
ADDRESS
1656A Eglinton Ave W, Toronto, ON M6E2H2 Canada
CONTACT DETAILS
647-642-1212


[email protected]

WEBSITE
https://ifixappliances.ca/
Whether your dishwasher is noisy, not completely cleaning the dishes, or not draining out like the usual, you can get it back up and running with the help of iFix Appliance Repair.
Based at Eglinton Avenue, Toronto, they offer same-day repair dishwasher service no matter the time. They claim to carry original, high-quality parts with them to replace a broken part of an appliance.
Now, we'd hate to be given a bill that's considerably higher than initially quoted. Here, they guarantee to reveal the length of time and total cost needed to fix your dishwasher's issue—and professionally stick to them.
Of course, their repair specialists are certified and insured to ensure your appliance fault will properly be corrected. All brands of dishwashers are covered too, whether it be a new or old model.
According to most clients, the technicians were excellent, courteous, and professional throughout the service. They also gave sound advice or tips to extend the life of their dishwashers.
As with the service provider's drawbacks, there is no mention of any parts warranty on their website as well as about any discounts which can reduce the homeowner's expenses.
Overall, we highly recommend getting this company for dishwasher repair because, once again, they have certified and trained staff, 24/7 availability, and a time and cost guarantee.
Certified and insured technicians
Same-day repair service
Gives a time and cost guarantee
Repairs all dishwasher brands
Open 24/7
No parts warranty mentioned
Doesn't offer any discounts
Complaints about customer service and price
Customer Reviews
Great and super-professional team
"Great team and super professional. Really appreciated their dedication to try and resolve the issue with my dishwasher." -Fil Lourenco
Provided reasonable solutions and advice
"David and his team provide amazing service. Always courteous, polite and professional when they enter your home. They will fix the problem and provide reasonable solutions and advice. David answers your texts, questions and concerns promptly and professionally. I am so glad I found a service company that is so trustworthy." -Lisa
3) Canada Appliance Repair
SERVICES
Dishwasher repair
Washer and dryer repair
Refrigerator repair
Oven/stove/range repair
Cooktop repair
Freezer repair
Gas appliance repair
ADDRESS
325 Bogert Ave, Toronto, ON M2N1L8 Canada
CONTACT DETAILS
(416) 887-5839


[email protected]

WEBSITE
https://canadaappliancerepair.ca/
Among the premier companies for dishwasher repair in Toronto, Canada Appliance Repair offers fast and efficient dishwasher repair on the same day in the Greater Toronto area.
Its team is licensed, experienced, and well-equipped to get the job done, according to the reviews. They carry great-quality, warrantied spare parts and can fix all well-known appliance brands.
Their process is a no-brainer, which begins by diagnosing the appliance problem, followed by briefing the client, giving feasible options and costs, and then conducting the work if you accept.
This is a safe and professional process because you will know their price and agenda before the repair work even begins. If the price turns out to be higher than you can afford or the work isn't something you approve of, you have the freedom to decline it.
Unfortunately, some clients had issues with this company's expensive prices, in relation to the provided service. Therefore, we advise you to clarify with them how much exactly you'd need to pay them after the task.
An upside of hiring this company is their flexible work hours (though not 24/7). Because they are open from 9:00 AM to 11:00 PM every day, they can fit into your schedule even if you're fully booked for the week.
So, if you'd like to book an appointment with this company, you can simply give them a ring or fill in their contact form online and hit send.
Same-day service available
12-month fitted parts warranty
Repairs all major dishwasher brands
A rating with the BBB
Not available 24/7
Expensive rates
Doesn't offer discounts
Customer Reviews
Excellent repair work
"Technician came out today and did an excellent job fixing my Mytag washer and explaining the issue that caused the problem. This is the third appliance we've had them fix (it started with our stove, then our dishwasher and now our dwasher) and every time, we've had a great experience. Always on time." -Emmanuel Bamidele
Super-respectful and efficient tradesman
"Great technician, super respectful and efficient! He did make sure that everything was working and did a couple of tests with the dishwasher. Highly recommend!" -Alexandra Cotte
4) Star Appliance Repair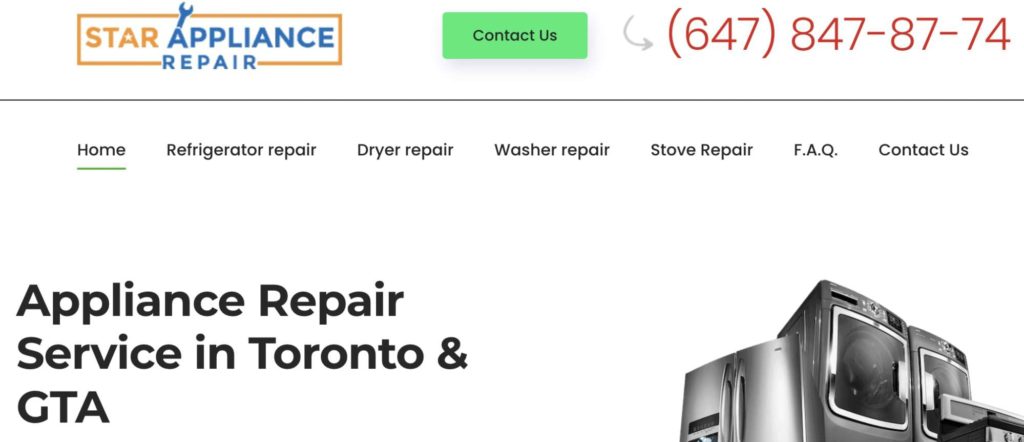 Star Appliance Repair has performed in-home appliance repair for residential and business clients for over a decade now.
If you don't want to wait long for the tradesman to come, you should get this one. They can be at your property within just a couple of hours of your call, which many clients have appreciated.
They provide a fridge, dryer, washer, stove, microwave, and dishwasher repair. If more than one of your appliances are broken, you can get the team to inspect and fix them in one call-out.
All their team are factory-trained and licensed, meaning they have the technical know-how to fix both simple and complex dishwasher problems of major brands.
Unlike other lesser-known businesses, they stand behind the service and parts they provide. Their warranty differs according to the task at hand but can range between 3 months and a year.
What we like about this company is they don't charge for labour by the hour. With this, you won't be charged extra if the repair work happens to exceed one hour.
While the service provider isn't open round the clock like some of their rivals, they're open the whole week. Note, however, that they're open only from 10:00 AM to 5:00 PM on Sundays.
You can set up a phone consultation with them. After filling out and submitting the form, one of their staff will call you to set your appointment and/or answer any questions you may have.
The highly-rated company covers Toronto and the surrounding areas, including but not limited to North York, Milton, Mississauga, Bradford, Orangeville, Hamilton, and Whitby.
Offers residential and business appliance repair
Licensed and factory-trained team
Free phone consultation
Same-day service available
Gives a 3 to 12-month warranty
Closes at 5:00 PM on Sundays
Services relatively fewer dishwasher brands
No discounts or promos online
Customer Reviews
Knowledgeable and pleasant serviceman
"We had an error code appear and dishwasher would start to run and then turn off. Made a call to this company. Knowledgeable and pleasant repair technician (Vlad) showed up, diagnosed and repaired on same day of my call. Extremely happy" -a Homestars reviewer
Quick same-day and professional dishwasher repair
"Vlad was so incredible. Very professional and knowledgeable. Same day contact and service. Two hour window frame of arrival. He was able to detect the issue with my dishwasher and kept it cost effective. Took the time to explain the problem and gave me options , Repair took less than an hour. I would highly recommend him every time for all your appliance needs! He is definitely now my go to guy !!!" -Allison
5) Appliance Experts Toronto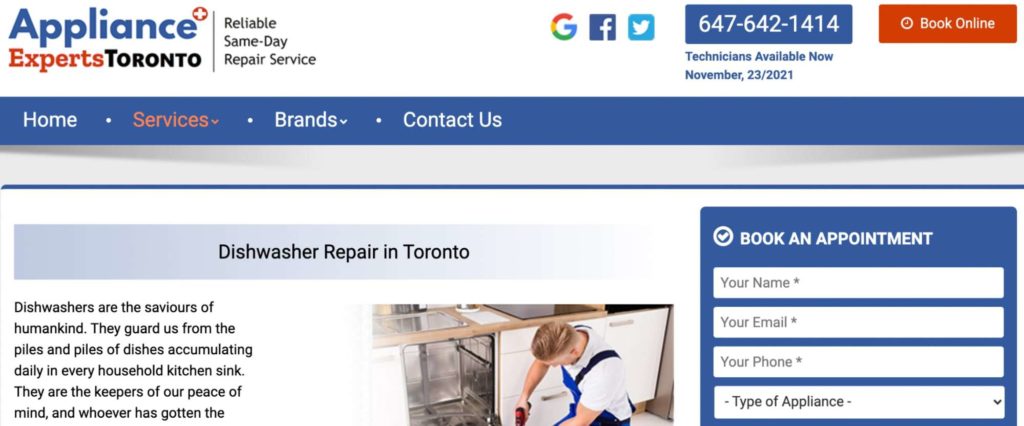 Is your dishwasher malfunctioning or not bubbling up in soap? Well, another of the top names for dishwasher repair you can call is Appliance Experts Toronto!
We chose them for this list for many reasons, but the most vital are their certified and insured professionals and 24/7 service to sort out your dishwasher if it suddenly breaks down.
Many customers can vouch for the team's speedy turnaround. Arranging for a schedule is easy with them so you can have your valued kitchen appliance working again like new at the soonest.
Not only do they provide same and next-day services but they also repair all dishwasher brands. Some of these brands are Maytag, Kitchenaid, GE, Kenmore, Whirlpool, Miele, and Inglis.
Also, this company gives a satisfaction guarantee because appliance repair can be sophisticated. Just in case the product failed to work like before, it can be repaired for you at no extra cost.
There aren't many cons with Appliance Repair Experts, and in fact, many clients scored them a 5/5 score on Google. However, we found a few minor ones that would have made things better or more convenient.
The first two are that they don't seem to offer any discounts or parts warranty to customers. And, besides their official moniker, it dubs itself Appliance Repair Experts and Appliance Repair Toronto, which can be confusing for some people when searching for them online.
In conclusion, we believe they are a great company for dishwasher repair since they have all the essentials, such as a qualified and efficient team, the ability to fix all brands, and round-the-clock availability. So, if you aren't familiar with them, they may be worth trying out.
Licensed and insured team
Fixes all dishwasher brands
Same-day repair service
On-call 24/7
Guarantees client's satisfaction
No mention of any discounts online
No mention of a parts warranty
Has a few business names
Customer Reviews
Speedy response and a great team
"You won't be disappointed dealing with Appliance repair Toronto. Their guys are the best. My dishwasher repair got looked after IMMEDIATELY, thanks to these guys…." -Viktor Pollak
On-time and excellent dishwasher repair
"Dishwasher broke down over the weekend and had to get someone to take a look at it, called a few appliance repair companies and no one serviced the brand of my dishwasher.
Eventually came across appliance repair Toronto and booked a service call as they sounded very confident about their ability to repair my brand of dishwasher.
Guy came next day and diagnosed a problem with wash motor and said he will come back in two days with the necessary parts .
Got a call from them the day after to schedule the repair and the technician came on the time we agreed upon and repaired the dishwasher in about 40 minutes." -Lois Perry
FAQs about the Top Dishwasher Repair Options in Toronto
---
And that wraps up our picks for the best companies for dishwasher repair in Toronto! If you have any questions or comments, you can message us and we'll get back to you promptly.
Did we miss a dishwasher repair specialist that should've been on this list? Feel free to let us know and we'll certainly add it here provided they meet the criteria we used.
Related Articles about Toronto Dishwasher Repair