Sometimes, we take plumbing matters into our hands thinking that we can easily remedy the problem particularly if it's as simple as fixing a leaky faucet or pipes.  Even though it might be the most logical thing to do at the moment, it's still not the best recourse to do.  For one, it's possible that your action will generate negative consequences most especially if you're not adept at any plumbing work.  It will eventually cause more damage, waste of time, and increased expenditure.
Luckily, you can find professional plumbing help in Norwich.  We have rounded up six of the best plumbing service providers locally.  Get to know these guys as you read this article.
1. HGS Plumbing and Heating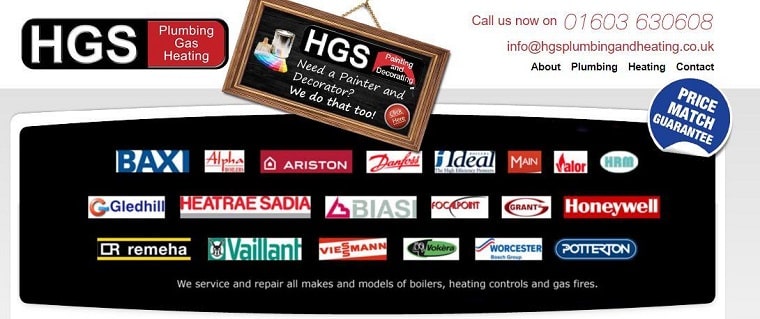 BEST FOR
Residential and commercial plumbing & heating services
SERVICES
General plumbing

Emergency plumbing

Boiler repairs

Bathroom installations

ADDRESS
Unit 7, Capitol House, 4-6 Heigham St, Norwich NR2 4TE UK
CONTACT
Phone: 01603-630608

Email: [email protected]

WEBSITE
https://www.hgsplumbingandheating.co.uk/
HGS Plumbing and Heating is composed of friendly professional plumbers, heating engineers, and gas engineers who are qualified to provide high standard workmanship and customer service.  The company has been one of Norwich's A-list plumbing, heating, and gas providers with 20 years of expertise in the industry.  Below are the reasons why you should hire HGS Plumbing and Heating:
Highly skilled plumbing and heating engineers
No-obligation quote
24/7 service all year round
Excellent customer service and guaranteed satisfaction
2. Taylor Plumbing & Heating Installations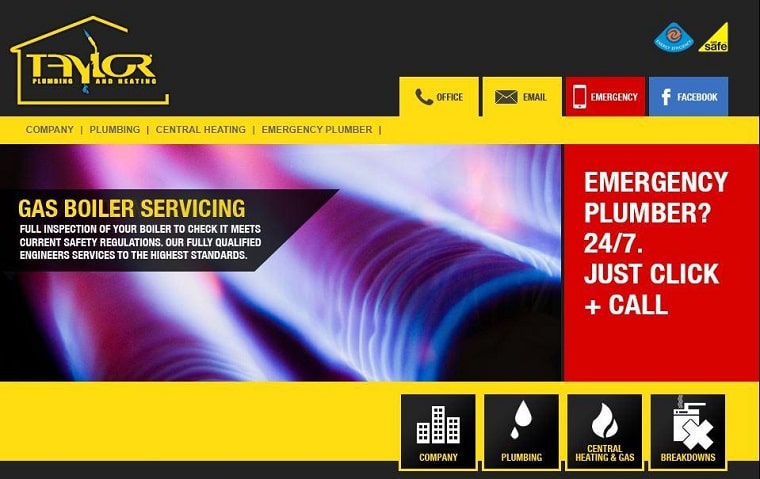 BEST FOR
General plumbing services
SERVICES
Emergency plumbing

General plumbing

Leaks

Burst pipes

Pump replacement

Overflows

Taps

Water problems

Coldwater filtering

Tanks and cylinders

ADDRESS
9 St Marys Plain, Norwich NR3 3AF UK
CONTACT
Phone: 07961-766-105
WEBSITE
https://www.norfolk-discountplumbing.co.uk/
Taylor Plumbing and Heating guarantees the highest standards of plumbing work from its fully experienced and certified plumbers and heating engineers.  Even if you need a plumber in the middle of the night, Taylor Plumbing and Heating is always ready to serve you.  The company is available 24 hours a week, 365 days a year.
3. TSM Plumbing Heating & Drainage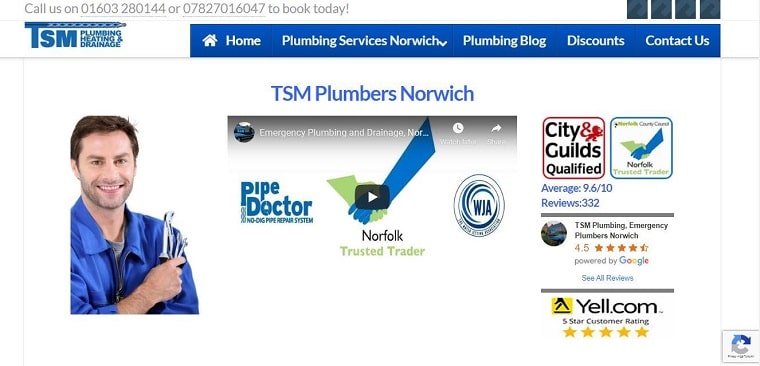 BEST FOR
General plumbing
SERVICES
Emergency plumbing and drainage services

Burst and frozen pipes

Drain unblocking

Pipe and faucet repairs

Water tank, cistern, and cylinder installation

ADDRESS
29 Woodview Road, Easton, Norwich, Norfolk, NR9 5EU
CONTACT
Phone: 01603-280144

Mobile: 07827-016047

Email: [email protected]

WEBSITE
https://tsmplumbing.co.uk/
Plumbers Norwich is a family-operated business that has been providing Norwich with first-class plumbing, heating, and drainage services for years.  It is comprised of fully trained engineers who hold relevant qualifications under their belt to ensure clients that every job they take is completed to the highest standards.
4. Allstar Systems (Norwich) Ltd.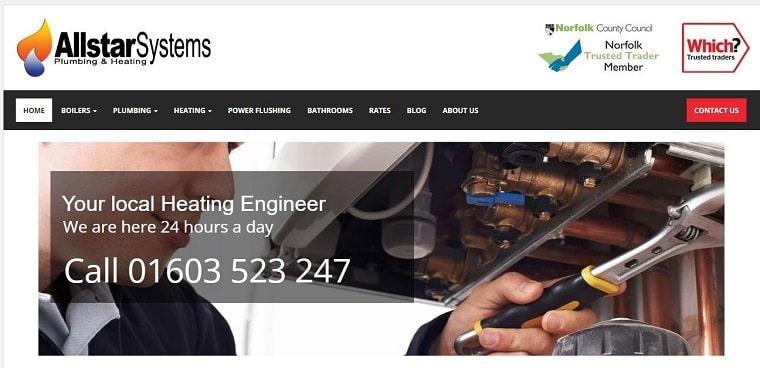 BEST FOR
Plumbing and heating services
SERVICES
Plumbing repair, maintenance, and services

Water system booster

Power flushing

Boiler services and installation

Bathroom installation

ADDRESS
334 Bowthorpe Road, Norwich, NR5 8AE
CONTACT
Phone  01603-523-247 | Mobile: 07557 349856
WEBSITE
https://www.allstarsystems.co.uk/
Allstar Systems is dedicated to providing maintenance services to make your home and property a convenient and safe place.  The company is also fully accredited by Worcester Bosch, making it qualified to provide        a 10-year guarantee to all parts and labor.  All work is provided with a one-year guarantee to ensure your peace of mind.
5. My Norwich Plumber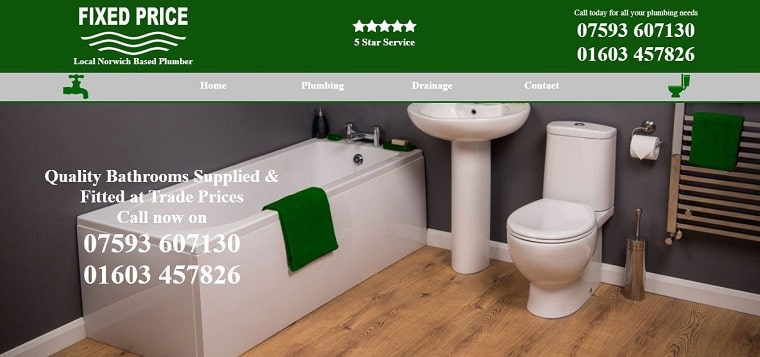 BEST FOR
Emergency plumbing and drainage services
SERVICES
General plumbing

Bathroom installation and repair

Shower installation and repair

Leaking and blocked toilets

Leaking pipework

Sink repair and installation

ADDRESS
8 Beatrice Rd, Norwich NR1 4BB, United Kingdom
CONTACT
Phone: 07593-607130 | 01603-457826

Email: [email protected]

WEBSITE
http://www.mynorwichplumber.co.uk/
My Norwich Plumber offers quality plumbing works in competitive rates to all its Norwich clients.  The company's licensed professional plumbers can perform plumbing tasks as simple as fixing taps to furnishing your dream bathroom, showers, and washroom.
6. THP Plumbing and Heating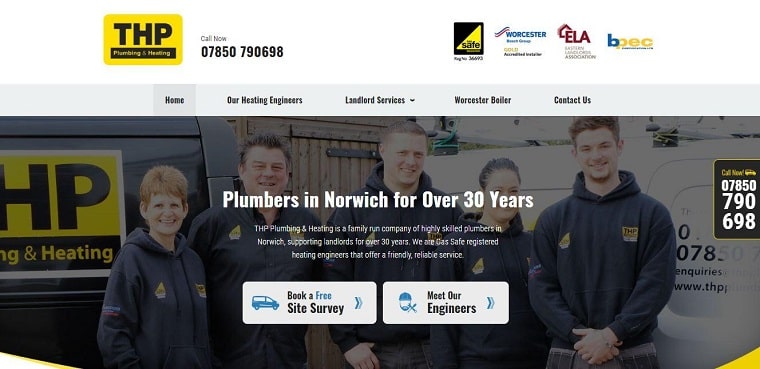 BEST FOR
Residential plumbing and heating services
SERVICES
General plumbing

Plumbing repairs

Power flushing

Heating system installation

ADDRESS
28 Magnay Road, Drayton, Norwich, Norfolk NR8 6BT
CONTACT
Phone: 01603-423479 | Mobile: 07850-790698

Email: [email protected]

WEBSITE
https://www.thpplumbing.co.u
 THP Plumbing & Heating, a family-owned and operated business, has been supporting Norwich landlords for over 30 years.  The company also employs Gas Safe registered heating engineers who are more than happy to offer friendly and dependable service.  Moreover, THP Plumbing & Heating is part of the selected few to be part of the elite Worcester Bosch Gold Accredited Installers which makes them fully qualified in installing and maintaining Worcester Boilers as well as offer an eight-year guarantee for new systems.