Reliable, well-functioning and safe electricity is one of the essentials of a modern home and business establishment.  That being said, it's important for us to find an electrical service provider that we can trust.  Now, that can be tough since there are numerous electricians out there that can ensnare a potential customer with their honey-laden words and promises.  Well, that's part of their job—but what we really want to know is their capability to stand by their words.
To save you the time and effort (and perhaps, the money), we rounded up six of the best electricians in New Castle.  These folks have provided both residents and proprietors five-star electrical services for years and decades.
1. Battaglia Electric, Inc.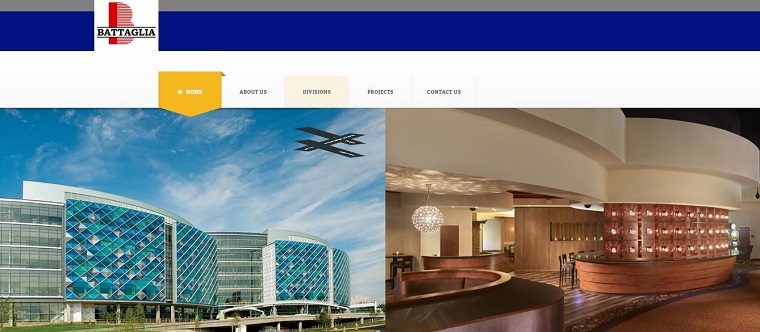 BEST FOR
Home improvement services
SERVICES
Residential, commercial, and industrial electrical works
ADDRESS
11 Industrial Blvd, New Castle, DE 19720
CONTACT
Phone: (302) 325-6100

Email: [email protected]

WEBSITE
https://www.battag.com/
Battaglia Electric Inc. has been providing home improvement services to New Castle residents and business owners since 1981. It focuses on customer satisfaction and high-quality electrical services that go beyond the clients' expectations.  The company's service staff comprises of certified & licensed electrical and mechanical technicians led by a well-qualified service manager. Battaglia Electric is committed to safe, affordable, fast, and efficient work practice integrated with the latest technologies.
2. Boulden Brothers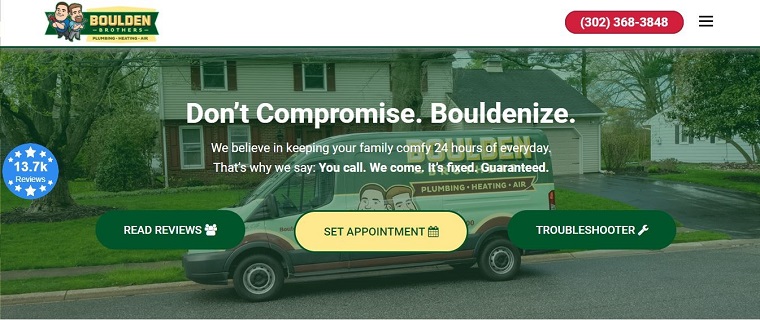 BEST FOR
Home improvement services
SERVICES
Emergency services

Electrical panels, breakers, and fuses

New wiring and rewiring

Recessed lighting and light fixtures

Decorative and accent lighting

Outlets & GFCI circuits

Aluminum wiring

Electric car charger installation

Lightning & surge protection

Carbon monoxide detectors

Electrical safety inspections

ADDRESS
107 Sandy Drive, Bldg 700, Newark, DE 19713
CONTACT
Phone: (302) 368-3848
WEBSITE
https://bouldenbrothers.com/
Although headquartered in Newark, Boulden Brothers have been providing electrical services to New Castle County, Pennsylvania, Southern Chester Counties, and Cecil County (Maryland) for 70 years. Its licensed electricians provide everything from electrical installation, inspection, replacement, and repair services, which are all supported by Boulden Brothers guarantee.  What does Boulden Brothers guarantee mean? If you're not completely satisfied with the job, the company will do everything to make it right without an additional fee on your part.
3. Wanex Electrical Services, LLC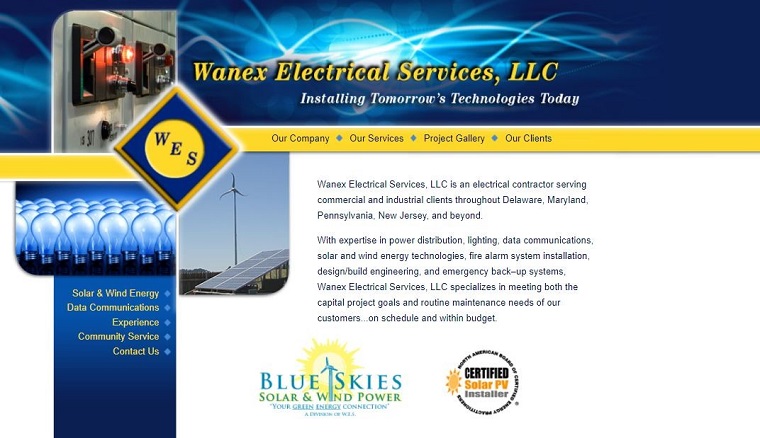 BEST FOR
Commercial and industrial electrical works
SERVICES
Site utilities

Power distribution

Lighting

Instrumentations and control

Data/ Comm. and fire alarm installation and testing

Solar and wind energy

Fiber optics

ADDRESS
261 Airport Road, New Castle, DE 19720
CONTACT
Phone: (302) 326-1700

BLUE SKIES Phone: (302) 326-0856

Fax: (302) 326-1790

WEBSITE
http://www.wanex.com/
Wanex Electrical Services, LLC was founded in 1989 and incorporated in 1994.  It takes pride in delivering its clients the best electrical service promptly at a fair price for 25 years. The company holds Master Electricians' Licenses in Delaware, Pennsylvania, Maryland, and New Jersey.  It's a fully insured and bonded company, operating in accordance with all local, state, and federal laws.  Wanex Electrical Services' clients include Accenture, Cecil County, First USA Bank, University of Delaware, Albertson, Konica, Walker International, Siemens, etc.
4. Electrical Solutions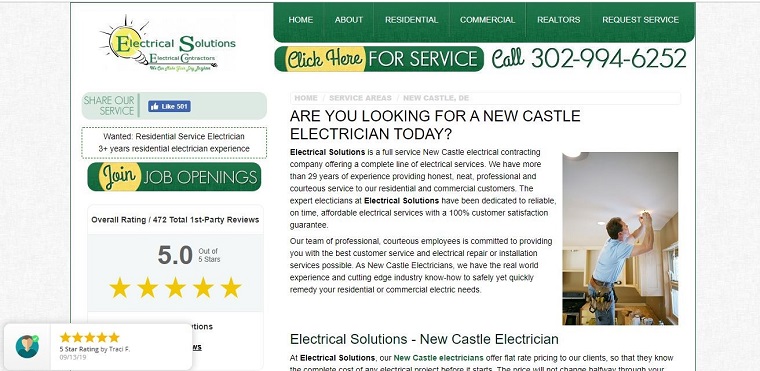 Electrical Solutions is a full-service electrical contracting company with 29 years of experience providing professional, trustworthy, and electrical services to both residents and proprietors of New Castle.  It offers on time and affordable services with a 100% customer satisfaction guarantee.  They also provide services in Arden, Bear, Bellefonte, Brookside, Christiana, Delaware, Glasgow, Holly Oak, Newark, Pike Creek, Wilmington, etc.
5. Clean Circuits Electrical Contracting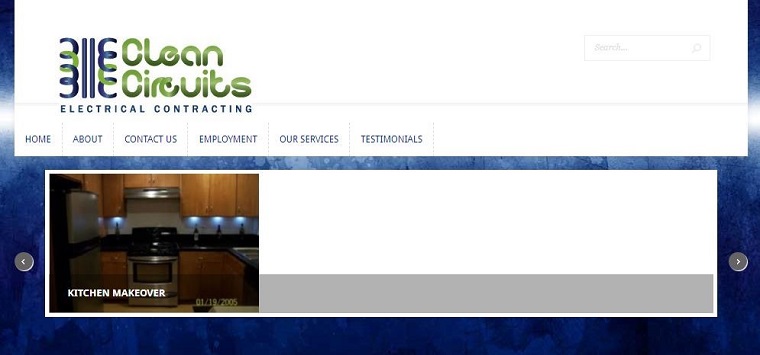 BEST FOR
Residential and commercial electrical works
SERVICES
Troubleshooting stubborn electrical issues

Surge protection for sensitive electronics

Electrical service/panel upgrade

Wall mounting flat panels or component racks

Surround sound

CO/Smoke alarms

Recessed and track lighting

Dimmers, specialty switches, and receptacles

Room remodeling or gutting

ADDRESS
Fantail Ct, New Castle, DE 19720
CONTACT
Phone: (267)972-9081

Fax: (302) 838-1111

Email: [email protected]

WEBSITE
http://www.cleancircuits.com/
Clean Circuits (formerly Stackrite, LLC) is still a small company but has been steadily bringing excellent customer service and satisfaction since 2005.  It offers a variety of home improvement services apart from electrical works.
6. Joseph Frederick & Sons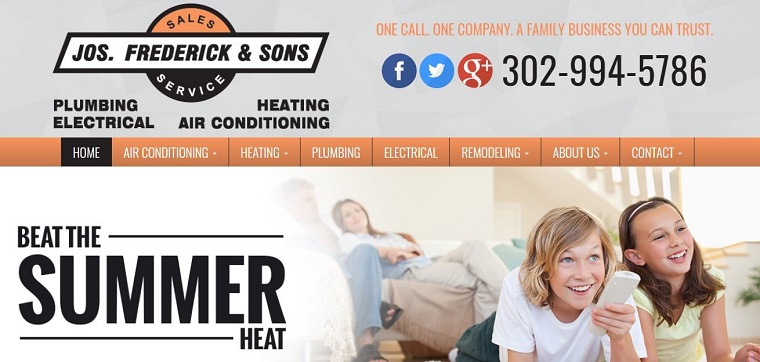 BEST FOR
Home improvement services
SERVICES
Electrical installations and repair

Wiring maintenance and upgrades

Remodeling projects

Generators

ADDRESS
810 Stanton Rd. Wilmington, DE 19804
CONTACT
Phone: (302) 994-5786
WEBSITE
https://www.jfrederickandsons.com/
Joseph Frederick & Sons, a family-owned business, offers electrical services for New Castle homeowners and proprietors with safety as their priority.  The company's highly-trained electricians are capable of delivering the highest quality workmanship and products you need.  All jobs are completed quickly and efficiently.