When we have leaky faucets and burst pipes, we can always count on the help from our local plumbers. However, with quite a number of plumbing service providers out there, it may take us some time to choose whom to trust. Plus, we also have to consider our budget.
We might be tempted to hire amateurs just for the sake of saving money, but the thing is: Can we really save a few precious bucks when we hire them? If we're really thinking about value for money, we should hire six of the most reliable names in the local plumbing industry here in New Jersey. Not only they would fix our issues but they also offer to go beyond our expectations. For New Jersey home owners and proprietors, scroll on and get to know these guys:
1. Russo Bros. & Co.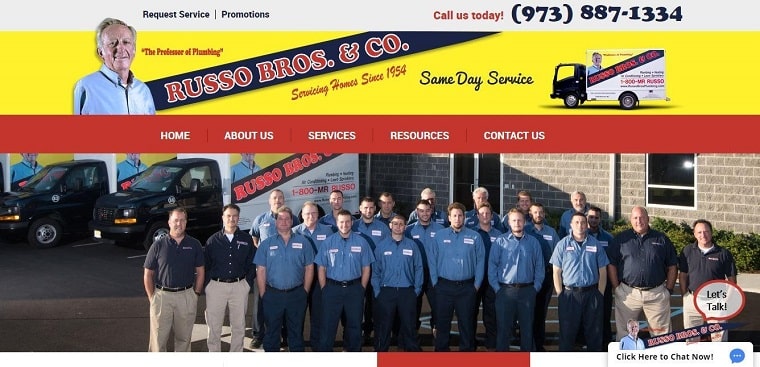 BEST FOR
Home improvement services
SERVICES
General plumbing works

HVAC

Drain cleaning

Water quality

Backflow prevention

Generators

Emergency service

ADDRESS
27 Eagle Rock Ave., East Hanover, NJ 07936
CONTACT
Phone: (973) 887-1334

Fax: (973) 887-9437

WEBSITE
https://www.russobrosplumbing.com/
Russo Bros. & Co. was founded in 1954 by Michael Russo in order to cater to the home improvement needs of New Jersey residents and commercial clients. The company's technicians are fully licensed and equipped to tackle any task in all levels of work. They are also licensed to repair, install, or test backflow prevention devices as per requirement of the state of New Jersey.
2. Service Professionals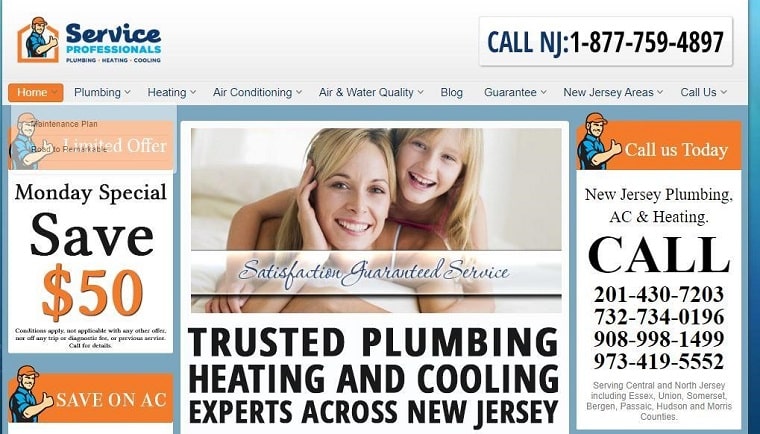 BEST FOR
Plumbing, heating, and cooling services
SERVICES
Residential plumbing works

Drains and sewers

Water heaters

Tankless technology

Sump pumps

Copper repiping

Tankless hot water

Trenchless sewer repair

ADDRESS
923 Rahway Ave, Union NJ 07083
CONTACT
Phone: 1-877-759-4897 | (973) 419-5552 | (201) 430-7203 | (732) 734-0196 | (908) 998-1499
WEBSITE
https://service-professionals.com/
When it comes to plumbing and HVAC works, Service Professionals is a name you can trust. Choosing Service Professionals mean that their repair and installation works are all backed up with written guarantee. The company's technicians are prompt, clean, and highly skilled.
3. All Clear Plumbing
BEST FOR
Plumbing and heating services
SERVICES
Emergency services

Water heater

Drain cleaning

Sewer line repair

Commercial plumbing

Sump pumps

ADDRESS
54 Greylock Avenue, Belleville, NJ 07109
CONTACT
Phone: (973)-755-9350
WEBSITE
https://www.allclearnj.com/
All Clear Plumbing, local, family-owned and operated and heating company, has been serving New Jersey since 1952. Below are the reasons why All Clear Plumbing is one of the most trusted names in the plumbing industry:
Prompt, professional service
24/7 emergency service
Respectful, clean, and highly-experienced technicians
Licensed and insured
A+ rating in BBB (Better Business Bureau)
4. Bailey Plumbing Heating Cooling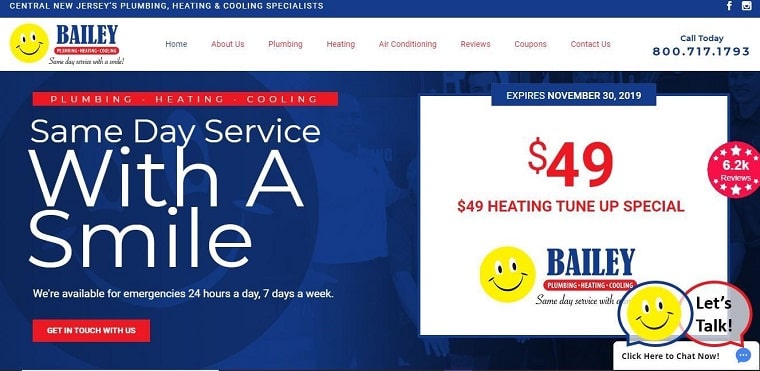 BEST FOR
Plumbing, heating, and cooling services
SERVICES
Heating and cooling projects

General plumbing works

Drain cleaning and maintenance plans

Sink and faucet repairs, installation & maintenance

Pipe repairs, installation & maintenance

Sewers and drains

ADDRESS
5108 State Route 33, Wall Township, NJ 07727
CONTACT
Phone: (800) 717-1793
WEBSITE
https://www.abaileyplumbing.com
Bailey Plumbing Heating Cooling, a local family-owned business, has been serving Central New Jersey since 1989. It offers high quality service and workmanship at affordable rates. The company's plumbing experts use the latest technology on top of their skills and techniques.
5. MarGo Plumbing Heating Cooling Inc.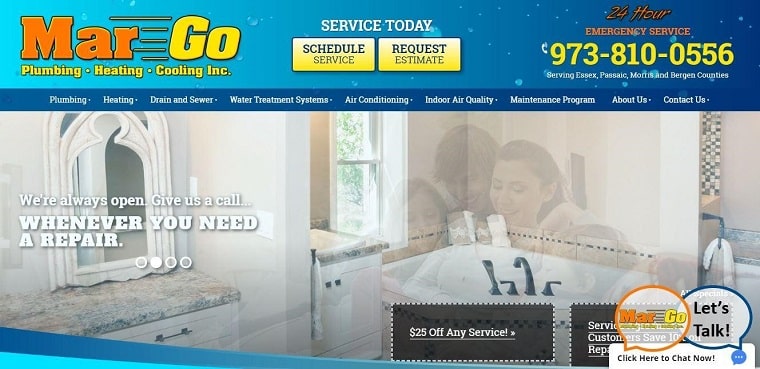 BEST FOR
Plumbing, heating, and cooling services
SERVICES
General plumbing services

Drain and Sewer

Hydro-jetting

Video pipe inspection

Water treatment systems

Maintenance

Indoor air quality

HVAC services

ADDRESS
210 Stevens Ave., Cedar Grove, NJ 07009
CONTACT
Phone: (973) 810-0556
WEBSITE
https://www.margoplumbing.com/
MarGo Plumbing Heating Cooling Inc. has been providing home improvement services in New Jersey since 1998. For the company, excellent customer service comes as top priority. Today, MarGo offers complete range of residential services in the following areas:
Bergen County
Cedar Grove
Morris County
NJ and throughout Essex County
in Cedar Grove, NJ and throughout Essex County, Bergen County, and Morris County. Call us when you want service today!
6. Top Quality Plumbing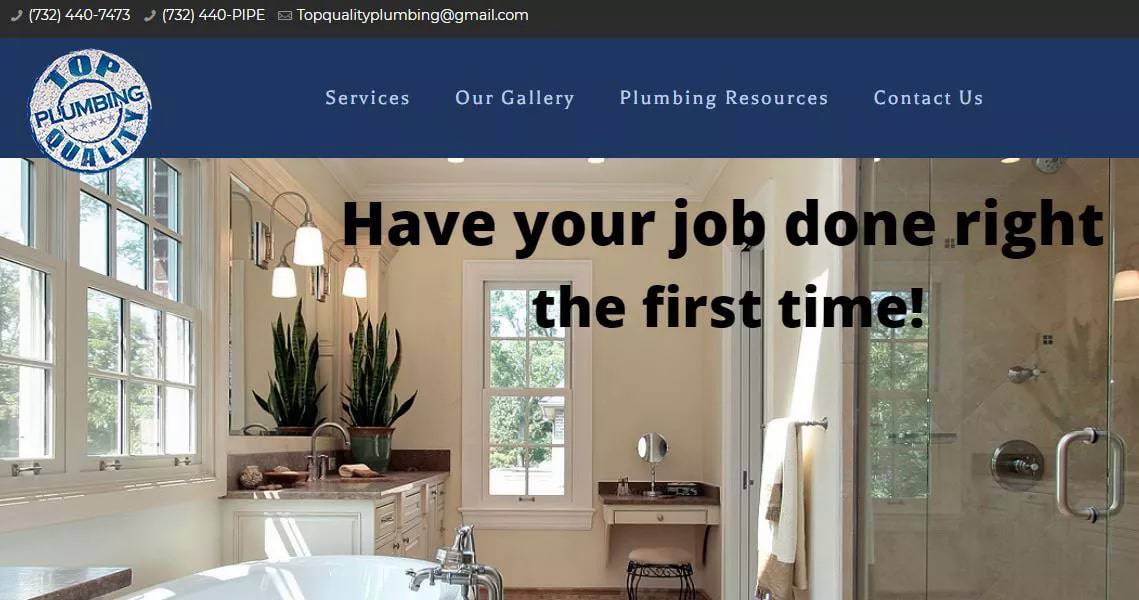 Located just south of the Lakewood-Toms River border, Top Quality Plumbing is proud of their new construction and service work in Point Pleasant, Howell and Brick as well. People throughout Ocean County and Monmouth County are thrilled to meet the friendly and competent plumbers here at Top Quality Plumbing, Inc.
7. Eco Plumbing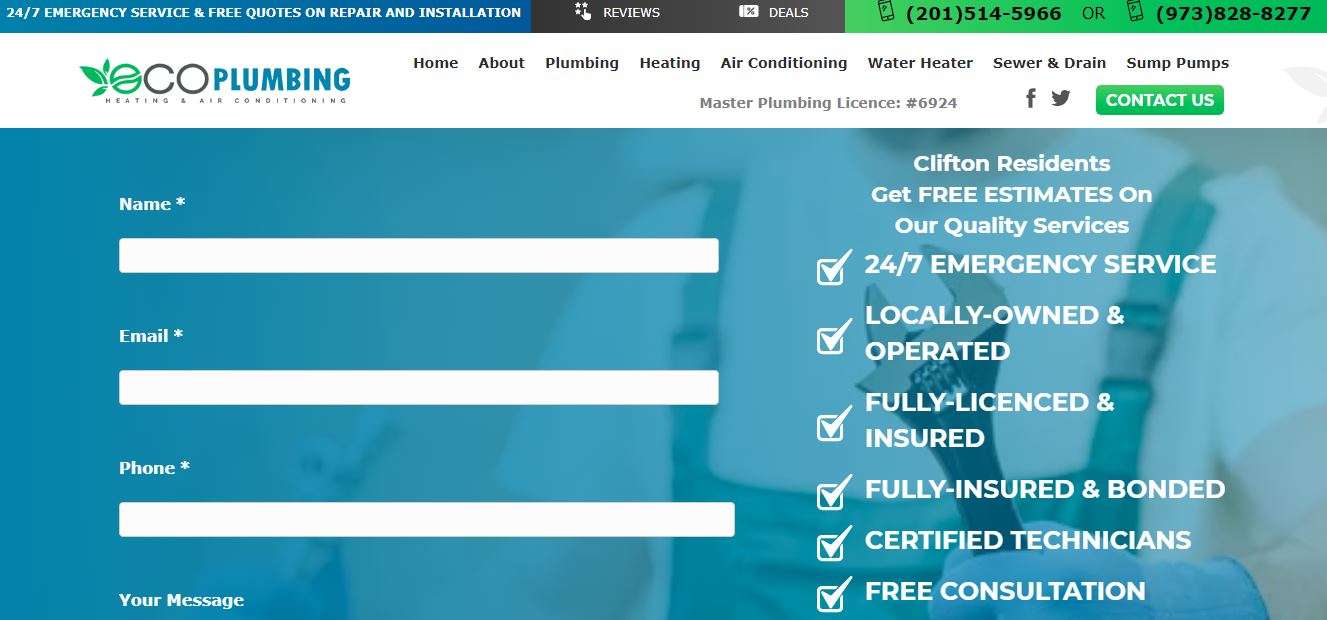 BEST FOR
24/7 Emergency Service Available
SERVICES
Insulation & Frozen Pipe Maintenance
Garbage Disposal Repair
Water Leak Detection
Bathroom Plumbing
Kitchen Plumbing
Heating Repair
Water Heater
Oil To Gas Conversion
Boiler & Furnace
HVAC
AC Repair
AC Installation & Maintenance
Digital Thermostats
Duct Work
Sump Pump Repair
Sump Pump Installation
Gutter & Storm Drain Checks
Bathroom Drain Repair & Maintenance
Kitchen Plumbing Drain Repair & Maintenance
Hydro Jetting
ADDRESS
114 Hazel Street #1, 07011, Clifton, New Jersey
CONTACT
(201) 514-5966
(973) 828-8277
WEBSITE
https://www.ecoplumbinghvac.com/service-area/clifton-nj-plumbing-heating-and-air-conditioning/
At Eco Plumbing, Heating, and Air Conditioning, there is no plumbing job they can't handle. From drain cleaning to hot water heater replacement, they offer a full range of plumbing services. They guarantee their work because your satisfaction is their goal. Their certified, licensed, and bonded plumbers undergo rigorous background checks.
8. Zeek Plumbing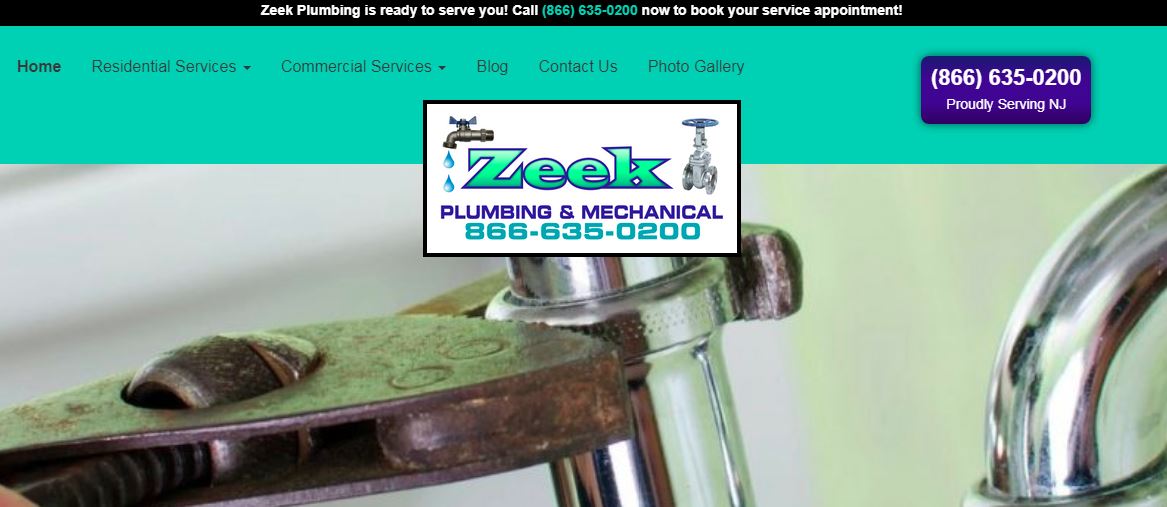 BEST FOR
Licensed Plumbers Serving Residential and Commercial Customers
SERVICES
New Construction
Renovations / Remodels
Commercial Fit-Outs
Water Heaters
Boilers
Drain Cleaning
Gas Piping
Sump Pumps
All Plumbing Repairs
Hot Water Heating Systems
ADDRESS
19 Route 10 East, Unit 18, Succasunna, NJ 07876, US
CONTACT
(866) 635-0200
WEBSITE
https://zeekplumbing.com/
Rick Zeek is the master plumber at Zeek Plumbing. He is a licensed professional plumber who has been in business since 2004. He specializes in all aspects of plumbing for commercial, residential and industrial customers. Whether you need new plumbing for a large commercial site, or you have a leaky faucet, they're the right call to make. There is no plumbing problem too big or too small.
9. Weltman Home Services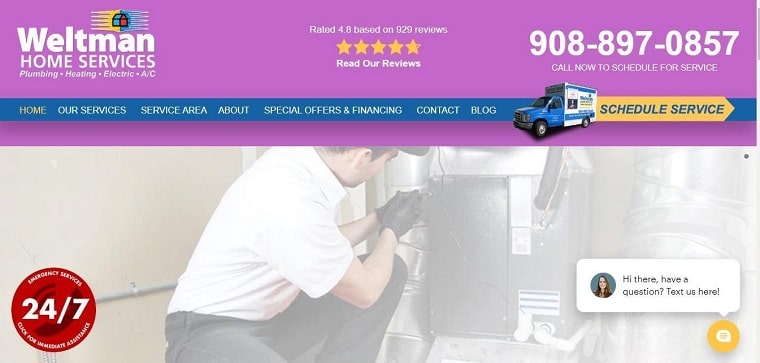 BEST FOR
Plumbing, HVAC, and electrical services
SERVICES
Emergency services

Toilet repair

Sump pumps

Water heaters

Garbage disposals

Tankless water heaters and water heaters

Faucet and sink plumbing

ADDRESS
80 Industrial Rd, Berkeley Heights, NJ 07922
CONTACT
Phone: (908) 897-0857
WEBSITE
https://www.weltmanhomeservices.com/
When you hear Weltman Home Services, it's all about home care. The name carries the weight of being one of the top players in the home improvement industry. It offers:
24/7 emergency services
100% satisfaction guarantee
Trusted and certified technicians
Upfront, transparent pricing
Licensed and fully insured