Featured Image Source from iStock
A plumbing mishap like a blocked sink or lack of hot water can suddenly happen. In that case, you should contact the best options for plumbers in Edmond, OK so it can be fixed right away.
Since hiring a plumber is often expensive, it helps to know the average cost in the area. So, we also included a short price section below to help you pick the ideal plumber from our list later on.
If you're ready, let's begin!
The Average Cost of Hiring a Plumber in Edmond, OK
The average cost of engaging a plumber in Edmond, OK is $45 to $165 per hour, according to a service directory website, Thumbtack. 
That's only the labor price, though. Other costs that the plumber will factor in include parts, transportation, and special equipment used.
Calling a plumber outside of work hours or on holidays will have a higher price. Aside from that, the scale and difficulty of the project will also influence the final invoice.
Note that some plumbers charge a flat rate for their services, as it seems more practical for them. Here's a table listing the typical rates for plumbing services in the city.
| | |
| --- | --- |
| Plumbing Service | Average Cost |
| Toilet repair | $140 – $300 |
| Leaking or burst pipe repair | $150 – $350 |
| Drain clearing | $200 |
| Water line repair | $300 – $4,000 |
| Water heater repair | $550 |
| Sewer main installation | $3,000 |
| Septic tank installation | $5,500 |
The Best Options for Plumbers in Edmond, OK
Now that you know the average costs of hiring a plumber, let's proceed to our best options for plumbers in Edmond, OK!
1) Champion Plumbing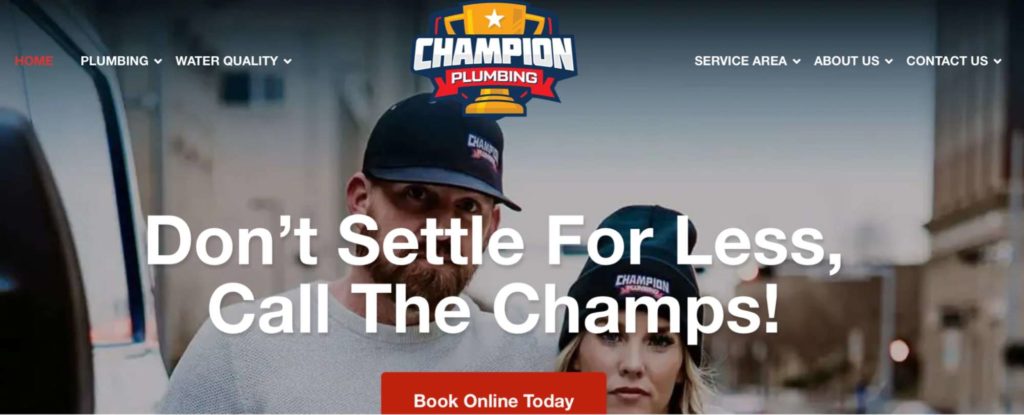 SERVICES
Plumbing
 
Water heater services
Tankless water heaters
Drain cleaning
Garbage disposals
Sump pumps
Bathroom remodeling
Commercial
NuFlow technology
 
Water Quality
 
Water filtration systems
Water softeners
Backflow repair
Leak detection
ADDRESS
2524 N Broadway, #421, Edmond, OK 73034, USA
CONTACT DETAILS
405-504-3649


[email protected]

WEBSITE
https://callthechamps.com/
Opened in 2015, Champion Plumbing provides a broad range of residential and commercial plumbing services in the Greater Oklahoma City area.
They install tank water heaters, tankless water heaters, and water filtration systems. Aside from that, they offer hydro-jetting, backflow repair, water softener solutions, leak detection, among others.
The plumber follows a flat-pricing model so you won't have to worry about the costs going up after an hour. However, their prices are higher relative to other companies that charge on an hourly basis.
When you call them, you can expect a fast response from the CS staff, who will dispatch the team within the same day. However, they are open only from Monday to Friday and don't offer 24/7 emergency services.
Since they offer a service guarantee, you can depend on the Champion team to get the job done. In the unlikely case that they didn't, they will professionally redo the work or give you a refund.
Another perk of choosing this plumber over others is their range of payment methods. They accept Visa, Amex, Mastercard, and Discover, as well as cash and check.
Plus, they offer a lot of discounts such as first-time customer and water softener deals. Their coupon page is empty, though you can readily see the coupons placed in certain sections of the website.
Also, if you think that the price is too costly, you can split it into many payments through their finance options.
And if you think their professional workmanship and flat-rate pricing suit you, you can go for this company. After all, they're one of the very best plumbers in Edmond, OK!
Has flat-rate pricing
Guarantees all work
Accepts major credit cards (Visa, Mastercard, Amex, and Discover)
Offers a first-time customer discount
Higher rates than a price-per-hour model
Closed on the weekends
Customer Reviews
Clients say that the plumbers are professional, helpful, and down-to-earth. They are very satisfied with the finished work and therefore, also recommend the business to others.
Here's Dustin's feedback on Google Reviews:
"Patrick S. was on time, professional and courteous. Didn't try to oversell me something I didn't need. Pricing was reasonable, the office was great as well, very accommodating. I had used a major competitor in the area and they did not treat me right even after spending thousands with them. Champion plumbing has a customer for life, just hope I don't need them any time soon!"
Plus, Lulu said this of the plumbers:
"Patrick and Jake were incredibly helpful and patient when listening to our home's needs. They worked with me regarding financing and were genuinely kind people. Thanks, guys for all your help!"
2) Above All Plumbing

SERVICES
Drain and sewer service
Water heaters
Gas line service
Kitchen plumbing
Bathroom plumbing
Cleanout
Pressure regulators
Re-piping water systems
Sewer lines
Shutoff valves
ADDRESS
1709 Fretz Ave #130, Edmond, OK 73003, USA
CONTACT DETAILS
(405) 844-8766
WEBSITE
https://aboveallplumbingokc.com
If you require drain and sewer line repair and installation, Above All Plumbing might be able to help you! In fact, this is what their licensed plumbers specialize in.
They can also provide small plumbing jobs to a complete house re-piping, including the installation of water heaters, pressure regulators, and shut-off valves.
That said, most of the work they do is for residential homes and not much for commercial properties. You can, however, inquire with them first by calling them or messaging them on Facebook.
All their work is guaranteed for your peace of mind and satisfaction. This is important so that you won't have to pay anything if the new pipe, drain, or heater fails your expectations.
Although they aren't available 24/7, you can call the plumber in after working hours from Monday to Friday.
Another small drawback is that they don't have any coupon deals or promotions online. But what matters is that they do the job well and on time, as clients have said.
Based on 1709 Fretz Avenue in Edmond, OK, they serve clients within the Oklahoma City metropolitan area. Also, they accept credit card payments to give you convenience.
Drain and sewer line experts
Licensed plumbers
Guarantees all work
Available during after-hours
Closed on the weekends
No special deals or promos
Doesn't offer commercial services
Customer Reviews
Above All Plumbing earned a great score of 4.8/5 stars on Google. Most clients were impressed with the team's professionalism, work ethic, and communication.
One client named Cindy wrote this review as displayed on the website:
"The first time I called was for a leaking water line and the second time was for a clogged sewer line. Both times they did an excellent job of resolving the issues. Their personnel were friendly and kept me well informed as to what they were doing and why."
What's more, here's the feedback of Hayley on Google Reviews:
"We have had these guys out 4 times in the last 6 months for various issues. Each time they are kind, timely, professional, and helpful. I cannot recommend them enough! Thanks Daryl and team!"
3) Hi-Tech Plumbing & Leak Detect

SERVICES
Plumbing repairs
Water heater installation
Drain cleaning
Electronic leak detection
Trenchless pipe rehabilitation
Video drain inspections
Shower pan test
Slow drains services
Leaking pipes repair
Slab leak repair
ADDRESS
3712 E 2nd St., Edmond, Oklahoma 73034, USA
CONTACT DETAILS
405-340-2000


[email protected]

WEBSITE
https://slableak.us
Hi-Tech Plumbing & Leak Detect is a plumbing contractor that serves Edmond and the Oklahoma City metro area.
It specializes in detecting and repairing slab leaks, dripping pipes, and drain blockages. They use advanced thermal, video, and acoustic equipment, which allow them to complete the job quickly.
Along with that, they can conduct plumbing repair and maintenance, bathroom renovation, kitchen remodeling, and related services.
Therefore, if you're planning on a new build project or already have one, these plumbers have the experience, training, and friendliness to give clients a painless experience from start to finish.
That said, some clients complained of their expensive rates and not keeping to the given estimate.
They offer a slew of service and parts warranties that are usable for up to 10 years. Also, they honor the manufacturer's limited warranty for products that can further reach up to 25 years.
The company also provides reliable finance options broken down into monthly payments. So you don't have to draw out all your budget in one go.
Unfortunately, the plumbing business doesn't take emergency calls. They are only open from Mondays to Saturdays.
Having been awarded many times by Angie's List for service, they are another of the best plumbers in Edmond, OK. To reach them, you can call or email them using the details in the table above.
Specializes in fixing leaking pipes and slabs
Holds an A+ rating from the BBB
Offers lengthy parts and service warranties
Finance options available
Closed on a Sunday
No discounts or deals
Complaints about price
Customer Reviews
As we mentioned, some clients reported that they were charged high prices. The majority, though, commended the team for being professional, prompt, and helpful throughout the work.
Let's take a look at Mark's review of the plumber:
"How good can 2 slab leaks go in a new home purchase??? With these guys working for me it was as pleasant as possible! Very clean, tried to keep the mess to a minimum… hard to do, but these guys figured out how to do it all!"
Also, Gary shared this review on the website:
"Although I was extremely nervous with my 1st call for service, the repairmen were thorough and explained every part of the process to me in detail. The repair at my home was most satisfactory. I called again to repair a broken pipe behind a tile wall at my parents' home–once again, excellent work. Most recently I made a referral to a resident who believes they have a slab leak. I warned them that it might be a little pricey, but assured them they would be more than satisfied with the quality workmanship and courteous personnel."
4)   A-Mac's Plumbing & 24-Hour Rtr

SERVICES
Faucet leaks
Bathroom leaks
Electronic leaks
Hydro-jetting
Shower drain cleaning
Air conditioner drain backup
Winterize sprinkler system
Sewer backup
Sewer camera inspection
Sewer rooter
ADDRESS
Edmond, OK 73013, USA
CONTACT DETAILS
(405) 348-2426


[email protected]

WEBSITE
http://edmondokplumbersewerplumbingrooter.com
A family-owned business formed in 1963, A-Mac's Plumbing offers small to medium home plumbing services throughout Edmond and the surrounding cities.
Their knowledgeable and skilled plumbers can hydro-jet drain lines, repair toilet leaks, and handle sewer and air conditioner water backups, just to name a few. They are on-call round the clock if you need them.
They, however, don't do larger works such as drain laying, bathroom and kitchen installation, and commercial plumbing maintenance. Aside from that, they don't look into gas line problems as well.
Like all small businesses, the owners give extra care and attention to detail in doing their work. Clients can also confirm that they come on time, work efficiently, and stick with the quote they give.
The payment methods accepted by the plumber include Visa, Mastercard, and Discover Network. But you can also pay them by cash or check if you prefer.
Some companies are hard to deal with in terms of price and customer service. But as you've seen, A-Mac is just the opposite, so it nicely belongs to our list of the best plumbers in Edmond, OK.
Also, if you want to book an appointment or know their rates, kindly call them at this number: (405) 348-2426.
Family-owned & -operated
24/7 emergency services available
Fair and upfront prices
Accepts Visa, Mastercard, and Discover Network
Doesn't do larger works or projects
No online discounts or coupons
Doesn't accept Amex cards
Customer Reviews
On Google, the family-run business bagged an average of 4.8/5 stars. The crew was hardworking, courteous, and responsive, and did an excellent job, according to many clients.
One satisfied client named Harold stated this:
"Great on time service! Won't hesitate to give a call next time something goes wrong!"
Furthermore, Kayden left this feedback:
"I have used on 3-4 different occasions over the years. I am happy with the results Every time. I find that Steve,Skylar and Robert are always professional,courteous and friendly. I'm glad I use them as they are a family owned and operated. If you need some good work done I would definitely call this company!"
5)   Higgins Plumbing, LLC
SERVICES
Kitchen
Bathroom
Water heaters
Gas line installation
Water softener installation
Sewer line
Water line repair and replacement
ADDRESS
2920 NW 185th St, Edmond, OK 73012-7200, USA
CONTACT DETAILS
405-340-1508


[email protected]

WEBSITE
https://www.higginsplumbingllc.com
Higgins Plumbing is another family-owned plumbing company. Having over 30 years of experience, it's now managed by the son of the original owner.
When it comes to plumbing maintenance and installation, they can design from scratch and deliver a high-quality result for your bathroom or kitchen.
Additionally, they can unstop the sewer, video-inspect the source of the leak, repair a water heater, and fix the water lines for both residential and commercial clients.
Registered with the BBB and Angie's List, it's one of the best options for plumbers in Edmond, OK you can have. Not to mention that they've been highly regarded by many clients.
Whether there's a problem with your water line or your heater stops working late at night, the team is around 24/7. With them, the plumbing problem can be sorted out fast.
Now, this company has some downsides too.
One is that they only serve Edmond, while others serve the Oklahoma City metropolitan area. Another con is they don't offer coupons for you to use.
They accept various payment modes including cash, check, Mastercard, Visa, American Express, and Discover credit cards. Therefore, it's highly likely you won't have a problem when paying the bill.
And it's up to you how you'd want to contact them: by phone, email, or online. You can expect a response to your inquiry shortly.
Family-owned company
Offers residential and commercial plumbing services
BBB-accredited and Angie's List member
Accepts several payment methods
Takes 24/7 emergency call-outs
Limited service coverage
No discounts or coupons
Customer Reviews
The plumber took home 4.9/5 stars from many people. They shared that the team charged reasonable rates and was fast, efficient, and personable.
Here's Vicki Ray's review on Google:
"Higgins Plumbing replaced my leaking water heater two days after I called them. It only took two hours to do the actual install! They were fast and professional. Due to the age of my house, they had to upgrade the water heater installation to current plumbing code. They called the plumbing inspector and verified what needed to be upgraded and what could be grandfathered in to save me money. I appreciate their thoroughness. I will use them again."
In addition, Clarke said this too:
"Called and left message. Joey returned my call within a couple of hours and was very professional in knowing exactly what was needed. He arrived right on time the next day and quickly resolved the issue at a fair price with no problems. Higgins is now saved to my Contacts and I won't think twice about calling them anytime I need help in the future. Keep up the great work, Higgins!"
FAQs about the Top Options for Plumbers in Edmond, OK
---
And that wraps up the top options for plumbers in Edmond, OK. No matter what plumbing issue you have, they have the know-how, training, and equipment to resolve it quickly.
Any questions or comments about our picks? If you do, kindly drop us a line and we will get back to you as soon as possible.
Also, if your roof needs to be replaced or repaired, you can contact the best roofing companies in Oklahoma City. They have licensed, efficient, and safety-trained roofers who can assist you!