Owning a property comes with many responsibilities and one of them is keeping your plumbing system in good working order. Through such a system, it's possible to remove waste and deliver safe water to homes and commercial establishments. In addition, a fully functional plumbing system makes clean water available for health, well-being, and hygiene purposes.
Having trouble with your plumbing system? Don't think twice to seek help from experts and have it checked. If you're not sure which company to call, check out this list of 6 best plumbers in Las Vegas.
1.     Hawthorne Plumbing, Heating, & Cooling

Best For
General Plumbing and HVAC
Services Offered
Residential and commercial plumbing

Air conditioning repair, installation, and maintenance

Furnace repair, replacement, and installation

Water heater repair

Heat pump installation

Address
4570 W Post Rd.

Suite #800, Las Vegas, NV 89118

Contact Information
(702) 871-1005; (844) 236-0190
Website
https://www.hawthornephc.com/
The team at Hawthorne Plumbing, Heating, & Cooling is always available 24/7, ready to address all of your plumbing, heating and air conditioning requirements. They show their genuine care for each customer by providing same-day service that is guaranteed to resolve any issue. Whether you need expert help with repairs, new installations or routine maintenance, Hawthorne Plumbing, Heating, & Cooling guarantees 100% excellent workmanship at all times.
2.     Precision Plumbing

Best For
General Plumbing
Services Offered
Electronic leak detection

Repair or repipe water lines

Hydro jetting

Plumbing repairs

All sewer and drain work

Video inspection and location

Address
2470 N Decatur | Unit 170, Las Vegas, NV 89108
Contact Information
702-253-6363
Website
https://www.precisionplumbinglv.com/
Precision Plumbing is known not only for the free estimates and upfront pricing they offer. This well-established company also never fails to show up on time, finishing any plumbing work quickly and efficiently. They are confident about their availability and fast response time which is why you get 10% off any service if their team doesn't show up on time. Learn more about Precision Plumbing and their incredible offers at https://www.precisionplumbinglv.com/.
3.     DMS Plumbing LLC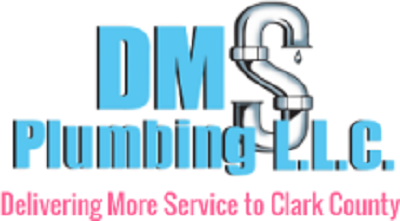 Best For
Residential and Commercial Plumbing
Services Offered
Emergency plumbing

Hot water heater repair and replacement

Drain cleaning

Water line repair

Leak detection

Toilet and sewer repair

Address
6335 Laredo Street Las Vegas NV 89146
Contact Information
(702) 353-7335
Website
https://www.dmsplumbinglasvegas.com/
DMS Plumbing LLC is a family owned plumbing company staffed with licensed experts experienced with commercial and residential plumbing in Las Vegas. The company also has service vehicles complete with all the tools suitable for any job or project. Some of the services that DMS Plumbing LLC handles include drain cleaning, water softener installation, sewer and toilet repair, and 24/7 emergency plumbing.
4.     Eternal Plumbing Solutions LLC

Best For
Residential and Commercial Plumbing
Services Offered
Home plumbing

Leaks and repairs

Drain and sewer work

Heating and cooling services

Garbage disposals

Address
3140 Polaris Ave. Suite #7

Las Vegas, NV 89102

Contact Information
(702) 712-0838
Website
https://www.eternalservices.com/
Having second thoughts about the costs of hiring a plumbing company? Fret not because by working with Eternal Plumbing Solutions LLC, your project will be completed in the most efficient and affordable way. Home plumbing, air conditioning services, and drain & sewer cleaning are just some of the areas they can help you with. Wherever you are in Las Vegas, their fully licensed and insured plumbers will arrive at your house within two hours and provide you with excellent yet affordable services.
5.    Innovative Plumbing Pros LLC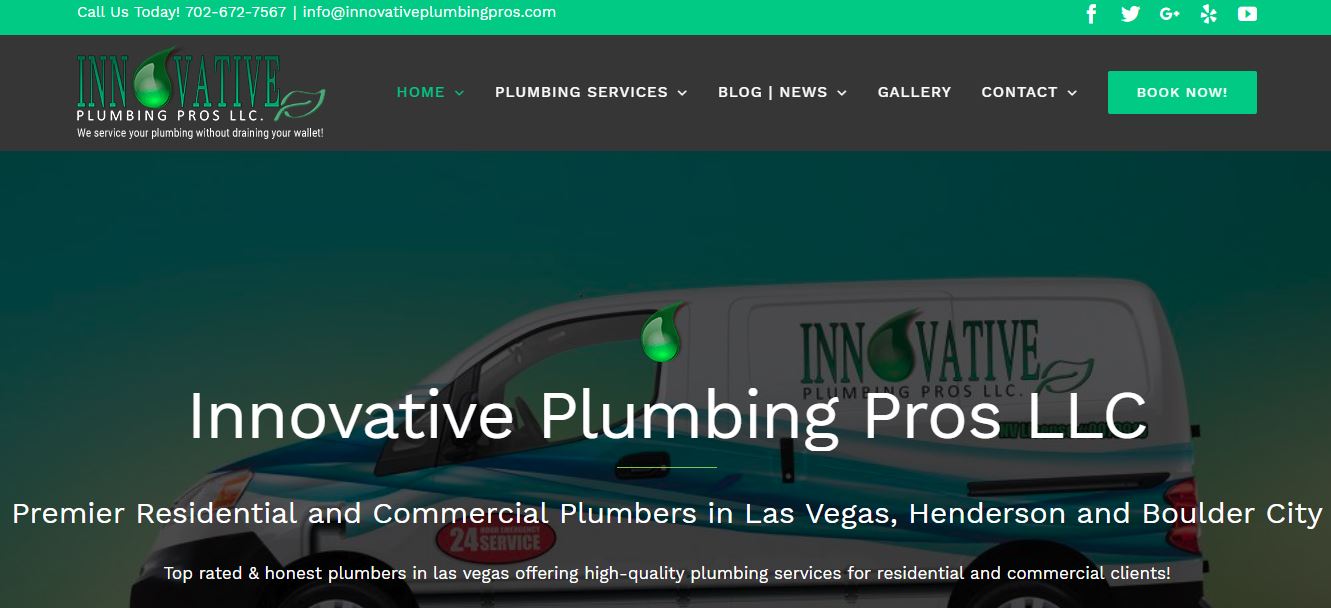 Best For
Premier Residential and Commercial Plumbers
Services Offered

Drain cleaning
Water heater repair, inspection and replacement
Tankless water heaters
Sewer and drain inspection
Leak detection
Gasline repair
Water main line repair
Preventive maintenance

Address
661 Powder Brook Dr,

Henderson, NV 89002

Contact Information
702-672-7567 | [email protected]
Website
https://innovativeplumbingpros.com/
Innovative Plumbing Pros is a Las Vegas plumbing company covering Clark County residents (Las Vegas, Henderson, North Las Vegas & Boulder City), known for our superior customer service and affordable rates. They employ technicians who have 20 years of experience in the industry who can take care of residential plumbing services and commercial plumbing services for customers in Las Vegas, Henderson & Boulder City Nevada.
6.     Larkin Plumbing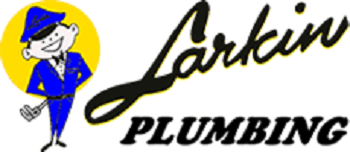 Best For
Residential and Commercial Plumbing
Services Offered
Bathroom fixture installation

Leak detection

Drain cleaning

Toilet installation and repair

Water heater repair and installation

Septic repair, maintenance, and installation

Address
1801 Industrial Road

Las Vegas, NV 89102

Contact Information
(702) 602-9926; (888) 592-2530
Website
https://www.larkinplumbingservice.com/
Regarded as one of the most trusted plumbers in Las Vegas since 1936, Larkin Plumbing has shown its dedication and expertise when it comes to providing top-class residential and commercial plumbing services. Their team is always on time, courteous, and friendly, getting the work done in the best and fastest way possible. Larkin Plumbing likewise doesn't require additional charge for night, weekend or holiday work, so it won't really cost that much if you hire them any time of the day.
7.     Atlas Plumbing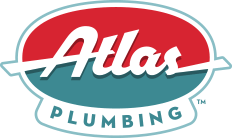 Best For
Quick and thorough services
Services Offered
Plumbing
Backflow Prevention & Testing
Commercial Plumbing
Fixture Plumbing
Gas Lines
Leak Detection
Mobile Home Plumbing Services
Piping & Repiping
Water Heater Repair
Water Heater Installation
Tankless Water Heaters
Water Line Repairs & Replacement
Water Treatment
Smoke Testing
Address
1628 Athol Ave
Henderson, NV 89011
Contact Information
702-819-7137
Website
https://www.atlasplumbinglv.com/
Established in 1980 by Bob Ray, Atlas Plumbing is the premier plumber in all of Las Vegas Valley. What started as a small, family-run business that tackles traditional plumbing issues, such as leaky fixtures and clogged drains, is now an industry-leading plumbing company. They are the plumber home and business owners in the area trust for large and complex plumbing jobs, from hydro jetting to trenchless repiping. This is all thanks to the vision and hard work of Bob's children, Rod and Sunshine, who have taken over the company when Bob retired.