Clogged pipes or drains are pesky problems that can occur at any time of the day or night. Since such things cannot wait forever, you need plumbers who can get rid of the clog immediately. That is why we have come up with the list of best plumbers in Durban to unclog any situation.
1.  Auxilliary Plumbers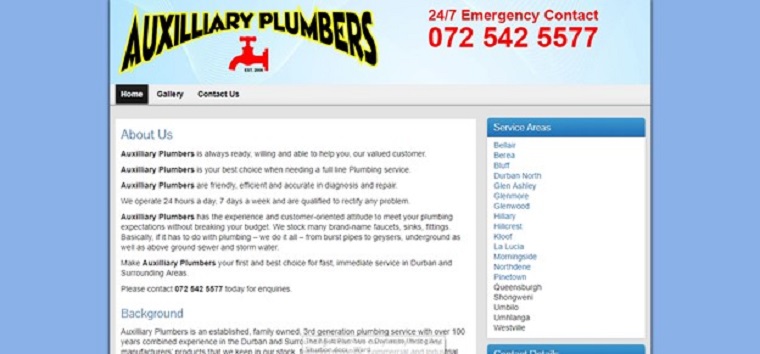 BEST FOR
Emergency assistance, accurate diagnoses, customer-oriented plumbers
SERVICES/SCOPE
24-Hour Plumbing, Emergency Plumbing, Bathroom Renovations, Kitchen Renovations, Water Meters, Geysers, Water Piping Repair & Installation, Troubleshooting Leaks & Clogs, Repair/Replace/Reinstall Plumbing, Fixtures
PRICING
Enquire online or by phone
WEBSITE
https://www.auxilliaryplumbers.co.za/
ADDRESS
20 Royston Rd,

Bellair, Durban South 4094

CONTACT
+27 542-5577
PAYMENT
Cash, cheque, or bank transfer
Auxilliary Plumbers serves as your extra pairs of hands when it comes to plumbing issues in your home or workplace. They are ready to serve you any time, especially when you need emergency services. Aside from that, this lets owners of premises decide when they can accommodate a plumber.
With Auxilliary Plumbers, you can expect only accurate diagnoses. Due to that, their plumbers can solve problems immediately or pinpoint trouble areas with ease. Furthermore, the company's crew are customer-oriented. This means that they listen to your needs and do their best to act upon your requests.
2.  Durban Plumbing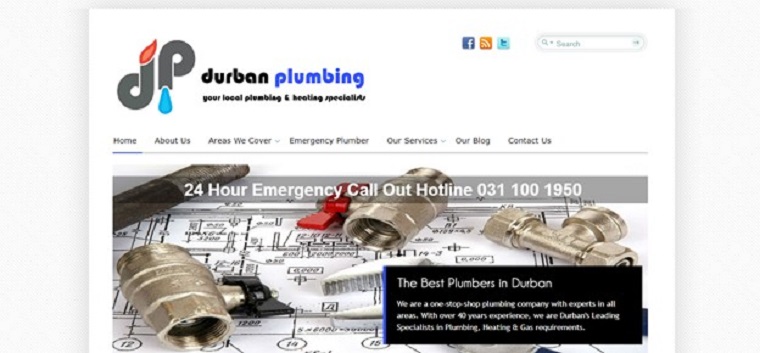 | | |
| --- | --- |
|  BEST FOR | Responsive customer service, qualified technicians, cost-effective solutions, |
| SERVICES/SCOPE | Geyser Repair & Installation, Kitchen & Bathroom Renovations, Drain Unblocking |
| PRICING | Contact for an estimate |
| WEBSITE | http://www.plumbersdurban.com/ |
| ADDRESS | |
| CONTACT | +27 31-100-1950 |
| PAYMENT | Cash, cheque, or bank transfer |
Durban Plumbing is a firm that prides itself as one of the best in the area and rightly so. They have a responsive customer service and as such, they can service many clients in a day or in a week. They even have an emergency call-out that operates 24/7, even during holidays, to offer their assistance regarding leaking pipes, burst water mains, and flooding any time. And yet, despite their excellent services, they do not charge steep prices. Rather, they are affordable, which is why so many previous customers return to them.
3.  Speed Plumbers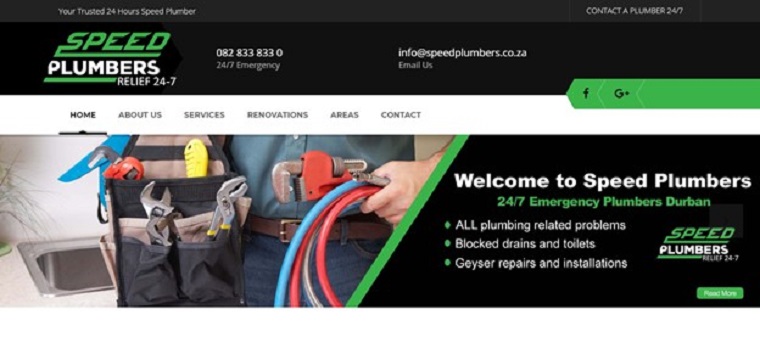 BEST FOR
24/7 service, reasonable pricing, top quality services
SERVICES/SCOPE
Plumbing, Geyser, Renovation Services, Emergency Plumbing
PRICING
Contact for a quote
WEBSITE
https://www.speedplumbers.co.za/
ADDRESS
3 Umhlanga Rock Drive

Durban North, Durban

CONTACT
+27 82-833-8330 | [email protected]
PAYMENT
Cash, cheque, or bank transfer
Speed Plumbers, as the name suggests, is an efficient plumbing crew. They offer plumbing services 24/7, something that can benefit homes and offices that encounter a sudden plumbing problem at odd hours. Though they are reasonably priced, they ensure that their services are top-notch. Because of this, you can enjoy your plumbing without problems for a long time.
4.  eTheKwini Plumbers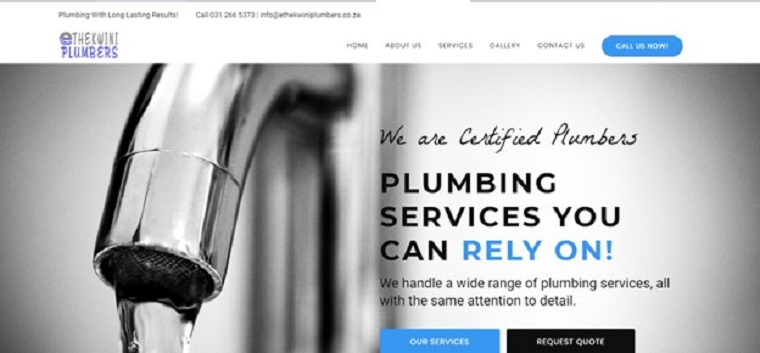 BEST FOR
Long-lasting plumbing, professional technicians, attention to detail
SERVICES/SCOPE
Geyser Replacement & Repairs, Leak Detection, Burst Pipes & Leaking Taps, High Pressure Drain Cleaning, Installations, Video Inspection, Booster Pumps, Low Water Pressure Fixing, Separate Meters, Industrial Plumbing
PRICING
Call or email for an estimate
WEBSITE
http://www.ethekwiniplumbers.co.za/
ADDRESS
15 Barham Rd

Westville, Durban 3630

CONTACT
+27 31-266-5373 | [email protected]
PAYMENT
Cash, cheque, or bank transfer
eTheKwini Plumbers is a local and reliable team that makes sure their work lasts for a long time. This way, you do not need to worry about your pipes, drains, and sewers getting clogged repeatedly over several months or even years. As they can handle all kinds of plumbing, you can expect this company to help you with whatever plumbing issue you face. More than that, they pay the same attention to details regardless of the size of the job.
5.  Envirozn Plumbers

BEST FOR
Quick repairs, personalized plumbing services
SERVICES/SCOPE
Burst Pipes
Clearing Blocked Drains
Repair Leaking Water Pipes
Repair Leaking Waste Pipes
Geyser Repairs & Replacement
Drain Cleaning
Water supply booster pumps
Water Meter Installation & Repair
Eliminating Drainage Problems
Installation, Repair & Replacement of Sewer Piping
Taps & Mixer Taps Repair & Replacement
Repair Leaking Baths & Bath Traps
Sanitaryware Installation
Bathroom Installations
Kitchen Installations
Subsoil Drainage
Garden or Outdoor Tap Installation
Geyser Installations
Geyser Blanket Fitment
Balance Water Pressure
Septic Tank Installation
Low Water Pressure
PRICING
Request a quote online or by phone
WEBSITE
https://enviroznplumbers.co.za/
ADDRESS
33 Berriedale Road Berea, Durban, 4001, South Africa
CONTACT
[email protected]
PAYMENT
Contact for payment options
Envirozn Plumbing is a family-run business based in Durban for over 15 years. Some of their clients include homeowners, property management agencies, and corporate businesses. There is no job too big or too small for Envirozn Plumbing to take on.
6.  Village Plumbers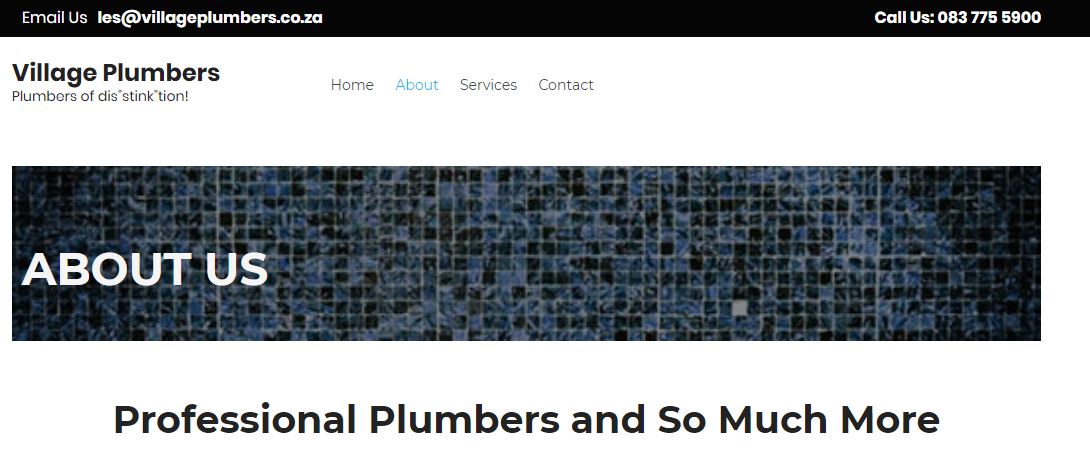 BEST FOR
Eco-friendly plumbing services
SERVICES/SCOPE

Geyser installation and repairs
Sewer and soak pit installation and repair
New bathrooms and renovations
Grey water recycling
Rain water harvesting
Toilet and bathroom repairs
Leaks and blockages
Tiling
Painting
Plastering & skimming
Waterproofing

PRICING
Request a quote online or by phone
WEBSITE
http://villageplumbers.co.za
ADDRESS
28 Blessing Ninela Rd, Hillcrest, Durban
CONTACT
[email protected] | 083 775 5900
PAYMENT
Contact for payment options
Providing professional plumbing services, Village Plumbers have recently added a "Going Green" element to their business. Some examples include grey water recycling and rain water harvesting to conserve resources. The company mostly works in Durban's Upper Highway, Hillcrest, and Kloof, but they can go as far as the Marina Beach area and Umhlanga.
If you are here because you are looking for the best companies to help you with your clogged pipes and drains, then you can find the one whose service array and price meets your needs and budget best.