When you have to deal with plumbing issues, using the services of professional plumbers can help you in the long run. One of the best reasons why hiring such experts is a good idea is because they wouldn't do anything to waste your money or time.
Unlike amateur ones or those who offer substandard services, experienced and reliable plumbers won't try to oversell, keep you waiting, and charge huge fees. They're just all about giving complete peace of mind and satisfaction by conducting quality work from start to finish.
Perhaps you're thinking that finding such a plumber in Pretoria can be laborious. Well, fret not because we already found the most reliable ones for you. Listed below are the 6 best plumbers in Pretoria available at your service.
1. Icon Plumbing

| | |
| --- | --- |
| Best For | General Plumbing |
| Services Offered | Construction plumbing Maintenance plumbing Water meter installation, disconnection or re-connection Home improvement services |
| Address | 628 Van der Stell Street Daspoort, Pretoria Gauteng, 0082 |
| Contact Information | 012 377 3139; 076 154 1618 |
| Website | https://iconplumbing.co.za/ |
Icon Plumbing is considered as the icon of the plumbing industry simply because they offer valuable services to the residents of Pretoria. Their team specialize in construction plumbing, making them reliable when it comes to installing pipes for new structures, handling sewerage systems for housing developments, and providing COC certificates. In addition, they conduct general plumbing maintenance and all work related to water meters. For more details, you may visit their website at https://iconplumbing.co.za/.
2.      Drips and Leaks

Best For
Superior Technicians
Maintenance Services 24/7
100% Satisfaction Guaranteed
Services Offered
Bathrooms & Kitchen Plumbing
Leaking Pipes & Taps
Geyser Repairs & Replacement
Address
Pretoria
Contact Information
+27 79 126 8027
012 803 1879
[email protected]
Website
http://dripsandleaks.co.za/
Drips and Leaks is one of the best plumbing maintenance services in and around Pretoria (Pretoria East, Pretoria North, Pretoria west), Centurion, Midrand and other areas in Gauteng. They provide their services 24/7 including holidays. Only SABS approved products are used during repairs, and their services range from Solving Bathrooms and Kitchen Plumbing Problems, Blocked Drains, Geyser Repairs and Replacement, Leaking Pipes and Taps, Replacement of Pressure Valves, Urinal and Toilet Replacement, and any emergency plumbing.
3. Optimus Plumbing
| | |
| --- | --- |
| Best For | General Plumbing Services |
| Services Offered | Drain camera inspection Geyser installation and maintenance Leak detection Water meter installation Drainage services |
| Address | 37 Perm Cres, Florauna, Pretoria, 0182, South Africa |
| Contact Information | (012) 546 0415; 0721551708 |
| Website | https://www.optimusplumbing.co.za/ |
Another newcomer in the scene of the plumbing business is Optimus Plumbing. Established last 2015, this company is already known for its long-lasting drain and plumbing solutions. Their team is comprised of qualified plumbers who are experts when it comes to drainage and water system installations. They can also provide efficient solutions to all plumbing needs including, but not limited to, leak detection, blocked pipes, geyser maintenance, and water meter installation.
4. Klever Plumbing
| | |
| --- | --- |
| Best For | General Plumbing Work |
| Services Offered | Drain camera inspection and unblocking Drain root cutting Thermal leak detection Water leak detection |
| Address | 125 Hercules Street Roseville Pretoria 0084 |
| Contact Information | 012 335 6561 |
| Website | http://www.kleverplumbing.co.za/ |
Klever Plumbing treats all of their clients with equal importance and this enables them to provide high-quality plumbing solutions and customer service to everyone. They can work with property developers, commercial builders, shop fitting contractors, and even homeowners, allowing them to accommodate every plumbing need there is. They cover everything from small to large projects, but they specialize in drain camera inspection and unblocking.
5. The Plumbing Lady
| | |
| --- | --- |
| Best For | Residential Plumbing |
| Services Offered | General plumbing services Bathroom and kitchen renovation Rain harvesting |
| Address | 541 Kenson Street Constantia Park Pretoria |
| Contact Information | 082 453 8001 |
| Website | http://www.plumbinglady.co.za/ |
The Plumbing Lady is one of the highly recommended plumbers in Pretoria today. What makes them different from others is that they do not only focused on solving all your plumbing challenges. Apart from that, they show genuine care to your home, your budget, and your privacy. They actually clean up after work, communicate with customers effectively, and provide transparent assessments so you know what should be done and what to pay for. If interested to work with The Plumbing Lady, you can get in touch with them by calling at 082 453 8001.
6. Status Plumbing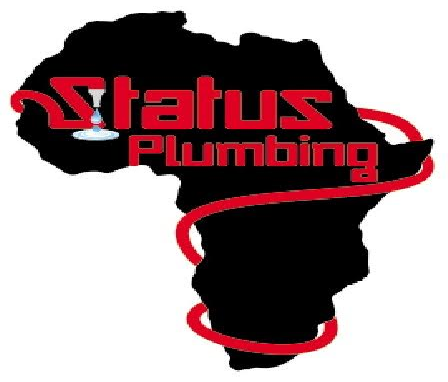 | | |
| --- | --- |
| Best For | General Plumbing Work |
| Services Offered | Geyser installation, repair, and replacement Plumbing repairs and maintenance 24/7 plumbing service |
| Address | 299 Ben Viljoen St, Pretoria North, Pretoria, 0116 |
| Contact Information | 082 401 5901 |
| Website | http://statusplumbing.co.za/ |
Having been established in 2013, Status Plumbing is still quite new in the plumbing industry. Although this is the case, this doesn't stop them from providing excellent plumbing services and results. Also, thanks to the referrals of their satisfied customers, the company is steadily establishing a good reputation in providing secure plumbing solutions. Their services are available 24/7 covering repairs, maintenance, installations, blocked drains, burst geysers, heat pumps, and a lot more.
7.      Bidos Plumbers
| | |
| --- | --- |
| Best For | General Plumbing Work |
| Services Offered | Residential, commercial, and industrial plumbing Sewer service Clogged drains and leaking faucets Copper pipe and toilet repair Bathroom renovations |
| Address | 501 Esselen Towers, Cnr Robert Sobukwe & Troy, Pretoria, South Africa |
| Contact Information | 084 551 8841 |
| Website | http://www.bidos.co.za/ |
For industrial, commercial, and residential plumbing services that you can rely on, Bidos Plumbers is the company that you should go to. Using their years of experience in the field, advanced machines, and strong plumbing skills, they can take care of clogged drains, leaking faucets, broken pipes, and bathroom renovations without any trouble. All of these, along with quick turnaround time and upfront pricing, they can truly offer the best plumbing experience.
8. Drain Ratz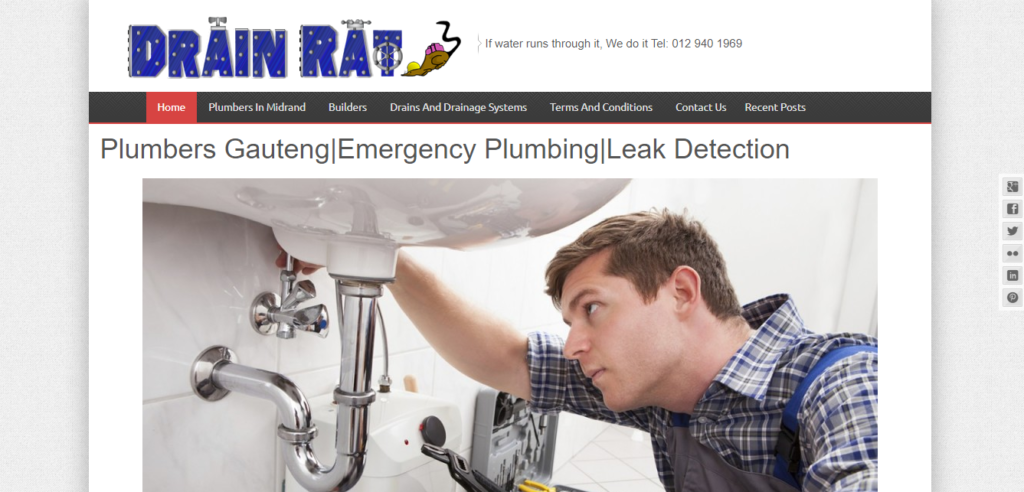 Best For
Plumbing and Building Services
Services Offered
Plumbing services, Sewerage services, Geyser solutions, Leak detection, Home Renovations, Roofing, Plastering, Tiling, Painting, Handyman services
Address
Midrand, Johannesburg, Centurion, Pretoria, Bela Bela
Contact Information
012 940 1969 /

[email protected]

Website
http://drainratzplumbing.co.za/
Drain Ratz Plumbing and Builders is a company of professionals located around the are of Midrand, Johannesburg, Centurion, Pretoria, and Bela Bela among others. They are composed of highly professional divisions such as plumbing, sewage treatment, and building which the company capitalizes on in doing a wide variety of Home Improvement services.
They accept both residential and commercial renovations as well as other additional services such as property solutions and green solutions. Committed to providing only the best services, the company is sure to take responsibility by correcting their mistakes should the client be unsatisfied with their services.
This company is recommended for clients in need of home improvement services in areas of Pretoria, Centurion, and Midrand since they have also slowly become a household brand due to their continuous high-quality service.
Offering the same prices in all areas, Drain Ratz aims to provide excellent service with only SABS-approved products, professional workmanship, and equally affordable yet competitive rates along with sound warranties.