It's not every day that you get to find a plumber that offers a winning combination of swift work and reasonable rates. Luckily for you, with this post, you never have to worry about hiring the wrong people for any plumbing job.
We explored the great depths of the Internet to find the most promising Detroit plumbers today. But more than that, we included important details about their services, customer service, and specializations to help you determine the right one to hire.
If you're now ready to meet the 6 best plumbers in Detroit, let's dive right in!
1.     WaterWork Plumbing

Best For
Comprehensive Plumbing Services
Services Offered
Residential and Commerical plumbing work

Sewer and drain services

Kitchen and bathroom plumbing

Sump pump replacement

Water heater services

Address
1049 Hilton Rd, Ferndale, MI 48220
Contact Information
248-213-9116
Website
https://waterworkplumbing.com/
WaterWork Plumbing was established way back in 2006; with over a decade of experience in the field, this company has won the hearts of many Detroit residents. This plumber used to roam around the area with just one truck, but now they have nine fully-equipped trucks and trained plumbers ready to handle commercial, industrial, and residential plumbing needs. The best part? These experts are available 24/7. Meaning, you'll always have someone to turn to in case you're faced with plumbing issues during the odd hours.
2.     Ben Washington & Sons, Inc

Best For
Commercial and Industrial Plumbing
Services Offered
Design and build services

New construction and renovation

HVAC equipment installation

High purity water systems

Drain and sewer cleaning/maintenance

Gas systems and services

Address
7116 Tireman

Detroit, MI 48204

Contact Information
313-834-4400
Website
http://benwashingtonandsons.com/
Ben Washington & Sons, Inc is a well-established industrial and commercial plumbing contractor that uses the latest technology and techniques to provide efficient services. Their team is consists of project estimators, foremen, fitters, and office staff who are committed to accommodating client needs in all project levels. Aside from comprehensive plumbing services, Ben Washington & Sons, Inc can also provide heating, gas, and new construction services whenever necessary.
3.     Moore Brothers Plumbing, Heating, & Cooling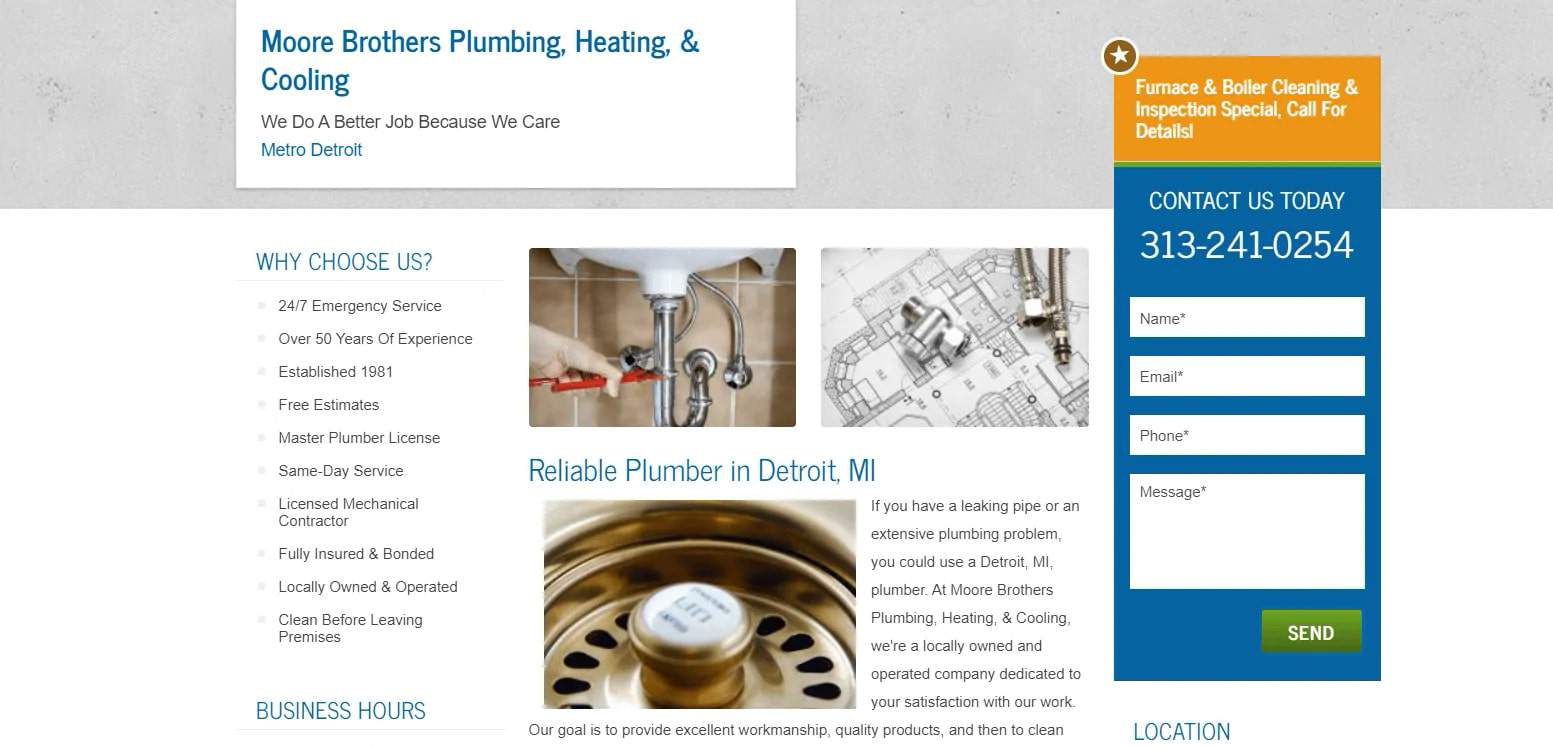 Best For
Complete Plumbing Services
Services Offered
Emergency plumbing

Boiler replacement and service

Sewer plumbing and replacement

Heating services

Plumbing fixture installation

Address
15870 Schaefer Highway

Detroit, MI 48227

Contact Information
313-241-0254
Website
https://www.detroitlicensedplumber.com/
From sewer plumbing, boiler replacements, plumbing fixture installation to sewer replacement, Moore Brothers Plumbing, Heating, & Cooling can do it all! This company is actually a good choice for those who are on a rather tight budget because they offer free estimates and always aim to keep their rates as low as possible. Despite the affordable service, the company is renowned for completing any size or complexity of plumbing work in the most professional way.
4.     TNT Plumbing

Best For
Residential and Commercial Plumbing
Services Offered
24-hour emergency service

Plumbing repairs

Drain and sewer cleaning

Re-piping

Sink, toilet, and sump pump services

Flooded basements

Address
8445 W 8 Mile Rd, Detroit, MI 48221
Contact Information
313-340-0566
Website
https://www.tntplumbingdetroit.com/
If you need a plumber with solid industry experience but doesn't charge overly expensive fees, try checking out TNT Plumbing. Serving in and around the Detroit area, this company has already helped countless residential and commercial clients deal with some of the most complex plumbing issues. They take pride in using the most advanced plumbing technology today and that means you can rest assured knowing that they will handle every job quickly and accurately.
5.     Cregger Plumbing, Heating, and Cooling

Best For
General Plumbing Services
Services Offered
Plumbing and sewer services

Water and tankless heaters

Flood control and sump pump services

Sewer and drain cleaning

Boiler service

Backflow prevention

AC and heating services

Address
2305 Goodrich Street

Ferndale, MI 48220

Contact Information
248.560.7780
Website
https://www.creggerplumbing.com/
Turn to Cregger Plumbing, Heating, and Cooling if you want the plumbing job done right the first time. Available 24/7, their team can take care of anything from backflow prevention, flood control sewer and drain cleaning, to general plumbing work no matter what time it is. Aside from being a capable plumber in Detroit, the company is also a name to remember for comprehensive cooling and heating services. Learn more by visiting their website at https://www.creggerplumbing.com/.
6.     Roulo's Plumbing & Heating Co., Inc.

Best For
General HVAC Work
Services Offered
Residential and commercial services

Plumbing, heating, and air conditioning services

Address
19316 Kelly Rd.

Harper Woods, MI 48225

Contact Information
(313) 527-6770
Website
http://www.rouloplumbing-heating.com/
Similar to the fifth Detroit plumber in this list, Roulo's Plumbing & Heating Co., Inc. excels in delivering top-notch plumbing and heating services in the area. Nevertheless, if you only need professional plumbing help, they are staffed with Master Plumbers who are well-versed doing all things plumbing related — be it for commercial or residential establishments. To schedule a service or get a free quote, simply dial (313) 527-6770 on your phone today.